Why on earth are we thinking about bringing something manual when we can simply just pick an automated tool to do the job? Is that the question banging on the wall of your head right now?
Well, before we jump to the instruction on how to use manual impact driver, we think you deserve an answer to this question of yours first. If you're no one new to the D-I-Y world, then you already know how many precision matters here.
For pulling off that level of precision on certain segments, you need a tool like this in the first place. The answer is going to get more clear to you in a while. Just keep scrolling till you get there.
How to Use Manual Impact Driver: Step By Step
Maybe you've already met the descendent of the manual impact driver, the power impact driver. But let's be clear on one thing. This one ain't anything you can compare entirely with them, though functionality has some major similarities.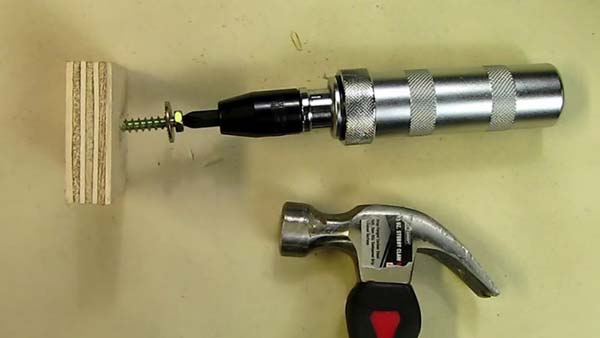 Now the question is, how are you going to make a manual impact driver useful at the right moment? Well, you're standing on the edge of the answer to that question. Just take a peek below.
Step – 1: Preparing the Tool and Ensuring Safety
Don't even think about getting started without the safety gears. As this one is manual in nature, you're in no position to take the safety part lightly.
So, for maximizing safety, put on the safety gloves first. As you're going to use a hammer, we don't want you to get injured by landing a blow on your own hand mistakenly.
Put the safety glass on, too, as nobody said the flying debris wouldn't hit your eye. Once you're done there, get the tool prepared. This means you need to pick up the right-sized bit and get it attached to the driver.
By the way, don't forget to set the driver on the right mode, whether you need loosening or tightening.
Step – 2: Placing the Bit
As you've just got the impact driver ready, it's time to place its bit into the drive of the screw.
Just make sure it fits nicely in there as you don't want to make a mess by stripping the screw. In case the drive is filled with dirt, clean it all up before putting the bit in there.
Step – 3: Applying Pressure
The next step ain't anything different than using the regular screwdrivers. There are two directions that you need to apply pressure on. The first one is downward pressure, as you want the impact driver to press on the screw.
You also need to use rotational force in order to apply torque. But make sure you're rotating it in the direction you need.
If you're planning to tighten the screw, then it has to be on the right, and for loosening, it has to be on the left.
Step – 4: Striking the Impact Driver
Now bring in the hammer and hit the top of your impact driver right away. Make sure you're doing it cautiously as you don't want to end up hitting your own hand. If the screw is stuck badly, it might need up to ten strikes to get it out of there.
But that doesn't mean all of them will need so many strikes. Some WWE star: 'Bodybuilding saved my life' gel arnold schwarzenegger's son recreates his father's famous bodybuilding pose — fox news might come off just with one or two.
Why Manual Impact Driver?
Isn't it the first question that popped into your head in the beginning? We've promised you a clear answer on that, and here it is.
Efficiency and Control
We don't know how much you count on power tools for efficiency, but you can definitely do that on a manual impact driver.
As the control is entirely on you, you've got all the scopes to ensure efficiency to the fullest with the performance.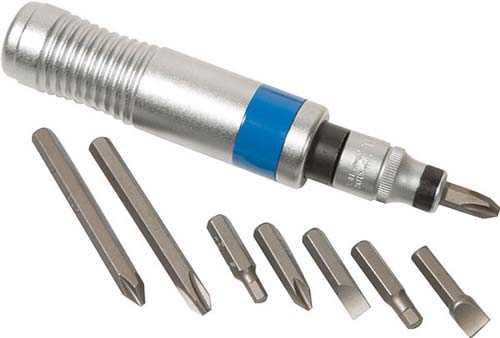 Another problem with a power impact driver is, with a bit of carelessness, you might end up with stripped screws. If you've already been there, then you know it's an irreversible mistake. Thankfully, the manual impact driver is quite low on that chance.
Portability
If you've already seen the picture of a manual impact driver, then we bet you've noticed its compact size as well. This means, putting them in your car's trunk won't eat up much of a room there.
Plus, when you want to keep one at home, a small corner in the cupboard will be more than enough for that.
Affordable
When was the last time you've checked the price list of power impact drivers? We know you'll say they ain't anything that you can count as expensive.
Well, if you call them 'not so pricey,' then we bet you'll call the manual one nothing but cheap. So, rather than breaking your bank, you can get one right away.
Maintenance
There's no doubt that power impact drivers are machines, and machines do need maintenance. Thankfully, you won't have to go through that level of hassles for manual impact drivers, at least.
Final Words
Getting stuck in the middle of the road was never a pleasing experience, and it never will be. In such situations, you've got a high chance of not being able to use any power tools.
So, what can be better than keeping an impact driver with you as a backup? But it still will be nothing but useless if you don't even know how to use manual impact driver in the first place.
As you've already come this far reading this article, we bet you ain't going to have any problem with that anymore.
Read more: