Power engines have undergone significant transformations over the years. Nonetheless, there are 2 main designs of gas-powered combustion engines to date. That's 4-stroke and 2-stroke engines. 
A 4-cycle engine completes its power cycle with four-piston movements, while a 2 stroke engine completes it with 2 movements.
Moreover, 2 cycle power equipment has fewer moving parts. This makes them ideal for use in small gasoline-powered/ handheld power tools like motorcycles, chainsaws, small model airplanes, etc. 
In this article, we'll be focusing on fuel for the 2-stroke power tools! 
Unlike their 4-stroke counterparts, 2-cycle power tools require the oil and fuel to be mixed. Or else the overall engine health will be compromised in the long run if you run 2-cycle machines on regular gas. Instead, you've to look for the best fuel for 2 stroke engines depending on your power equipment and engine capacity. 
But, where do you even get started when looking for pre-mixed fuel for 2-cycle engines! Well, we'll get there in a few! 
First, let's look at why it's important to use mixed fuel in two-stroke engines! 
Why Mix fuel for 2 stroke engines? 
For starters, unleaded petrol rapidly reduces the lifespan of 2 stroke engines. One reason for this is that 2-cycle power tools don't have an oil reservoir for lubricating the piston.
Regular gas doesn't have a lubricant, thus causing so much friction and serious wear & tear in the engine. As a result, the fuel scores the piston and cylinder, causing them to lose compression until your engine is unable to run again. 
2 stroke fuel, on the other hand, is a mixture of gasoline and 2 stroke oil. The oil burns off alongside the unleaded petrol and acts as a lubricant. 
What fuel for a 2 stroke engine should you use then? 
In essence, the fuel you use in your 2-cycle equipment should have a certain quality and mix oil-to-fuel ratio to extend your machine's longevity. In this regard, the ratio of mixing oil and fuel should be indicated in the instruction manual. 
To solve this issue, we've listed some of the best pre-mixed 2 stroke engine fuels in the market at the moment. 
Here they are! 
5 Best Fuels for 2 Stroke Engines
1. TRUFuel 2-cycle 6525638 50:1 Pre-blended Fuel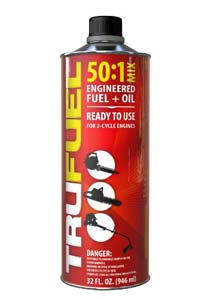 As the first-ever, pre-mixed fuel for small engines in the country, it's only fair that we rank TRU-FUEL fuel on top of our list.
It will ensure that your outdoor equipment lasts longer since it contains high-quality oil, accessories, and filters that are specific to your 2-stroke machine.
So, if you want fuel that will keep your engine at optimal performance, this is a good place to start! 
Considering this product comes with a ready-to-use formula, you don't need to mix the oil and fuel yourself. This helps to save time and increase the product's convenience. 
To add to its convenience, this fuel is available in a 32 oz can. Each package is designed to handle the challenges of storage & transport and potential product expansion due to varying temperatures.
For instance, the can's dome and steel side walls have been tested to prevent distention failure. While the can closure is crafted from proprietary resin to increase its durability and safety. 
With such incredible features, this pre-mixed fuel can last for more than 5 years unopened and 2 years after opening. This longevity can also be attributed to the fuel stabilizer and advanced formula that are precisely mixed with fuel synthetic oil. To be precise, the formula is a blend of the highest-quality lubricant, stabilizing components, and fuel. 
It's also worth mentioning that this formula is ethanol-free. For that, it will not damage plastic components and rubber hoses in your small engine or attract air moisture. This will guarantee long-term health and optimal performance of your portable outdoor equipment! 
Highlighted Features 
High-octane, Ethanol-free formula 
Contains stabilize components to reduce wear & tear
50:1 fuel-to-oil ratio 
Durable storing capacity 
Easier star-up and smoother idling with no plug/ smoke fouling 
2. VP small engine fuel 2-cycle (6238) Gas + Oil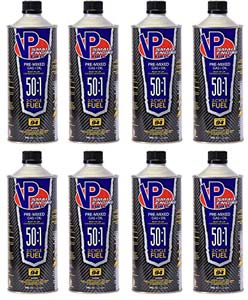 The constant performance of your small engine is largely dependent on the used premixed oil. In other words, choosing the best fuel is a great way of enhancing engine performance. Well, that is exactly what this VP premixed fuel does! 
To start, this small engine fuel contains a pure-blending of high-octane oil, 94. It has an ethanol-free formula that is designed for higher-quality stocks.
Using premixed fuel with a high ethanol content causes the fuel/oil mixture to separate over time since it absorbs moisture.
It's only made up of the best components available, making it one of the most popular premixed fuels in the gas-powered machine industry. 
As for the mixing ratio, this 2-cycle engine fuel has a fuel-to-oil ratio of 50:1. Its components are mixed using advanced technology to ensure that it has the cleanest burning mix out there.
Even better, it comes as a pack of 8, with each, can having a capacity of 1 US quart (946 ml). This will help you save time since each can has the perfect oil & fuel mix ratio. 
Finally, this formula meets all the requirements of standard pre-mixed fuel. More importantly, it-s specifically designed for 2-stroke portable power equipment that demands better care & maintenance! Best of all, this fuel has the excellent quality, yet it comes at a highly affordable price! 
Highlighted Features 
Perfect 50:1 Fuel-to-oil ratio 
Prevents 2-stroke tools from wear & tear
100% free from ethanol 
Enhances engine performance 
Reduces smoke emission
3. Husqvarna Pre-mixed Fuel & Engine Oil (584309701)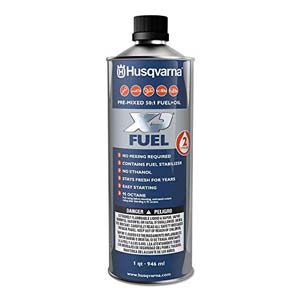 Tracking down the right type of oil and gas that you can use to create the perfect 2-stroke engine fuel is a very daunting task.
But why go through all that trouble when you can fuel up your power tools with this ready-to-use fuel from Husqvarna.
This formula is specifically designed for small to medium 2-cycle engines since it involves using high octane fuel in small engines blended with synthetic oil.  
The fact that this fuel comes ready-to-use offers several benefits. For instance, it makes your life much easier since you only need to pour it into your power tool and go. Secondly, it eliminates issues like improper mixing or poor quality of the oil. 
Instead, the formula maintains a proper fuel to oil ratio of 50:1, reducing the maximum smoke produced by 2-cycle equipment.
This makes it one of the most reliable premixed fuels for two-cycle power equipment as far as smoke exhaustion is concerned. In addition, it guarantees easier and more reliable engine starts in portable handheld gas-powered tools. 
Another factor that makes this fuel safe for use in 2-cycle tools is that its formula doesn't contain any ethanol solution. This is intended to deliver accurate lubricity and 100% cleanliness performance.
Best of all, this fuel stays fresh for longer and ensures a long healthy life of your portable equipment. So, apart from ensuring your gas-powered machine has ultimate performance, you can store this fuel for several years to come! 
Highlighted Features 
Ideal for long term storage needs as it remains fresh for years
Available as a pack of 8-quart sized cans 
Ethanol-free 
50:1 fuel /oil mixing ratio 
Contains a blend of high 85 octane fuel and JASP FD Certified premium synthetic oil 
4. Arnold Corp 6525638 TruFuel Gas + Oil (6-Pack)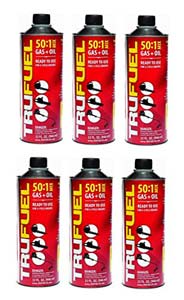 Having been in the market for over 50 years, Anord Corp is one of the most reputable manufacturers of premixed fuel out there.
Moreover, their oil products keep your engine running smoothly and extend the longevity of your outdoor power equipment. Interestingly, their TRUFUEL gas + Oil for 2 stroke power equipment is no different! 
This ready-to-use fuel is precision-engineered with high-octane fuel in 2 stroke enhanced performance synthetic oil and advanced stabilizers. As a result, it gives your power tool high performance by helping it start strong and run great all the time. 
Moreover, the read-to-use formula eliminates the need of measuring or mixing the gas and oil by hand. Instead, the fuel comes as a pack of six ready-to-use 32 oz cans.
This allows you to pour the fuel into your power equipment right away and get going! To make things even easier, the package includes easy-to-follow manufacturer's instructions, helping you get the task done right! 
Regarding the mixing ratio, gas and oil are mixed in the ratio of 50:1. As a bonus, the formula contains performance-enhancing additives and stabilizers to extend its shelf life and prevent corrosion.
Even better, this pre-mixed fuel doesn't contain ethanol. This eliminates the risk of costly repairs or engine seizures caused by phase separation and ethanol-related moisture attraction usually found in regular gas.  
Overall, this fuel will ensure increased trigger response, easier start-up, and smooth idling of your 2-stroke machine with no plug or smoke fouling! 
Highlighted Features 
Ready-to-use gas + oil formula
Lasts 5 years unopened and 2 years opened 
High octane 
Ethanol-free 
No corrosion 
Prevents engine deposits 
Never separates 
5. ALM Manufacturing MX002 2 Stroke Engine Fuel Mixing Bottle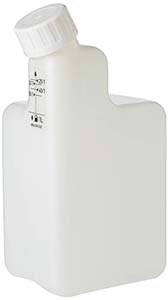 As mentioned earlier, the fuel used in 2-stroke equipment should be pre-mixed with oil. Oil is an important component since it cools and lubricates the engine, protecting it from internal combustion and friction.
Moreover, it protects the spark plugs from getting dirty to ensure that the engine runs correctly. 
One tool that will help you mix oil and gas accurately is this white bottle from ALM Manufacturing! This 1-liter bottle is a superior semi-transparent container that is made from sturdy plastic material.
More importantly, it's designed to allow power tool owners to mix 2-stroke oil and standard unleaded petrol with ease and precision. 
Proper mixing of 2-cycle fuels is very crucial since excess oil will affect the engine's performance. Similarly, using too little oil can seize or damage the engine.
Fortunately, this fuel mixing bottle will help you avoid that since it has easy-to-read gradients to ensure accurate measuring. This will help your power equipment run correctly and efficiently as it will have constant internal lubrication. 
Highlighted Features 
Semi-transparent 1-liter capacity mixing bottle 
Allow easy 2-stroke oil/ fuel mixing 
Accurate measuring of 2 cycles pre-blended oil and gas 
Made from sturdy plastic 
Easy to read gradients 
Conclusion 
It's recommended to use a blend of high-quality oil and premium to extend the life of your 2 stroke machine. However, using unsuitable mix ratios of fuels that don't comply with the suggested specifications can cause serious damage to your engine. 
Instead of exposing your machine to that risk of trying to create a perfectly mixed homemade fuel, look for the best fuel for 2 stroke engines.
And as you've seen, there are some incredible pre-mixed fuel options available. These premixed fuels come ready-to-use and are correctly blended in the ratio of 50:1, saving you headaches and a lot of time! 
FAQs About Fuel for 2-Stroke Engines
1. Which is the best fuel/ oil mix ratio for 2 stroke engines? 
Experts claim that 50:1 is the perfect fuel/ oil ratio of premixed fuels for 2 stroke engines. However, you'll come across premixed fuels with a ratio of 40:1 out there.
Nonetheless, it's good to stick to the premixed fuels with a 50:1 ratio. Moreover, many factors come into play when determining the fuel ratio for the best fuel for a 2 stroke fuel dirt bike. 
2. How do you check the certification of premixed 2-stroke fuel? 
Checking the certification of a premixed fuel is quite simple since a product that complies with the standard mentions it on the packaging. A safe formula for your equipment meets the following standards; ISO-EGD, JASO FD, and API TC. 
3. Can you use these premixed fuels on 4-stroke engines? 
Premixed fuels will not give your 4-stroke engine the ultimate performance since they're specially designed for 2 stroke equipment.
Besides, 4 stroke engines have separate oil compartments that hold the lubricant needed to cool or reduce friction in the moving parts.
4. How long can you store a premixed 2-stroke fuel and oil? 
With proper storage and the help of fuel stabilizers, pre-mixed fuel can last for up to 2 months. A 2 stroke engine oil generally has a shelf life of around 2 years once opened. Surprisingly, some premed fuels like TRUFUEL can last for up to 5 years unopened and 2 years opened.