Feeding your two-stroke engine machine with commercially premixed fuel is crucial not only for its optimal performance but also for its longevity.
Unlike the homemade DIY mixture, the commercial mixture comes in clinically (precisely) measured gasoline to oil ratio.
This gives you 100% peace of mind knowing you're feeding your equipment with a professionally engineered product that won't damage it over time.
Discover below our quick list of the 5 best premixed fuel options you can find on the market today.
5 Best Premixed Fuel Reviews:
1. TruFuel 2-Cycle Premix Fuel for Power Equipment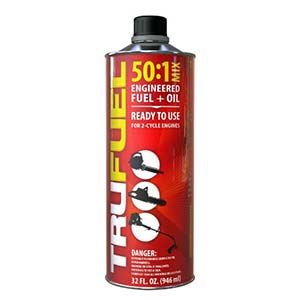 If you want to improve the performance of your outdoor power equipment and extended their lifespan, this TrueFuel's pre-blended fuel is your go-to option.
It enjoys its place as one of the most popular ready-to-use fuels specially engineered for smaller 2-cycle engines.
The fuel comprises of highest-quality fuel, stabilizing components, and lubricants. All these come together to ensure the optimal performance and long-life health of your equipment.
The premixed oil brings together ethanol-free premium oil, 92+ octane pure synthetic oil (meets/exceeds ISO-L-EGD, API TC, and JASO FD standards).
It also features the manufacturer's proprietary additive that involves an innovative friction modifier and advanced stabilizer.
As a top-quality fuel, this product is 100% free of ethanol. This is good news for your equipment health and longevity as it means the fuel will not damage its rubber hoses and plastic components, or even attract moisture from the atmosphere.
Also, keep in mind that this fuel is engineered for maximum resistance against breaking down like the traditional pump gas.
Thus, unlike your homemade premix fuel that goes bad quickly, this one will stay fresh for years, whether opened or opened.
Highlighted Features:
50:1 engineered fuel
Made for 2-cycle, air-cooled engines
Ideal for portable gas-powered equipment
Stable, long-lasting, high-octane fuel
100% ethanol-free
Comes in a 32 oz. (Case of 6) package
2. Husqvarna premixed 2 cycle fuel for engine oil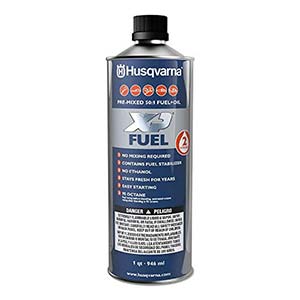 Husqvarna is, no doubt, a reputable name in the engine oil industry. They pride themselves in producing premium oil that enhances the performance and health of your engine. In our second spot, we feature their premixed 2-stroke fuel and engine oil.
Like the previous product, this oil comes premixed to save you the time you spend tracking down the right kind of oil and gas for your DIY mixture. It comes as a single, ready-to-use mixture that you just feed to your yard equipment and go.
The mixture features a completely ethanol-free engine oil. This will give you peace of mind since you're sure you're feeding your engine with a safe fuel that will not wreak havoc on its components.
It's made using high octane fuel plus high-quality synthetic blended oil (JASO FD certified) in a precise ratio of 50:1 to ensure maximum performance of your engine.
Like our previous fuel, this one is engineered to stay fresh for an extended period of time. It'll promote a healthy life for your engine and enable it to hit its maximum potential.
Highlighted Features:
Ethanol free engine oil
Features high 95 octane fuel
Premixed with Husqvarna's JASO FD certified synthetic oil
Mixed in 50:1 fuel to oil ratio
Stays fresh for years
3. VP premix fuel for chainsaws (Ethanol-Free)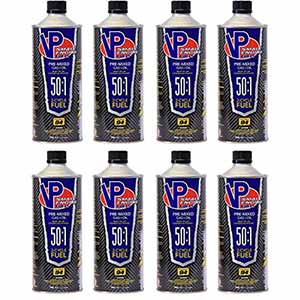 As a farmer or forester who owns chainsaws, weed eaters, snow blower, or any other outdoor equipment that use a smaller engine, you might be experiencing starting issues with your equipment, or you might feel they don't run at their maximum potential.
If that's the case, this premixed fuel from VP is all you need to solve your problems for good.
Rated as industry-leading, advanced fuel for 2-stroke engines, this product comes mixed in the right portion of 50:1. It features high 94 octane fuel and high-quality synthetic oil.
It's a well-known fact that ethanol will have a negative impact when in a small two-stroke engine. This explains why VP pre-blended fuel is 100% ethanol-free to prevent any damage from coming to your yard tools.
In the absence of ethanol and with the use of additives to keep it stable, this fuel will provide you with worry-free long-term storage.
Keep in mind that the complete package features a total of 8 cans (which equates to a total capacity of 1 quart).
The fuel will offer you equipment starts even if your equipment has been idle for months. It'll also ensure your machinery runs cleaner, smoother, and give you better throttle performance.
Highlighted Features:
Contains no ethanol
Mixed in 50:1 ratio
Ideal for two-cycle engines
Worry-free long-term storage
Formula contains high 94 octane
Shipped in a pack of cans; 1 quart
4. VP small engine two stroke premix fuel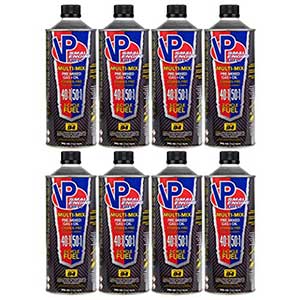 Also proudly designed by VP, this fuel comes ready for use on your small 2cycle engine. It eliminates the guesswork of measuring and mixing gasoline and oil in your garage and save you time and headaches. You just put it into your equipment and start it up!
Like its sister above, this VP product uses fuel that's completely free of ethanol, so you don't have to worry about possible damages occurring to your engine components and gradually deteriorating its health.
The fuel is mixed with high-quality synthetic oil that's JASO FD approved. The premix is formulated for 2-cycle engines that use 40:1 or 50:1 mix.
The result is high-quality premixed fuel that delivers increased power and better throttle response in all your equipment. It promises easier and more dependable starts for your power equipment.
Remember that this fuel will last longer than your home blended fuel. It'll stay stable through the offseason in your equipment's fuel cell for up to 2 years, and will last even longer (up to 5 years) in a sealed container. The complete package comes with a total of 8 cans.
Highlighted Features:
Ensures easier, more dependable starts
Stays fresh for longer
Made with high-quality components
Ethanol-free; prevents ethanol-related issues
Complete package has 8 cans (32 oz)
5. Stihl motomix premixed fuel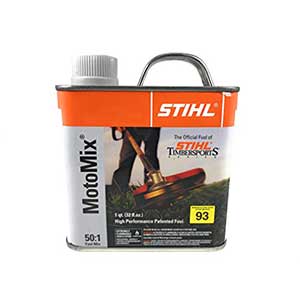 Last but not least, we have the MotoMix Premixed fuel. This is a top-quality product of Stihl, one of the most reputable brands in the engine oil industry.
The MotoMIx is a patented fuel that comes blended for the ultimate performance of all your 2-stroke engine equipment.
Like all the other oils we have previously discussed, this premium product comes in a 50:1 mixture ratio. Its formulation contains a premium non-ethanol, high octane (92) fuel plus the highest-quality Stihl HP Ultra oil.
This way, it comes ready to use right out of the box, eliminating the hassle of mixing your own fuel while maximizing the performance and lubrication of your equipment.
And yes, this fuel contains NO ethanol to enable it to maintain stability for up to 2 years when inside your equipment's engine fuel cells. And for up to 5 years when kept n its unsealed container.
Owing to the precision used in coming up with this oil and the amazing results it delivers, it's no surprise that MotoMix is the official fuel used in the STIHL TIMBERSPORTS Series.
Highlighted Features:
Genuine OEM Stihl fuel mix
Formulated with high 92 octane
Contains Stihl's HP ultra-synthetic oil
Stays fresh for longer; up to 2 years
Contains no ethanol
Comes in 1 quart (32oz package)
Things to Check Before Purchase Premixed Fuel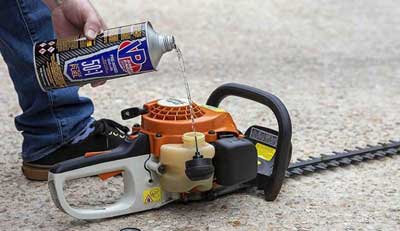 First time buying premixed fuel? If yes, let's take you through some key things to check for to help you choose a quality product for your small engine equipment:
High-quality formulation
You should start by checking the ingredients used to make the fuel you want to purchase. A premix usually involves blending gasoline and oil in the ratio 50:1.
The gasoline used should be high quality and contain high octane count (anything from 92 and up is acceptable). This helps ensure the gas doesn't ignite prematurely—helping increase your equipment performance.
The oil used should be high-quality too. An oil that meets or exceeds the JASO FD standards is even better.
Ethanol-free
The best premixed formulation should also use a fuel that's 100% free of ethanol.
Why? You might wonder…for those who don't know, ethanol has proven to be an enemy of small engines that don't run frequency.
It can cause degradation of its fuel lines and plastic components, metal corrosion, and even cause engine failure. (Source)
As such, using a fuel containing ethanol on your equipment will gradually damage them.
Longer storage life
The top-rated –pre-blended fuels from the top manufacturers, like the ones we've featured above, usually come with stabilizers that help keep them fresh for longer periods of time.
But don't assume that all commercially premixed fuels are long-lasting.
Go ahead and check whether the manufacturer provides any info regarding the longevity of the fuel, whether in unsealed state on inside your equipment fuel cell.
Frequently Asked Questions
#1. Is premixed fuel better?
YES! A premixed oil comes in a clinically-measured ration, leaving no room for error. This ensures that you're feeding your 2-stroke engine machinery with the proper premixed fuel, unlike the DIY mix, which might contain some errors.
Benefits of commercially pre-blended oil include:
Promotes increased engine performance. It facilitates hassle-free starts, better lubrication and improves throttle performance
Prevents buildup of gum-like deposits in your engine as they come with an ethanol-free formulation
It burns cleaner, making it an environmental-friendly product
It saves you the time and hassle of measuring the precise gasoline and oil ratio
Premixed fuel lasts longer than a homemade mix. You can expect your premixed fuel to last for around 2 to 5 years, depending on whether it's sealed or unsealed.
#2. How long is premixed gas good for?
A premixed gas can last for as long as 5 years. These products contain stabilizers in their formulation, which help keep them fresh for an extended period.
A typical premix fuel will stay fresh for up to 2 years when inside your equipment and up to 5 years when kept in its sealed container.
Some manufacturers even claim their products can go for 10 years in unsealed containers.
#3. How much does premixed fuel cost?
It's hard to give a fixed cost for premixed costs. This is because different products come with varying prices depending on the brand and quality of ingredients used.
The quantity of fuel will also affect the cost.
Generally, you can expect the cost of a good product to run cost between $30 to $50plus.
Conclusion
Don't gamble with trying to come up with a perfectly mixed homemade fuel for your two-stroke engine equipment. We urge you to go for premixed fuels that come correctly mixed in ration 50:1 and ready to use, right out of the box, saving you time and headaches.
We have just given you the 5 top best premixed fuel options you can order for your farm or yard equipment today. All these fuels are made by top players in the engine oil industry.
They're professionally engineered to give your machinery reliable starts, better throttle response, improved lubrication, and overall better performance and long life!
Up Next: Best Motorcycle Engine Assembly Lube