Whether cleaning your car or home, you need a powerful cleaner that can tackle all the dirt and grime. But with so many different cleaners on the market, it can be hard to choose the right one for your needs.
If you're looking for a cleaner that can handle anything, you may be wondering if Spray Nine or 409 is the better choice.
Both cleaners are powerful and can handle a variety of cleaning tasks. However, there are some key differences between them. Let's put an end to the debate of spray nine vs 409 formula in this blog post.
Our Take – Spray Nine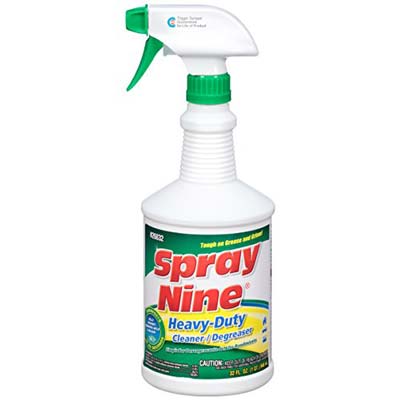 Spray Nine is a heavy-duty cleaner and disinfectant that is effective against a wide range of bacteria and viruses. It can be used on hard surfaces, such as countertops and floors, and soft surfaces, like fabric and upholstery. Spray Nine is also safe to use on food-contact surfaces.
The best thing about Spray Nine is that it cleans your surfaces and kills all the germs and contaminants. The powerful antibacterial property can kill even the most harmful viruses and bacteria from the surface.
However, sometimes the scent isn't great, but it does your job! Also, it's a non-bleach cleaner. So, you shouldn't have a problem using it on any surfaces as a stain remover.
Standout Features
Spray Nine is a professional-strength cleaner and disinfectant that can power off tough soils fast. With just one product, you can effectively clean, degrease, disinfect, remove stains, control mold and mildew, and deodorize.
Plus, Spray Nine is an EPA-registered general cleaner. It can kill off bacteria and viruses like COVID-19, Influenza, and athlete's foot in just 45 seconds!
This ready-to-use cleaner is custom formulated for fast cleanup. It can be used on various surfaces, including tools, tires, plastic, stainless steel, rubber, walls, sinks, ceilings, and bathtubs.
Our Take – Formula 409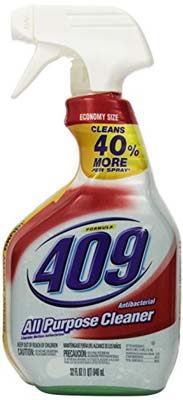 409 is a versatile cleaner that can be used on surfaces throughout the home, including ceramic tile, grout, stainless steel, sealed granite, laminate countertops, etc. Unlike some cleaners, 409 is safe to use on food-contact surfaces.
The best thing about 409 is that it eats all your kitchen greases like a hungry kid on a birthday cake! Even the most problematic grease, grime, and food stains will be removed from your utensils, food preparation areas, and cooking surfaces.
However, the degreaser is toxic sometimes, and it may cause skin irritation. So, it's not for you if you or anyone in your family have sensitive skin.
Standout Features
Formula 409 is a multi-purpose cleaner specializing in cleaning your kitchen to a beautiful shine. It's great for cleaning up grease and grime and deodorizing.
Plus, this cleaning spray claims to kill over 99% of germs and prevents mold and mildew growth.
It's a streak-free formula that contains no phosphorus. This is a great product to have on hand for cleaning various hard surfaces throughout your home and your kitchen.
Spray Nine vs 409: Detailed Comparison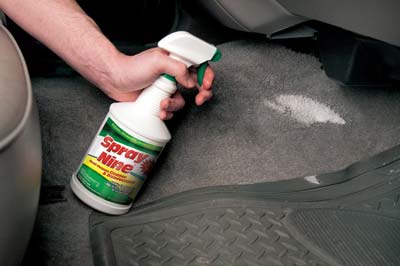 Both Spray Nine and 409 are great multi-purpose cleaners. They're affordable and easy to find in stores. Well, that's there is to it when it comes to similarities. Let's take a deep dive into the differences between these two products:
#1. Degreaser Type (Cleanability)
Every cleaning product you see or buy on the market is based on three categories: Solvent-based degreaser, Natural Degreaser, and water-based degreaser.
Solvent-based degreasers are the most powerful but the most dangerous cleaners. These might cause skin irritation when not handled properly.
These are only used for cleaning the hardest grimes. 409 Formula by Clorox is such a product. Though it says all purpose cleaner spray on the label, you may not use it everywhere.
On the other hand, water-based degreasers are based on water and are used for mostly lighter applications. These are not as effective as solvent-based degreasers and have a negligible impact on the environment.
Spray Nine belongs to this category and is made up of aqueous compounds. It can be used on almost anything.
Winner: Formula 409
#2. Cleaning Surface
As you already know, Spray Nine is a water-based all-purpose cleaner spray. So, it can be used almost anywhere in your household.
It can be used on your wall, chairs, tables, sinks, glasses, windows, floors, fans, showers, ceilings, tires, or any plastic items. Spray and wipe out – that's the way you do it. However, it may not be effective in removing hard soils!
On the other hand, you can use the Formula 409 cleaner on the deepest of grimes and greases. You can remove angry stains from your clothes, kitchen tops, utensils, car engine, and washrooms.
It cuts through greases and cleans more thoroughly than anything else. However, it may cause skin irritation for some people as it is a detergent-based product.  
Winner: Draw
#3. Disinfectant Properties
When your primary goal is to kill all the viruses and bacteria around your home, Spray Nine is your best bet. It is EPA-registered and was recommended for commercial uses to keep away SARS-CoV-2. So, you can be sure of its disinfectant properties.
On the other hand, Formula 409 also claims to be antibacterial and kill 99% of the germs! But there is no proof of it. It may not be as effective as Spray Nine to kill germs.
Winner: Spray Nine
#4. Availability
You probably won't find Formula 409 anywhere in supermarkets and house and home goods stores. Wikipedia says Clorox discontinued Formula 409.
However, Clorox has no such statements or press releases, and the website www.formula409.com is still up and running. Formula 409 is now available at Walmart, Target, and Amazon with different packaging.
On the other hand, Spray Nine is a widely available product. You can find Spray Nine almost anywhere, including Amazon, Walmart, AutoZone, Aurora, Daimler, and nearby grocery stores or supermarkets. 
Winner: Spray Nine
Conclusion on "Spray Nine vs 409"
In summary, in the spray nine vs formula 409 battle, Spray Nine is the best all purpose cleaner that can be used on various surfaces. It's also great for cleaning up grease and grime.
409, on the other hand, is specifically designed for cleaning kitchens and hard soils. It's tough on grease and removes stubborn stains.
So, who wins the spray nine vs 409 cleaner battle? It really depends on what you're looking for. Spray Nine is an excellent option if you need a versatile cleaner all around the house. If you're specifically looking for a kitchen cleaner, 409 is a better choice.