What place is expected to be the cleanest? Your bathroom of course! This can seldom be true as it's literally the breeding place of many bacteria and molds, yet one has to try their best to keep it clean.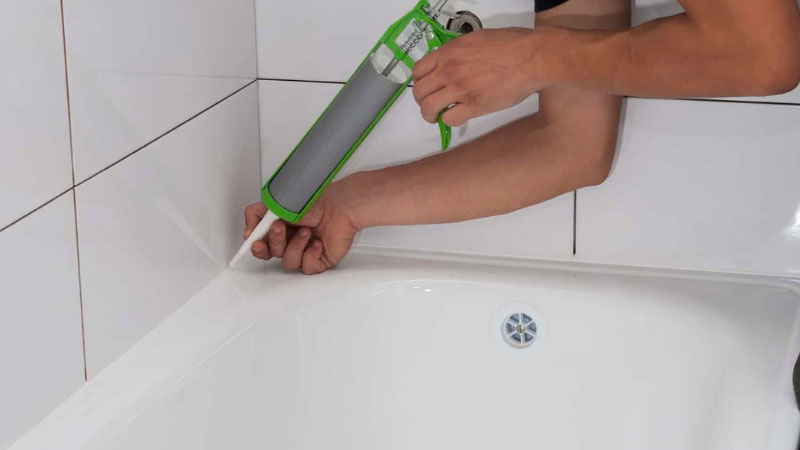 But over the passage of time, showers do tend to get even harder to keep clean. In those cases, you need to use caulk and caulk like things to keep the space neat and tidy. But where can you find the best shower caulk to prevent mildew? Don't worry we got you!
We have gathered the best caulks so you don't have to. Just read along, pick and get the one you think is perfect for your shower.
6 Best Shower Caulk to Prevent Mildew Reviews
These are the best that are available in the market as you read this article. So go ahead and read to find out which one should you welcome home!
1. Gorilla Clear 100 Percent Silicone Sealant Caulk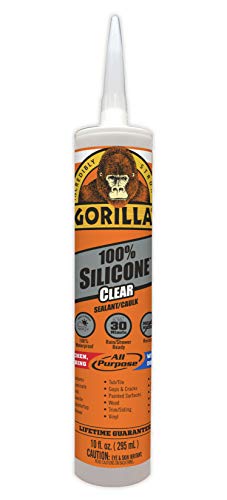 As the name suggests, it is the gorilla aka the beast of the category, for sure. Gorilla is made out of one hundred percent silicone, and that is amazing for a number of reasons.
I don't know if it's the best mold resistant caulk or not, but easily is one of the best. Silicone is such a material that is very much non-reactive which makes it the perfect candidate for mold-resistant caulk. And guess what? Gorilla is 100% of it. That's amazing.
It will not be turning to that gross yellow color after some time. That yellow tint in caulks makes it look gross and dirtier than it is. Well, this won't be your problem if you use Gorilla.
Being 100% waterproof, you don't have to worry about cracks remaining open even after using this caulk. No water shall pass.
Cracking or breakage will be the least of your worries because as I have already mentioned, it is made from 100% silicone. And, being silicone made gave this caulk a superpower of not shrinking or breaking in fluctuating temps
Pros
100% waterproof and silicone made
Versatile and can be used in many scenarios
Doesn't change color after drying
Won't let mold or mildew grow
Cons
The container isn't very good
---
2. Loctite Polyseamseal Tub & Tile Adhesive Caulk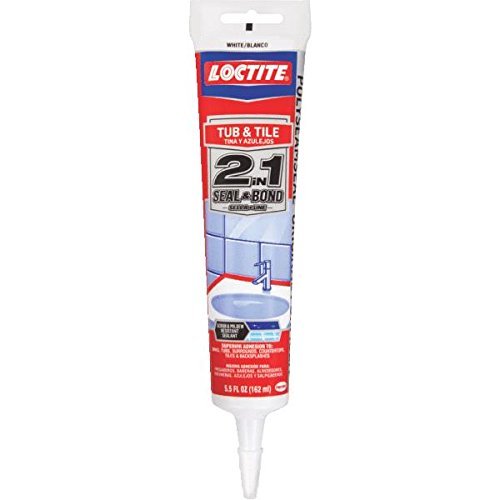 We want to talk about how cheap this caulk is in the opening sentence. As for this price range, it is already looking like a deal to us, but let's get to know Loctite a little more to make a decision.
This is a 5.5-ounce tube that holds a generous amount for the price. Its adhesive properties make it a well-deserving candidate in this race of being the best shower caulk to prevent mildew.
It is also flexible so that a little bump can't shake it from its grounds up. Let it be glass, ceramic, or porcelain; Loctite has got you boo! With its amazing fixing abilities, it will hold any pieces that you want together.
Extra properties are added to the formula so that you don't have to worry about mildew growing in your moist bathroom. I apologize for using the word moist, I know a lot of you hate the word guts.
Anyway, this is also non-flammable. In case of any accidents, we don't know about others but Loctite will not be participating in to spreading the fire even more. You can count on it.
So all in all, this still does sound like a great steal to me, what do you think?
Pros
Amazing adhesive abilities for proper usage
Very cheap, so it's pocket friendly
Can virtually make bonds between anything
Prevents the growth of mold in the shower
Flexible, so you are free from cracks and shrinking problems
Cons
---
3. Sashco 13010 Adhesive Caulk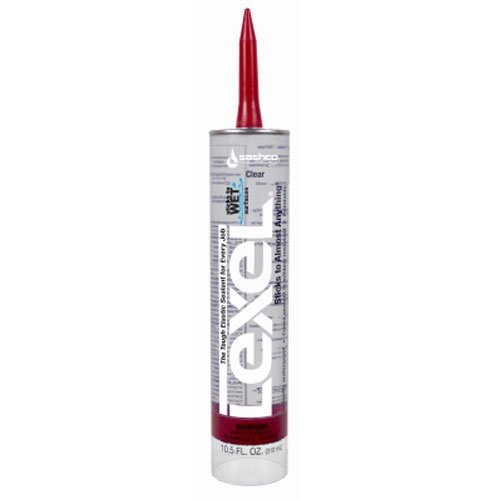 This caulk is meant to be for the ones who like it easy and stress-free. Sashco has made the bottle or the tube that it comes in, a certain shape that you can just take it out of the package and use just as it came to you in the mail.
You must have read that you need to dry the shower out before you can use a caulk. Well, forget about that and use this one from Sashco on directly wet surfaces. It will still be working as well as the other ones you have heard of.
The most impressing part of this caulk is that other ones either dry white or kinda off white-ish. But this one? It dries clear. And to be honest, there is something satisfying about that. It will not be standing out in a minimalistic shower which is all the hype these days.
It is known as the 'duct tape' of caulks because of how strong its hold is and you can use it pretty much in any situation. Paint over this caulk with ease, the paint will not slip away or look streaky. It is as amazing as it sounds.
There are tons of shower caulk to prevent mildew, but this one is one step up in its game. Being made out of silicone definitely contributes to the cause. Let it be interior or exterior, you can use this caulk for any setup. Remember it dries clear? Yep, that's exactly why it's so versatile in any setup.
Pros
Dries clear so it can be used in many situations
Has a strong adhesion ability to hold anything
Can be painted over easily
Doesn't have to be used over a dry surface for optimum results
Mold and mildew resistant
Very handy and easy to use
Cons
---
4. Dap Dynaflex 230 Reviews (White 18285)

If you don't know about the brand Dap then I'm pretty sure you live under a rock. Jokes aside, DAP is a common favorite brand that has given its customers some amazing products over the decade.
First of all, it's very much durable. Caulks are used to provide stronghold and they are meant to last for a long time. So that adjective ticks the right gap in my dictionary.
Being manufactured in the USA, it is vastly available and the quality of the product can be assured. It is very much flexible of a caulk. Even if you use it in a place that needs frequent bending, the caulk won't crack that certain.
No insects can pass through the barrier of DAP. Once you use dap, you can never go back, or so I have heard. After you give it proper rest time to get cured, forget about having those disgusting black molds for a good period of time. Because it is as you guessed, mold and mildew resistant.
You don't have to be stuck in one category. Use it in any places that you think need a touch of caulk, dap will get the job well done without any issues.
Pros
Won't break your bank
Versatile and can be used in several situations
Waterproof and crack proof
Flexible so can be used in bendy places
Mold and mildew resistant
Cons
The packaging isn't great
---
5. Flex Shot Rubber Adhesive Sealant Caulk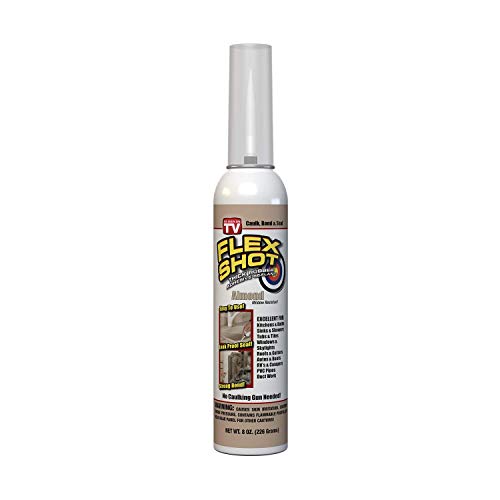 This one from flex is trying to make a strong presence already. It is a rubber adhesive caulk that will not budge even if you try. Once set in place, this one is to stay.
It claims to make bond with anything that it comes in contact with. So that gives you stronghold promises, in whichever surface you intend to use it on. It is known as a shower caulk to prevent mildew because of its properties.
Sometimes caulks tend to be runny and all over the place after usage but that is not the case with Flex. It will not be creating a mess after you use it.
Also, with heat and cold, it's not going to change in shape. So you can enjoy a caulk that will not be cracking with the slightest change in temp.
The tube-like top gives you a perfect edge while using it. You can use it straight out of the package. That's convenient!
Pros
Will not contract or expand with heat and cold
Mold and mildew resistant
Comes in a tube-like shape for easy usage
Has strong bonding abilities
Cons
---
6. GE Sealants & Adhesives GE5070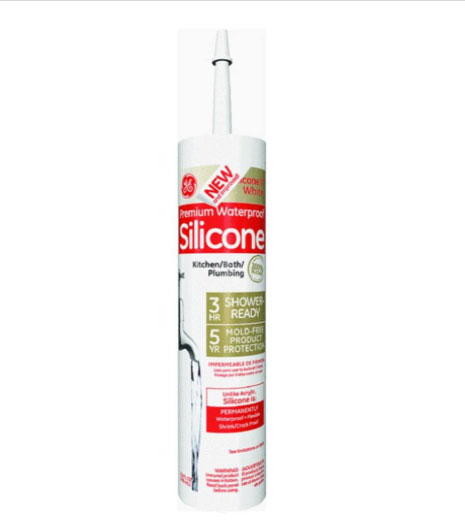 GE has come up with this excellent caulk which is known to be one hundred percent waterproof. Now, this is some top-notch attribute that we like to see in every caulks for the shower. Because essentially, you are going to use that around a wet area.
It also claims to be 40% more flexible than the other caulks on the market. That certainly is a desirable quality that I look for in a caulk. This flexibility allows the caulk to protect the shower area for a long time.
Some caulk tends to react with the metal or metallic objects present in the shower. The chemicals present in them does so, but not GE. It will not be reacting with metal causing the appliances and stunning fitting in your bathroom to stay as they are for a long period of time.
In about 30 minutes after applying the caulk, you can take a shower. It's that amazing! Also, it will not be expanding or shrinking with heat causing the caulk to break in the first place.
Pros
Proper mold and mildew protection for a long time
No shrinkage or breakage as its heat proof
Water proof and is water ready after 30 minutes of application
Metal fitting are safe as it won't blemish them
No odor will come after application
Cons
Dries off white, but it says it dries as white
---
How to Choose Shower Caulk to Prevent Mildew?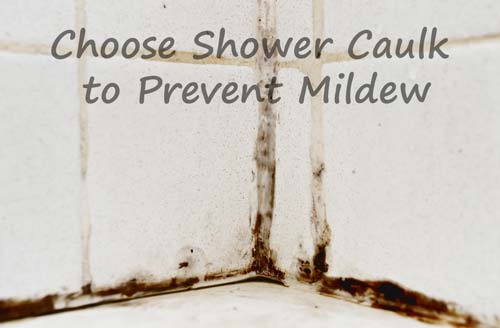 There are things you should consider before you buy any brand of caulk. You have to make sure that the caulk you chose to buy will do you justice. Otherwise, what is even the point?
Don't throw your money in vain, look for the following attributes while looking for a shower caulk.
Flexibility
The caulk has to be flexible. You have to think about all the corners and turns that your shower has. The showerhead in the sides of the tub, or the toilet if that's attached, the sink; so many areas that have corners and turns that you cannot overlook.
If in those corners you don't put a caulk that's flexible; after it's dry, it might break. And if it does break, it will for sure come apart which you definitely don't want to happen.
Doesn't React with Air or Moisture
There will be no point in using the caulk if it does. When it reacts with the external environment means that it's letting other things onto the area. This isn't what you are looking for in a caulk. Right?
Adhesiveness
If the caulk isn't sticking to the place you want to then that's bad news. Sometimes because of the moisture, the caulk comes undone after it's dried. This isn't a desirable attribute. You would want it to stay put in its place no matter what.
Frequently Asked Questions
Some questions you might have;
When can I shower after caulking?
It depends on the caulk you are using. It should be mentioned in the packaging. In case, if it doesn't, it usually takes 24 hours for a regular caulk to set in its place.
Should the shower be dry before I use caulk?
If you want to give your caulk a fair shot at its job, then yes. And if you want the best outcome, you should definitely let your shower dry before you use any caulk.
How frequently should I use caulk?
It is best to use caulk in the shower if you feel that it needs caulking. But in regular situations, you can do it in every 5 years or so.
How do I prevent molds from growing?
Definitely keep the space as clean as possible. Use environmentally friendly cleaning solutions. And, use silicon caulk while securing gaps and cracks. That will do in this scenario.
 Caulk or sealant?
The shower isn't a place that will contract and expand or even come in contact with sunlight. So, caulk is what you should use in shower. Sealants are for different purposes.
Final Words
Have you found the best shower caulk to prevent mildew yet from the list? If yes then this article has been cleared off its debts. If not then look around the market, but I'm positive these caulks are the ones that dominate the market with sheer capability.
Do your research and I hope may the best caulk wins you over.