Concrete countertops are beautiful and functional counters that are mainly used in the bathroom, outdoor area, or kitchen. Apart from being beautiful, these countertops are durable as well as easy to clean. 
The only issue with such countertops is that bare concrete tends to be very porous. This makes their appearance and durability vulnerable to various elements like water, soap scum, vinegar, food stains, and mold among other elements.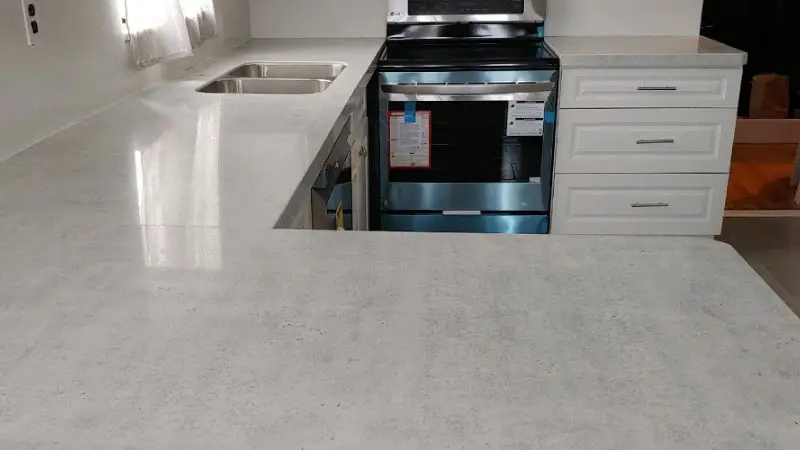 Luckily, if you apply the best sealer for concrete countertops, you'll keep it looking great for a very long time. That's because the sealer creates a durable barrier that prevents air and water from penetrating your countertop. More importantly, it will protect it from scratching and staining! 
With so many concrete countertop sealers in the market, finding one is not that hard! However, getting a quality one can be a very challenging task! 
That's why we've stepped in to help you get nothing, but the best concrete countertop sealer that will suit your needs. 
We've listed the 5 concrete countertop sealer reviews that deliver the best results. By the time you're done going through this article, there is a good chance you'll have found the ideal concrete countertop sealer for your needs. 
So, let's get into these sealers right away! 
5 Best Sealer for Concrete Countertops
1. Tuff Duck Concrete Countertop Sealer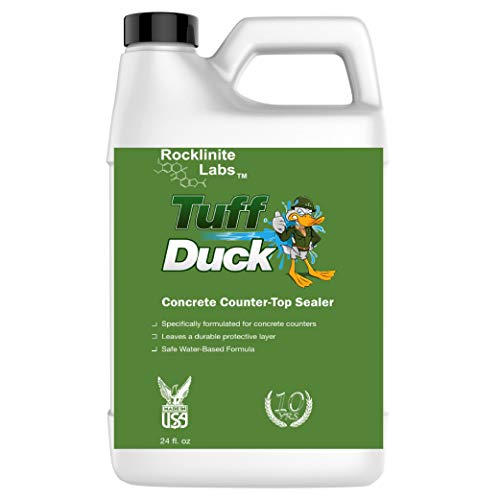 When you're planning to seal various surfaces around your home, there would be no problem in buying gallons of concrete sealer. But if you only want to seal your countertop, purchasing such large volumes of sealer would be an unnecessary investment. This is one of the many reasons you should consider buying this Tuff Duck sealer! 
Manufactured by Rocklinite Lab, this concrete countertop sealer comes in a 24 fl. oz. (750 ml) bottle. This contains enough liquid to cover an area of about 45 to 60 sq. ft. While this capacity may seem small, it's the best option when you're not planning to seal large spaces. 
Moreover, with this sealer, you can rest assured that your concrete countertop will look neat and clean for a long time. That because it penetrates deep into the surface, leaving it with a long-lasting, thin acrylic that resists acid-etching, oil-based liquids, and water penetration. It also leaves the surfaces with a glossy attractive satin finish that's very appealing to look at and easy to clean.  
Another thing that makes this sealer ideal for use on surfaces like kitchen countertops is that it has a non-toxic, water-based formula. It's free from harmful VOCs and even considered as food-safe. As such, you can safely use it on food preparation surfaces without being concerned about food poisoning. 
The other great thing about this countertop sealer is that it's very simple to apply. You only need a microfiber pad that you can use to apply the sealer across the surface uniformly and leave it to dry.
For that, even if you're a beginner, you can easily fix your concrete countertops without being concerned about messing them up. Although the drying time tends to vary with the condition, this Tuff Duck sealer takes about 1 hour. If a second coat is needed, you can now apply it after that time. 
One thing you should note about this sealer though is that it may cause eyes and skin allergy. Therefore, you need to be very careful when applying it.  
All in all, we don't see why you should not try out this product from Rocklinite lab. Besides, the sealer maintains high quality, yet it's pretty affordable! 
Pros 
Leaves a durable protective surface layer 
Non-toxic and food-safe formula 
Good coverage (45-60 sq. ft.)
Easy application 
Cons  
---
2. Cheng Concrete Sealer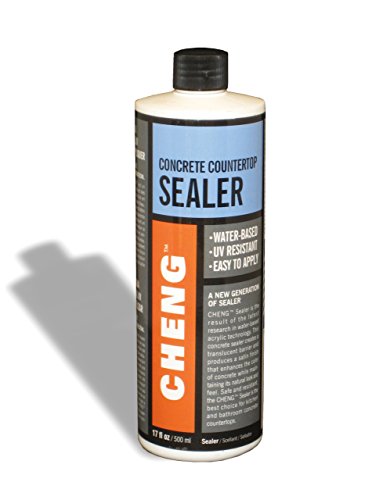 Seeing that Cheng Concrete has some of the highest quality products in the market, it's easy to understand why it's such a reputable brand. Trust us, once you try out their top-selling concrete countertop sealer, you'll also understand why it's such a great brand! 
First of all, this concrete is non-toxic, making its water-based formula food-safe and ideal for sealing food preparation surfaces. This also means that you can safely use it on kitchen countertops and sinks. 
Apart from being used on countertops, this sealer can be applied on other surfaces, since it's very versatile. This includes things like planters, furniture as well as fireplaces. 
Unlike some countertop concrete sealers out there, Cheng Concrete Sealer doesn't produce any odor. For that reason, it can be used by most people, even the ones sensitive to strong smells. This also means that it can be used for both outdoor and indoor applications. 
Talking of application, sealing concrete with this product is not that difficult. It's available in a 17 oz (500 ml) bottle that covers about 30 to 40 sq. ft. of concrete surfaces. To apply, you just need a clean microfiber cloth and you're good to go! 
After application, the sealer penetrates deep within concrete countertops, giving the surfaces extra strength and longevity, thanks to the 'hybrid technology'. This leaves the countertop with a gorgeous artificial finish without interfering with its natural look or feel.
Best of all, the resulting thin outer shell layer effectively protects countertops from abrasions, scratches, stains, and discoloration. The finish also keeps the surfaces looking clean, shiny, and warm at all times. 
On the downside, this concrete sealer is not ideal for cold environments and it shouldn't be frozen. But, as far as quality and finish are concerned, very few countertop sealers can compete with this one from Cheng Concrete. So, if you want a great sealer for concrete countertops, it's such a good option. 
Pros 
Exceptional finish 
Doesn't produce any odor
Free from harmful chemicals and VOCs 
Very versatile 
Cons 
Not perfect for freezing/ cold areas 
---
3. Tenax Hydrex Stone/ Concrete Sealer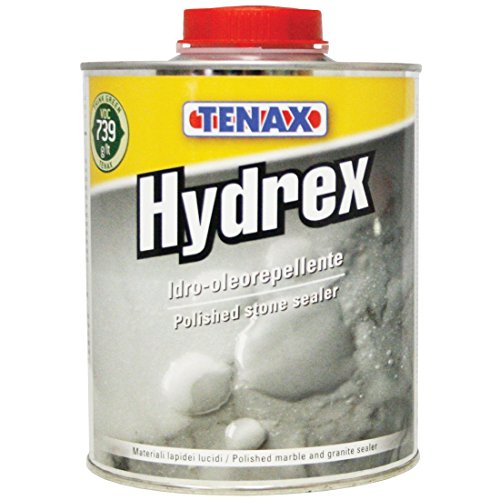 If you don't want to change the color of your concrete countertop in any way, then we recommend you try out this Tenax Hydrex Sealer. In addition to helping the surfaces retain their original appearance, it will give them protection against the outside elements. 
But what we love most about this sealer is its versatility! That's because this concrete sealer works on many other surfaces like stone, travertine, marble, limestone, and more. So, if you're looking for a sealer you can use on different surfaces around your home, this is the ideal option. 
It comes in a 1 quartz container with enough sealer to cover an area of about 160- 180 sq. ft. The packaging promotes easy and quick application. Unlike most concrete countertop sealers, you only need to apply it once.
Besides, the application is made much simpler by the fact that this product has a quick drying time, which is about 5-10 minutes. However, its water-resistance effect kicks in 24 hours after application. 
When the sealer dries completely, it forms an invisible layer that prevents penetration of liquids, while allowing concrete to breathe with ease.
So, as we mentioned earlier, it will not introduce strange colors or stains that will affect concrete's natural appearance. It gives concrete countertops protection against stains and water elements, making it an ideal option for outdoor and indoor use. 
This concrete sealer is not without limitations though! For instance, it has a harmful and toxic nature, not to forget that it produces a very strong odor. Therefore, when you're applying it indoors, make sure the room is well ventilated. More importantly, some type of breathing protection! 
That being said, this sealer is very affordable and offers great value with excellent results. So, if you want to save money on a large or medium concrete sealing project, we'd highly recommend this sealer. 
Pros 
Quick-drying time 
Very affordable 
Excellent coverage 
Requires one application only 
Doesn't change the concrete countertop color 
Cons 
Toxic formula 
Becomes water-resistant after 24 hours 
---
4. GlobMarble Concrete Countertop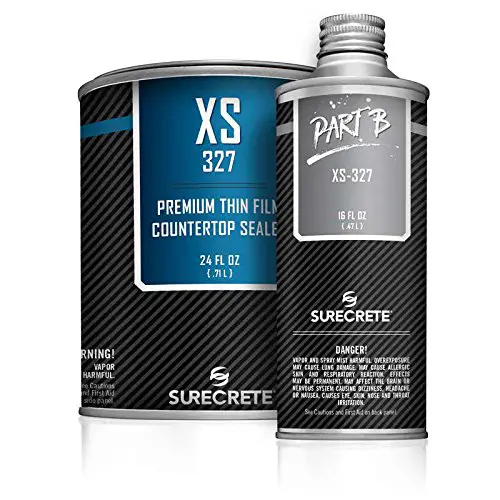 Globmarble is widely known for producing the best premium sealers in the market at the moment. As such, if you want a premium product to seal your concrete countertop, we suggest you check out their XS-327 water-based sealer! 
What makes it better than most water-based out there? Well, that would be the fact that it has many premium features. So, don't be surprised that this sealer is a bit more costly than other countertop sealers. 
The other great thing about this sealer is that it delivers an excellent matt finish that is very attractive. Best of all, it's very clean and smooth. 
Its water-based formula uses an advanced acrylic copolymer emulsion that also acts as a membrane, creating a durable sealer and a curing compound. This plays a very important role in increasing the longevity of your countertop.
You'll also love that the sealer dries quite quickly after application, forming a semi-gloss, durable barrier. Thus helping the concrete countertop resist oil, water, and many other stains. 
Moreover, this barrier withstands abrasion, scratching, UV damage as well as high temperatures of up to 300 degrees F, making it ideal for outdoor and indoor use. It's also worth mentioning that, unlike some sealers, this formula is food safe after curing. This makes it ideal for application in food preparation areas and homes with children. 
The other unique thing about this sealer is that the package comes with 2 different components; part 'A' and part 'B'. During applications, these components should be mixed in the ratio of 3:2 respectively, and the resulting product can be diluted with water if necessary. In terms of coverage, 1 quart can cover an area of about 100 sq. ft. 
Furthermore, when applied on a horizontal surface, the solution sprays blue, but later turns to clear on drying. As such, this sealer is a great option if you don't want to alter the original color of your concrete countertop. 
Pros 
Food safe on curing 
Excellent matte finish 
Enhances the concrete countertop's durability 
Amazing heat endurance 
Cons 
---
5. Eco-Tuff Clearcoat Concrete Sealer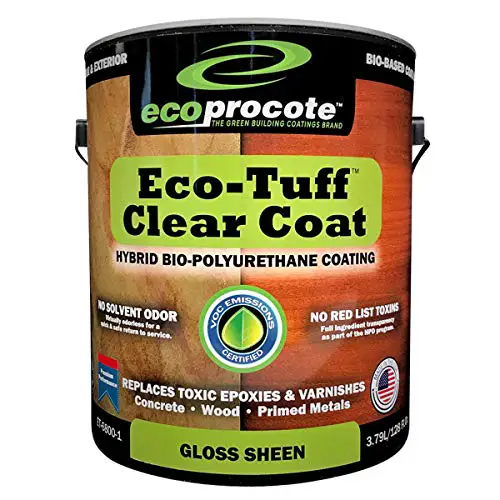 Last on our list is the Eco-Tuff Clearcoat Concrete Sealer by EcoProcote! A product that is vastly known as the best concrete countertop sealer for interior use. However, this doesn't mean that you can't use it for outdoor applications. 
When it comes to versatility, it's one of the most versatile sealers on our list. Apart from using it on concrete countertops, it works on other natural surfaces like wood and primed metal. You can also use it with nonskid powders, decorative chips, and mica flakes for enhanced traction. 
In addition to having versatile applications, this sealer can be applied in various ways as well. You can either use a brush, roller, HVLP sprayer, or trim pads.
Therefore, you can easily choose the most convenient option for you. Better still, the sealer is available in 3 finish options; matte, satin, and gloss. This means that you've total control of the finish you want your concrete countertop to have. 
Moving on, this sealer has a non-toxic, plant-based formula that is made with bio-polyurethane. It's free from VOCs as well as Red List chemicals. Red list chemicals refer to a list of building materials and chemicals that are harmful to people.
Moreover, this sealer doesn't produce any odor, meaning you'll not need a nose mask when applying it. Most importantly, this indicates that you're getting a sealer that is both family- and environment-friendly. 
In terms of packaging, Eco-Tuff comes in 5-gallon and 1-gallon sizes. On curing, this sealer for a durable coat that gives surfaces excellent protection against abrasion, chemicals, UV, water, and scratch for a long time. To be precise, one application can last for about 5 to 10 years, based on exposure, traffic, and exposure. 
Bottom line, this sealer will effectively protect your concrete countertop from various elements, without sacrificing aesthetics. So, apart from looking good, this sealer gives surfaces excellent protection. 
Pros 
Hard and durable finish 
Environment- and family-friendly 
Can be applied over or below paint 
Seals various porous surfaces 
Cons 
---
How to Choose the Right Concrete Countertop Sealers?
There you have, the best concrete countertop sealers you can buy for your countertop at the moment. However, if you don't know what you should look for, you may still end up choosing a sealer that's not ideal for you. So, before you choose a certain concrete countertop sealer, make sure you consider the following factors; 
Safety 
This is a very important factor that you should always consider before you buy a concrete countertop sealer. Especially if you're planning to use the countertop to prepare food items.
In that case, you should avoid sealers that contain VOCs (Volatile Organic Compounds) and other harmful chemicals. Similarly, you should avoid sealers that produce harmful and unhealthy fumes since they can cause breathing problems. 
Coverage 
Countertop sealers are available in various sizes and have different coverage. The size of a standard kitchen countertop is about 30 sq. ft. If it's the only surface you intend to seal, you should choose the ideal sealer with a coverage area within that range.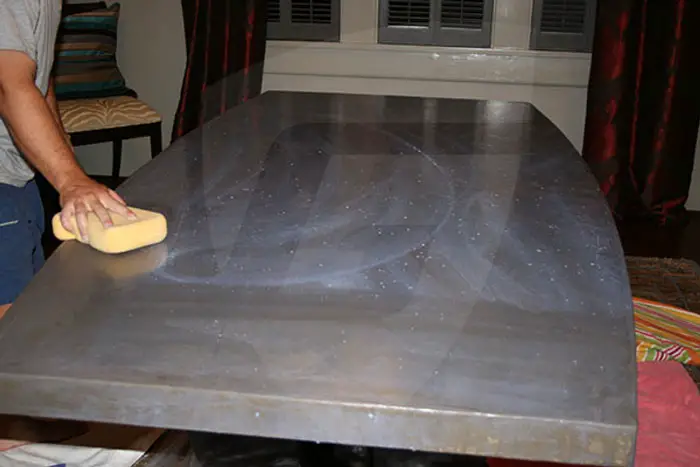 However, if your house has other countertops like in the bathroom or you want to seal other concrete surfaces like garage floors, you can choose a sealer with wide coverage. In other words, it's good to measure the area you intend to seal before you buy a concrete sealer. 
Finishing 
Some types of countertop sealers tend to change the natural appearance of the surfaces while others don't. In most cases, penetrating sealers don't interfere with the surface appearances since they are absorbed deep into the surfaces. The same cannot be said about the settling types. 
Either way, all types get the main task, which is protecting the surfaces against elements like stains and water, done! Therefore, whether the sealer's finish changes the surface appearance or not is a matter of personal preference. However, the finish must also be durable, waterproof, and UV resistant. 
Drying time 
First and foremost, you should know that curing and drying are two different things. Drying means that the sealer coat is dry to the touch, while curing indicates that the surface is ready to be used without damaging the sealer. 
Drying time determines how fast you can apply another layer and how safe the sealer is from pollutants. If the drying time is longer, dust and other pollutants may settle on the sealer and damage the applications. Therefore, you should opt for sealers with a fast drying time. 
Read more: Best Concrete Patch
---
Frequently Answer Questions About Concrete Countertop Sealer
How long will the concrete countertop sealer last?
Although this may vary depending on the environment, traffic, and surface type, concrete sealers usually last for about 5 to 10 years.
Does applying a concrete sealer make the countertop slippery?
This will depend on the type of concrete sealer you're applying. For instance, a penetrating sealer may not cause the surface to be slippery. However, film-forming sealers can make the countertop to become slippery. To prevent this, one can add grit to the sealer before applying it. 
Why should I seal my concrete countertop?
Concrete countertops are exposed to various elements like water, salt, food items, and more that can form tough stains and damage them. Applying a sealer to protect it from all these elements. Besides, concrete sealers tend to preserve the surfaces by protecting them from cracks and scratches. 
How often should I reseal my concrete countertop?
Again, this will depend on the level of abuse and sealer type you use on the countertop. In general, film-forming (settling) concrete sealers can be resealed after 1 – 5 years. On the other hand, penetrating sealers are more durable and can last up to 20 years before they need to be resealed. 
Can you apply a concrete countertop sealer over an old sealer?
No! Make sure you strip away any old sealer from the countertop and clean the surface thoroughly before you apply a new coat.
Final Word 
Overall, concrete countertops are very useful and common structures in the bathroom and kitchen. In the kitchen, there are used for food preparation or storing utensils and they make the space look beautiful.
If you don't seal them with the best sealer for concrete countertops, that beauty may not last for long. Besides, sealers protect them against various elements like water, stains, and more. 
By now, we hope you've found the ideal sealer for your concrete countertop. Regardless of whether your countertop is new or old, any of these sealers will keep it free from cracks and stains.
However, remember to consider the factors highlighted above to find a sealer that is perfect for your specific project.