As a car enthusiast or professional mechanic, lying on the floor while fixing a truck or car in your garage can make you get backaches, right?
Not to forget that creeping underneath the car to check out the brake or fuel lines or change a component can be very challenging. There's minimal space and you can't even see what you're working on clearly. 
Well, that's about to change! You just need to get the best 4 post car lift and things will never be the same again. 
In addition to giving you a safe and comfortable working environment, a 4-post car lift can help you maximize your garage parking space without making architectural adjustments. 
Although most of these lifts are a bit expensive, using them to raise or drive up a car is much easier than using stands, ramps, or jacks.
Most importantly, they are designed to deal with heavy and big vehicles with a maximum weight of about 9,000 pounds. 
 Now that you know the importance of having a 4-post car lift, which is the best one to buy? 
To help you make that decision, we've listed detailed 4-post car lift reviews showing the best lifts in the market at the moment. 
Here they are! 
5 Best 4 Post Car Lift Reviews
1. APlusLift Review (HW-8S Car Lift)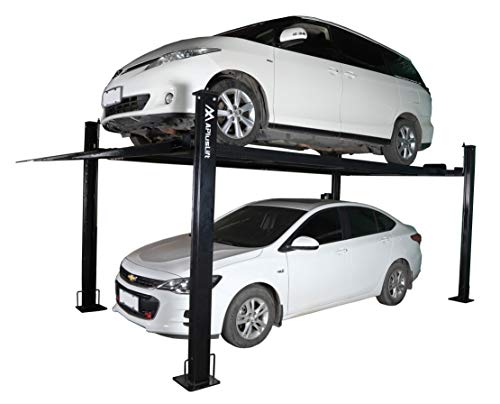 If you know you'll be moving a lot, then we would recommend you look for a portable car lift. In that case, this APlusLift car lift would be the best option. It's even considered as the most portable 4-post car lift in the market today! 
And just like any other portable car lift out there, the APLusLift HW-8S model is easy to assemble. Best of all, the package comes with cater kits, so you can easily move it around your garage. 
You'll also love that this unit has an incredible lifting capability. To be precise, it can lift cars with a maximum weight of about 8,000 pounds. As such, if you have cars within this weight limit like vans and SUVs, you can easily raise them with this lift. 
That's because it's fitted with an efficient 110 Voltage, 1.5 HP electric motor that powers its hydraulic system. This enables it to elevate the vehicle to the desired height at a 40-seconds lifting rate. 
Talking of height, this unit can raise a vehicle to 72 inches. This provides decent clearing at the bottom part as well as ample space for double parking.
To protect the car at the bottom from the elevated one, the lift has 10 lock positions that secure the car at the raised level.  
It's also worth mentioning that this equipment is very flexible. All thanks to its dimensions, including the 93" drive-through width. 
And did we mention that this lift is very durable? Well, the heavy-duty steel construction enhances this lift's longevity. Also, the lift has a powder coating finish that enables it to resist corrosion and strengthens the entire equipment. 
The other notable feature that comes with this unit is that includes a set of 3 drip trays that collect liquids and dirt from the hoisted vehicle. There are also 2 approach ramps and a jack tray. 
In general, this APlusLift car lift is a piece of very adaptable equipment that you can either use for storage, parking, or servicing vehicles. It takes up little space and it's very portable.
For that reason, it's an ideal option for remote as well as commercial and home applications. 
Highlighted Features 
Durable, heavy-duty construction and corrosion-resistant powdered finishing 
110 Voltage 1.5HP 60HZ hydraulic motor 
10 lock positions 
8,000 lbs carrying capacity 
1-year warranty 
Portable and easy to move around the garage 
72" maximum height reach 
---
2. Auto Lift Car Lift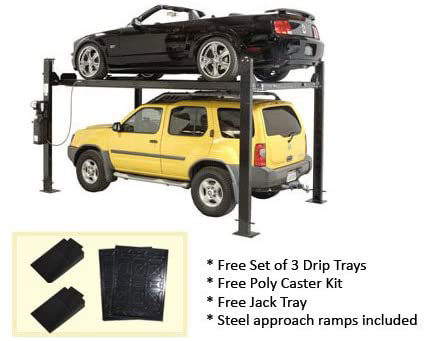 Although this model is not as popular as the other car lifts we've considered above, it has been in the market since 2014. Manufactured by Auto Lift Company, this high-quality car lift has been designed to hold cars of up to 3.6 tonnes (8,000 pounds). 
So, if you're dealing with cars within that range, you can rest assured that you're getting one of the best 4 post lifts in the market right now! 
But what makes this model such a great option? 
For starters, this car lift allows you to store up to 2 cars in your garage, even if you're short on space. This is because the unit itself doesn't take up a lot of space. Not to forget that it can lift a car to a height of about 74.75", leaving enough space below to accommodate another car. 
Moving on, this car fit has been cleverly designed with safety being their main priority. This is indicated by the presence of multiple safety features including 2 failsafe systems.
Firstly, there is an automatic ladder lock system that engages in case the cables fail. Secondly, the 18" wide runways can hold a larger wheelbase and they're made of a diamond plate to avoid slipping.
While we're still on the design, it's worth mentioning that the included cables can hold up to 14,500 lbs. This is almost 2 times the maximum weight of the unit. The lift also has ten different lock positions, meaning you can lift your car to the exact height you want. 
Another extra feature that comes with this unit is the free jack tray. Thus enabling you to hoist a car when it's on the platform.
Moreover, the package includes 3 drip trays for trapping any fluid that drips from the hoisted vehicle, saving you a lot of time that would otherwise be spent cleaning up the garage floor. You'll also get steel approach ramps as well as a poly caster kit. 
Overall, this 4-posts car lift by Auto Lift Manufacturing is a great option for parking and repairing tasks. In terms of parking, it takes minimal space and accommodates up to 2 cars. As such, if your garage doesn't have a lot of space, this unit will come in handy! 
Highlighted Features 
Convenient caster kit for easy maneuverability around the garage
Redundant ladder lock system and non-skid diamond plated runways for safety
Aircraft quality cables to enhance weight capacity
3 drip trays for collecting fluids dripping from the raised vehicle 
Solid steel frame construction 
---
3. BendPak HDS-14LSX Truck & Car Lift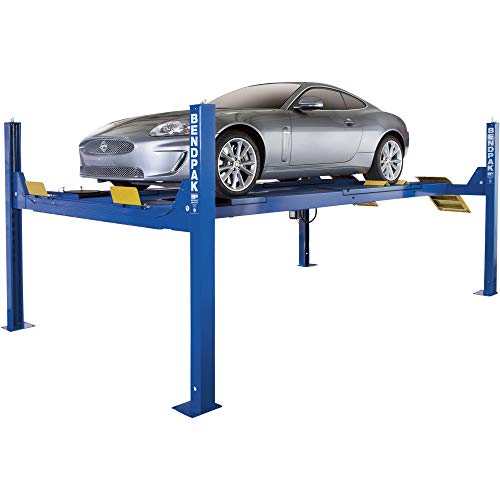 To finish our list is yet another high-quality HDS-14LSX car lift from BendPak. If you know anything about BendPak's HD-Series, then you already know that these models are designed for laborious tasks including the toughest lifting jobs. Well, this particular model is not an exception.
First and foremost, you'll note that this car lift has a holding capacity of up 14,000 pounds. As such, it's the best 4-post car lift on our list with the highest holding capacity.  
Besides, this makes it ideal for lifting heavier vehicles like super SUVs and medium trucks. So, if your auto shop or garage specializes in servicing large vehicles, we'd recommend you check this one out! 
How comes this car lift can hold such a great weight capacity? Well, that's something that can be illustrated by its incredible features! 
For one, the HDS-14LSX has aircraft-grade stainless steel cables. Moreover, its powerful hydraulic system is powered by an efficient electric hydraulic system, thus making the lifting and lowering operation fast and simple. 
There is also a 3 ½" diameter hydraulic cylinder is hidden under its runway that enhances its reliability and performance while reducing its exposure to elements. To make the unit even more durable, the build is coated with a powder finish to protect it from harsh chemicals and environmental conditions. 
Another unique thing about this equipment is that it has large-sized cable rollers with self-lubricating properties. This makes its elevation system very convenient. 
Regarding safety, this car lift has spring-loaded safety locks that engage continuously when hoisting the lift. The system releases the 4 locks at the same time by simply pushing the button. Besides, there is another locking system that engages automatically if the cable fails unexpectedly. 
Even though this car lift has a premium price tag, it's a worthy investment to have in your auto shop or garage. Especially if you deal with heavier vehicles within a weight range of up to 14,000 pounds. 
Besides, it's a piece of solid and long-lasting equipment that's full of many amazing features and an excellent weight capacity. Therefore, it will support your financial investment in the long run.
Highlighted Features 
Wide rail-kit for extra accessories 
Powerful & efficient electric hydraulic system 
2 strong ramps for simple entry into the loading platform 
Efficient lock system for enhanced safety 
14,000 pounds maximum load capacity 
Heavy-duty aircraft-grade cables 
---
4. TRIUMPH NSS-8 Review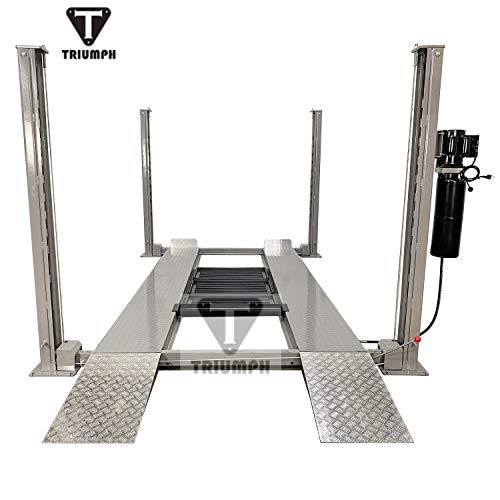 Seeing that TRIUMPH is one of the major players in the auto lift industry, it should not come as a surprise that their 4-post car lift has topped our list. This NSS-8 model is a strong 4-post car lift, making it ideal for professionals. 
As the name suggests, this unit is perfect for maximizing parking space in your garage. This is because it a lifting height of up to 84", meaning you can park one vehicle on the lift, and another car below it. 
The unit has a four-post design, featuring 2 posts on the front row and the remaining posts on the back row. It has a symmetrical configuration since the distance between the back and front columns is the same. 
Furthermore, there are aluminum approach ramps and 5 lock rods that guarantee safety. Not to forget the 10 automatic locking that gives it extra safety and convenience. 
When it comes to the lifting capacity, this car lift can lift vehicles of up to 3.6 tonnes(8,000 pounds), thanks to its 110 V electric motor. Moreover, it has excellent dimensions, giving it the versatility it needs to accommodate both smaller and larger cars.
For that reason, you can safely use it to lift medium-sized cars within that weight range for repair or storage purposes. 
Another good thing about this TRIUMPH car lift is that it's very user-friendly. It comes with all the necessary accessories, making its assembly and use more convenient. For instance, the set of caster wheels allows you to move it around the garage, while the drip trays prevent fluids from running off the lifted car.
Additionally, the included jack trays enable you to use a jack to elevate one end of the car. 
As if that's not enough, the lift comes with simple instructions that you can easily follow along to operate the lift, even if you're a beginner. 
Lastly, expect this car lift to serve you for a very long time since it's crafted from very durable materials. For instance, all its main elements like posts are made from steel, while other components like ramps are crafted from aluminum material. 
Highlighted Features 
8,000 pounds maximum lifting capacity 
2 removable stop plates prevent the car from moving 
110 V electric motor to power the lift 
3 drip trays to prevent any liquids from getting to the garage floor
Caster kit to allow easy and smooth lift's movement around the garage 
10 automatic locking for securing the vehicle at various levels
2 detachable loading ramps
---
5. TRIUMPH NOS9000 Car Lift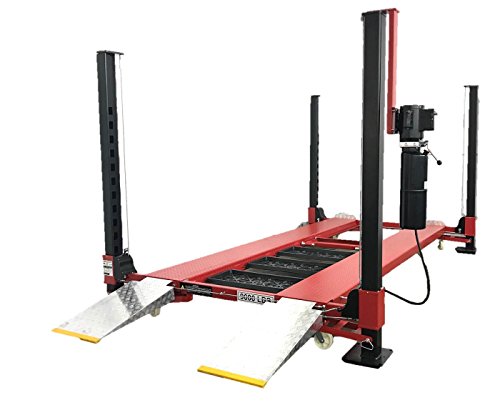 Safety is one of those factors that are hard to overlook when looking for a quality car lift. Luckily, TRIUMPH understands that very well, something you can see in their NOS9000 CAR LIFT model. 
Considering the number of safety features included in this unit, you'll why see why it's ranked among the safest car lifts. Some of these features include an automatic deadbolt lock and a secondary redundant system. The redundant safety system acts as its 'plan B' in case of a malfunction.
For instance, if the cables stop working, the system secures the entire system. Thus ensuring the cars are secured firmly. 
Its safety is also contributed by its durable, high-grade construction. The lift is built with sturdy materials that give it a solid stand. This also enables us to safely hold cars with a weight of up to 9,000 pounds, which is more than all the car lifts we've looked at above. 
The other unique thing about this car lift is that its four posts have a slider design. Thus giving them more stability and sturdiness. To add a hardiness level to these posts, the unit features 6 by 6" collars. 
Another that you'll certainly note about this car lift with a 100V motor is that it's very good-looking. This is mainly because of the red and black powder coating in its high-quality steel construction. Apart from making the unit attractive, this coating makes it rust-resistant. 
Moreover, with an overall width of 113", this unit is more compact than most 4-post car lifts out there. The 36-inch aluminum ramps makes it easy to drive the vehicle on and off the lift. And that's not even all! These ramps have box tracks that help to enhance their overall strength. 
The unit also has other additional features like a set of drip trays, superior poly-coated casters, a drain plug cable, and a rolling jack tray. 
Looking at all these incredible features, you know you're getting a fantastic 4-post car lift that will ease your mechanic repair tasks. Moreover, you can use it for parking as well as general car inspection or tuning. 
Highlighted Features 
Slider design on the 4 posts for sturdiness and stability 
Lightweight, removable 36" aluminum ramps
Redundant secondary safety system 
Heavy-duty poly-coated casters 
Manual deadbolt locks for securing the system 
Attractive design with multiple safety features 
9,000 pounds maximum weight limit  
---
4 Post Car Lift Buyer's Guide 
After going through the 4 post car lift reviews, you've probably come across a unit that has attracted you more than the rest.
But remember, buying that lift is a massive investment. Besides, the last thing you want is to end up with a piece of equipment that is not ideal for your needs just because you think it's attractive. 
Therefore, before you decide to buy any post car lift, there are some factors you should consider. Think of it as narrowing your first option among the other products.
By doing so, you'll end up with the right car lift that matches your personal preferences and immediate needs. 
That being said, here are the factors you should look out for; 
Weight limit 
Weight limit simply helps you determine the maximum amount of weight the car lift has been designed to hold.
Therefore, before you settle on a certain 4-post lift, you have to consider its weight capacity as well as the weight of the car you intend to hoist with it. To guarantee safety, we recommend that you go for a unit with a weight capacity that's slightly above the vehicle's weight. 
Safety  
Most car lifts have several safety features that prevent your car from collapsing or slipping. Nonetheless, the most important safety feature you should watch out for is the automatic safety lock system.
This is the system that automatically locks the car lift when it's rising, thus preventing your car from unexpectedly falling if there is a power outage. 
Also, choose a car lift with a lock bar system to ensure that the lift descends the car smoothly.  
Car lift size 
The other thing you should consider when buying a 4 post car lift is its width and height range. The height range helps you determine how far up you can hoist a vehicle.
If its height range is higher, then you'll have more space underneath to park another car. Generally, a car lift with a height of about 60 to 100" is a great option.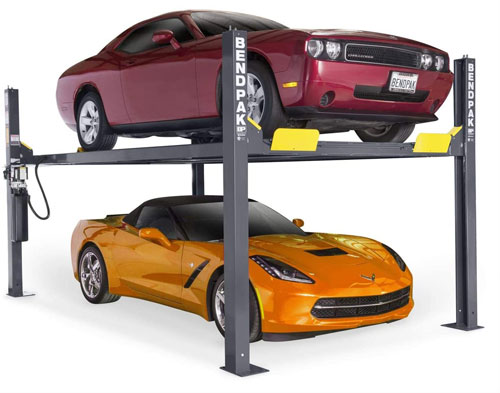 On the other hand, the width range determines the maximum car width that the lift can accommodate. In that case, we recommend lifts with a wider width range since they're more flexible as you they accommodate cars with different widths. 
Construction 
Car lift construction is another factor you should never overlook since it plays an important role in determining its durability.
Therefore, choose a 4-post car lift that is crafted from durable, heavy-duty, and corrosion-resistant materials like steel.
Besides, a material like aluminum can be used for components that don't hoist the vehicle directly because of its lightweight and rust-resistant nature. 
Read more: Atlas Car Lift vs Bendpak: What's the Difference?
Frequently Answer Questions About 4 Post Car Lift
Which company manufactures the best 4 post car lifts?
Although there are so many car lift manufacturers, not all of them produce the best equipment. However, some companies that are widely known to make the best car lifts include; TRIUMPH, BendPak, Auto Lift, and APlusLift.
What is the ideal concrete thickness for the garage floor before I install a 4-post car lift? 
While this varies depending on the car lift type, a 4-post lift usually requires the thickness of the reinforced concrete floor to be at least 4" (100mm). However, if the lift's weight limit is less than 6,000 lbs, the concrete thickness can be 3.5". Similarly, if the weight capacity is higher, the thickness can be more than 4". 
How does a car lift work? 
Although car lifts come in various shapes, styles, and designs, they get their job done through a similar approach. That is, they've got an electric motor that powers the hydraulic system used to hoist the car. 
Where can car lifts be used? 
While some people think car lifts can only be used for businesses, there are many other places that they can be useful. For instance, they can be used at race tracks, auto body shops, small mechanic businesses as well as home garages. 
Is a 4-post car lift safe? 
Yes! Modern 4 post lifts have many safety features like hydraulic flow restrictor, auto-safety lock system, lock bar system, and anti-sway blocks among others. Therefore, they're very safe and comfortable to use! 
Final Words 
Regardless of whether you're just a car enthusiast or a professional mechanic, a 4-post car lift is an important piece of equipment to have in your garage.
Although there are other types of car lifts out there, the 4 post lifts are the most popular ones since they're most stable and easier to use. 
However, you should always remember that not every car lift in the market is a quality one. Luckily, every piece of equipment on our list qualifies to be considered as the best 4 post car lift.
So, with any of these car lifts, you'll be able to hoist your car in a safe, practical, and comfortable manner.