When you get started with selling something on a regular basis, do you know what gets impossible to avoid? No! We're not talking about the hassles but the questions. And when it's a car lift, the one question that'll probably come to your mind more than anything is, which one is better when it comes to 2 post vs 4 post lift?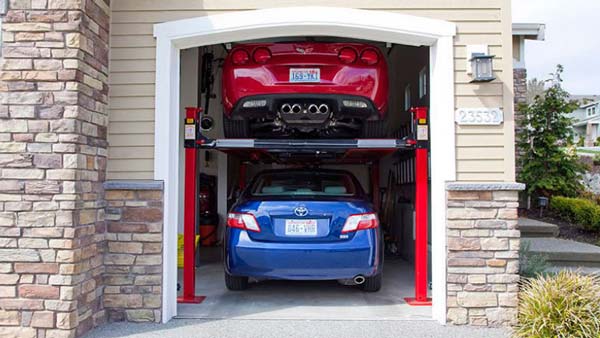 Wish we could get you an exact answer for that. After all, not everyone is going to need a 2-post lift, and the same goes for the 4-post too. But what we can do and will do is ease up your decision. We bet you're looking forward to having a check on that comparison too.
Know Your Reason for Buying a Car Lift
You won't like calling it a useless waste, will you? Then first, understand why you need a car lift in the first place. If you're standing in front of a blurry picture there, let us get you a clear one. Here are the benefits that a car lift can bring in for you.
Optimizing Garage Space
Want to know about one of the worst disappointments after buying a new house? Getting a garage that can take in only one car when you have two. So, what can be the best way to optimize that space but getting a car lift? With the right kind of car lift, you can put two cars in the place of one and four in the place to two with ease.
Off-Season Storage
Have you ever driven on a snowy road? Then, you already know that no matter how much horsepower you've got under the hood, it can't keep the ride on the road. For that, you need the right kind of ride. But that doesn't mean you'll have to keep your sports car in the open for catching ice.
All you need is just a car lift to keep the right ride close by, along with keeping the other ride stored for the right season.
Protecting Your Vehicle
Don't say you've got that car for free. As you've shed some thick bucks on that, we say you need to maximize the protection as well. Leaving the car outside makes it open to burglars, and we don't think you ever want to see one of them in your car's driving seat.
There's one more reason why you can't leave the car out. Yes, we're talking about protecting the car and keeping it clean. In both ways, keeping it in is what you need in the first place, and for that, a car lift can do a perfect job.
Easing Up Vehicle Maintenance
Not every time the trouble starts under the hood. Sometimes you need to take a peek under the car as well. So, when you've got a car lift in your garage, rather than slipping yourself under the tight space of the car, you can simply lift the entire ride to check out what has gone wrong.
2 Post vs 4 Post Lift: The Comparison
Well, you've made it to the point that you wanted to see from the beginning, the comparison. Some might suggest you go with any of the car lifts between 2 Post and 4 Post.
But we say it's better to have a deeper view before you swipe that card of yours. After all, it ain't anything that you can throw away after a couple of months, is it? So, let's see where they actually differ from each other.
Ease of Installation
If you've already had the chance of checking out any 2 post lifts, then maybe you didn't miss noticing their installation style too. You're going to need some help from the professionals for 2-post as you'll have to anchor it to the base by drilling your concrete floor. So, you can't count the installation part entirely hassle-free.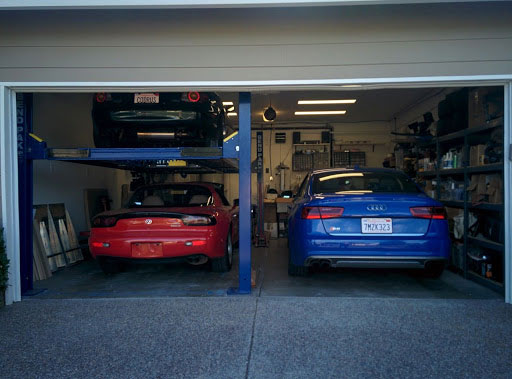 But when it comes to 4 post lifts, they don't need anything like that as all you have to do is just put it in the right place. You can count it as the right way to keep your floor intact while grabbing the advantage of having a car lift in your garage.
Portability
From the type of installation, you've already got the point, we guess. But still, let us be clear on that. As the 2 post lift has to be anchored in the ground, you can't take them anywhere without making a mess on your floor.
But the 4 post one doesn't need any anchoring, and that makes it easy to carry to any other location. You can at least say that you're not 'stuck' with it in case you want to sell it.
Motor
Another aspect that differs between these two lifts is the motor they feature. For 4 post lifts, you're going to see motors with 110V, which is common in most areas. This means you probably won't have to bring any changes to the electrical system of your garage.
But things are a bit different for the 2 post one as they feature motors of 220V, and there's a chance of your electrical system not being compatible here. So, before you install one in your garage, it's better to check your electrical system first if you need to bring any changes to that.
Space
Probably, you're expecting the 4 post lift to stay ahead on this part as well. But it seems 2 post lifts have taken the lead in this lap. When it comes to occupying space, the 2 post eats up less room than 4 post lifts.
This means when you're not working with your vehicle or not keeping one on the 2-post lift, you've got enough space to keep something else around. But that's going to be a little tough if you've owned something like a 4 post lift lately.
Lowering Vehicle Height
When you'll put your car on a four-post lift, what will be the height of the car? Let's guess it's 72 inches, from the luggage rack to the wheel bottom. Do you know what it'll be after putting it on a two-post lift? 55 inches!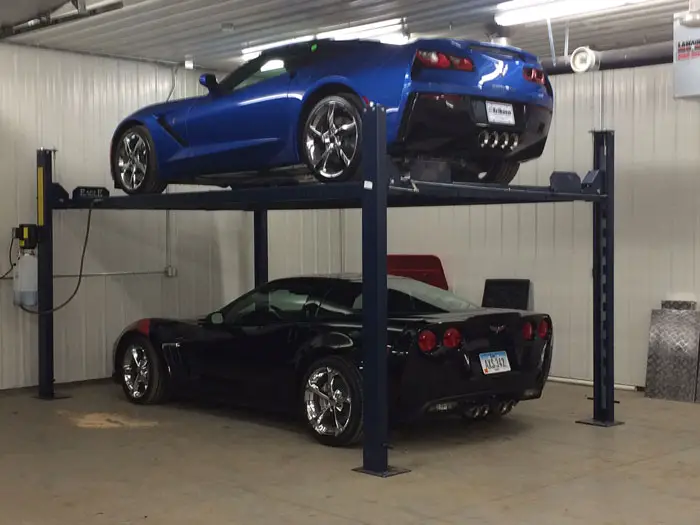 That's because two-post lifts hang the vehicle with lifting arms where a portion of the car wheel remains under the arms. But when it comes to four-post lifts, they pick up the entire vehicle without letting anything hang out of the frame.
Ease of Access
When you roam in the online market, the one thing in car lifts that might not catch your eyes instantly is how much ease of access you're getting in them. Yes, we're talking about how easily you're able to get into the car.
If you see 2 post car lifts closely, you'll see that the poles are kind of blocking the door to a certain extent from opening widely. But don't worry; it still will get you enough room to get into the car. But the problem gets started when someone with a bigger size tries to get in. There won't be anything like that in 4-pole lifts.
Reach
Indeed four-post lifts are great, but two-post lifts can take you to a better level of reach. Want to know how? Well, when you're putting the car on a 4-post lift, they can get you access to almost any part under the car except the tires. That's because the frame holds the car with its tires.
But that's definitely not the case when it comes to 2-post lifts. You can work on anything or any part under the car, and that includes the tire too.
Safety
If you ever go under both of the car lifts, then we bet the 4-post one will make you feel much safer. The reason is clear as a day. Along with having a stronger frame, there are four posts that are maintaining the balance of the vehicle and weight perfectly as well.
But in 2-post lifts, the lifting arms are tagged to two poles. And as two joints are holding the entire weight of the vehicle. So, there's a chance of you not feeling so safe under that, though the fear is totally psychological.
Ease of Loading
When your lift has 4-poles, then loading it is easy as pie. All you have to do is simply drive it there. But things are a bit different for 2-post lifts as you'll have to struggle a little with the loading and positioning.
Versatility
So, why do you need the car lift for – just to park your ride or add it to your garage to have some help in the maintenance? But if it's the first one, then we say it's better for you to go with the four-post one. All you have to do is drive and lift.
But if you're planning on the second one, then the best one for you will be the two-post lift as it's more versatile. You can put on a wider variety of rides in it easily without getting worried about whether it's going to fit there or not.
Final Words
It ain't anything easy to find the right one out when it comes to the comparison on 2 post vs 4 post lift. But as you've got all points of difference clearly now, we don't think you're going to face any trouble in grabbing yours. So, what is it going to be this time – 2-post or 4-post?
Read more: