Car trailer winches have so many uses. For starters, winches have a hooked cable and more, making them ideal for lifting and pulling. So, if you want to pull cars, boats, or tractors onto a trailer, this device will come in handy. Besides, you can even use it to tow or pull another vehicle out of sticky situations.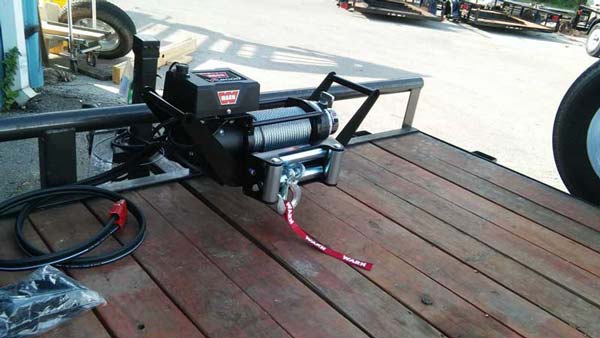 As you can see, finding ways to use a car trailer winch isn't an issue. Unfortunately, there are several winches with varying winch sizes out there. For that reason, choosing the best winch size for your trailer can be a little difficult. 
Don't let that worry you though! In this article, we'll help you find the ideal winch size to suit your application. But first, let's check out the various types of car trailer winches available. 
Types of Car Trailer Winches 
They're two types of car trailer winches to choose from. They include; hydraulic winches and electric winches. Although both types do the same thing, they differ in various ways. For instance, they have different capacities, running duration as well as fueling. 
1. Hydraulic Winches 
A hydraulic winch is a manual device that's propelled by a power steering pump. It multiplies your strength, enabling you to pull heavy objects against friction/ gravity. On top of that, it has a ratchet that holds the heavy object at any point on your trailer. This enables a normal person to do heavy-duty pulling using simple gearing and a crank.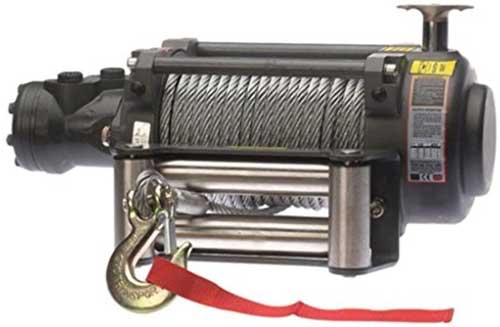 It's also worth mentioning that this device can run longer hours without overheating. The only downside with this type of winch is that it's more costly than its electric counterpart. Apart from that, it's an excellent option for people who use winches regularly. 
2. Electric Winches 
Unlike hydraulic winches, electric versions don't have a power system. Instead, they use rugged DC motors powered by the tow car's electric system/ battery. These types of winches are very common, thanks to their affordability. Moreover, some electric models use a pulley to increase their pulling power.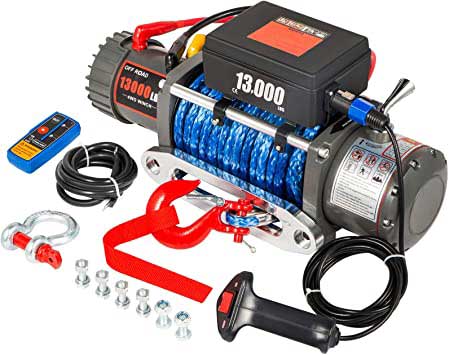 However, they aren't as good as hydraulic models when tackling heavy loads. That's because they're lightweight and have a shorter running time. So, if you operate them for a long time, they can experience issues like overheating. Nonetheless, they're ideal for mid-level utility tasks like pulling stuck SUVs. 
What's the Best Winch Size for a Car Trailer? 
Winch size plays an important role in determining its capacity and power. For instance, larger winches tend to be more powerful. This makes them for tasks like pulling/ lifting heavy vehicles like trucks. 
However, some winches can be too heavy or too big to attach to your trailer. Not to forget that cars don't support winches of all sizes. Therefore, before you buy a winch, look at whether its size is compatible with your vehicle. 
To accomplish that, there are various factors you need to put into consideration. This includes things like the winch-rated capacity as well as the gross weight of your vehicle. Moreover, you need to consider other factors that may affect the winch's capacity.
Here are some of those factors! 
Gross Vehicle Weight 
The first step to getting the right winch size is determining the gross weight of your vehicle. Gross Vehicle Weight (GVW) depends on 2 factors. That is, curb weight (weight of the car) and weight of the objects on/ in the car. 
Rolling load 
After determining the GVW, you need to calculate the rolling load. Typically, car trailer winches are used to pull tractors, cars, or boats onto the trailer bed. Fortunately, most of these loads have wheels, and they're considered rolling loads. 
In most cases, the rolling load is usually a ¼ of the gross vehicle weight. This allows the winch to pull more load than its rated pull capacity.
However, you need to consider other factors like the slope, tire load, and terrain as well. So, make sure you choose a winch that can pull as much weight as the car you're planning to haul. 
Winch Rated Capacity 
This refers to the maximum weight that a certain winch can haul/ pull. Different winches are designed to handle different weight capacities. 
Generally, we recommend using a winch whose capacity is 1.5 times the vehicle weight you intend to pull. In that regard, you can use the (1.5 X Vehicle Weight) formula to determine the ideal winch capacity. 
Let's assume the car you want to pull onto the trailer weighs about 5000 lbs. In that case, you need to multiply 5000 lbs. X 1.5, to give you 7500 lbs. This means that you can buy a winch with 7500 lbs. pull capacity to haul a 5000 lbs. car onto the trailer bed.
Our Expert Recommended Winch for Car Trailer: X-BULL 12V Synthetic Rope Winch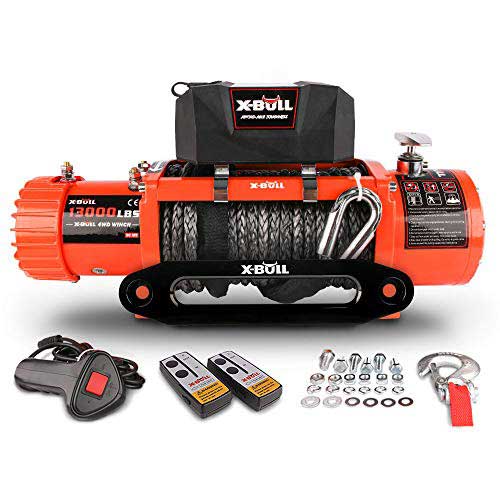 With its 1300 lbs. pulling capacity, this X-BULL device is one of the most powerful winches on the market today. This high load capacity makes it one of the best car trailer winches out there. Besides, this unit is loaded with many other incredible features, yet it's affordable! 
What are some of these features? 
First, this tool includes a synthetic rope crafted from UHMWPE (Ultra-high-molecular weight polyethylene). This is a lightweight, but high-strength fiber, giving it high strength to weight ratio. This plus the high load capacity enables it to pull most Jeeps and SUVs with ease. 
Regarding the dimensions, the synthetic rope has a length of 80 ft. and a diameter of 3.8". More importantly, it's compatible with the 10 by 4.5" mounting bolt pattern. 
You will also note that there is a powerful motor, a 3-stage gear system, and a 500A heavy-duty contractor. All these features guarantee smooth operation and faster line speed. 
Another notable feature is that this device has an IP67 Waterproof rating. Better still, it can tolerate UV rays, abrasion as well as low temperatures. Therefore, you can use this winch in all weather conditions. 
For convenient operation, this device comes with advanced wireless remote controllers. Not to forget the included breaker to increase the user's safety. 
Overall, X-BULL industrial-grade synthetic rope winch is ideal for commercial applications. Moreover, the manufacturer offers a 1-year warranty and lifetime technical support. 
Pros 
Includes free installation accessories 
High pulling power 
Powerful motor 
Available in various color options 
Withstand harsh weather elements 
Cons 
Only compatible with cars with specific dimensions 
Conclusion
Choosing the right winch size for your car trailer will be a hard decision to make. That's why it's important to spend enough time to determine the perfect size for your winching needs.
More importantly, make sure it can withstand the weight capacity of your application. Also, the winch should be durable, and reliable in many situations. 
Read more: