You know, the thing about human relationships is they sometimes fizzle out. Only if you could use an industrial strength glue to keep your loved ones attached to you at all times.
Please, don't do that though. That's highly illegal.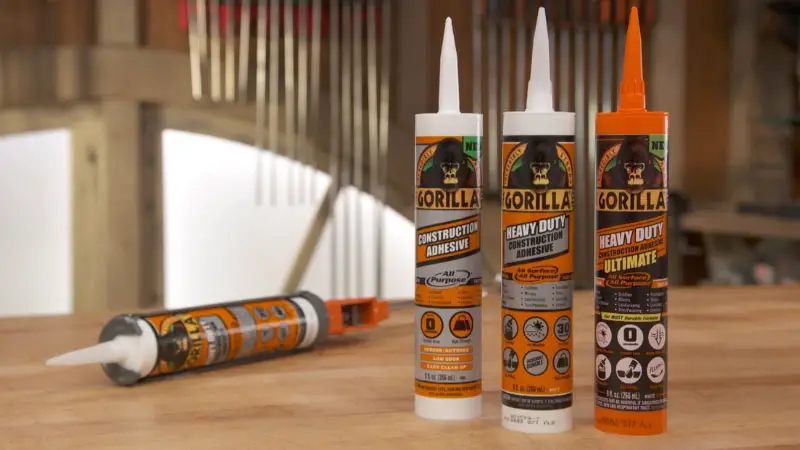 Do you know where you can use adhesives to make sure things never budge, and are bonded for good?
Construction and DIY projects!
In Hurry! Then Check Our Expert Recommendations:
If you work with concrete a lot, here is a review of the best adhesive for concrete you can buy right now. These have stronger bonds than some celebrity marriages.
Fun fact, don't let the name concrete adhesive fool you. You can use these on a variety of different surfaces. Read on to find out.
8 Best Adhesive For Concrete Reviews
On the surface, adhesives are simple. It's a substance that is used to glue pieces together. But not all adhesives are made the same. We sifted through all the nonsensically bad ones and rounded up 8 of the top choices.
1. Gorilla Heavy Duty Adhesive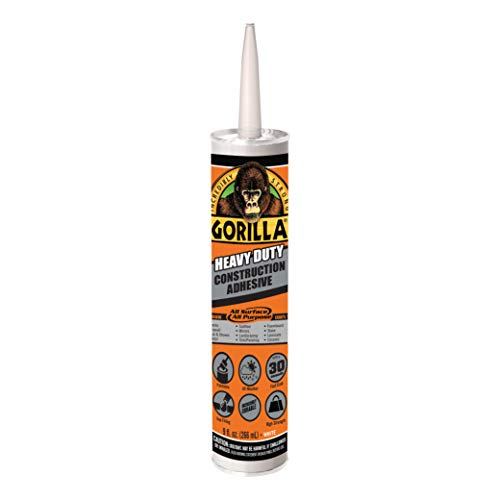 The gorilla is a strong animal. They're masculine and dominating. An adhesive named Gorilla? It better live up to its name.
Fortunately, it does. You can use Gorilla Heavy Duty Adhesive to hold anything during construction. One of the best things we like about this one is it comes in sort of a squeegee bottle. You line up the bottle where you want to apply the adhesive and squeeze.
You don't have to wait for hours for it to dry either. It only takes 30 minutes for it to hold. That's quite fast. With a bonding time that fast and convenient, whatever project you're working on will be completed much faster.
The problem is finding what to do with the extra time you save. And if you ask us, that isn't a bad problem to have. This is a versatile adhesive as well and is certainly the best adhesive for concrete.
Use it indoors or outdoors, the choice is yours. Speaking of using it outdoors, it's also weather-proof. No matter what the weather is, the adhesive will bond stronger than anything you've ever used before.
Construction workers and DIY enthusiasts love this one for its simple and easy to apply process. Of course, the short bonding time we mentioned doesn't hurt it either. As a cherry on top, this has no odor and is VOC compliant.
Pros
Bonds very quickly
Holds up against all kinds of weather
Can be used both indoors and outdoors
Comes in a squeegee bottle
No odor
Cons
You need to squeeze it hard to get the adhesive out of the bottle
---
2. Liquid nails adhesive (414607 LN-907)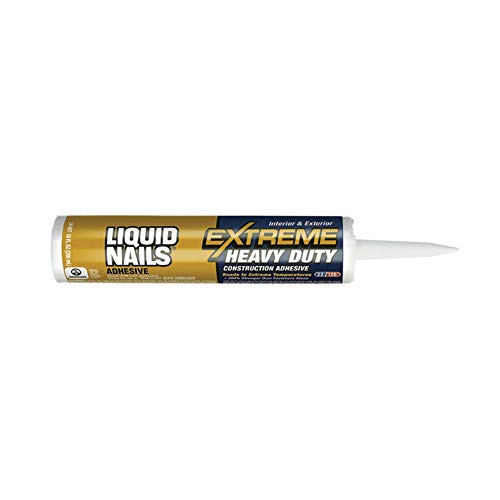 The term 'heavy-duty' in a construction adhesive just feels right. Don't you think? It sets us up for what we can expect from it. Liquid Nails is another fan favorite when it comes to adhesives. The customer reviews are a proud showcase of that. What do customers love about it then?
First up, you have the sheer bonding strength of this one. This can bond almost anything and in any condition. There is something to note here though. It isn't that good when applied in the cold.
Where Liquid Nail's Extreme Heavy Duty adhesive shines is it can be applied on wet surfaces. The formula it uses makes it the best concrete adhesive for wet applications.
It also comes in a squeegee type bottle. You'll frankly notice a trend in our reviews. Almost all the products we have for you here do come in a bottle like this. That makes them easy to apply, and this one is no different.
You can use it to bond a wide variety of substrates. It does work on all weather conditions but as we mentioned, the cold performance was a tad bit underwhelming.
The curing time isn't all that bad either. It has a 24-hour cure time. Which honestly is sort of an industry standard.
Pros
Easy to apply
Works well in harsh weather conditions
Industry-standard cure time
Can be used on different substrates
Works particularly well on wet surfaces
Cons  
Not the best performance in the cold
---
3. Loctite Adhesive 1390595

You can buy this one in packs of 6, 12 or just buy one single tube. But we assure you, after seeing what it can do, you will not just want one tube for yourself. This one is a beast in its own right.
One of the aces under its sleeves (if adhesives had sleeves) is its formula. By formula, we mean how the actual adhesive is made. It's a urethane-based adhesive.
This gives you two benefits. One is it's environment friendly. We can all agree for the comparatively short time we've been on planet Earth; we haven't been the most caring for the environment. Adhesives like these are a nice change of pace in that case.
The second is it provides you strength that's three times stronger and has twice the coverage of conventional adhesives. With a spec sheet like that, you can tell why this earns a spot in our concrete adhesive reviews.
Apart from those already impressive lists of features, you can use this adhesive on all common construction materials. Just like our other products, you can use it both indoors and outdoors.
No need to worry about water when used outdoors. Since Loctite Adhesive is waterproof and paintable as well. Live in a cold environment? This will cure in the cold, and of course in warm temperatures as well.
Pros
Environment friendly
3 times stronger than conventional adhesive
Cures in the cold
Waterproof
Paintable
Works both indoors and outdoors
Cons
Some users have reported slightly crushed tubes in the boxes
---
4. 3m High Strength 90 Spray Adhesive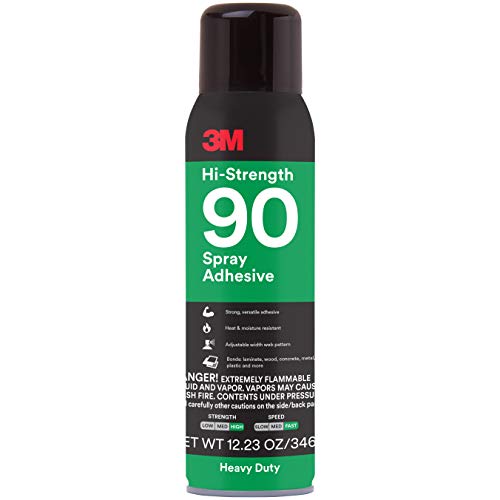 3M needs no introduction! They're a very reputed company and are always innovating. This adhesive spray from 3M proves what the creative minds running the company can do.
Unlike most of the products here, the application for the Hi-Strength 90 is a bit different. If you pay close attention to the name, you'll know what we're talking about.
You can spray this on whatever piece you want to bond. That makes it hands down one of the most convenient to use. The spraying has one downside though. we'll touch on that a bit later.
For what it is, this one gives you a solid hold indoors. You can use it on all the common construction materials. We're talking about wooden surfaces, concrete, MDF, and also particle boards.
If you want finer control over your spray, the nozzle can be adjusted on the fly. This gives you a choice for the width of the lace-pattern spray you want. It works perfectly well in high temperatures and is moisture resistant. Not all adhesives in the market can claim that.
The seal itself is phenomenally strong, coupled that with such an easy spray application, you have yourself an adhesive that's surprisingly easy to use and convenient.
Remember the downside? Well, the spray might as well be one of its Achilles heels. You need to make sure you apply it evenly with constant pressure on the nozzle. Otherwise, it'll come out uneven.
Pros
Easy to apply spray adhesive
Adjustable nozzle
Works great with moisture and high temperatures
Works on almost all surfaces
Strong bond
Cons
The spray can be uneven if not done properly
---
5. PC Concrete 72561 Epoxy Adhesive: Best Construction Adhesive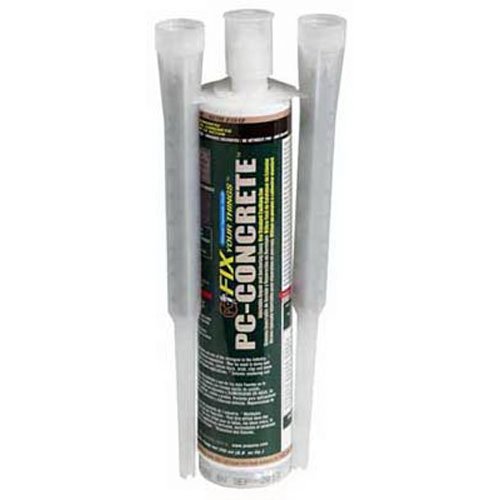 If you're a professional construction worker and need the best construction adhesive to work on concrete and all other various jobs, this is the one to get.
PC Concrete is not only strong and has the highest strength rating, but it's also very simple and easy to use. First of all, it comes packaged in a self-mixing cartridge. You can use it with almost all caulking guns.
Where this one flexes its strength is in anchoring and repair jobs. You can just unscrew the collar and remove the plug. Load the cartridge in a dispensing gun. Do a trial run till you see if equal amounts of flow. And voila! You're ready to go.
This is of course a two-part epoxy that lets you fix concrete cracks, anchor thread rods, dowels, and bolts. It's also one of the more weather-resistant paste you can find.
Use it both outdoor and indoor – the choice is yours. To ensure maximum performance, we recommend an application temperature of between 35 to 115-degrees Fahrenheit.
The service temperature is between -20 to 115-degree Fahrenheit. The cure time is pretty short as well. It'll cure in only 4 hours. If you're going to do a repair job or work on a DIY passion project, it's worth doing it right the first time around.
That's exactly what this allows you to do. It doesn't come loose on cleaned concrete or when the concrete expands and contracts.
Pros
Easy application
Works with most caulking guns
Can be used indoors and outdoors
Does not come loose
Short curing time
Cons
Not the best for small projects and less demanding tasks
---
6. Dap Concrete Adhesive (02131): Best Concrete Glues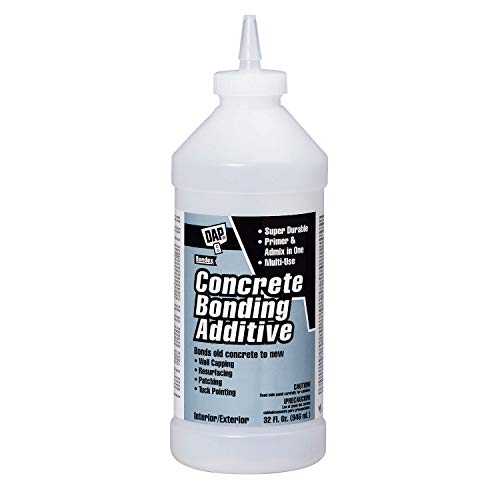 For someone who doesn't need super heavy-duty adhesive, and wants a simple easy to use adhesive, this one from DAP is perfect. It is one of the best concrete glues for small to medium DIY projects.
Let's start with the most important factor first – the strength. When applied, you can be sure it'll hold onto whatever surface you apply it on. Although it's made for concrete, you can use it on wooden surfaces, paper, and MDF.
But having said that, we would advise you to only stick to using it on concrete, since that's what it's made for. The application is as easy as it gets. You get an unassuming white bottle with a nozzle on top.
Squeeze the amount you need, and you're done. This level of ease is perfect for the inexperienced DIYer who is still experimenting and learning. Things like patching work, resurfacing, tuckpointing or wall capping can be done with this easily.
For the patriots out there, you'll be happy to know, this is manufactured in the United States. We are all up for supporting local businesses around here. Especially when their products are this good.
Pros
Made in the USA
Easy to use
Perfect for small DIY projects
Works great with concrete
Cons
Not the best for heavy-duty work
---
7. Loctite Power Grab Express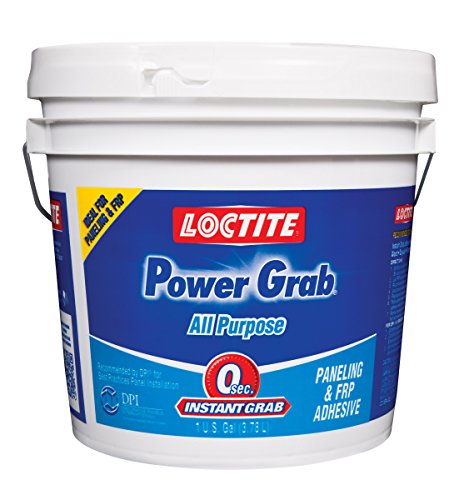 This is another banger of an adhesive from Loctite. The Power Grab Express is an all-purpose adhesive that works with different surfaces.
The grab on this is quite impressive. It'll grab onto whatever you apply it on in almost no time at all. It's advertised as a 0 second grab time. During our testing, we can confirm this one gets the job done as advertised.
If you're constantly working on your personal projects or a professional one, the size of this is something you'll appreciate. It comes in a one-gallon tub. So, you can be sure you'll always have some when needed.
You can easily load it onto a caulking gun, and apply it seamlessly. If you need to reposition, you have 15 minutes for that. The curing time isn't all that long either. It'll cure in only 12 hours which is less than some of the ones we have here.
Apart from that, you can use it on a whole lot of different surfaces. DIYers are rarely working with a single material or surface. That's why, this adhesive makes for such a versatile one.
You don't have to hunt for a particular adhesive that sticks to the surface you plan using it on – this is like a jack of all trades. Except it's a master of all too. Not a bad deal, not a bad deal at all indeed.
Working with any interior projects is simply a dream since it's paintable and gives you a professional level of finish and grab.
Pros
Easy to use
Instant grab
Paintable
Works on different surfaces
A large volume of adhesive
Cons
Doesn't work well with plastic
---
8. CECCORP C-POXY 30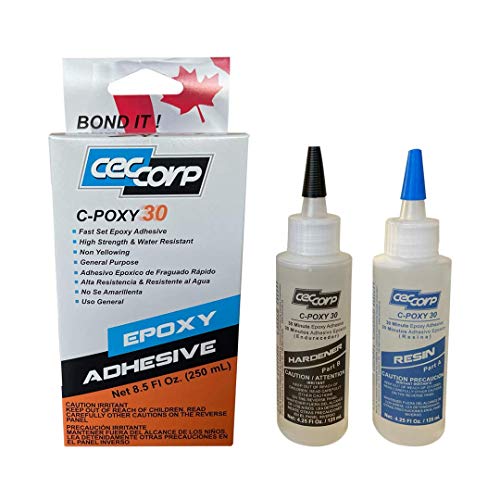 If you like to get a little bit hands on with your adhesives, the C-POXY 30 from CECCORP is the perfect blend of bonding strength. It comes in two parts.
You have part A and part B. To use it, you'll need to mix both of these thoroughly. The ratio is important on this one. That's where you get the most strength out of it.
For the perfect mix, you need to mix it at room temperature from anywhere between 20 to 40 minutes. If you have some excess or spill a bit of it, don't worry.
It can be easily cleaned with acetone. That's something we quite like since spillage can happen to anyone. Most other adhesives are a pain in the backside to clean – not this one though.
Once you've mixed it, you can use it in a lot of applications too. It works great for bonding concrete, glass, bronze, and also brass. If you have any small repair jobs around the house or maybe some musical instrument repair, the C-POXY should be your number one choice.
It has a long shelf life as well. You can be kept unopened in the packaging for up to 2 years at max. We want to emphasize the unopened bit mostly. That's important!
Another note of caution, we would also generally advise you to avoid mixing a large batch. Only mix the amount you think you'll need. Mixing a large batch might cause an exothermic reaction. This creates heat and reduces cure time. 
Pros
Strong bonding characteristics
Works on different surfaces
Fast cure time
Easy to clean
Long shelf life
Cons
Needs to be mixed carefully before use
---
The Best Concrete Adhesive: Buying Guide
When choosing the best glue for concrete, it's important to consider a couple of factors. Knowing this will give you the tools to evaluate what you need yourself. That way, you end up buying the right product for your needs.
Here are the things to consider;
Surfaces
Surfaces are one of the most important things to consider. Whenever you're buying an adhesive, you need to think about what surfaces you'll use it on. Different adhesives work best on different surfaces.
While certain adhesives will work on multiple surfaces, not all are made the same. To make the process easier for you, all the products we included in this review works perfectly well for all types of surfaces, including concrete, of course.
Bonding Strength
Imagine buying a race car and not paying attention to the top speed. That's how it would be if you buy a concrete adhesive and don't look into the bonding strength. The bond strength will ultimately determine how well the pieces will hold.
It's especially important if you know that whatever your bonding is, it will be under some stress. In that case, you'll want a very strong adhesive that'll hold its own against the harshest of conditions.
Ease of Application
Most people when looking for an adhesive forego this part. They shouldn't though. A part of a good adhesive is ease of application. Even if you're a professional, you would want to apply the adhesive easily without much hassle.
So, most definitely look for adhesives that are easy to use. It'll not only save you time during your projects, but you'll also have less of a mess to clean up later. Some adhesives need to be mixed, and some don't.
What "ease of use" applies to your case also depends on the job. A heavy-duty job will require getting hands-on. For that, you can't say a particular adhesive is hard to apply since it needs mixing or things like that. It's not built for that particular job.
Weather Proofing
Versatile adhesives can work on wet surfaces, in heat, and also cold. Weatherproofing is an important thing to consider when buying concrete adhesive. More so, if you're doing an outdoor project.
Good weatherproofing will give you peace of mind in the sense that you can be sure your project won't crumble during rain or when it gets too cold. Some adhesives work better in the cold than others. That's something to keep an eye out for.
Curing Time
Inadequate curing time will not allow the adhesive to set properly. This can be disastrous as the two pieces might come loose. Generally curing times are somewhat similar across different products. Although, some have less of a curing time.
Low curing time is also something you'll want in your adhesive as it means less time waiting for it to reach its optimal strength.
Environment Friendly and Safe
We're going to be honest here, not all adhesives are advertised as environment friendly. Having said that, if you find one that fits all your needs and is environment friendly, go for that one.
There's no harm in it. Using eco-friendly products is not only good for the planet (duh) but often it means the adhesive is made from safe chemicals.
We would also include safety under this section. Look for VOC compliant products whenever possible. It means they've gone through testing and are certified to be safe.
Brand
When it comes to a brand, there isn't much to consider here. The ones we mentioned are all reputed names in the industry and make some of the best products. Herein, the rule of thumb to remember is to pick a product from a reputed brand, and one that fits all your needs.
There isn't one single brand that's better than all the rest really. Some do some things better than others.
Read more: Correct Adhesive for Tub or Shower Surround
Frequently Asked Questions
Do concrete adhesives work?
Of course, they do. They're specially made to work with concrete and give you a strong perfect bond. You need to make sure applying it properly and give it time to cure.
Are they safe to use?
Yes, they are. A lot of construction workers and DIYers have been using these adhesives for years now. Normal usage of concrete adhesive is safe. It goes without saying, be careful when using though, and keep it away from children.
What is epoxy used for?
Epoxy is used for manufacturing a lot of things. They're mainly used for making adhesives, paint, plastics, and more.
What concrete adhesive should I buy for exterior use?
Get one that's weatherproof and has a strong bonding strength. That's about it. If you're sure the adhesive will be used outdoors, weatherproofing is quite important for longevity.
How long does it take concrete adhesive to cure?
This'll depend on the adhesive you use. Generally, 24 hours is the standard. Some industrial ones can take up to three weeks.
Final Words
There you have it! Now you have a concrete idea (excuse the pun) on what is the best adhesive for concrete. Pick the one that fits your needs from the list of products we rounded up and you should be ready to go.