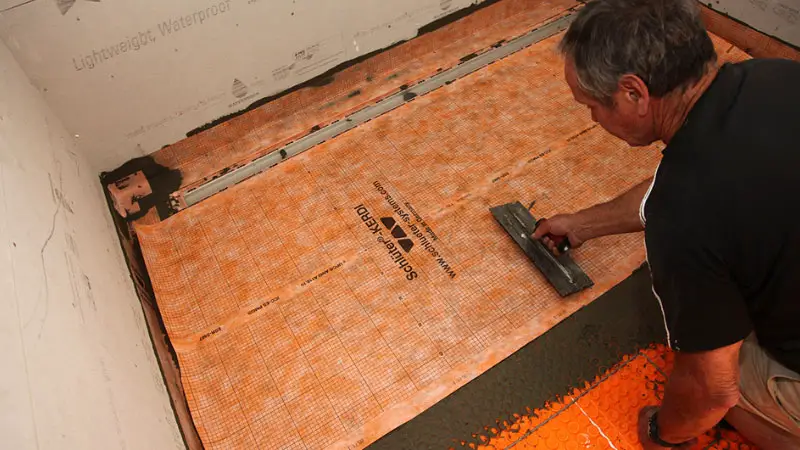 One common mistake that most homeowners make is assuming that their shower walls and floors are waterproof. Unfortunately, that's not always the case.
Why are we saying this? As you know, water can seep through even the smallest crevices and joints in your bathroom. This causes dampness inside the shower floors and walls, which promotes mold growth.
Over time, this will result in an unhealthy surrounding for occupants. It will also lead to deterioration of the shower's appearance. Moreover, this can cause tile cracks or structural damage to the framing.
Things don't have to go down that way though!
That's right! With the best shower waterproofing systems, you can protect your bathroom from water/ moisture damage.
However, with so many waterproof membrane brands out there, choosing the best one may not be a simple task.
Thankfully, we've reviewed the 10 best waterproofing membrane for shower that will waterproof your shower floors and walls completely.
Here they are!
10 Best Waterproofing Membrane for Shower
1. USG DUROCK Liquid Waterproofing Membrane for Shower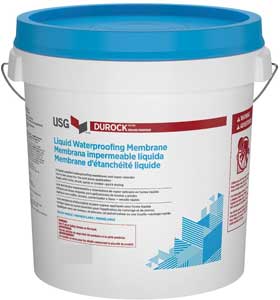 If you're remodeling your shower, a liquid-based membrane is the best way to go. They have incredible qualities that will protect your bathroom from leaking. And this liquid waterproofing membrane for showers from USG DUROCK is no exception!
It's an acrylic-based solution that bonds incredibly well with bathroom walls and floors. The membrane has a low permeability that prevents water leakage completely.
In addition, this solution also serves as a vapor retarder. It's compatible with various surfaces like gypsum fiber, concrete, masonry, cement backer board, and many others. This means that you can use it on other wet areas like commercial steam surfaces as well.
Another great thing about this liquid membrane is that it has a fast drying time. Also, you can vent your bathroom with a fan to speed up the drying process. It's also worth mentioning that this solution doesn't produce an overpowering odor during application.
Talking of application, using this solution is quite simple. You can either use a roller, paintbrush, trowel, or a sprayer. However, make sure you apply at least three coats to waterproof the surfaces properly.
Overall, the USG DUROCK membrane is a perfect option for protecting showers, swimming pools, and other wet areas against water damage.
Pros
Convenient application and clean up
Fast drying time
Ideal for bathrooms and wet areas
Bonds well with the applied surface
Cons
Hard to apply in corners because of its thickness
---
2. Schluter Kerdi Waterproof Membrane for Shower Walls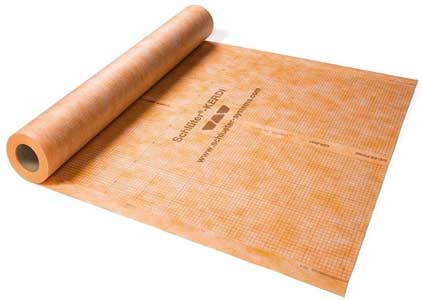 Fixing a leak in your bathroom can be very difficult. Sometimes, you may even be forced to tear down the entire tile floor or wall, to fix that leak.
Luckily, with this 180 sq. ft. membrane from Schluter Kerdi, that task doesn't have to be that hard anymore!
To start with, installing it very simple. You just need to spread it uniformly across your bathroom wall/floor with a trowel. And since it's a polyethylene membrane, you can use your bathroom immediately after installing it.
However, you should remember to wet the shower wall with a sponge before you install it.
You'll also be glad to know that you can either use this membrane for a tiled shower or steam room! That's because it acts both as a vapor retarder and bond membrane.
Regarding the construction, this unit is made up of soft-polyethylene material with crack-resistant capabilities. As if that's not enough, it has unique webbing synthetic fibers on both sides. Thus helping it create a strong bond with the thin-set mortar.
This means that it grips the surfaces tightly, allowing you to install tiles above the membrane, without them falling off.
The only issue with this membrane is that it's a little expensive and installing it is time-consuming.
Other than that, it's an excellent solution for keeping water out of your bathroom floors and tiles. Thus preventing them from getting damp as a result of water leakage. More importantly, it will keep your bathroom waterproof for many years to come.
Pros
Excellent adhesion
Fitted with unique fleece webbing
Cover a large area
Ideal for crack bridging
Cons
It's quite costly
Time-consuming installation
---
3. CUSTOM BLDG PRODUCTS Redgard Waterproofing Membrane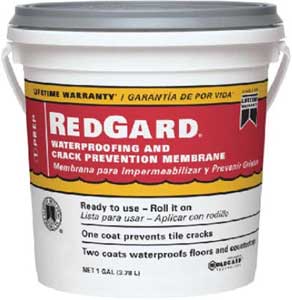 Another great solution for waterproofing your bathroom is using an elastomeric membrane. The best one out there being this Redgard read-to-use membrane from CUSTOM BLDG PRODUCTS!
First of all, this membrane is ideal for both tile and stone applications. Thus making it a highly versatile product. Moreover, when applied to the exterior and interior surfaces, it creates a relentless watertight barrier with great adhesion.
For this reason, you can use it on various surfaces like cement mortar, concrete, backer board, exterior plywood, and masonry.
The other benefit of using this membrane is that it helps to reduce crack transmission in tile and stone floors. Besides, you can also use it to protect the shower floor by applying it like a moisture vapor barrier.
As for the application, you can either use an airless sprayer, roller, or trowel. Having all these options makes the application process product and efficient. Besides, the fact that the membrane driers off faster, ensures the project moves more efficiently.
So, if you want to prevent cracks or waterproof your shower, the Redgard membrane is an incredible option. It forms a long-lasting waterproof barrier in floors and walls, giving them exceptional adhesion and the ability to decrease cracks.
Pros
Fast drying time
Various application options
Perfect for waterproofing interior and exterior surfaces
Prevents crack formation
Cons
---
4. XFasten Fiberglass Waterproofing Membrane Fabric Tape for Shower Walls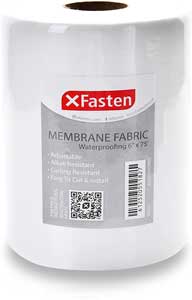 Imagine having a membrane that will waterproof your bathroom for more than 40 years! Incredible, right? Well, that's how durable this XFasten Fiberglass membrane fabric is.
That's not even the best part yet! Apart from being durable, this fabric comes at a very affordable price. So, even if you're on a budget, this product is certainly a good fit for you!
The most unique feature about this membrane is that it has an optimal thickness. This gives it an impressive water barrier capability.
Also, this protects it from fracturing when it's bent at sharp angles. Therefore, you don't even need any experience to cut and install this fabric. Most importantly, this flexibility makes it a great option for use in complex architectural showers.
It's also worth noting that this membrane works with most waterproofing polymers out there. For that reason, it's one of the most versatile fiberglass mess for waterproofing showers you'll ever come across.
If you're a beginner, XFasten fiberglass mesh is such a great product for waterproofing your bathroom. It's durable, affordable, and best of all prevents moisture from penetrating into your bathroom walls.
Pros
Simple to cut and install
Very durable and affordable
Excellent water barrier capability
Works with most waterproofing solutions
Cons
---
5. Laticrete Waterproofing Membrane Fabric for Bathroom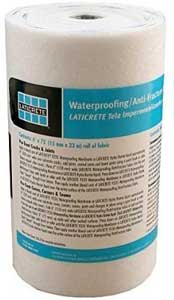 Laticrete is an international company that focuses on providing various solutions for waterproofing walls and protecting them against water damage. One of their popular products for waterproofing shower floors and bathrooms being this 6" X 75' membrane fabric.
Considering that this roll is 75' long, you'll have a sufficient amount to cover your whole bathroom. Also, the 6-inch width makes it a great fabric for sealing wallboard joints.
Moving on, this robust fabric includes a self-curing rubber membrane. Although this fabric is quite thin, it has an incredible load-bearing capacity. Thus making it an ideal option for waterproofing showers before you install bricks, stones, or ceramic tiles.
Its ability to withstand greater loads enables it to withstand cracks. In addition, that property makes it simple to install. Simply apply the liquid solution to the surface, and place this fabric over it gently. Once you've done that, apply another coat over the fabric, then leave it to set.
Apart from showers, this fabric tape is ideal for many other applications. Thanks to its ability to bond with many surfaces. You can use it on pools, exterior terraces, fountains, facades, and so on.
It forms a flexible waterproofing membrane that protects your shower tiles from delamination or cracking.
Pros
Quick and simple installation
Covers small cracks with ease
Can cover a large area
Made of durable materials
Wide range of use
Cons
---
6. JJ CARE Membrane for Waterproofing Shower Floor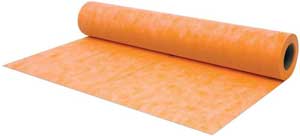 As far as waterproofing is concerned, JJ Care is certainly one of the most trustworthy brands in the market today. Their incredible products ensure that your bathroom stays leakage-free for a very long time.
Don't believe us? Perhaps you should start by giving their premium grade waterproofing membrane a try!
First of all, this waterproofing fabric is made up of high-quality polyethylene material. A material that meets all the ASTM international quality standards and keeps moisture away completely.
While we're still on construction, the product has an 8mm thick tear-resistant fabric. This makes it incredibly durable and strong.
Also, the entire membrane has an area of about 108 sq. ft. so it will cover a relatively large area in your bathroom.
Moreover, just like most membranes on our list, this fabric has a straightforward installation process. It has a flexible nature which makes it simple to bend and fold. Besides, this ensures that the fabric covers edges and corners very well.
With all these amazing features, the JJ Care waterproofing membrane is a perfect product for bathroom waterproofing. You can even use it for other wet area applications like saunas and steam showers.
Pros
Premium-quality, durable material
108 sq. ft. coverage
Adheres well with various surfaces
Its flexible natures makes it simple to install
Cons
---
7. Laticrete Hydro Ban for Waterproofing Shower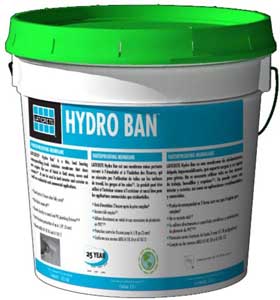 Over the years, architects and other professionals have been preferring Laticrete products for their ant-fracture and waterproofing needs. One of the favorite products for waterproofing shower floors and walls being the Hydro Ban mini-unit!
Although this product comes in a 1-gallon container, it can cover an area of about 50 sq. ft. That's not the thing that makes this product stand out from other membranes though!
Its best feature is that it offers a very high level of anti-fracture performance. Also, it has exclusive features that ensure convenient and faster waterproofing installations. For instance, with this membrane, you don't need a fabric to cover cracks that are less than 1/8" wide.
When it comes to the installation process, you can either use a roller and a paintbrush. After application, this membrane will cover your floor and walls perfectly. However, to achieve excellent results, make sure you apply at least 2 coats.
Afterward, the liquid rubber polymer in this single component cures to form a flexible waterproofing shower membrane.
It bonds well with various surfaces including metal, PVC, and ABS plumbing fixtures. Besides, you can install tile bricks and stones directly onto the membrane.
Lastly, this product produces a low odor and you can easily clean it up with water. All those features make it an ideal option for waterproofing shower walls in commercial and residential projects.
Pros
Bonds directly to plastic and metal plumbing fixtures
Anti-fracture protection
Cures quickly after application
Easy to clean up and apply
Produces low odor
Cons
It's quite thin, leading to messy application
---
8. Schluter Kerdi 54 sq. ft. Waterproofing Membrane for Shower Floor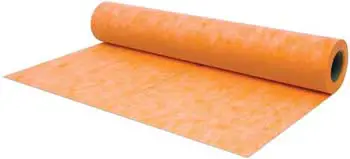 Established by Werner Schulter, Schluter Kerdi is a reputable brand that has been in the market for quite some time now.
This company has more than 40 products, one of them being this 54 sq. ft. membrane. A product that's considered the best waterproofing membrane for shower systems!
What is so great about this waterproofing membrane?
For starters, this orange membrane is very simple to install. It is made up of soft polyethylene material, covering both sides, thus making it easy to mold. Moreover, the membrane has a special fleece webbing texture which helps it adhere well to the thin-set mortar.
When it comes to the actual installation process, you can simply use the thin-bed technique. This involves cutting the membrane before you install it so that it can fit various components like shower valves.
After that, you can now install your shower stone or ceramic tiles and they'll adhere perfectly to the membrane.
That will make the shower walls waterproof and also cover cracks that are less than 1/8" wide.
Since this fabric is thick and strong, expect it to protect your shower surfaces from water damage for a long time. Besides, with a coverage of 54 sq. ft., you know that it will cover a significant area of your bathroom.
Pros
Covers cracks that are less than 1/8" wide
Unique fleece webbing
Thick and durable fabric
Adheres well to stone and ceramic tiles
Vapor retardant
Cons
---
9. USG Durock Shower Waterproofing System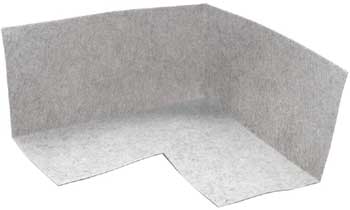 Using innovative materials, USG Durock offers many quality shower system that will waterproof your bathroom fully. Some of their products include pipe & mixing valve seals and pre-formed outside and inside corners. But perhaps the inside corner is the most interesting component of them all.
Measuring 6" wide, 6" high, and 2" deep, this inside corner is perfect for sealing off connections and seams. So, if you'd like to fix that water leakage in your bathroom corners, this is the ideal accessory for you.
Best of all, it's compatible with different materials including natural stone and ceramic tiles. Moreover, you can install it on other areas like steam rooms and countertops.
Unlike most membranes, this inside corner is slightly thicker. It's durable and tear-resistant, ensuring that it stays in place for a long time. Also, the membrane has outstanding vapor retarder capabilities.
For this reason, it will prevent your shower wall from water or moisture damage. As you know, water damage may eventually cause the tiles/ walls to crack. In other words, installing this membrane will keep your bathroom leakage-free. Not forgetting that it will prevent its walls from cracking.
Pros
Durable and tear-resistant fabric
Great option for waterproofing bathroom corners
Works with natural stone and ceramic tiles
Easy application
Cons
---
10. JBC Concepts Waterproofing Membrane Strips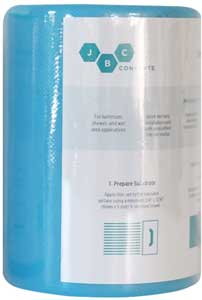 Last on our list is this waterproofing membrane strip from JBC Concepts! One of the most affordable brands in the market at the moment.
However, affordability is not the only incredible thing about this product. Simply put, this membrane has many other great things to offer.
First and foremost, it's worth noting that this brand isn't that popular. Even so, its waterproofing capability adhesion, and durability are on another level. To start with longevity, this strip is made from long-lasting, tear-resistant materials.
These materials also contribute to its ability to protect surfaces from water damage. Therefore, you can use it to keep moisture away from the surfaces. For instance, it's ideal for sealing connections, seams, and waterproofing showers completely.
As for installation, the flexible nature of this strip makes it easy to use in corners and bends. The entire roll has a coverage of about 33 sq. ft, so it covers a significantly large area.
Overall, if you want an affordable solution to protect your bathroom corners from moisture or leaks, try this JBC Concepts strip!
Pros
Great for covering corners and edges
Affordable
Durable and tear-proof
Excellent adhesion
Cons
---
Types of Shower Waterproofing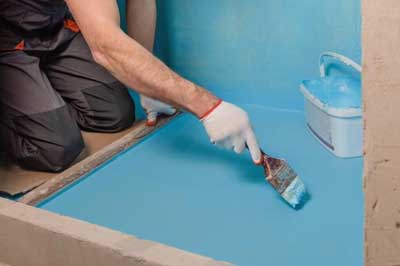 Considering how severe water leakage can be, it's good to ensure that your bathroom is watertight. But before you head to look for a shower waterproofing solution, you need to know the various types of waterproofing.
Why is this important? Simple! Not all waterproofing solutions are ideal for all purposes. In other words, not every waterproofing option you come across will suit your needs.
With that in mind, here are some common types of bathroom waterproofing options out there;
1. Liquid waterproofing
Today, using waterproof solutions is a very popular technique in a bathroom configuration. It involves the application of the solution over the surface and leaving it to dry. Afterward, the liquid waterproofing membrane for showers creates a watertight barrier. Thus protecting the entire shelves, floor, and walls from water damage.
However, if you don't consider the ideal curing time and mil thickness, you may not get excellent results. Other than that, with a superior liquid membrane, this method delivers a durable waterproofing solution.
2. Sheet Membranes
The other common type of bathroom waterproofing is the use of sheet membranes. These membranes have an outstanding water-resistant capability and a convenient installation process.
You just need to adhere them to the wall, then install ceramic/stone tile over them. That way, you'll have protected your shower floor/ walls from steam and water leakage completely!
3. Foam backer board
This technique works in the same manner as bonded waterproofing solutions. It involves the use of a backer board to keep moisture away. Thus protecting the floor and wall from potential water damage.
The benefit of using backer boards is that they're lightweight and easy to carry around. However, you've to use a waterproof sealant to keep them bonded together.
4. Traditional waterproofing
In this day and age, there are still some homeowners using this technique to waterproof their bathrooms. In the past, this approach involved the use of mud and some form of chicken wire to waterproof shower rooms.
Modern homeowners have replaced mud with advanced materials like cement board and fiber backer board. Unfortunately, this method isn't very effective in protecting corners and horizontal surfaces.
How to Choose a Shower Waterproofing Membrane?
Knowing the different types of shower waterproofing solutions available is very useful. However, knowing that alone is not enough to help you make the right buying decision. Instead, you should consider the following factors as well;
Application
Having a membrane that is simple to apply will always make your work easier. So, before you settle on any product, make sure it meets that factor, especially if you're a beginner. Luckily, there are many membranes that have a convenient application process. Besides some even have a ready-to-use formula.
Drying time
This simply refers to the time taken by the membrane to dry off. Unfortunately, all waterproofing solutions don't have the same drying time. In short, some products have a faster drying time than others. These are the membranes you should be looking out for.
Durability
Since you intend to use your bathroom for a very long time, look for a long-lasting membrane. On the same note, avoid products that are not crack- or tear-resistant. Such fabrics may not survive on the shower surfaces for long!
Adhesion
Adhesion plays a very significant role in bonding the membrane with the shower walls/ floor. For this reason, you should look for a membrane with excellent adhesion. Doing so will ensure that the membrane adheres to the surface for a long time.
Frequently Answer Questions
Is it possible to waterproof the bathroom without removing tiles? 
Yes! Start by removing the silicone strips, and then clean the tiled walls or floor. After that, fill the water-resistant product in the corners and grout. This helps to seal every area that water may be seeping through. When the application process is complete, let the waterproofing substance cure before you use your shower.
How many ways can I use to apply liquid membrane? 
There are 3 various ways of applying liquid membrane; using a paintbrush, roller, and a trowel!
What's the importance of waterproofing bathroom walls before tiling?
Waterproofing helps to prevent water from seeping into the structural timber or substrates through corners and gaps. It also prevents dampness, mold buildup as well as tile cracking.
How long does the shower membrane keep the bathroom walls and floor waterproof?
That will depend on factors like application, surface preparation, and membrane quality. However, if applied properly, a superior membrane can last for a very long time. For instance, XFasten Fiberglass Fabric can protect the shower surfaces from water damage for up to 40 years.
Can you waterproof drywall in bathrooms?
Yes! If you're planning to install tiles over your shower drywall, use a product like the Schluter Kerdi shower system first. However, you should not use liquid waterproofing membranes for this task!
Final Words
Seeing that you've come this far, it's a clear indication that you understand the importance of waterproofing the shower area. Remember, even if your bathroom has tiles, water may still seep through the floor or walls. Something that usually ends up in various negative effects like mold and mildew accumulation.
That's why you need to invest in the best waterproofing membrane for shower. Lucky for you, you can easily find a quality membrane from the ones we've highlighted above.
They've everything you'd expect to find in a superior membrane. Durability, tear-resistant, water-resistant, excellent adhesion—you name it! Just check them out and choose the one that matches your bathroom needs perfectly!
Read more: