At times, loosening frozen or tightened bolts, nuts, or screws from a vehicle can be very difficult.
To make these tasks easier, most mechanics and car owners turn to the best manual impact driver. And you should consider getting one for your toolbox too!
The best thing about these impact drivers is that they're manually operated. As such, you don't need any power source, batteries or electricity to use. Thus, you can them anywhere, and more importantly, at any time!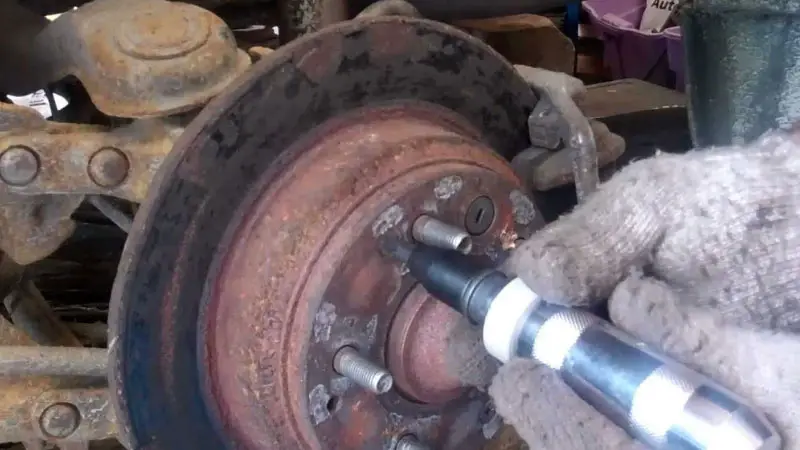 However, when you head out to the market, you'll come across so many options. Simply put, choosing a manual driver that matches your needs isn't a walk in the park.
So, how do pick the hand manual impact driver for you?
Our Expert Recommendation:
Well, that's what this article is about! We have listed the 5 best impact drivers worth buying. Just go through them, and choose the ideal set one for you!
Let's get on the list right away!
5 Best Manual Impact Driver Reviews
1. Tekton Manual Impact Driver (2905)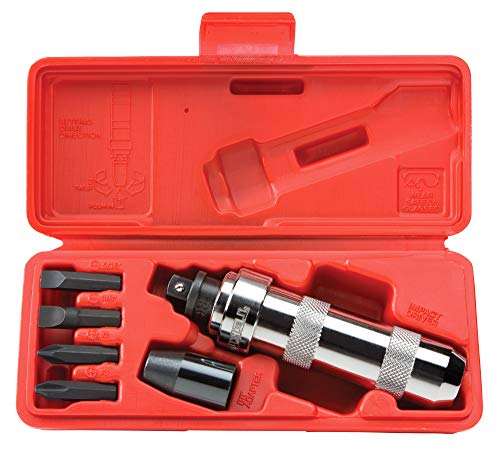 There are many reasons why most car owners and mechanics prefer manual drivers to other options. But the main reason is that they are more costly friendly.
Even so, some sets like this one from TEKTON are more affordable than others. Thus making it so popular among home users and professionals alike!
Affordability isn't the only good thing about this set though!
This TEKTON 2905 set comes with many advanced features, making removing freezing screws a child's play. Thanks to its versatility which allows users to loosen rusted/ frozen bolts and nuts quickly and easily.
Besides, with this set, you don't need any additional power source. Instead, the tool converts the blow of a hammer into a powerful force and great torque.
The set comes with many useful tools. They include; an impact driver (3/8"), drive chuck (3/8"), & 4 hex shack fasteners (5/6"). Carrying these tools around is quite simple since they come organized in a sturdy storage case.
Moving on, this tool has a lightweight and compact design. For this reason, it can easily fit into any position.
Also, this manual impact unit has a reverse/ double-sided drive. Therefore, it's a great tool for loosening left-hand fasteners. Also, the unit's handle has a knurled surface with strip lines. This ensures a non-slip grip and makes it comfortable to use.
Considering all these features, the TEKTON handset is an incredible tool, especially at such an affordable price range. It will help you loosen even the most dogged nuts and bolts.
Pros
Highly affordable and versatile
Doesn't need any power source
Provides a forward and reverse drive direction
Comfortable handle
Compact design
Cons
---
2. CRAFTSMAN Hand Impact Driver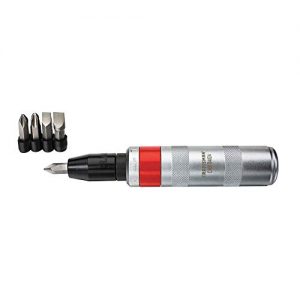 Imagine having a manual impact set that can transform the hammer force into 200 pounds torque!
Well, you don't have to imagine it anymore once you have this set from CRAFTASAMN! No wonder it's considered the best manual impact driver set in the world.
This gives the tool intense power, allowing it to loosen rusted/ frozen bolts faster than most impact tools.
Moreover, you can use it for other tasks like tightening bolts, nuts, and screws. This is because the impact kit can be used in both directions, thus making work more convenient.
Best of all, this set features all the needed protection. Therefore, it can perform various tasks without damaging or stripping any parts. This also makes it the perfect impact set for removing delicate parts.
Besides, you only need your hands to get this tool working on the screws. The handle offers a non-slip grip to ensure comfortable use.
The set comes with various tools including an impact driver, 5 slotted bits, and Phillips fasteners. So, with these tools, you can tighten or loosen 3/8" drive sockets and slotted fasteners.
Even with all these tools, this set comes at a very pocket-friendly price. So, if you're on a budget, this hand tool is a great option. Also, this kit is designed to give you long-lasting services!
Pros
Ideal for removing delicate parts
Delivers a high torque
Very affordable
Works in both directions
Cons
---
3. Lisle Hand Impact Tool Set (29200)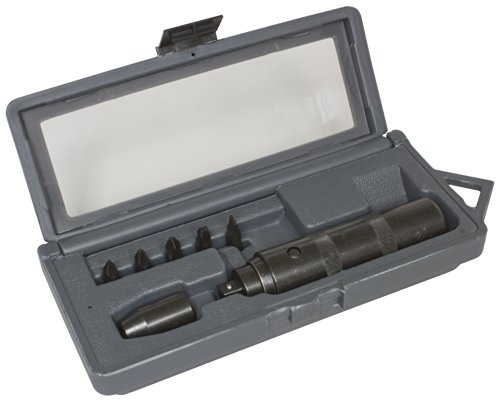 If you're a mechanic, then we're certain you'll come across frozen and tough screws and bolts many times. In that case, you should invest in a very sturdy manual impact driver. And one such toolset that you can consider is this impact set from LISLE.
This kit comes with various tools including a 3/8" driving bit and 3/8" driver holder. The set also includes a straight slot bit (3/8") & 4 Phillips bits. These tools come packed in a convenient carrying case for convenient storage and transportation.
So, what makes this set so good for professionals?
First, this set is crafted from high-quality, sturdy materials. In addition, it can deliver more than 200 pounds of torque. Therefore, it's the perfect kit for performing heavy-duty tasks like loosening dogged fasteners.
You will also love the unique design of this kit. It is thicker than most impact drivers out there, which enhances its durability. Besides, its handle features an anti-slip grip which delivers comfort and better grip during use.
When it comes to versatility, this tool kit can be used for many tasks. Thanks to the unit's ability to move in both directions. So, apart from loosening fasteners, you can use this kit to tighten them as well.
The only issue with this kit is that it's not compatible with ¼" bits. Other than that, it will help you perform many tasks quickly and efficiently.
Pros
Sturdy & durable construction
Ideal for heavy-duty tasks
Delivers shock power of more than 200 pounds
Ergonomic, non-slip handle
Multi-directional operation
Cons
Not compatible with the ¼" bit
---
4. ARES 70006 Manual Reversible Impact Driver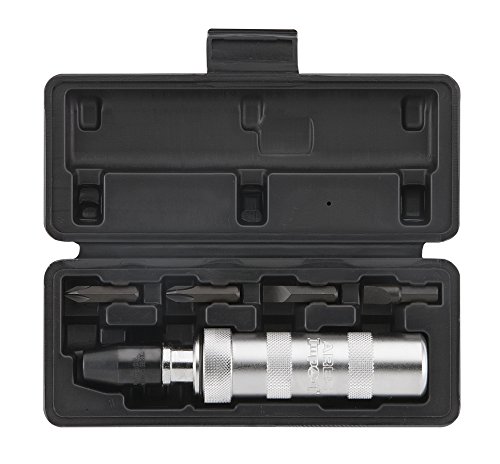 When you're looking for a hand driver to handle regular tasks, then you cannot overlook quality. As far as quality is concerned, this ARES kit is one of the best impact screwdrivers out there.
The quality of this tool can be seen straight from its construction. It's crafted from superior S2 allow steel material, making it both sturdy and durable.
As if that's not enough, it has a chrome-plated finish to make it look appealing and rust-resistant.
Besides, this set will help you undertake various tasks like loosening rusted brake calipers and frozen bolts with ease. Therefore, as a car owner, this toolset will come in handy.
The kit comes with a 3/8" impact tool, 2 flat bits, and 2 Phillips bits. Not to forget the sturdy case makes it easy to store these tools and protect them from damage.
Another good about this set is that using it is very simple. For instance, the bits have precision-milled tips to ensure a perfect fit. Thus, you can easily tap or drill even the most stubborn nuts and bolts.
To use this manual set, you just need to hook it on and hit it with your hammer. Doing so will turn the faster 20° in the intended direction.
Also, with the non-slip knurled grip on the handle, using this unit will be comfortable as well.
In short, if you want an efficient and reliable manual kit that guarantees quality, ARES 70006 toolset is ideal for you.
Pros
Rust resistant & aesthetic-looking body
Durable & superior construction
Ergonomic handle
Ideal for various applications
Cons
Included bits aren't that durable
---
5. Capri Tools Premium Impact Driver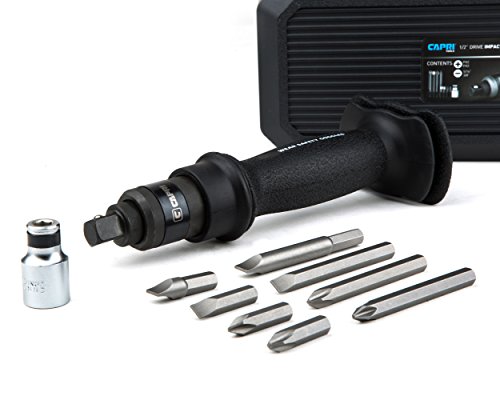 As the name suggests, with this Capri Tools set, you're certainly getting a premium product. Something you can see in the unit's appearance and steel construction.
So, if you're looking for a tool to tackle various professional projects, you can never go wrong with this set!
But, why buy this manual driver?
For one, the steel construction ensures that this toolset is both durable and strong. Thus, expect to use this set for a long time without facing any problems.
Also, the use of steel enables the set to provide high impact. This gives it the additional force required to tighten or loosen even the toughest bolts or nuts.
While we're still on the construction, this unit has a double rust-resistant chrome coating. In addition, there is a not-slip coating, making this toolset both durable and comfortable to use.
The handle features a double-layer pad to protect users' hands from hammer strikes when it comes to safety.
By buying this set, you'll be getting an impact driver, adapter, and 8 different long-lasting bits. Even better, these tools are compatible with fasteners of various sizes. Thus making it one of the most versatile units on our list!
Overall, this industrial-grade set is a perfect kit for various types of tasks. Besides, considering its unique features, it certainly deserves the name 'premium'!
Pros
Ergonomic handle grip
Includes a safety padding for hand protection
Long-lasting custom-fitted carrying case
Works with different-sized bolts and nuts
Tightens and loosens fasteners fast and efficiently
Cons
Not ideal for stripped screws
---
Buying Guide for Manual Impact Drivers
The best manual impact drivers vary in terms of designs and brands. Moreover, not every set out there may be ideal for your frozen bolts and screws removal project. To help you choose the perfect toolset for your project, there are things you should consider. Some of those factors are;
Number of bits
As you've seen from our list above, manual impact driver sets come with a different number of bits. On the same note, these bits have different sizes. You should choose a set with many bits since it will allow you to handle various projects. For instance, they'll enable you to loosen and fasten almost all nuts and screws.
Handle
Manual impact drivers involve the application of physical force. For this reason, the handle is another important factor to consider. In essence, you should look for a tool with a non-slip, ergonomic handle.
Otherwise, minor accidents may occur when using it to remove corroded and frozen nuts. Even better, this will ensure that the impact driver is comfortable to hold and use at all times.
Safety
The chances of getting injured when working with manual impact drivers are quite high. Besides, you have to apply hammer force to get the tool working. Therefore, it's important to look for a product that's designed with your safety in mind.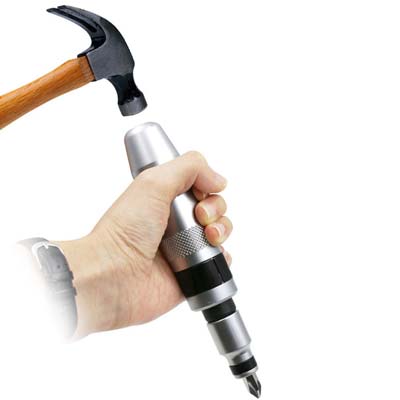 As an example, choose a tool with handguards. This will provide an extra layer to safeguard your hands from the hammer.
Storage
As we've already stated, impact driver sets come with many bits. Storing these bits can be quite difficult to store or carry around. For that, it's good to look for a set that includes a storage case as well. That way, you can conveniently store the included items in the box. Better still, this will help to safeguard from being damaged.
Price
Like with any other product, price is of major concern when buying the best manual impact drivers. Besides, people prefer manual drivers to their electric counterparts because of their affordability. However, these impact drivers have different price tags. That said, make sure you look for a quality toolset within your budget.
Frequently Asked Questions
#1. What is the must-have bit size for car owners?
If you're a car owner, make sure you choose a manual driver set that includes ½" and 3/8" bits.
#2. How does a manual impact driver work?
An impact driver is a tool that is used to unscrew frozen or rusted screws or bolts. To use it, place the unit on the fastener you want to loosen and grasp it firmly.
While grasping it, strike the end of the unit with a hammer. This turns the fastener slightly and makes then easy to remove.
#3. Is it good to buy a manual impact driver?
Yes. Manual drivers work faster than other similar tools like drills. Also, you don't need any power source to operate them and they're more affordable.
#4. Can I use a manual impact driver in place of a screwdriver?
Yes! A screwdriver tightens or loosens screws from a certain object. Similarly, you can use an impact driver to drive stalled screws or bolts. It works with more precision and doesn't strip/damage the object.
#5. When should I use a manual impact driver?
The main purpose of manual drivers is to drive lag bolts and large fasteners. However, you can use them for other applications, like driving long screws.
They are also ideal for some basic drilling tasks if you've got hex-shank and impact-rated ¼" drill bits.
Conclusion
Before you choose the best manual impact driver kit, make sure you've considered the quality of the entire kit. In other words, don't invest in a low-quality toolset.
Why are we saying this? They'll not give you durable service, and they may not be compatible with different fasteners. Thus, you'll end up wasting your money and time.
Lucky for you, our list is comprehensive and only includes the best kits in the market. Therefore, to find the ideal manual kit, just go through our reviews.
After comparing them, feel free to choose the one that matches your needs perfectly! It's that simple!