Most modern cars you see on the road today, including Nissans and Audis, have Gasoline Direct-Inject (GDI) engines. As such, there is a good chance that your car has a GDI engine as well!
One issue with these engines is that their design overlooked the significance of protecting the intake valves from carbon build-up. Over time, this buildup leads to engine problems, poor car performance, and excessive fuel consumption.
But you can solve this issue by installing the best oil catch can in your car's engine!
An oil catch can/ tank is a small simple device that collects oil and other pollutants that would otherwise accumulate in the engine's intake valves. Thus ensuring the engine is clean and operating efficiently.
In Hurry! Then Check Our Editor's Recommendations:
However, with so many oil catch cans that come with various designs, which is the best one for your car engine? Besides, an oil catch can is not something that you can randomly pick from the market!
Thankfully, we have done all the hard work for you to bring you the 8 top oil catch cans that guarantee proper effectiveness. With any of these oil catch cans, expect your engine to stay in good condition for a very long time.
That being said, let's check out these oil catch cans right away!
8 Best Oil Catch Cans Review
1. Ruien Universal Oil Catch Can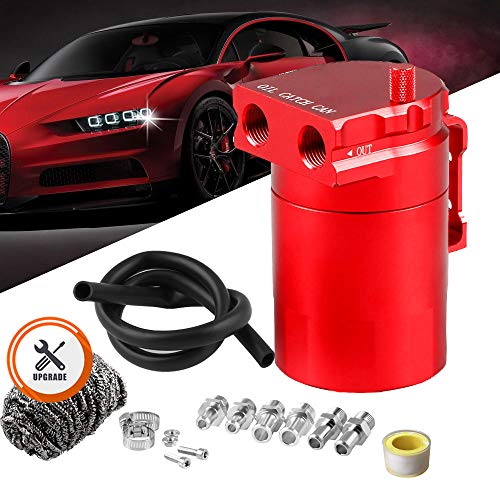 Most companies develop oil catch tanks that can only fit specific car brands. Well, that's not the case with Ruien Company!
Just as the name 'universal' suggests, this oil catch can is compatible with most modern cars and motorcycles.
Its versatility doesn't end there though! While this particular oil catch can is red, you'll be surprised that this device is available in other colors like black, blue, and silver.
So, if you're concerned about the aesthetics of your vehicle's internals, this is the ideal option for you. The different colors allow you to choose the ideal color that blends with the internal parts of your car.
Moreover, this unit is crafted from one of the most long-lasting oil catch can materials; high-quality polished Aluminum! For this reason, it's durable, strong, and lightweight. All these elements make it the perfect catch tank for your car. This will also increase the horsepower of your engine and extend its life.
Installing this catch can is quite simple, especially seeing that it comes with everything you need. The oil can catch kit includes; a 15 mm hose, 2 15mm fittings, bracket, necessary screws, oil catch can, and 2 9mm fittings. Furthermore, cleaning the tanks is also easy since you don't even have to dismount them when cleaning. Instead, simply unscrew the receiver's bottom and clean the can! That simple!
This oil catch can also prevent oil leakage since it has a tig threading and welding with the O ring gasket. It is also worth noting that this oil catch tank has a capacity of 35 ml which is sufficient for everyday use.
Simply put, this Ruien oil catch tank delivers an incredible performance, regardless of the type of oil you're dealing with. It easily catches any form of moisture or oil in the blow-by gas, thus protecting your car's engine/ intake system from sludge and carbon build-up!
Pros
Increases engine horsepower and durability
High quality, durable, and lightweight material
Prevents oil leakage
Easy to clean and install
Fits most modern cars and motorcycles
Cons
The quality of the hose isn't that great
---
2. Ruien Universal Oil Catch Can with Breather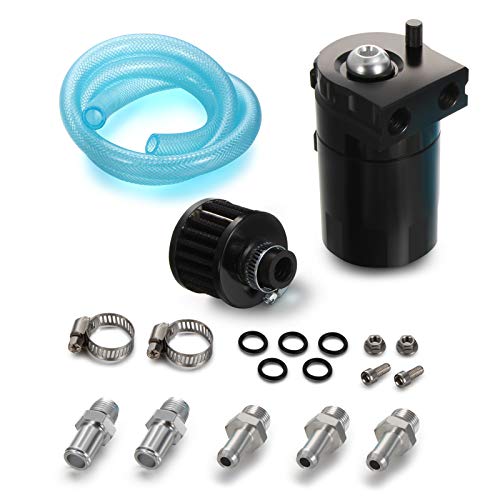 This is yet another great oil catch can from the Ruein brand. A brand that is widely known for very versatile, yet affordable oil catch cans! So, you can rest assured that this one will not disappoint you in any way and you can use it in various cars!
First and foremost, this oil catch can is crafted from superior aluminum quality, which gives its both durability and strength. Moreover, aluminum materials ensure that this unit is lightweight. More importantly, this means that you don't have to worry about the can being affected by corrosion.
Apart from being lightweight and versatile, this device is very effective. It catches the oil and moisture trapped in your car engine's gas blast, thus preventing the accumulation of sludge and carbon deposits.
Also, similar to the Ruein catch can above, this device comes in different colors. These colors include; red, blue, black as well as black and red. Therefore, you can easily choose your favorite color or the one that matches perfectly with the internal components of your vehicle.
When it comes to the installation, you can easily fit this oil catch can to your car in less than 5 minutes. This is because the process is quite simple and straightforward. Besides, the kit comes with every accessory you'll need for that task.
However, it's good to note that you can install this catch can in 2 ways. You can either fit the breather as a seal can or use the breather filter as a vent system. The choice is up to you!
It comes with things like; a 350ml oil catch can, fittings, hose, breather filter as well as necessary screws and brackets. Also, the package includes an oil dipstick that allows you to inspect the fluid level without opening the catch can.
With this catch can, keeping your car's CCV and PCV systems clean with being very simple! Although the model is cheap, it effectively protects your engine from wear, extends its durability, and keeps it running smoothly!
Pros
Corrosion-resistant and lightweight
2 installation processes
Very affordable
Comes in 4 different colors
Fits most vehicles and motorcycles
Includes the necessary accessories
Cons
---
3. SYKRSS Universal Aluminum Oil Catch Can Tank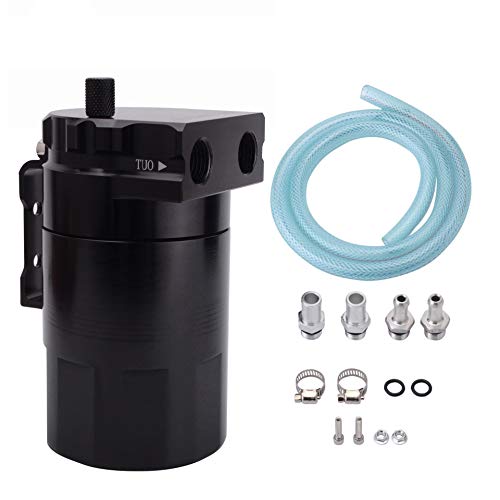 If you're looking for the best oil catch can tank that is compact, we suggest you check out this one from ESPEEDER. Best of all, this unit has a basic, yet functional design that you'll certainly love!
Its design features a removable bottom part that enables you to drain the tank with ease. You'll be glad to know that the bottom part is reusable, thus helping you save money in the long run. Not to forget that this makes it easy to clean, even for starters.
But, is that all this catch tank has to offer?
Of course not!
First and foremost, ESPEEDER is a well-known brand with a reputation for producing superior components and exceptional services. And the quality and performance of their oil catch can demonstrate this! Some of their products include; interior and exterior components, intake systems, cooling systems, and engine systems.
In terms of construction, it is crafted from T6061 aluminum material for enhanced strength, reliability, and durability.
As if that's not enough, its anodized body has an amazing look and it comes in 4 different colors; red, black, blue, and silver.
Furthermore, as a 'universal' device, there is a good chance that this oil catch tank will fit in your car. Other useful features that come with this unit is that it comes with a hose clamp that prevents oil leakage and an inbuilt dipstick for checking the oil level.
Besides, there are other accessories like; 6mm & 10mm diameter fittings, hose clamps, brackets, screws, O-rings, and 10mm diameter hose.
As for the capacity, this oil catch tank can hold fluid of up to 300 ml. So while this catch tank has so many incredible features, it may not be an ideal option for large GDI engines. However, for small engines, it's such a great option!
Pros
Universal fit
Enhances engine performance and extends its durability
Simple top clean
Made of premium aluminum materials
Cons
Not ideal for large GDI engines
No filtering media
---
4. EVIL ENERGY Oil Catch Can Kit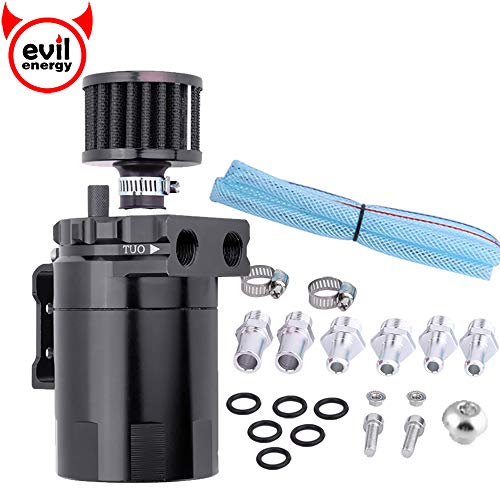 Manufactured by a family-owned company based in China, Evil Energy is one of the most reputable oil catch can kits out there today.
Considering that this company has been producing and designing aluminum products since its establishment in 2005, rest assured you can never go wrong with this catch can kit!
One thing we love about this device is that it guarantees efficient performance when it comes to removing harmful pollutants from your engine's combustion process.
The tank has an inbuilt baffling system that cools oil vapor, converting it into liquid. This ensures that deposits do not accumulate on its intake valves, thus increasing the engine's longevity. Moreover, this ensures that the engine remains clean at all times.
When it comes to construction, this kit is designed to last long. It is made up of aluminum alloy material and coated with an anodized finish to enhance your engine's appearance.
The only downside of this unit's construction is that it can scratch easily. Other than that, it's also worth mentioning that this unit is made with TIG welding and thread, as well as an O-ring gasket to prevent oil leakage.
Similar to the oil catch can we've looked at above, this kit is 'universal'. This simply means that you can use it on most vehicles. Besides, you can either install it with/ without a breather.
Nonetheless, we only recommend this filter for pre-PVC cars, since it can damage the engine if used on the PVC system.
For convenient checking of the fluid level, this kit includes a dipstick. For that reason, you don't need to remove the entire can.
Instead, unscrew the grooves at the can's bottom to drain the oil and clean the can.
Mounting this oil catch can is simple as well. This is because the kit includes all the components you need for that task.
Overall, to protect your vehicle's engines from issues like knocking, this is an incredible device to buy!;
Pros
Can be installed with/ without a breather
Durable and lightweight construction
Simple to mount & install
Detachable & reusable can's bottom
Cons
Not scratch-resistant
Doesn't include a mounting bracket
---
5. Mishimoto Compact Oil Catch Can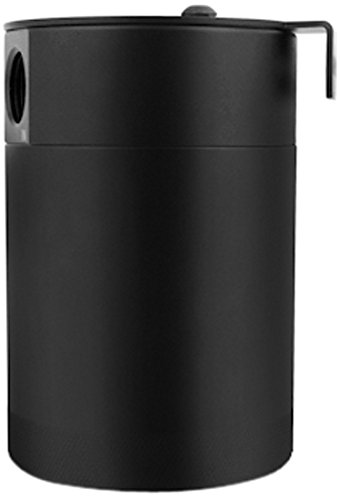 Although most oil catch cans out there claim they 'catch' oil, that's not what they do! Instead, they're empty tanks with tubes that collect liquid oil from oil gas that cools naturally.
That's why a unit like Mishimito oil catch tank stands out from the rest! Unlike most oil catch cans, this device reduces the level of pollutants in the oil and purifies to some extent.
So, if you want a unit that will 'catch' oil effectively, this is the ideal oil catch tank for you!
This is because the can has a 50-micron bronze filter that separates air and oil gas. Thus allowing only clean air to get through the intake, as the oil sinks into the can's bottom.
While this seems like a simple process, you'll be surprised at how effective it is!
The other most unique thing about this oil catch can is that it has 2 ports. One acting as an inlet, while the other acts as an outlet.
This makes it simple to install in both CCV and PVC systems. To make the installation even simpler, the unit comes with 2 black nylon fittings.
Moreover, the kit is crafted from 100 percent billet 6061 aluminum, which is one of the most durable materials out there. Better still, there are 3/8" NPT threads at the inlet, outlet, and drain area.
The unit also features a top mounting design that allows you to fit it from various angles. And when it comes to maintaining it, you just need to remove its drain plug, clean the oil catch can, and put it back in the oil pan.
On the downside, this Mishimoto oil catch can kit is a bit expensive as compared to other models. However, considering all the extra special components added to this unit, it's worth the money!
Besides, if you're looking for a premium oil catch can, invest in this one from Mishimoto and get a lifetime warranty!
Pros
2 ports for convenient installation
Filters oil efficiently
Long-lasting aluminum sealed body
Easy to drain, maintain and install
Lifetime warranty
Cons
Thin mounting bracket
Doesn't hold much oil
---
6. Top10 Racing Oil Catch Can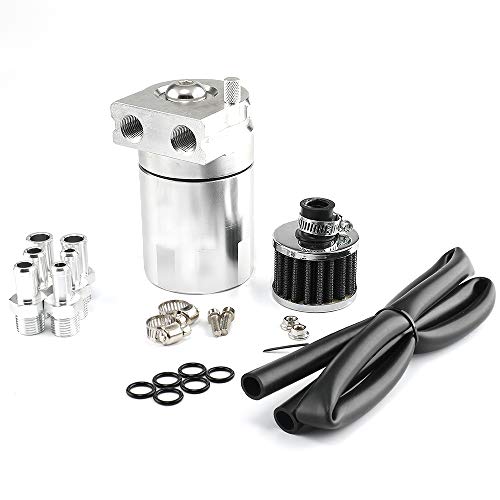 When it comes to an oil catch can that guarantee value for your money, very few can compete with this model from Top10 Racing.
Moreover, this unit features a classy silver appearance, giving an extra bling sensation to your engine.
However, this is not the only color available. There are various color options that you can choose from including black, blue, and red. One thing you should note though is that different colors have different prices.
In terms of performance, this device is designed to keep moisture and oil from your engine's intake system. Thanks to its baffle system that catches oil and moisture from the PCV or CCV air.
Therefore, with this oil catch can, your engine will be protected from any misfire that may be caused by carbon accumulation. It will also keep the engine clean and extend its durability.
As for the oil catch can's durability, it is constructed with aircraft-quality T6061 aluminum material. But, what we love most about this catch can is that you can reuse it after cleaning.
So, be ready to use this unit for many years to come! Even better, the can has a breather filter that allows air to escape freely as it filters the vapor.
Furthermore, by buying this kit, you'll get all the necessary brackets and screws, an oil catch can, hose, 2 Allen bolts, and a mounting bracket.
The only downside of this kit is the included hose. It's not temperature-resistant and you can't use it as a rubber vacuum hose.
Even so, this oil can catch gives you a great opportunity to prolong the lifespan of your engine!
Pros
Washable breather filter to enhance filtering
Stylish anodized finish
Strong & durable construction
Available in various colors
Easy installation
Cons
Included hose isn't heat-resistant
---
7. Auto Dynasty Universal Dual Chamber Oil Catch Can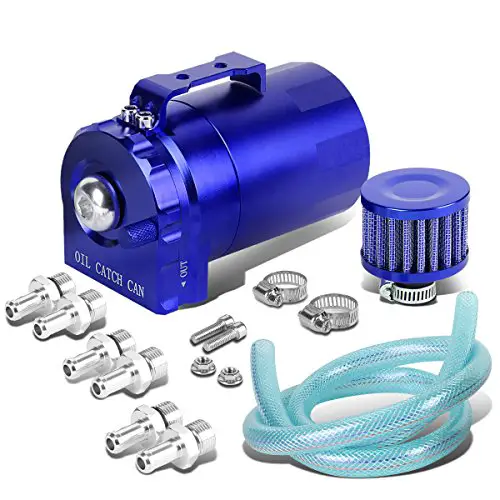 One problem that most buyers face when searching for the best oil catch can is that the cheap ones are low-quality, while the high-quality ones are very expensive. Luckily, now there is a balanced option- this Universal Oil Catch can from Auto Dynasty!
This device features an attractive anodized blue body, but you can choose other colors like gold, black, red, purple, and silver.
The catch can effectively collect oil vapor and all types of gases, ensuring that only clean gas gets through the intake.
This kit includes an air filter that can also act as a ventilation system and a 5" high and 3.25" diameter catch can.
Moreover, the catch tank has a detachable baffle that keeps any extra filter and includes 3/8" and 9/16" hose adapters.
To be precise, the removable baffle ensures air circulates adequately to filter out all the pollutants.
That way, your engine remains clean, gets increased horsepower as well as an extended lifetime.
You should also note that the package comes with an inbuilt dipstick that you can use to check the fluid levels. You can easily remove the bottom of the catch tank to drain the collected oil.
Because of this catch tank's high performance, it is ideal for turbo or racing applications where there is too much fuel vapor or blow-by air. Although is a bit larger than standard catch cans, it gets the task done!
In short, with Auto Dynasty Oil Catch, you don't have to pay a lot of money on those low-quality or highly-priced products anymore.
This unit works effectively in collecting the oil that would otherwise accumulate in your vehicle's engine.
No wonder it's considered the best high-performance catch can by most consumers!
Pros
Enhances engine performance
Anodized attractive appearance
Easy to install, drain and maintain
Rotates many times to remove contaminants
Inbuilt dipstick for checking oil cold/ hot levels
Cons
No instructions
Slightly larger capacity than other oil catch cans
---
8. Mishimoto Black Oil Catch Can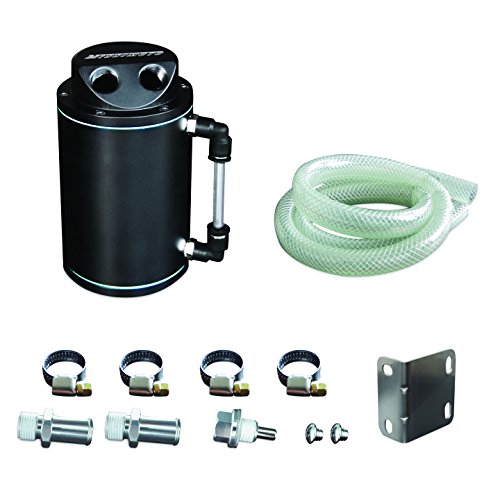 After driving your car for some time, the engine's performance may start to decline. That is probably caused by oil accumulation in the intake manifold, turbocharger, intercooler, or piping.
If not taken off, this buildup may end up damaging your engine for good.
To prevent that from happening, consider installing a good oil can catch like this one from the Mishimoto Company!
And seeing that this is the 2nd product from Mishimoto brand that we've included on our list, you can rest assured that it's a reliable catch can.
If that's not enough to convince you about the reliability and incredibility of this catch can, perhaps its features will!
For one, this oil catch can kit comes with every accessory you'd expect to find in a quality catch can.
This includes a 16 oz. catch can with an outlet and inlet, fittings, hose, mounting bracket, mounting hardware, and clamps.
Therefore, you can easily set up this catch can with any professional assistance. Besides, if you get stuck, the package includes an instructions manual that can guide you.
The other incredible thing with this catch can is that it has an inbuilt sight tube that enables you to check fluid levels with ease.
Moreover, the drain plug at the catch can's bottom allows you to drain the fluid. However, you will have to dismount it to do that!
When it comes to versatility, you'll be glad to know that this catch can fit in various vehicles. Moreover, it comes in a stylish black body but you can find it in other colors like polished silver, red, and carbon fiber.
Generally, this Mishimoto Oil Catch Can is both efficient and convenient. It will help you prevent oil vapors from getting into your engine's intake system, thus increasing its overall efficiency.
Pros
Sight tubes make it easy to check fluid levels
Various color options
Separates oil and air efficiently
Includes a magnetic plug
Protects the intercooler
Cons
Doesn't include a filter or baffles
---
Best Oil Catch Can Buyer's Guide
Just going through the best oil catch can reviews alone is not enough to help you choose the ideal catch can for your car.
Besides, considering that different catch cans have different manufacturers, designs, and quality, comparing them is not that simple.
That's why there are some factors that you should always consider before settling on a certain catch can. These factors will ensure you choose the perfect unit for your car's engine. They include;
Compatibility
Most catch cans on our list have universal compatibility, meaning they can fit various cars. However, not all catch cans in the market are that way. Instead, some are designed to fit specific car models.
So, don't buy an oil catch can without looking at its compatibility. Otherwise, you can end up spending your money on a catch can that doesn't fit your car.
Capacity
Catch can capacity refers to the amount of oil it can hold. And since different catch cans have different sizes, it's important to consider its capacity to determine whether it's ideal for your needs.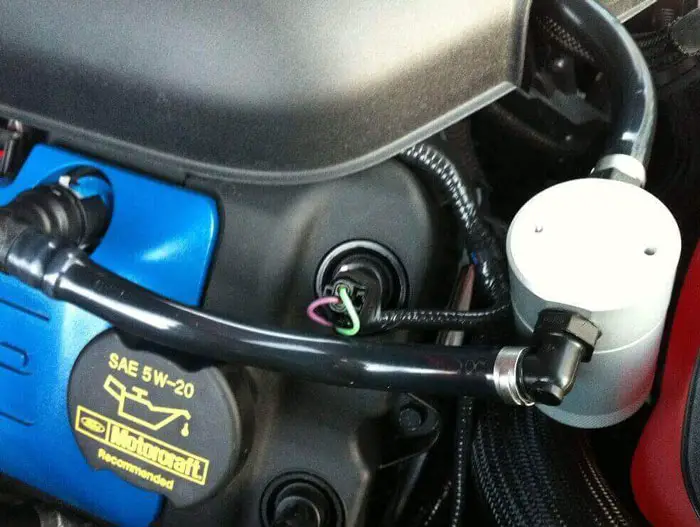 Large catch cans hold more oil, while smaller catch cans hold much less oil, which means you've to drain them regularly.
However, unlike larger catch cans, smaller cans are much simpler to install. As such, this will be determined by things like the size of your car and personal needs.
Construction
Most good oil catch cans are crafted from lightweight, high-grade aluminum material. This makes them easy to carry around, yet strong and corrosion-resistant.
Most importantly, choosing a catch can with great build quality extends its durability.
Mounting accessories
After figuring out all the above factors, it's now time to think about the installation process. That's because some catch cans don't come with any mounting hardware, making them very difficult to install.
To avoid that, we recommend you go for the catch can kits that include mounting accessories like screws and mounting brackets.
However, if you prefer installing the catch can with custom accessories, there is no problem in choosing a kit that doesn't mounting hardware.
---
Benefits of Using Oil Catch Can
With the increasing compression rates of modern cars, oil catch cans are becoming significantly relevant.
They are usually installed between the PCV valve and crankcase and their main role is to collect excess gas and oil that's later drained.
Although this may seem like a simple process, catch cans give so many benefits, especially to turbo diesel and gasoline direct engines. Some of these benefits include;
1. Keeping the engine clean
The engine is supposed to run on clean and fresh air at all times. Unfortunately, if blow-by finds its way into the intake, the air will become contaminated.
Well, that's where an oil catch can come in! It prevents blow-by air from getting into the engine's air intake, thus keeping it in better condition and clean.
2. Increasing the engine's performance and extending its life
Oil contaminants tend to stick and accumulate on the intercooler, intake valves, turbo, and intake manifold.
This eventually leads to reduced air cooling and airflow, which makes the engine lose its power and efficiency over time.
Worst of all, this buildup may cause the engine to start misfiring or knocking.
Thankfully, an oil catch can 'catches' these oily contaminants and prevents them from accumulating in the engine components.
Thus resulting in increased engine efficiency, durability as well as vehicle's horsepower.
3. Preventing oil leakage
Some oil catch cans have been designed to prevent oil leakages. Moreover, others include an inbuilt dipstick that allows the convenience of checking oil levels.
As such, you can use catch cans to easily monitor excess oil collection, thus preventing the jamming of the nozzle ring.
Frequently Answer Questions
How often should one empty the catch can?
This usually depends on several factors like the catch can capacity, mileage, humidity, weather, and other conditions. For instance, catch cans tend to collect more moisture and water during cold weather. This means that they have to be drained more frequently. Nonetheless, mechanics and experts recommend that you empty the catch can about 500 miles after its installation.
Do I really need to install an oil catch can in my car?
An oil catch can is an absolute must, particularly for Gasoline Direct Injection (GDI) engines. It will help protect your engine from misfires, enhances its performance, and ensure better fuel economy.
Where should you mount an oil catch can?
An oil catch tank should be installed in the engine compartment of your car. The best place to mount them being on the hook that attaches to the thermostat housing. This allows you to empty the collected oil from its drain valve with ease while giving you a clear pathway to connect the hoses with the vents.
What's the benefit of choosing an oil catch can kit with a dipstick?
An inbuilt dipstick allows you to monitor the fluid level inside the catch can directly. Besides, you don't have to dismount the catch can to drain the collected fluid.
Which is the best manufacturer of oil catch cans?
Although it's hard to settle on only one brand as the best, there are so many reputable manufacturers out there. They include; Mishimoto, Ruien, Evil Energy, Auto Dynasty, Top10 Racing among others. These companies have around for many years and the quality of their catch tanks seems to impress many consumers.
Conclusion
Installing the best oil catch can give your vehicle a massive performance boost and extend the durability of your engine.
Although cars function without them, which is why manufacturers don't install them in the first place, they will help you save a lot of money and avoid expensive engine repairs.
So, make sure you choose the perfect catch can for your car from the list above and keep your engine running smoothly for several years to come.
Besides, considering that all these devices are universal, any catch can you choose will most likely fit your car!