Gaskets are used to fill the space between 2 or more joining surfaces. Its main role is to seal the compartment to prevent leakage of the operating fluids. Also, gaskets protect the sealed compartment from outside pollutants.
Unfortunately, gaskets aren't reusable. This is because they usually come off in pieces when you're pulling them apart and have baked on. On top of that, some sections of the gasket are left stuck to the compartment.
So, if you're maintaining your engine, chances are you'll need to replace the gaskets. This is where having the best gasket remover will come in handy!
Editor's Recommendation:
As you know, gaskets need a clean and smooth surface to seal properly. Therefore, you need to clean the surfaces before you apply a fresh gasket. Otherwise, the remnants of the old gaskets will hinder the performance of the new one. There are various chemical and mechanical tools for removing gaskets that don't peel off.
But, which is the best method for you? Well, this article has some incredible top-quality options you can try out! Let's check them out!
7 Best Gasket Remover Spray & tools
1. Permatex Gasket Remover (80645)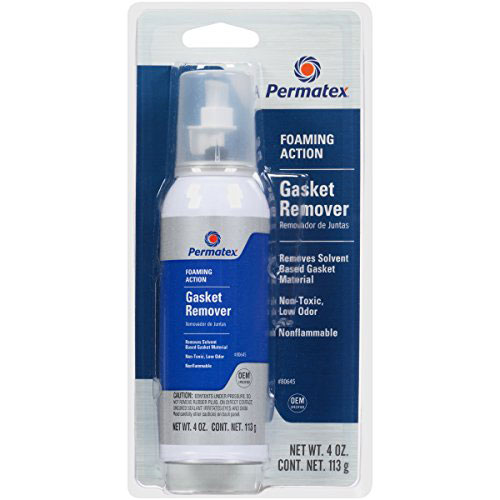 Some people prefer using flat straight edges and razor blades to remove old gaskets. Yet, they're not that effective in getting the job done. Besides, this increases girding and scraping, which can damage the flange. Why not avoid all these issues by using this Permatex gasket remover.
This product is relatively new in the market, yet it has become quite popular. This can be attributed to the fact that it comes from Permatex, which is a reputable brand. However, the main reason for its popularity is the incredible features it offers.
First, this formula can remove any solvent-based sealant in 15 to 20 minutes. Better still, you can use it to dissolve gasket remnants stuck to the casing surface. Thanks to the fast-foaming action formula that penetrates baked-on and stubborn gaskets. Note, this remover may not work on silicone gaskets. Nonetheless, it can remove residuals and gaskets from any kind of plastic/ metal casing.
Applying this formula over old gaskets is quite simple as well. One reason for this is that it has an inbuilt brush-tip design. Also, it doesn't run, even when applied on vertical surfaces.
You just need to spray it over the old surface and leave it to sit for some time. Then use a dry rag to wipe off the residue. You can also use it to prepare and clean the new gasket surfaces.
Lastly, this formula has a low VOC formula. Moreover, it's a safer option than any brominated and chlorinated gasket remover solvent.
Highlighted Features
Comes in a 4-ounce spray bottle
Non-brominated, non-chlorinated, low VOC formula
Ideal for cleaning intricate parts
2. Suzuki ECSTAR Silicone Gasket SP-3K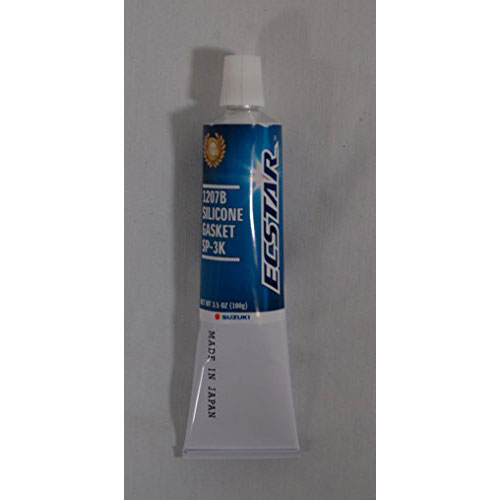 ECSTAR brand was developed in 1984 as a high-performance engine oil by Suzuki. This name is derived from 2 words; Star and Ecstatic. It's intended to mean 'the star of ecstatic performance'. In 2015, Suzuki's genuine oil & chemical products were unified into ECSTAR.
This helped Suzuki provide reliable services to motorcycle, automobile, and car dealers worldwide. And as far as gasket removers are concerned, their SP-3K is very reliable. It delivers excellent performance and gives a better experience than most gasket removers.
Like any other product from Suzuki, this gasket compound is environmentally friendly. It's designed to offer dependable 'formed-in-place gasket components for mechanical assemblies. The compound forms a tough, flexible silicone gasket on curing. However, for this to happen, it has to come into contact with air moisture.
Another unique feature of this product is that it resists cracking and shrinking. Not to forget its resistance to oil, which is incredible. For this reason, it offers exceptional adhesive properties to oil-contaminated surfaces.
Regarding the packaging, this product comes in 3.5 oz. bottle. This makes it easy to apply on various gasket surfaces. Overall, ECSTAR SP-3K is one of the best 'formed-in-place gaskets in the market today.
Highlighted Features
Maintains exceptional oil resistance
Works on all gaskets
Forms a flexible, silicone gasket for curing
Superior bonding properties
3. Titan 17002Multi-Purpose Razor Scraper Set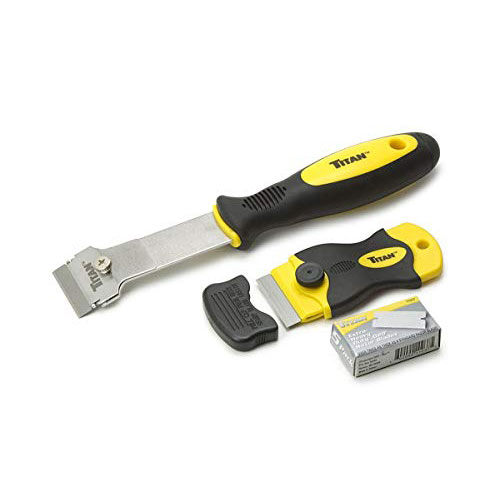 To remove a tough, stuck gasket without damaging delicate components, consider using a scraper. Unlike ordinary putty knives, these unique tools are specifically designed for this task. With their thin, wide heads, they can effectively remove gasket from mating surfaces. A good example of such a gasket remover tool is this Titan 17002 scraper set!
But, what makes this set stand out from the other scraping tools? Well, here are some of its outstanding features!
For starters, this set comes with every tool you need to handle various projects. You'll get; a 9.25" long-handled scraper, 4" mini scraper, security cap, and five replacement razor blades.
But even with all these tools, the set is compact and weighs less than 4 ounces. Therefore, you can comfortably use it to remove gaskets in tight areas.
Talking of comfortability, the scraper has a non-slip and ergonomic rubber handle. To be precise, the handle is crafted from heavy-duty polypropylene. Moreover, this gasket remover tool has a TPR comfort sleeve. This minimizes hand fatigue and enhances the grip during use.
Moving on to other parts of the scraper, its blades are made of up authentic stainless steel. For this reason, you can easily remove the gasket residuals from its surfaces. Best of all, this protects it from rust, which can affect its durability.
Another benefit of buying this scraper set is that it's very versatile. So, apart from removing gaskets, you can use them for other tasks as well. For instance, it can scrape stickers and decals from windshields, windows, or ceramic.
Highlighted Features
Heavy-duty polypropylene construction
Genuine stainless steel blades
Ergonomic soft-touch handle
Lightweight & compact design
Highly versatile
4. FOSHIO Adhesive Remover Scraper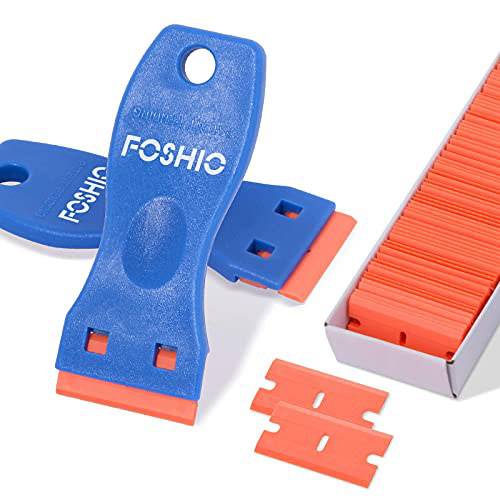 A plastic scraper is another incredible tool that you can use to remove gasket surfaces. It's lightweight, portable, and guarantees rustproof performance. If you're looking for a tool that meets those needs, check out this plastic scraper from FOSHIO.
The good thing about this scraper set is that it's safe both for the user and surfaces. Unlike regular razor blades, plastic scrapers will not damage delicate surfaces. This makes it ideal for handling different materials including ceramic, and metal. It will not leave any scratches, even when you're working on glass. On top of that, it will not hurt you, even if you don't have safety gloves.
Regardless of being made up of plastic, this set has a sturdy construction. For instance, the blades are double-edged, which extends their durability.
Another benefit of getting yourself this scraper set is that it's simple to use. Thanks to the angled scraper heads which provide greater control and better.
Moving on, this tool is comfortable to hold and use. Thanks to the ergonomic curved grip, giving you an enhanced experience. Besides, the tool is flexible so you can apply as much pressure as you want without damaging it. For excellent results, use mild pressure and apply water/ solvent to the surface.
When you buy this set, you'll get 100 pieces of replacement blades and 2 scrapers. Even better, the set comes at an extremely affordable price!
Highlighted Features
Sturdy construction
Scratch proof
Available in different colors; green, blue, and yellow
Safe and easy to use
Rust-resistant and easy to clean
6. OEMTOOLS 25501 Carbon Gasket Scraper Tool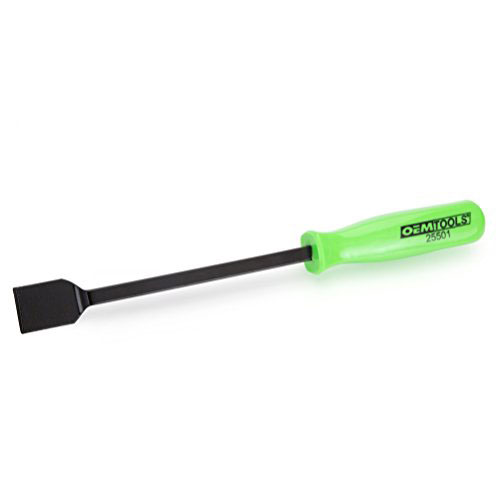 OEM TOOLS is known for providing high-quality, reliable tools at an affordable price. Well, their 25501 gasket remover is no exception! Besides, this tool is meticulously and professionally designed to provide unmatched durability! So, if you want a scraper that is efficient, reliable, and durable, this set will be a good fit for you.
This scraper is crafted from chrome vanadium steel and carbon steel. As if that isn't enough, it's coated with a black oxide finish. This gives it incredible toughness as well as outstanding rust resistance. So, don't be surprised that this heavy-duty blade can handle most carbon scraping tasks out there.
To make things even better, the tool has a sure-grip, ergonomic handle. This means that the tool will not slip as you remove or clean gaskets. Moreover, the tool feels light in your hand, ensuring a clean and easy scrape.
In terms of design, this tool has a 2-piece design to provide extra strength. For that reason, it's precise and powerful, allowing you to get the task done with ease. Overall, the scraper is 10.25" long, but its shaft is 6" long. This enhances its longevity and enables you to scrape gaskets in tight areas.
Lastly, the scraper tool is ideal for various uses. It's considered the best rubber gasket remover. More notably, you can use it to clean and scrape any steel surface. Also, you can use it to remove carbon buildup and non-O-ring gaskets.
Highlighted Features
Rust-resistance black oxide finish
Heat treated steel construction
Sure-grip, ergonomic handle
Highly versatile
7. CRC Gasket Remover For Aluminum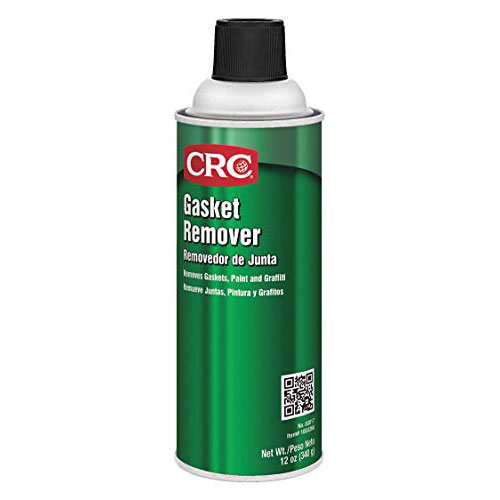 Traditionally, the removal of engine components involved harsh scraping. This usually resulted in costly and accidental damage to pistons and aluminum heads. Not to forget that this task was labor-intensive and time-consuming.
But with the best gasket remover spray like CRC solvent, that isn't the case at all! Thanks to its powerful formulation, which softens old surfaces instantly. As a result, removing tough bonded gaskets becomes a quick and simple process.
That's not the only way you can use this compound though! Instead, it works on most types of sealants and adhesives. Also, it can remove dried oil, paint, varnish, stickers, urethane, grease, and enamel.
Still, on versatility, this formula is safe to use on various materials including brass and steel. Moreover, it's considered the best gasket remover for aluminum surfaces.
This fluid chemical remover comes in 16 oz. aerosol spray can. The fluid takes up 12 oz. of this weight, while the rest goes to the propellant. However, it doesn't contain any CFCs, formic acid, or carbolic acid, so it's environment-friendly. It's easy to apply and its film even clings to vertical surfaces.
Bottom line, this CRC gasket remover can remove formed in place and conventional gaskets effectively. It's ideal for use on pumps, motors, flanges, stone, and metal. Besides, you can even use it to remove gasket surfaces in high-temperature areas.
Highlighted Features
Dissolves gasket residuals within minutes
Works on most types of sealants & adhesives
Safe for use on brass, steel, and aluminum
Multiple applications
Loosens carbon deposits from engine and metal components
Gasket Remover Buying Guide: What To Look Before Buy
Now that you've gone through our list of the best gasket removers out there, have you made a choice yet? Or are you still having a problem settling on one product? Worry not! Consider the following factors before you choose any gasket remover!
Versatility
A good gasket remover should handle other tasks apart from removing the surface. This will allow you to perform other DIY jobs like removing stickers and labels. More importantly, it should be safe to use on various materials.
Ease of use
A gasket Remover aids in the removal of stuck and tough residues. Similarly, the product should be simple to use as well. On the same note, look for something comfortable and safe to use. This will provide better performance and enhance your experience while removing gaskets.
Brand
As you know, many brands manufacture gasket removers out there. However, you don't want to end up with any product that crosses your path. Otherwise, you'll end up with a low-quality scraper or solvent that doesn't get the job done.
To avoid that, choose gasket removers from a reputable brand. The most reputable brands today are; OEM TOOLS, Permatex, FOSHIO, CRC, and Titan.
Price
Removing gaskets isn't as expensive as replacing gaskets. Surprisingly, if you're careful, you can end spending more money on a gasket remover than you'd spend on the gasket.
Luckily, most options on our list come at a reasonable price. So, check them out and choose the best option for your needs!
Related Questions
#1. Can you use a putty knife to scrape an old gasket?
Putty knives can remove or scrape off old gaskets. However, they'll scratch and damage your surfaces. So, avoid using them for that task. Instead, use a scraper since it's specifically designed for removing the gasket.
#2. How do you prevent a gasket scraper from rusting?
If your gasket scraper isn't resistant to rust, soak it in baby oil or mineral oil after use. This will prevent the blade from corrosion and rusting.
#3. What is the best way to remove gasket sealant?
Scrape the old sealant with a scraper. Then soak it chemical gasket remove it to loosen and dissolve the tough material. Lastly, wipe off the residuals with a dry cloth.
#4. What is the difference between a putty knife and a gasket scrapper?
Putty knives have thinner, more flexible blades, making it difficult to scrape surfaces. On the contrary, scrapers have sharp, beveled edges. This allows them, to lift and remove old gaskets from metal components.
#5. How do I dissolve rubber gaskets?
Acetone is the safest product for dissolving rubber gaskets. Alternatively, you can use an ammonia solution or gasoline.
Final Throughts
Surface preparation is important before you apply a new gasket. Thankfully, there are many scrapers and compounds you can use to achieve that. Best of all, we've listed some of the best gasket removers you'll ever come across.
With any of these products, you can remove any old gasket from mating materials. Hopefully, you'll find the right type of remover to suit your needs here!
And here is our good article about the top 10 wax and grease remover before car painting