Last Updated On 13th Sep, 2021
Carbon is one of the by-products of combustion. It is that black soot that collects and hardens on metal surfaces.
You can see these carbon deposits either in your car's engine or even in your kitchen appliances like pots and stoves. They tend to undermine the appearance of your kitchen appliances, ammunition, guns, and your car's engine performance.
And that's not all! They can also cause engine overheating or knocking and higher oil consumption in your car.
That's why you should get rid of them! However, such build-ups are very hard to remove with regular cleaning products. But with the best solvent for removing carbon, you can easily get rid of them.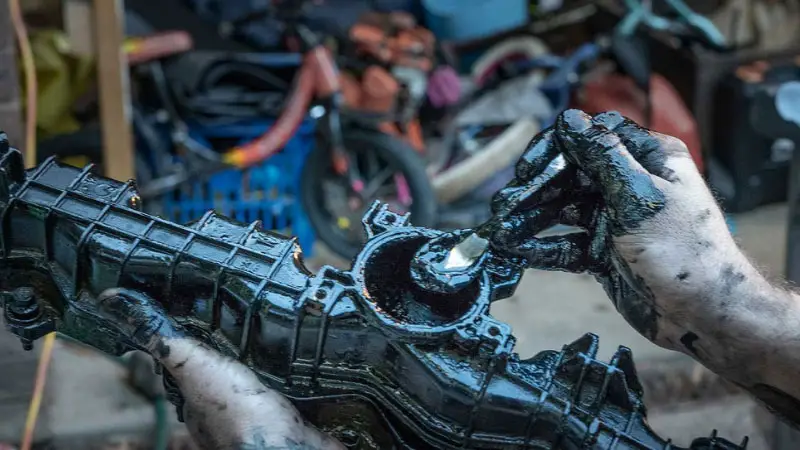 As you know, owning equipment is one thing, while maintaining it is another. And cleaning is one of the simplest maintenance practices out there.
Luckily, with a solvent that removes carbon, maintaining your metal wares will be a walk in the park. Thanks to their ability to get the job done appropriately.
Editor's Recommendation:
Even so, while there are so many carbon removers in the market, not all of them are effective. Besides, with every manufacturer out there claiming that they produce the best solvents, settling on one particular product is not that simple.
But, that should not worry you at all!
We've listed some of the best solvents for removing carbon that are 100% effective. Here they are!
Best Solvent for Removing Carbon
1. Slip 2000 Carbon Killer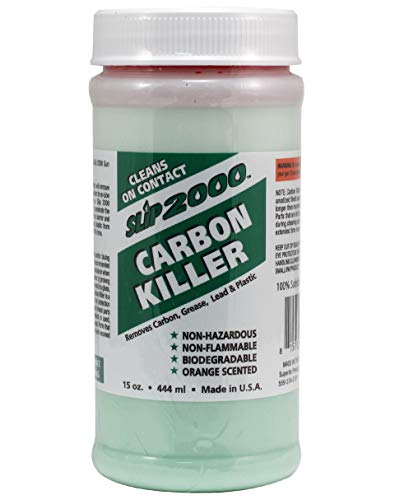 Talk about a solvent that removes carbon build-up from metal surfaces in a matter of minutes! Well, that's exactly what this Slip 2000 Carbon Killer is all about!
With this product, be ready to forget about the labor-intensive and time-consuming task of cleaning your equipment. Whether it's a pistol, semi-automatic/ automatic weapon, and other surfaces with baked-on carbon. Carbon Killer is all you need!
This solvent dissolves carbon on contact. And you can even use it to remove the plastic and lead fouling as well.
When it comes to application, submerge the parts in the solvent completely and let them soak for a few minutes. Then remove them, wipe, brush and rinse them clean. However, if the parts are so large that they can't fit into the soaking tray or jar, simply wipe them clean with a rag saturated with the solvent.
Another great thing with this carbon remover is that it's reusable. You heard that right! You can use it to remove carbon deposits from metal surfaces over and over again, even after it becomes dirty. Just make sure you store it properly in one jar and it will offer you several cleanings.
You'll also love how user- and environment-friendly this product is. All thanks to its non-flammable, non-toxic, and biodegradable formula. As such, it's a safe solvent that enables you to clean lead, plastic wad, and carbon fouling effectively.
On the downside, this solvent is not ideal for cleaning exterior surfaces with finishes. It can damage or even remove them completely.
Other than that, this 15 oz bottle contains one of the most effective cleaning solvents for removing heavy carbon build-ups. And it's compatible with most equipment. Why let carbon deposits bother you when you only need a bottle of Slip 2000 Carbon Killer?
Pros
Reasonably priced
Biodegradable & non-flammable formula
Free from the harsh chemical smell
Reusable
Cons
Not ideal for exterior parts
---
2. Discovery Products Carbon Off Cleaner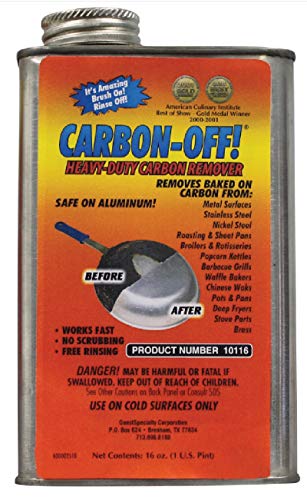 Not many cleaning products can efficiently remove the baked-on carbon of kitchen wares. But once you try out this Carbon Off Cleaner from Discovery Products, you'll never look for another cleaner for such tasks.
Best of all, this cleaner works on many metal surfaces. So, whether you want to remove carbon deposits on nickel steel, aluminum, brass, or stainless steel, you can never go wrong with this Carbon Off Cleaner. For this reason, it's considered the best product for cleaning sheet pans, pans, pots, barbecue grills, broilers, rotisseries, stove parts, and waffle bakers.
This powerful carbon solvent easily dissolves and softens carbon deposits on various cooking surfaces. Once you try it out, you'll 'Discover' why it's on this list.
Moving on, the application process is quite simple. Just use a paintbrush to apply the solvent over the surface with carbon deposits and leave it overnight! And just like that, you'll have removed the carbon build up on the metal surfaces.
Alternatively, you can use a damp towel saturated with the solvent to wipe the surface. The formula works easily and quickly. You don't even have to scrub the surface at all. After wiping the surface with the solvent, leave it for about 15 minutes, then rinse it with cold water. However, the time may vary depending on the number of carbon deposits that you want to remove.
While this solvent is incredible and efficient, it has its limitations. For instance, it's not ideal for painted and plastic surfaces. This is because its formula can end up damaging those surfaces completely.
Overall, this product will give you many benefits, especially when removing carbon from metal surfaces is your primary concern. Indeed, you will enjoy it in your kitchen. That way, you'll be able to handle all types of carbon accumulation on various kitchen appliances!
Pros
Works on several metal surfaces
Works fast
Easy to dispense and remove grimes
Free rinsing
Cons
Only ideal for cold surfaces
---
3. Bore Tech C4 Carbon Remover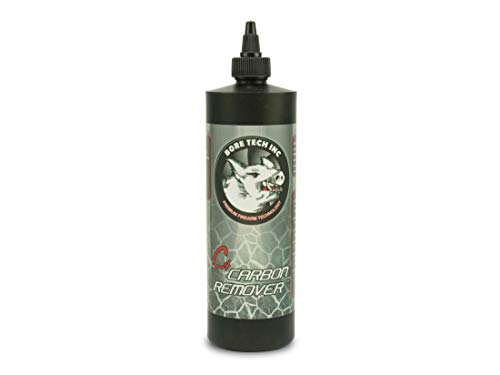 Since its establishment in 1997, Bore Tech Inc. has been producing some of the best cleaning products in the market. And their C4 Carbon Remover is no exception!
It's a fast-acting and effective carbon solvent that removes the heaviest carbon build-ups without compromising the user's health or safety! Thus making it one of the best carbon solvents for indoor use. Furthermore, unlike some carbon removers out this, this solvent doesn't contain harmful substances and odors.
Although its formula is 100% biodegradable, it has enough strength to remove even the toughest lead, moly, and carbon fouling. A process that will only take a matter of seconds! You can use it to clean various surfaces with carbon deposits like bolt carries, barrels, revolve cylinders, combustion chambers, and throats.
The highly advanced formula uses a blend of surfactants to take care of the carbon fouling. Those surfactants quickly loosen and remove tough carbon deposits from the surface. Besides, this enhanced formula offers a deep clean surface and effectively neutralizes corrosive residues.
Moreover, this solvent can be used to get rid of corrosive elements in military ammunition and black powder. Considering how well this solvent penetrates very small openings, it will leave your firearm and other equipment looking new! Besides, this makes it a great option for hard-to-reach areas that are difficult to scrub.
To get excellent results, wet the bore and bush it with a nylon brush. Then re-wet it and let it soak for about 5- 10 minutes. After that, dry the patches to get rid of the fouling with the solvent. The application process is made much simpler by the convenient 16 oz. applicator bottle.
If you notice extreme carbon fouling on any metal surface, we suggest you try out this C4 Carbon Remover from Bore Tech! Trust us, you'll see noticeable results in minutes!
Pros
Neutralizes corrosive elements
Non-hazardous and odor-free
Convenient application
Cons
Can damage phosphate barrels
---
Buyer's Guide For Carbon Remover Solvent
Carbon is a compound that makes cleaning various surfaces to be a very challenging task. It's found in the kitchen utensils and appliances, cars, guns as well as other surfaces. Luckily, various manufacturers have come up with many cleaning products to ease this problem.
However, with every manufacturer vouching for this carbon solvent as the best, settling on one particular product can be a bit confusing.
For that reason, we have prepared a list of the important factors you should consider when buying a carbon remover. These considerations will ensure that you choose the best carbon solvent that removes carbon build-up effectively.
With that in mind, let's have a look at these factors right away!
Type of Carbon Solvent
There are different types of carbon solvents that you can choose from. This makes it hard for users to settle on a certain type. As such, carbon solvents are available in aerosol sprays or dipping can. This simply means that they can be in liquid or aerosol form.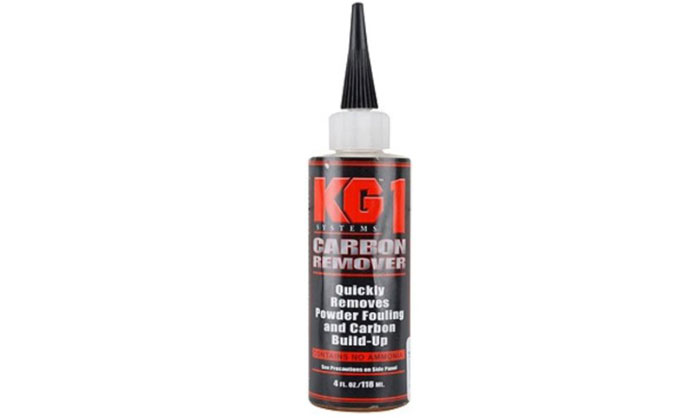 While these solvents work almost the same way, it's good to determine where you intend to use them before you buy a certain type of solvent.
For instance, if you want to clean tight areas and openings effectively, liquid solvents may not the best option. Besides, they may even take more time to get the job done. So, in that case, the best option is to go for an aerosol spray.
Intended use
Some carbon solvents are designed for various applications, while others are only ideal for specific cleaning needs. For instance, a solvent may be specifically designed for kitchen appliances. In that case, that solvent may not work well in guns or cars.
However, if you intend to use the product for various applications, go for a multipurpose solvent. This will help you to save time and money because you'll not have to buy separate solvents for every task.
Formula
Another important thing you should consider when it comes to solvents is their formula. Is it non-toxic, environment-friendly, safe, and effective? Those are some of the things you should look at before you buy a certain product.
Solvents with non-toxic ingredients in their formula are much safer and better, both for people and the environment. Even better, when people or pets are exposed to these formulas for a long time, there will be no adverse effects.
Read more: Header Paint Reviews & Buying Guide
Frequently Answer Questions
Is Carbon solvent toxic? 
Although not all carbon solvents are toxic, some have toxic ingredients that can be skin irritant or harm the human body when ingested. Such solvents should be stored in well-ventilated spaces and out of reach for pets and children. Also, some of the toxic solvents tend to be highly flammable, and should, therefore, be stored away from direct sunlight. 
Why do we have to remove carbon from surfaces? 
Removing carbon deposits from metal surfaces can have many benefits. Some of these benefits include; improve performance, extend an item's durability, reduce corrosion, and enhance metal ware's appearance.
What are carbon solvents made up of? 
Most solvents have acetone as their main ingredient. However, they may have other ingredients like heptane and toluene. 
What is the best carbon solvent? 
In a market with so many great carbon solvents, it's difficult to settle on one particular product. However, the top 3 carbon solvents that remove carbon effectively are; Bore Tech Carbon Remover, Slip 2000 Carbon Killer, and Discovery Products Carbon Off Cleaner.
Final Words
The main function of most carbon solvents is to remove carbon, but some can also work on grease and oils. However, if your main concern is carbon, then it's good to go for the best solvent for removing carbon. 
Most importantly, don't just go for a solvent because of its brand name. Instead, take your time to make sure the product you're about to buy will meet all your cleaning needs. Lucky for you, we have created a list of some of the most effective carbon removers out there.
By choosing one of these solvents, you can rest assured that you'll be able to tackle carbon build-up for a very long time.