As a handyman, homeowner, or DIYer, it's always good to have the right tools by your side. That way, you'll be able to perform various projects with ease.
To perform tasks like sharpening blades or finish materials perfectly, you'll need a metal file. And not just any metal file, but one of the best metal files on the market!
It will also extend the durability of your other tools. Not to forget that you can also use it to smoothen other objects like plastics, wood, and metals.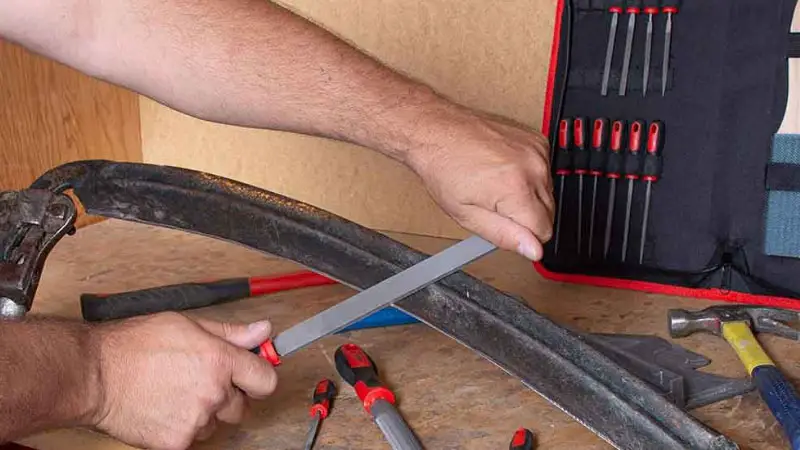 However, there are so many models and types of metal files out there. So, you may struggle to choose the best one that suits your needs or project. Besides, if you're not careful, you may end up with a set that doesn't perform your desired task correctly.
Lucky for you, you don't have to face that dilemma. That's because we've listed the best quality metal file sets you'll ever find online!
In Hurry! Then Check Our Top 5 Picks:
Best of all, we've also highlighted some of their notable features so that you can choose the best one for your needs.
That being said, let's check out these metal files right away!
7 Best Metal File Reviews
1. Jinfeng Needle File Set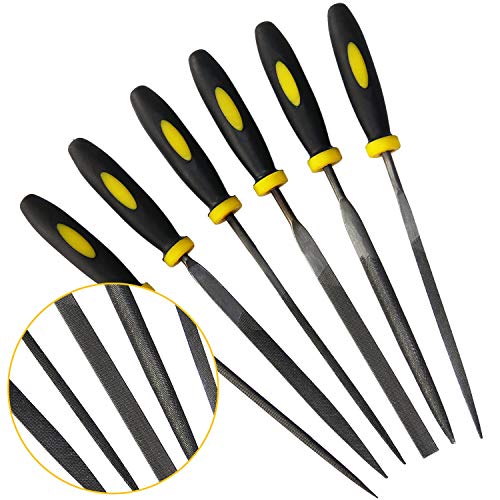 To kick off our list is this file set from Jinfeng. If you're looking for a needle metal file, then this is the best option for you!
It is a unique set that comes with 6 different types of files. They include; a flat file, square file, triangular rasp file, round file, flat warding file, and half-round file. Thus giving you the flexibility you need to undertake various projects. Besides, the precision teeth pattern of this set makes it a great option for basic filing needs.
Each file is 6" long and features a 4" shank. This means that you can use this set on smaller objects like wood, glass, and ceramic items. However, these files are not ideal for hard metal objects.
What we love most about Jinfeng files is that they're very durable. This is because they are crafted from high-carbon steel allow that ensures maximum strength and long-term usage. Moreover, this material can resist rust, thus increasing its durability further.
When it comes to applications, using this file set is quite simple as well. The handle of each file is wrapped with rubber to provide additional cushion for comfort during use. This also offers a firm grip when one is using or holding it.
As great as these files are, they are not without limitations though! For instance, considering that they're smaller than other files, they require more effort and time. Also, their teeth are not that great for finish work since they're not very smooth.
This assortment of files is certainly worth investing in. Its flexibility and durability will enable you to perform many tasks for a very long time.
Pros
Lightweight design
Simple to use
Ideal for various projects
Comfortable rubber grip
Cons
Can break easily
Not ideal for precise and finishing work
---
2. Crescent Nicholson Axe Metal File

Since its establishment, more than 100 years ago, the Nicholson Company has been consistently producing high-quality files. Today, they're ranked among the best file manufacturers in the industry. With their Nicholson Axe file being one of the best files for metal works.
This rectangular-shaped metal file tool has dual functionality on both sides. One side is a double cut, while the other one is a single cut. Therefore, it is a great option when you're smoothing or sharpening metal items. This also makes it unique from other similar metal files since you can use it to remove many grams in a single stroke.
In addition, this metal file features a large surface area for working. For this reason, you can complete your projects in no time. Besides, this tool has good leverage, considering that it is 8" long, excluding the handle. There are 2 safety edges that one can use to file in restricted areas while preventing damage from happening.
Another plus for this metal file is that it's both efficient and durable. It's crafted from hardened carbon steel and features strong teeth that work well on soft and hard metals. One can use it to sharpen various tools and items like knives, spears, axes, etc. So, every handyman that uses such items will find this file very useful.
The only issue with this tool is probably the absence of a rubber grip in its handle. For that, one might not get very comfortable when holding it. However, even though the handle is not very ergonomic, you'll love the hole in it that promotes convenient storage. This means that you can easily and safely hang it in your workshop or store.
Generally, this masterpiece by the Nicholson File Co. is very popular among many people. Thanks to its incredible fast sharpening ability. If you're looking for a durable file that will keep your household and garden tools sharp, this is the product for you!
Pros
Easy to store
Durable hardened carbon steel construction
2 safety edges
Large surface area
Cons
Works on metal items only
---
3. SE Diamond Needle File Set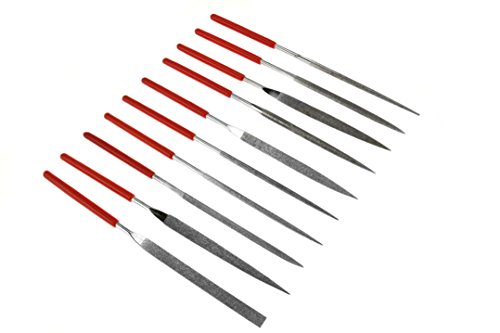 As you know, not every type of metal file tool is ideal for finishing work. That's why you should consider investing in this diamond needle file set from SE! This set comes with 10 different types of metal files to help you get the best finish possible!
Besides, SE is committed to ensuring that they produce some of the best files in the market. So, with this 10-piece file set, you can rest assured that you'll get a high-quality set that guarantees high performance and usefulness.
These tools are 5.5" long while the diameter length is 2.75". They come in a PVC case that allows easy storage and organization when they're not in use.
The set includes; a crossing file, knife file, square file, half-round, round file, three square files, equaling file, barette file, and a tapered round file. This assortment of shapes will enable you to complete various projects. Even better, you can use it to file, shape, and cur various materials including glass, stones, silver, gold, and carbide.
These files have dipped handles that provided extra comfort when you're using them for a long time. It's also worth noting that all files are designed with 150 grit.
As for the construction, these metal files are crafted from hardened high carbon steel to increase its durability. Unfortunately, their teeth aren't as durable since they tend to wear down quickly. Moreover, they don't have safety edges.
Another downside is that these files are small and not that sharp. Therefore, then might make you spend a long time to complete the tasks.
Other than that, this file set is very versatile, especially when you're working on metal surfaces and items. Moreover, most files are ideal for flat or square surfaces.
Pros
Comfortable handles
Highly versatile
Durable construction
Cons
No safety edge
Teeth are not that sharp
---
4. Corona Mill Bastard File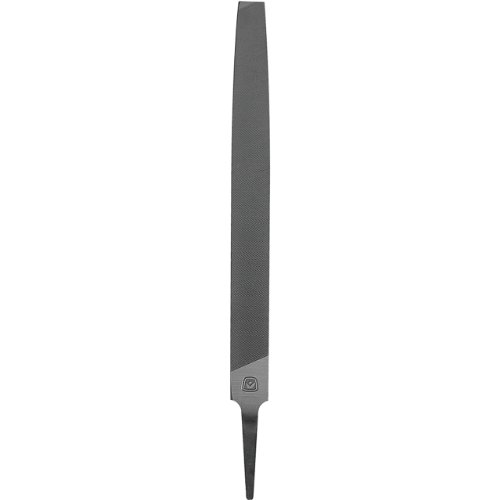 Started in the 1920S, Corona is a reputable brand that is widely known for its superior craftsmanship and design of landscape and garden tools. They have an extensive range of metal files that they've been manufacturing for over 72 years.
Besides, having partnered with CPE-Bellota (Corporacion Patricio Echeverria), they've got the needed experience and expertise to produce superior Corona-branded rasps and files. Corona Mill Bastard file being one of their most popular metal files!
So, if you're planning to shape or restore sharp edges where smooth finishing is needed, you can never go wrong with this Mill Bastard file.
It's a 6-inch file that is made from a hardened carbon steel material with a length of 8.25 inches. The file is rectangular and features tapered edges towards its tip and parallel surfaces. It's perfect for sharpening tools like shovels, scrapers, hoes, and spades. You can also use it to de-burr and polish single cut surface edges.
What we love most about this file is its superior construction. The tool is made from carbon that is combined with heat treatment to increase its strength and hardness. Moreover, it has added chromium that increases its ability to resist abrasion and corrosion.
While this metal file works very well in finishing metal surfaces, it's not without limitations! For instance, the unit doesn't have a handle, safety edge and its teeth can wear down quickly. Furthermore, it's specifically designed for use on metal surfaces only.
Also, this file features a medium-coarse finish. As such, it may take you longer to obtain a filed or smooth edge when using this metal file.
Overall, you'll enjoy having this quality metal file in your workshop. Especially when you're performing finishing tasks on metal surfaces. It comes from a reputable manufacturer, and best of all, it gets the job done!
Pros
Resists corrosion and abrasion
High-quality cutting performance
Superior construction
Cons
Works on metal surfaces only
The handle isn't that comfortable
---
5. Finder Semi-Round Hand Rasp File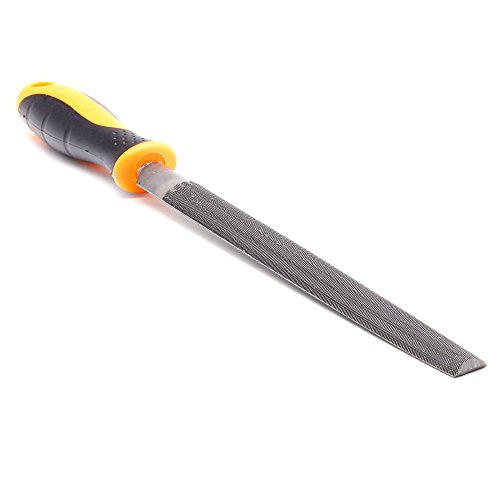 Handymen and professionals out there know that metal files are vital handy tools. That's why most of them opt for high-quality durable files like this hand rasp file from Finder! A tool that features a rubber handle and hardened high-carbon steel construction. It's a half-round file with cross teeth on its flat side and single teeth on its rounded side.
Both the handle cover and metal part gives the file a total length of 12.6", but the handle alone is 4.6" long. This enables you to handle various filing tasks effectively. The non-slip ergonomic handle makes it comfortable to use, even under oily or wet conditions by providing a firm & agreeable grasp.
On the other hand, high-carbon steel construction makes it one of the most durable files in the market. This gives it enough sturdiness to practically do any work and keep it going for a long time. Furthermore, the fact that this tool can resist rust makes it even more durable.
Moving on, this metal file's teeth have enough sharpness to cut through various materials. For that, you can effectively use it on surfaces that need polishing or cleaning such as metal, hardwood, glass, and even on plastics.
Also, it provides excellent results when used to smooth metal surfaces. However, while this file can work on wood, we suggest that you use a wood file for the best results.
As for the file's tip, it has been generally cut. It has not been adjusted and there are no teeth, meaning it's pointless.
In short, this metal file is long-lasting, easy to use, and has a heavy-duty construction. Thus, as a professional, you can use it regularly without being concerned about it breaking. It's also a great option when you're working on larger surfaces.
Pros
Rust resistance
Ergonomic rubber handle for comfortable use
Works on various surfaces
Reasonably priced
Cons
Not ideal for wood surfaces
---
6. VonHaus File Set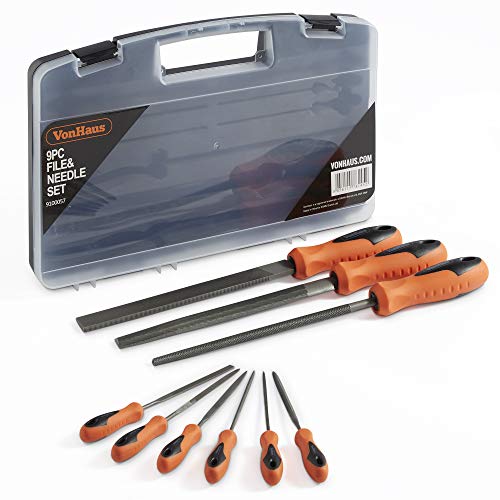 Are you're planning to use a metal file to work on various projects regularly? Then we suggest that you try out this premium option from VonHaus!
This file set comes with 6 needle files and 3 engineer files. The engineer files, which are 8-inches, are; a round file, half-round file, as well as the hand file. While the needle files are 6" long and include; a flat needle, equaling needle, half-round needle, square needle, triangle needle, and round needle.
With all these files, you can file, make precision cuts, and even finish items like hard and soft metals. Even better, they also work on other materials like ceramic, plastic, glass, and wood among others.
Furthermore, each of these files is crafted from tempered and hardened high carbon steel material. This makes them sturdier and more durable than similar metal files out there.
To ensure that you perform the task at hand accurately, the teeth of these files are coated.
They have an ergonomic handle with a soft grip for convenient and comfortable use. As if that's not enough, the tool set comes in a sturdy carrying case for easy storage and transportation. When it comes to application, these files are ideal for de-burring, shaping as well as sharpening surfaces.
However, just like any other product out there, these metal files have their drawbacks. Besides, it's hard to find a product that is 100% perfect, right? In the case of this VonHaus File set, the metal files lack safety edges. Therefore, you need to be very careful when using them.
The most important thing to note about these files is that they are designed for precision cuts. For that, it's not a surprise that they're the favorite toolset for most handymen. So, why not try them out?
Pros
Extended lifetime
Convenient carrying case
Works on different materials
Soft grip comfortable handle
Cons
No safety edges
A bit costly
---
7. KALIM Flat Medium Cut File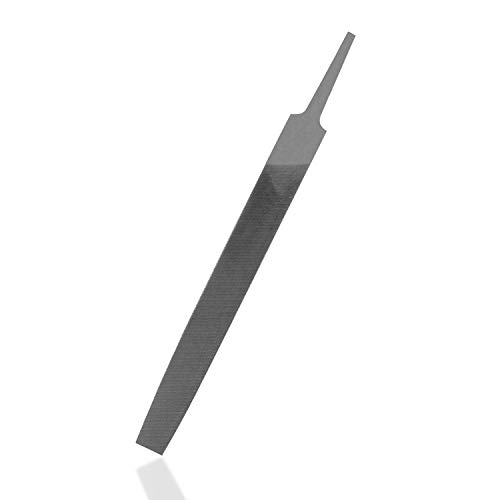 Las on our great selection list is this KALIM Flat Medium Cut File. A 6" file that is very affordable with a total length and 7.5" and 0.63" wide. This new file is a great option for every user looking for a cheap, yet effective metal file!
The best thing about this metal file is that it's ideal for different projects. Especially considering that it's made of quality material with 0.8% carbon, the best composition proportion of hand tools. Besides, it can shape, finish, and file various materials including wood, plastic, soft metal, aluminum, hardwood, and much more.
While we're still on construction, this quality metal file is made of superior high carbon steel that is hardened and tempered. This makes it very tough to handle specific tasks and extends its durability.
This tool has a high-temperature quenching that also contributes to its durability. In addition to that, it's single-sided and resists abrasion. Moreover, its fine-grain teeth are both effective and long-lasting.
On the downside, this metal file does not have a safety edge. Also, its handle doesn't have a coating, meaning that it's very comfortable for prolonged use.
Apart from that, this tool is a great option if you're looking for the best metal file to help you get the task done in no time. This is because of its precision teeth pattern and affordability.
Rather than going for those expensive models, why not go for this durable, affordable, and effective metal file from KALIM? It's one of the cheapest metal files you'll ever come across in the market!
Pros
Works on many materials
Precision teeth pattern
Abrasion-resistant
Cons
No rubber coating on the handle
Lacks a safety edge
---
Metal File Buyer's Guide: what to look before buy
Metal files are very valuable tools when you're undertaking various projects and tasks. However, it's good to acknowledge that every task requires a matching metal file. Therefore, before you settle on a certain file or file set, there are some factors you have to consider.
These factors will help you determine whether the file you're planning to buy is ideal for a particular task. Besides, they will ensure that you don't end up with a tool you may never use. That being said, here are some of the things you need to consider when looking for the best metal file set!
Teeth
The teeth pattern is one of the most important aspects of any metal file. First of all, you need to understand that there are many different teeth patterns. And each pattern is ideal for certain tasks. The most common patterns are single cut and double cut. Therefore, you must consider the best teeth pattern that will match your needs.
Apart from the teeth pattern, you also need to consider their coarseness grades as well. This plays a very significant role in determining the file's working speed and efficiency.
In general, before you decide to buy a certain metal file, make sure you've selected the ideal tooth style and grade according to your needs.
Shape
Metal files are available in several shapes, including pointed, round, half-round, square, triangle, and much more. Since different items and projects require different shapes, this is another factor you can't ignore. This means that you should know the shape of the file you need before you buy one.
Even so, it's worth noting that the half-round file is ranked among the most versatile files. This is because it has a curved surface and a flat surface.
Material
The material of the metal file is essential in two different ways. Firstly, the type of material used to make the file plays an important role in determining its durability. Lucky for you, our list only features metal files that are crafted from durable, superior materials like hardened high carbon steel.
Secondly, the material type will determine the surfaces the metal file can work on. In that regard, it's good to choose a tool that can work on various surfaces like metal, glass, plastic, and more.
However, if you're only planning to work on metal surfaces, there is no problem in choosing a tool that works on metal only.
---
Types of Metal Files
As we said earlier, metal files are available in various types. Something that you can see in a file set. In general, a file set includes many types of metal files like half-round file, rectangular file, triangular file, square file, and so on.
However, all types of these files can be narrowed down to four main categories/types. They include;
1. Single-cut metal files
This is the most common type of metal file as they're usually used for tasks like sharpening knives. The teeth of single-cut files are either straight or positioned at a 45° angle. For that reason, they cut in one/single direction as the name implies.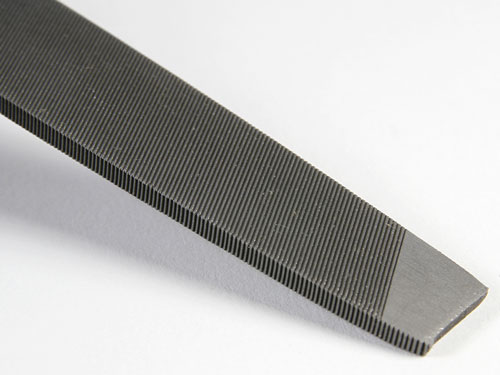 Also, they've single lines of teeth that are in a parallel position to each other. This type of file grinds quickly and doesn't need a lot of pressure during use.
2. Double-cut metal files
Unlike the file type mentioned above, the teeth of double-cut files cut in opposite directions. The teeth have a diagonal shape forming a diamond in the file's body. Moreover, this type of file features two rows of teeth that can cut various types of items.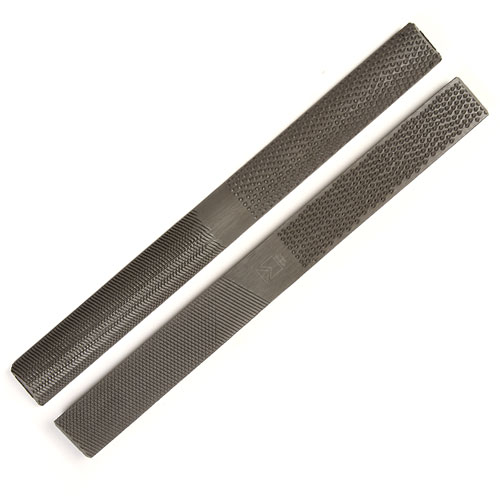 If you want to get excellent with these files, make sure you apply some pressure. The benefit of using double-cut files is that they have a more sharpening performance and remove materials quicker than single-cut files.
3. Curved-cut files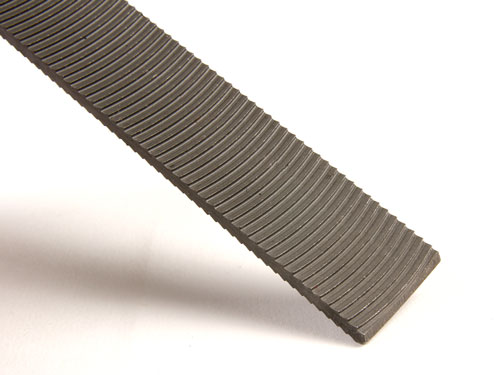 Just as the name suggests, curved-cut metal files are curved. They are specifically designed for carving tasks. They are commonly used by most professionals working with automobile parts and fiberglass. You can also use this type of metal file on plastic materials.
4. Rasp-cut files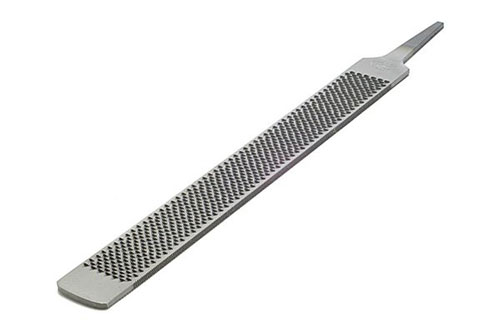 Rasp-cut files are mainly used on wood surfaces. This is because they've many separate teeth, making them very effective for tasks like smoothening hardwood surfaces. It's also good to not that rasp-cut files come in different designs.
---
Frequently Answer Questions About Metal File
How should I use a metal file?
Although using a metal file seems like an obvious thing, some people do it the wrong way. Indeed, most people do it in a sawing direction (back-and-forth), which is not the ideal technique. Instead, you should push the file forward, lift it off and push it again. This way, you get excellent results and file the surface quickly.
What is the difference between a rasp and a file? 
Simple? Rasps are usually used on wood surfaces while files can be used on various materials including metal, wood, plastic, and more. Besides, files are solid tools with teeth on their surfaces, while the teeth of raps are punched out of thin sheets. This means that rasps have a series of holes for convenient clearance of wood shaving while one is working. 
What's a 'safe edge'?
This refers to the edge in some square and rectangular files that don't have teeth. From the name, you may think that this edge is designed to protect the user, but that isn't the case! Instead, a 'safe edge', enables you to cut into a vertical section without removing material from the horizontal, and vice versa, when filing a corner or a step.
Can you use a metal file set for jewelry tasks?
Of course! Some metal files are ideal for various jewelry works like molding, cutting, and shaping among others.
What are metal files made of, and why?
Most metal files are crafted from steel. Hardened carbon steel is mainly used because of its incredible resistance and durability.
Final Word
A metal file is one of the most important tools for metal and wood projects. Luckily, some manufacturer produces a file set with different sizes and shapes to suit the needs of every craftsman and handyman out there.
After going through reviews for different tools, we hope you've come across one of the best metal files that will suit your needs.
If not, we suggest that you go through our buyer's guide again to determine what to look for in metal. Once you've done, go back to the reviews and we're certain you'll find the ideal tool for you!
Up Next: