One important plumber tool you don't mean to be stingy on is your best pipe cutter. Cheap cutters won't provide you a nice, clean, and straight cut. So their tolerance is very low, and they'll rather cut with multiple incisions that are not good at all.
So, if you're expecting the best copper pipe cutter with proper machining tolerance, this article will be your go-to checklist.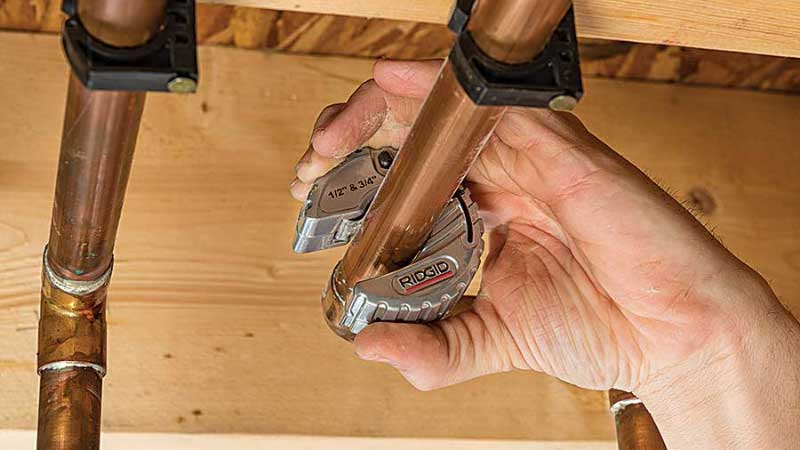 We've reviewed some of the compact and easy to use copper pipe cutting tools in this article. These tools are adjustable and super handy. You'll find them very convenient, especially around a tight and confined pipeline where a hacksaw is meaningless.
And in the end, they'll give you the nice and clean cuts you desire. So the money you've saved on the tool is returning you the value indeed.
10 Best Copper Pipe Cutters Reviewed
To choose your perfect pipe cutter, you'll need to define the project base, copper tube size, and pipeline location. When you know what you're after, it's time to look for a product with the features you need!
In terms of cost, quality, and performance, the adjustable cutter we liked most is the "RIDGID – Close Quarters Tubing Cutter." The improved newer versions of RIDGID are straightforward and very practical. On the other hand, if you're a fan of round-shaped automatic cutting tools, choose the "rolson copper pipe cutter."
With that in mind, let's get into the reviews –
1. RIDGID Close Quarters Tubing Cutter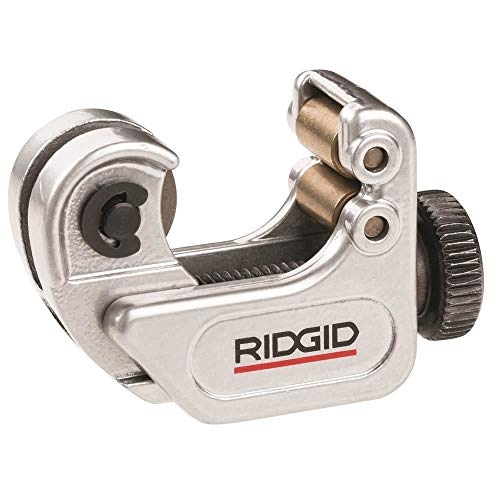 Our top-choice copper pipe cutter is made by RIDGID. It's a well-known brand, famous for manufacturing top-quality tools and machines. And, we're very proud of finding this useful plumbing tool.
Whether you got to cut a soft or hard copper pipe, it won't disappoint you at all! You might also use it to cut brass, aluminum, or even tubing made with plastic material.
Wonder, what an excellent knob it is to grab!
This tool is very sturdy yet easy to handle. Its lightweight wheel and slide provide easy control of your action. Consequently, you'll be able to maintain consistent pressure that results in excellent and clean cuts.
You can maneuver the large screw-knob in hard-to-reach spaces where your hacksaw can't cut. It is very well-suited, even for a small-diameter tubing around your tight plumbing fittings. With that being said, this is the best copper pipe cutter for tight spaces.
This compact cutter is so effective, and we recommend you give it a try. Now, if you're worried about the tubing sizes, let us clarify that too. You can cut copper tubing from 3 – 16 mm (1/8 – 5/8-inch) very quickly.
After all, it comes with a lifetime warranty that clearly indicates how popular this product is!
Highlighted Features:
Very well suited for tight spaces
Study and lightweight built quality
Cuts tubing sizes from 1/8 – 5/8-inch
Engineered with quality and endurance
Cuts both soft and hard copper pipes
Works on small-diameter tubing
2. Rotary Copper Pipe Cutter (15mm)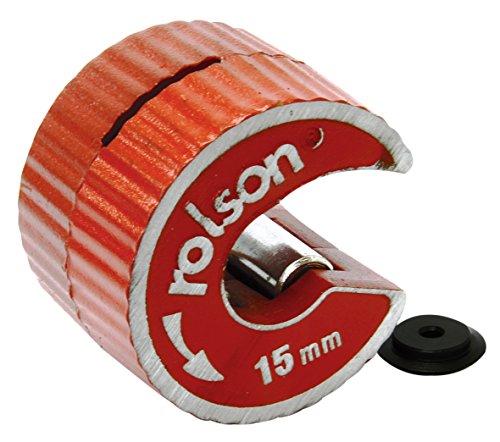 This is yet another quality tool you might choose to have in your toolbox. And, we call it a budget piece with exceptional cutting capability. Please note that it's a 15mm copper pipe cutter.
Unlike our top choice (Number-1 above), this is not good on other metal pipes. It has a high-quality steel blade which is really nice and sharp. And because of that, this efficient cutter will give you a fast and clean cut.
You'll also get one extra replacement blade as a great bonus!
Rotary copper pipe cutter is very much suitable in restricted and tight spaces. You can easily rotate it around the tubing in close quarters. You don't really put in much physical effort. Just give it few simple rotations, and it will slice through the pipe neatly within a short time.
This valuable and essential toolkit is easy to use. It can be recommended both for professionals and novices with no prior experience in cutting copper pipes.
But, for heavy-duty works with many cuts, you should look for something as robust as the RIDGID product above. Other than that, we recommend you give it a try and see how categorically it meets your expectation!
Highlighted Features:
Budget-piece for DIY enthusiasts
Very convenient in tight spaces
High-quality steel blade
It gives a nice and clean cut
Provides spare bonus blade
Required less physical efforts
3. Bahco Copper Tube Cutter for 8Mm – 35 Mm Sizes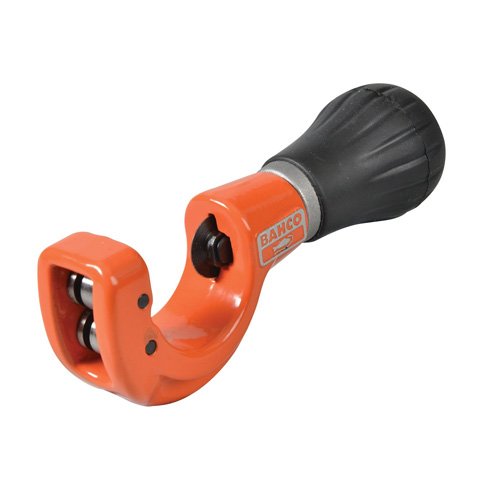 BAHCO pipe Cutter is a versatile toolkit. Not only soft or rigid copper, but you can also cut much harder materials like chromed steel tubes very neatly. You might also cut aluminum or bronze pipes with it.
If you're cutting a pipe for the first time, you might want to master the cutting technique with just a few test cuts. So, it's more likely a tool for the professionals.
Its body and the convenient heavy knob are made with cast aluminum. Then, the knob is covered with thermoplastic elastomer. For that, you get a really nice grip that allows you to adjust the diameter setting (8mm – 5mm) pretty smoothly and fast.
If your copper tubing size isn't falling within that range, we strictly discourage picking this specific version. But, as a targeted user, you'll love its compact solid build design. And the ease of use just makes it worth a buy!
This can be a great alternative to a space-wasting hacksaw in tight spaces.
You get a nice and clean cut within a few minutes. Hence, the artful cutting technique is to tighten the knob enough, not too much. Once you score a line on the surface, repeat the tightening and scoring until it slices through.
Highlighted Features:
Work on multiple types of metals
Convenient grip heavy knob
Robust cast aluminum body
Diameter setting from; 8mm – 5mm
It cuts fast and clean
4. Compact & Tight Space Rigid Tubing Cutter for Copper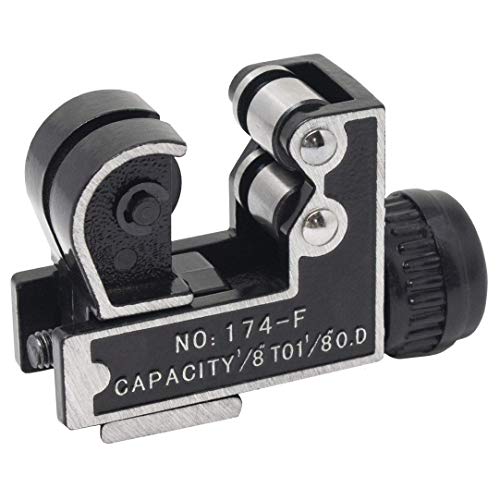 It's never been easier to slice a copper tube! But, this compact and rigid copper tubing cutter has made it effortless. Whether you're a plumber or electrician with pipe, screw or, exhaust cutting jobs, you must put it into your toolbox!
You can cut rigid tubing so conveniently and quickly.
Its knurled feed large screw knob has an ergonomic design to provide you with optimum grip and control over an excellent cut. You just need to adjust your tubing in place and tighten the knob. The robust rollers will keep the pipe held in an accurate position while you rotate. So, you can be tension-free about multiple excisions.
With a large plumbing job, you'll need a convenient tool that can speed up your work. Following that, you'll love how handy it is to adjust the slider very quickly and easily. The diameter setting allows you to cut tubing sizes from 1/8 to 1-1/8inch.
That's not the end of it!
The most critical part is still left, the blade, yes! If this particular part fails, no matter how sturdy the product is, it ultimately fails the competition. The cutting wheel is very sharp and durable. Even better, you'll get an extra replacement bonus blade.
In fine, this versatile pipe cutter can cut through several materials such as – copper, brass, steel, aluminum, and iron. But, this might not work well on a PVC pipe.
Highlighted Features:
Large screw knob
Lightweight, sturdy slider
Multi-purpose application
Great for restricted spaces
Extra sharp blade (One spare)
Faster diameter adjustment
5. LENOX Tubing Cutter Tool for Tight Spaces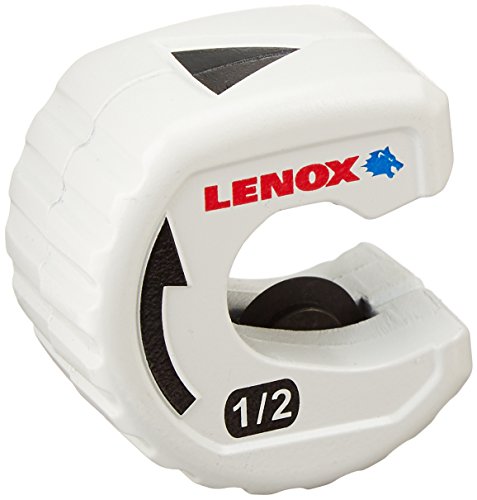 If you're working in a very tight space that doesn't allow tighten-the-knob tools, then this would be your perfect choice! You'll find it very easy to use and achieve straight cuts even in very tight spaces. And, that's possible because of its round shape compact design.
That's why we considered this as one of the best cutting solutions for copper pipes.
LENOX tubing cutter is significantly a better tool with a shock-resistant blade that reduces burrs providing you with a clean cut. It automatically puts a decent amount of pressure on the pipe while you rotate around the tubing.
Also, the steel rollers can prevent rust and corrosion. With the cast aluminum body, you'll get a very convenient grip.
And, you only ensure ½ inch clearance.
It features an anti-slip grooved construction. The improved geometry of the impact-resistant blade will give you many cuts. You can easily understand the cutting direction as it is color-coded. So, you won't feel bothered about the direction recognition each time.
That way, copper cutting has gone way more accessible. You can easily throw any defect complaints into the dust. Finally, for those with no interest in manual screw knob-turning cutters, this one totally worth it!
Highlighted Features:
No hassle of knob turning
Color-coded direction indication
Requires only 1/2 inch clearance
Compact round shape design
Grooved anti-slip grip side
Shock-resistant cutter blade
slices through effortlessly
6. Stanley Automatic Copper Pipe Cutter up to 15mm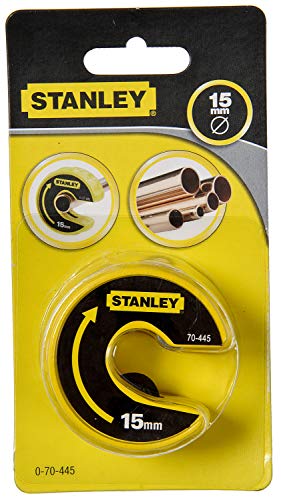 This is yet another round-shaped copper pipe cutter by STANLEY, a leading famous tools manufacturer company. And, we're proud to introduce you to this very convenient kit. It produces very impeccable and clean cuts even in tight working areas.
You'll also see a separated 22mm size option. So you can adjust your order to cover a range of tubing sizes.
Its roller guides are made with durable steel, giving more accuracy on your cuts. When you put it into action, the guides will hold the tubing in the correct position. So you can avoid any unexpected excisions easily.
The cast metal body construction features durability and strength that extends the working life. Just like the 5th product on our list, it's also engineered with a grooved anti-slip additional-grip side. You can easily insert your pipes inside and start rotating.
Just a few rotations and see how effectively it slices!
This product is totally different from knob-turning tools. It features an automatic and sharp cutting wheel system. No adjustment, no knob turning/tightening, just set the pipe and turn around. And you get clean, precise cuts faster.
To wrap up, Stanley Automatic Pipe Cutter is easy to maneuver and compact enough for all your copper tubing cutting needs.
Highlighted Features:
Automatic diameter adjustment
Compact & robust cast metal body
Easy-to-use in tight spaces
Effortless, precise cutting
Prevents unexpected scratches
Slip-resistant additional grip
Indicated work direction
7. Draper Expert 3 – 30mm Capacity Tubing Cutter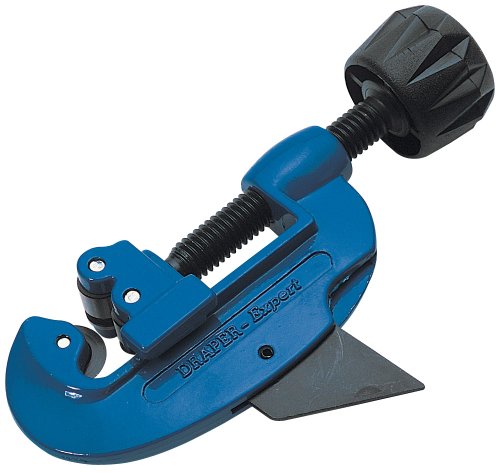 Let's explore this blue little tubing cutter. It's very well-suited for professionals with random pipe-cutting jobs. We've got surprised, primarily because of the adjustability. You can cover a wide range of sizes starting from 3mm to a maximum of 30mm.
Amazing, right? That's a great coverage compared to other products we've reviewed so far.
Next, the durable die-cast body structure provides high-strength performance. With its robust cutting steel blade, you can cut copper pipes literally with no effort.
The knob embeds a retracting reamer with rollers directly facing the cutting blade. These rollers are grooved to provide you with incision-free cuts within a short time. So you glide the slider part to set it with your pipe diameter and tighten the screw against it.
Also, the knob is grooved to give you an ergonomic anti-slip grip.
Have you ever think about a hacksaw as an alternative?
Maybe… yes? But, there's a catch! Your hacksaw will leave you with a jagged-edge cut. Also, if the copper pipeline is sensitive to shaking, you can't move forward with it. But this one is a great copper pipe cutter with a deburring tool known as the reamer.
You get the cut really straight and clean without ever worrying about filing the edges. That's how efficient and user-friendly this cutter is!
Highlighted Features:
Adjustable wheelhouse
Covers 3mm – 30mm pipe sizes
High-strength performance
Durable cutting blade
grooved good-grip rollers
Efficient and user-friendly
8. MITYVAC Quick Cut Copper Pipe Cutter (22mm)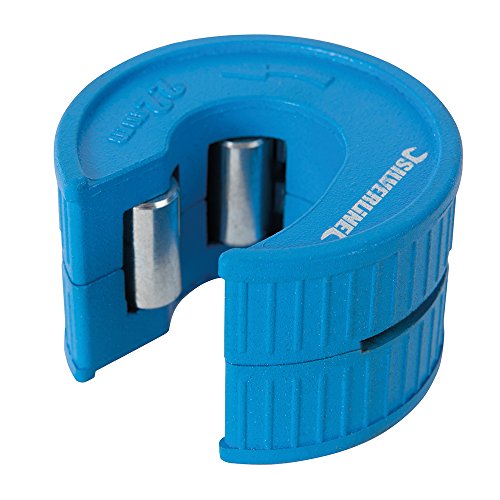 Here comes the #8-ranked product on our list. This is a decent pipe cutter tool, we'd say especially for DIY small and occasional cutting needs. It's very convenient and easy to maneuver in tight and confined spaces. You won't have to control the cuts manually.
Say goodbye to knob spinning and tightening!
You get the tube diameter set automatically. The rigid steel blade is tempered enough. So it makes a thin scratch line and avoids any unnecessary incisions. You just set it, and rotate around the pipe, BOOM!!!
But there's a small catch, though!
Please note the specified diameter size it covers. Besides the 22mm cutter, the SILVERLINE brand also puts a separated product of 28mm size. So make sure you measure the pipe size first.
Moreover, you'll have to ensure the clearance is enough so that the tool can easily rotate around the pipe. After that, this great tool will handle the rest.
The zinc die-cast frame is well-engineered and sturdy. Thereupon, you'll be able to make a quick and impeccable cut you desire.
Highlighted Features:
Decent quality tool
Durable die-cast body (zinc)
Perfect for DIY occasional cuts
Easy to control in confined spaces
Toughened hard steel blade wheel
Size covers; 22mm copper tubing
9. WYNNsky Copper Tubing Cutter with Extra Blade and Reamer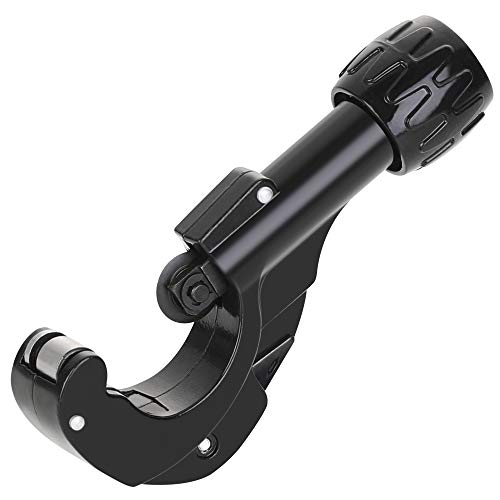 Treat your reliable copper connections with a reliable tool!
And, this copper tubing cutter is perfect for any commercial and residential applications. Professionals would find it super handy. Whether you got to cut a plumbing water supply line or, working with an HVAC system, this would be a great doer!
You might also use it to cut gas handing lines and many others.
The unique design sets it apart from what other products we've reviewed so far!
The tubing size coverage ranges from 1/8 to 1-3/8 inch. Apart from copper materials, it's also feasible to cut brass, plastic, and aluminum pipes.
Its precise cutting wheel is made with chromium steel that prevents abrasion. For a smooth non-catching cutting action, it well worth your money!
So, in the end, you'll get excision-free cuts.
Hence, the rollers will hold on to the pipe in an accurate position. Moreover, the slider is easy to glide and line up with your marked area. Then you just grab the knob and tighten it.
When it comes to talking about the knob, we'd say it's large and easy to operate. You'll get a stable grip that ensures smooth operation. With just a few rotations, it slices through the pipe. You just have to tighten the knob after each cycle.
To achieve jagged-free edges, utilize the reamer.
Highlighted Features:
Precise cutter wheel
Long-lasting metal body
Large firm-grip screw knob
Grooved rollers for firm holding
Covers pipe sizes from 1/8" to 1-3/8"
Reamer works as a deburring tool
Works on multiple materials
10. Monument – Autocut Pipe Cutter 15mm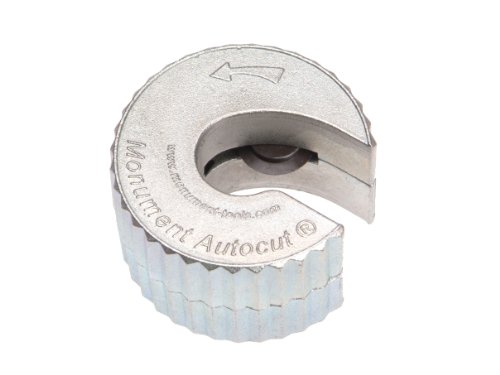 We'll wrap up the list with this monument autocut copper tubing cutter tool. Its compact body is engineered with aluminum material. Due to the one-way rotational cutting mechanism, it produces clean and splendid cuts.
Hence, the ratchet handle contributes maximum!
Like the other automatic cutters we've reviewed, this one is also very convenient in awkward and tight spaces. You can cut exactly 15mm copper pipes very precisely. That's a product-wise limitation compared to other auto-adjust tools.
But, to overcome that limitation, the manufacturer offers ten different other sizes of cutters. So, you can easily match your needs. With that being said, this is the most flexible option for someone working with a wide variety of copper tubing sizes to cut.
Tool sizes you'll find are ranging from 6mm up to 28mm.
It has a grooved outer side to provide you with maximum grip. So, you get optimum control as you rotate. Also, the pipe guides will give you more accuracy. You don't have to press the tubing in any direction. Just set it, rotate along the marked direction, and within few rotations, it slices through the tube.
See, that's how effortless and easy it is!
Just be aware that it's not a wise choice when it comes to cutting a steel pipe.
Highlighted features:
Compact rounded aluminum body
Effortless, clean, and splendid cuts
Grooved outer side for maximum grip
It cuts exactly 15mm pipes
Things to Consider Before Buying Copper Pipe Cutter
So, which is the best copper tubing cutter, and what features to look for? Well, this particular segment is a buying guide to show you the right product according to your situation. We've sorted out the checklist of features you'll have to consider when making a purchase.
Although our list is sorted with targeted products, you'll probably order just one! With that in mind, let's make a quick and wise buying decision with the help of this quick round-up section.
1. Product Type
Most commonly, you'll find two types as follow.
(a) Cutter With Screw Knob
These are tube cutters with screw knob adjusting wheels. So, you tighten the knob and adjust the pipe diameter, then rotate around the pipe. With these types of tools, you might have to tighten the knob after each rotation.
(b) Round Shape Cutters
Unlike the screw knob tightening products, these are automatic cutting machines. You don't have to set the diameter. If the tubing size is within the tool's range, the cutting wheel will automatically adjust the diameter.
You won't ever require putting any extra pressure. The tool itself manages everything, and you just make sure you've ordered the correct size range.
From the name, you can understand that these tools are for confined pipe sizes. They don't adjust the diameter automatically. You should instead buy the correct size for the specific pipe you want to cut.
2. Built Quality and Durability
It determines how sturdy and tempered the product itself. Cheap copper cutters will become a hassle, and they don't work as they should. They have significantly less capability to set in place and make a precise incision.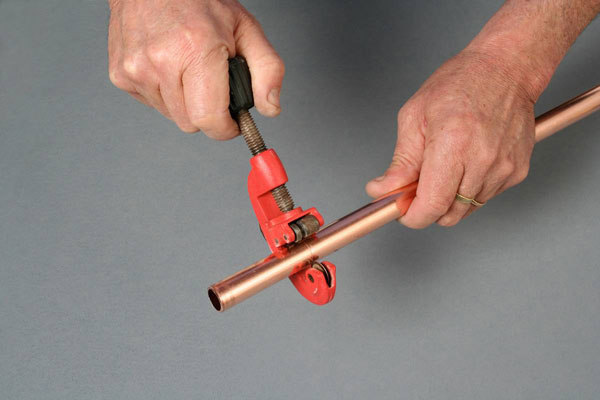 So your tool should be high quality that's consistent with its job. Cutters made with cast aluminum or die-cast zinc materials are very durable. They'll last longer and support your work for a very long time.
We'll advise you to pick one that has a sturdy metal body. The cutting blade should be tempered and stiff enough. Moreover, the pipe roller and high-strength wheel housing setting will help a lot.
Finally, the knob shouldn't be smaller, which is hard to grip on. It should be large enough and grooved for a firm grip and tighten.
3. Performance
Automatic cutters perform very well in tight spaces. It's because they're round-shaped and compact. A screw-knob product can't reach when there's not enough room for it.
Apart from that, if you're a professional with many different tubing sizes to cut and are worried about the performance, choose the screw knob tightening product.
On the other hand, we recommend do-it-yourselfers with occasional pipe cutting to select from among the automatic versions.
4. Ease of Use
If you want an easy cutting tool, we recommend using an automatic cutter. You can achieve perfect cuts without even putting in much pressure. So it's almost effortless.
However, auto-cut tools are not very durable and might not make many cuts for you. In that sense, if you can do a little extra work with a knob tightening tool, the quality will impress you for sure.
5. Cutting Sizes and types
Almost all types of copper tubing cutters can cut both soft and rigid pipes. To make it clear, tools that can cut rigid copper pipes should also cut soft tubes. So you're good with that. Now, the only important thing you should consider is the size range a specific product offers.
Some tools can cut a range of pipe diameters that automatically set the wheel. And some other cutters are fixed for a particular size. Hence, make sure you're aware of what you order.
Frequently Asked Questions
#1. What is the best copper pipe cutter in a tight space?
Both types we've reviewed in our article will work. But the round-shaped automatic cutters are compact enough to fit in very narrow spaces. So if there's not enough room for a hacksaw or anything smaller than that, you should try out the auto-cut tools.
#2. Can I cut copper tubing with a hacksaw?
Yes, you can. But there's a catch, though. Hacksaw can't give you a clean cut as it produces vibration on your movement back and forth. It will be hard to keep the pipe hold in place for a precise incision.
Also, around a sensitive HVAC system, you might damage the pipeline by cutting with a hacksaw.
#3. Can I cut copper pipes at an angle?
It's not possible by the type of cutters we've reviewed in this content. However, it's very much possible by a bandsaw. Moreover, if you need a smaller area to be shaped on your pipe, you can always use a grinder tool.
#4. Can I use a copper tubing cutter on PVC?
It depends on the type of your cutter. Some copper pipe cutters like the "RIDGID – Close Quarters Tubing Cutter" will cut PVC pipes, while others like the "Kraftex – Metal Tube Cutter" might not work well.
#5. What is a pipe cutter tool made of?
Most times, you'll find pipe cutters made with cast aluminum. Also, there're some tools available that are made with die-cast zinc material.
Final Words
The best tubing cutter will give you very accurate results every time. It's a great alternative to a hacksaw that's even tricky to use and requires more attention for a clean cut. It's because that a hacksaw cuts from one side.
Moreover, the pipeline will sense some shocks due to the back and forth motion of the tool.
Hence, a compact and robust pipe cutter is the best solution. It's easy to work with, even in very cramped spaces. You just set it, rotate a few times, and you get it done. Be it a soft or rigid copper water supply line or an HVAC system, the tool can slice it.
Unlike hacksaws, these little pieces are pretty handy.
Hopefully, you've seen your best copper pipe cutter on our list. For more informed decision-making, our buying guide section will help you out!
Read more: