Chainsaws are very versatile tools since you can use them for almost all types of purposes. You can use them to clear away logs, maintain your garden or fall tall trees in the forest. But one of their most common use is cutting firewood as they make the task simpler and efficient!
With more people turning to firewood for heating, it's important to have one of the best chainsaws for cutting firewood in your home. That way, you can rest assured that your family will not end up cold during the winter season.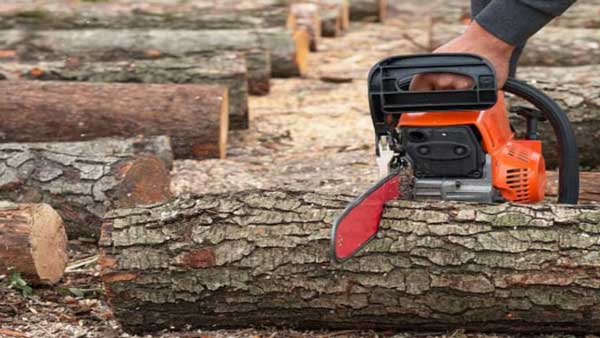 Unfortunately, not all chainsaws you see out there are worth investing in! Some have low quality or even poorly designed. Not to mention that such chainsaws may not end up cutting firewood the way you want!
Worst of all, there are various types of chainsaws and they are available in different sizes. Therefore, choosing the best chainsaw for you may not be a simple task! However, by going through this review, choosing a great chainsaw will be one of the simplest tasks you'll ever do!
Well, that's because we've listed the best 6 chainsaws that will help you cut firewood cleanly, easily, efficiently, and without taking a lot of your time! By the time you're done going through this article, we're certain you'll have found the ideal option for you!
Let's check out these chainsaws right away!
Best Chainsaws for Cutting Firewood
1. WORX WG304.1 Chain Saw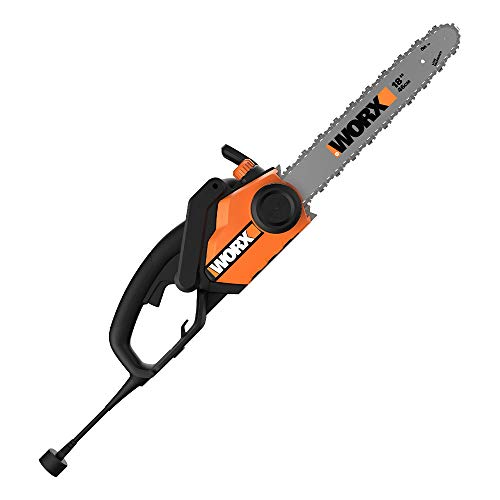 Manufactured by WORX, the WG304.1 model is arguably one of the best chainsaws for cutting firewood.The tool has a 18" long chainsaw bar, making it ideal for handling trees with wider trunks. Besides, this chainsaw easily fits along the trunk of the tree from end to end, allowing you to cut any tree that is in your way.
But the greatest thing about this tool is that it is much more affordable than most models in the market! Even so, don't let that deceive you at all! Regardless of its price, this chainsaw does almost everything the more costly chainsaws do!
One thing you need to know about this chainsaw though is that it's a corded electric tool! Therefore, to use this saw, you'll need a source of electricity nearby. On the upside, this corded chainsaw is lighter than cordless ones since it doesn't have a battery compartment.
Best of all, you don't have to be concerned about the saw running out of batteries or generating poisonous fumes like gas-powered chainsaws.
When it comes to features, this tool has all the great features you would expect to find in a quality chainsaw. For one, its electric motor is rated at 15 A, meaning you can easily cut through all sorts of firewood.
Other important features include; an ergonomic handle, automatic chain tensioner, chain brake, and an automatic chain oiler.
The automatic chain tensioner prevents over-tightening. For that reason, you don't have to adjust the tension when you're starting up the chainsaw. On the other hand, the automatic oiler provides effortless chain and bar lubrication to enhance its cutting efficiency.
Moreover, the ergonomic hand provides both comfort and safety by protecting you from slipping when using the saw. Safety is also guaranteed by the quick-stop chain brake as well as the low kickback bar.
In general, this tool may not be ideal for cutting fire in a remote area with no electricity. However, it's a great option for chopping firewood for personal use around your home or firewood business.
Pros
Inbuilt chain brake for added safety
Simple to use
Comes fully assembled
Powerful cutting action
Ideal for cutting down large trees
Multiple safety features
Cons
Requires a power outlet
Gears are made up of plastic
---
2. Husqvarna 455 Rancher Gas Chainsaw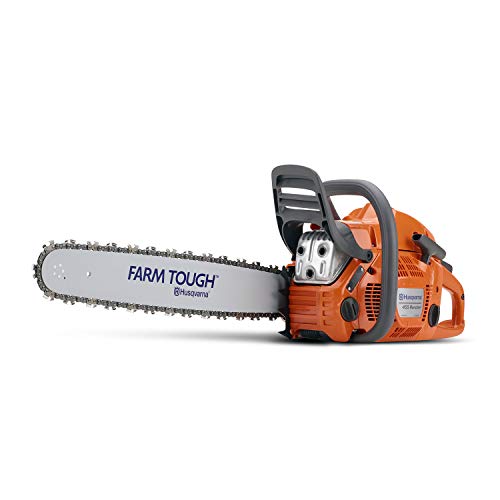 Established in 1689, Husqvarna is one of the most popular chainsaw brands in the market today. They're widely known for producing quality and powerful chainsaws! And this 455 Rancher model is no exception!
This tool is specifically designed for handling moderate to heavy-duty firewood cutting and you can use it for several hours without overheating. In addition to cutting firewood, this tool is also ideal for cutting down trees!
And that's not all! This chainsaw has plenty of features you will enjoy!
For instance, the tool's X-Torq engine tends to reduce fuel consumption and emissions by 205 and 60% respectively. This will save you a lot of fuel money in the long run and enable you to use each tank for a long time.
Also, this chainsaw has an inertia-activated chain brake that stops the chain in case of a sudden kickback. Not to forget the centrifugal air cleaner that protects the air filter from sawdust. This leads to fewer cleanings and extends the lifetime of the chainsaw.
It's also worth noting that this chainsaw's bar is 18" long and its engine is super-efficient. Besides, this tool has a very simple start and it hardly vibrates because of the inbuilt shock-absorbing barrier.
The unit features a 55.5 cc engine that generates 9,000 RPM and 3.5 horsepower. This gives it excellent cutting speed while making it easy to use.
On the downside, this tool experiences the usual problems associated with gas-powered chainsaws like fumes, loud noise, and the need for fuel.
Other than that, the Husqvarna 455 is the ideal chainsaw for moderate to heavy-duty firewood cutting tasks, both at home and away! Moreover, it's a durable tool that works in almost all circumstances and its design ensures user comfort.
So, if you want to cut large volumes of firewood for many years to come, we suggest you try out the 455 Rancher! It has been around for several years, and more importantly, offers incredible reliability!
Pros
East to handle and maintain
Highly portable
Great safety features
Cuts quickly and smoothly
Low vibration
Cons
Oil flow is not adjustable
---
3. Greenworks PRO Cordless Chainsaw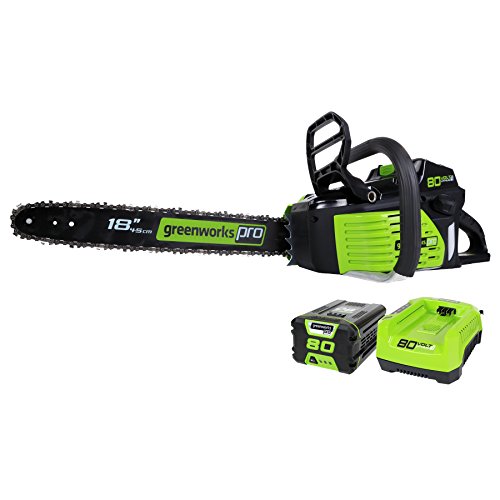 Similar to gas chainsaws, battery-powered tools are a very great option when it comes to chopping firewood. The only difference is that you don't have to be concerned about mixing fuel, changing spark plugs, or cleaning air filters.
If you think that is appealing to you, then you should consider buying this Greeenworks PRO model. It's a high-quality and long-lasting firewood cutting machine that delivers solid performance and professional-grade results.
Moreover, it's ranked among the most powerful and efficient battery-powered chainsaws out there!
This chainsaw has a unique, powerful Digi-PRO brushless motor that delivers a reliable performance equivalent to a gas engine of up to 45cc. Not to forget the 80 V 2 Ah Li-Ion battery delivers up to 150 cuts when it's fully charged.
While we're still on the brushless motor, you'll be glad to know that it generates less noise, 70% less vibration, and 30% more torque. This also means that the motors consume less power, thus extending the battery life.
The other important thing to note is that this chainsaw has a superior 18" long bar, which makes it ideal for professional use. Other useful features include an automatic chain oiling system and large metal bucking spikes.
For that reason, with this tool, you can effortlessly cut firewood, fallen trees, clear dense brush, and even clear storm debris. Furthermore, this chainsaw can be used to cut logs and large trees with a diameter of 16' and 30" respectively.
For user comfort and safety, this chainsaw features an electric chain brake. This protects the user from being struck by the chain when it's running. Moreover, its handle has a durable wrap-around metal, making the tool easier to position and operate.
In other words, if you want a powerful professional-grade chainsaw without the problem of heavy gear or gas fumes, this battery-powered tool from Greenworks is the perfect option for you!
Pros
Quick battery charging time (30 minutes)
Great quality
Low vibration and quiet operation
Cuts firewood quickly
Efficient battery and powerful motor
Cons
Not perfect for heavy cutting tasks
A bit expensive
---
4. Remington RM4618 Outlaw Gas Powered Chainsaw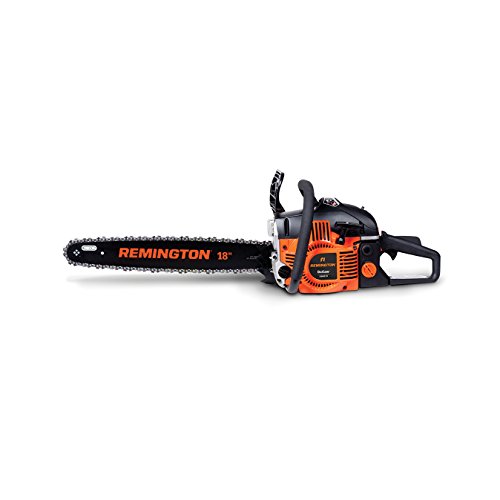 When you're shopping for a gas chainsaw for cutting firewood on a budget, we recommend you check out this one from Remington. Although this chainsaw is less costly than most gas models in the market, it's still a great machine for slicing firewood smoothly.
Even better, this chainsaw is very versatile. As such, you can use it for other tasks like cleaning up trees or cutting tree limbs.
However, those are not the only things that make the RM4618 model a valuable investment! Here are some other factors that should make you want to buy this tool!
First and foremost, this gas-powered chainsaw is fitted with a powerful 46cc engine. This, plus the 18" long guide bar makes it easier to handle small to medium firewood cutting tasks around your home.
Other high-performance features offered by this chainsaw include the quickstart technology, tool-less chain tensioner, automatic oiler, and a manual chain brake.
There is also a 5-point anti-vibration mechanism that eliminates vibration from the handle. For this reason, one can handle this chainsaw for a very long time. Moreover, the handle has an ergonomic design that makes it comfortable to use and hold.
As if that's not enough, it features an anti-slip rubber coating that eliminates hand fatigue when operated for several hours.
Another notable feature of this chainsaw is that it has a heavy-duty case that allows you to transport and store the chainsaw safely. Therefore, storing and maintaining this chainsaw is quite simple!
Even with all these incredible features, this tool is not without drawbacks though! But the main one is that it tends to be a bit noisy when in operation. However, considering that it's a gas-powered machine, that issue is expected!
Pros
Includes a carry case
Affordable price
Comfortable to use
Anti-vibration system
Quickstart technology
Cons
Not perfect for heavy cutting
Noisy in operation
---
5. Poulan PRO PR5020 Gas Chainsaw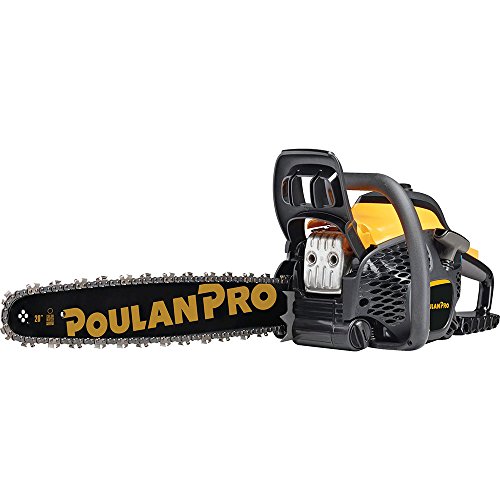 Poulan Pro PR5020 model is one of the best chainsaws for firewood at your home as well as general property management. This is because it's very simple to use and makes every task easier. Also, similar to the chainsaw we've looked at above, this tool is gas-powered!
The most unique thing about this chainsaw is that its kickback bar is quite large since it measures 20" long. For this reason, it's a great tool for working on larger projects more conveniently. However, regardless of the large size, this tool is not very heavy.
Moving on, this chainsaw has a unique Oxypower 50cc engine. The best thing about this engine is that it reduces fuel consumption and emissions without compromising its power.
It has an inbuilt patented stating technology that guarantees easier starting, thanks to the included purge bulb that delivers fuel to the carburetor.
The starter system also features a spring-assisted pull cord, thus reducing the pull force by up to 30 percent, while protecting it from wear and tear. So, even if you store the saw for many weeks, you'll be able to start it in less than three pulls.
Another important feature of this tool is that it has an anti-vibration system. The system provides superior comfort during use and lessens fatigue in hand, shoulder, and shoulder when used for many hours.
The tool also includes a chock or stop control, which reduces the chances of flooding its engine. Furthermore, this takes part in helping the chainsaw with fast starting.
Overall, the design of this chainsaw make is simple to use for homeowners and other non-professional operators. Therefore, it's a great option if you're just staring in woodcutting.
Also, the tool comes with a 2-year warranty that will get your chainsaw repaired or replaced if needed.
Pros
Great power
2-year limited warranty
Ideal for beginners
Convenient starting system
Anti-vibration system
Cons
A bit heavy (17 pounds)
Plastic handle
---
6. Husqvarna 24" 460 Rancher Gas Chainsaw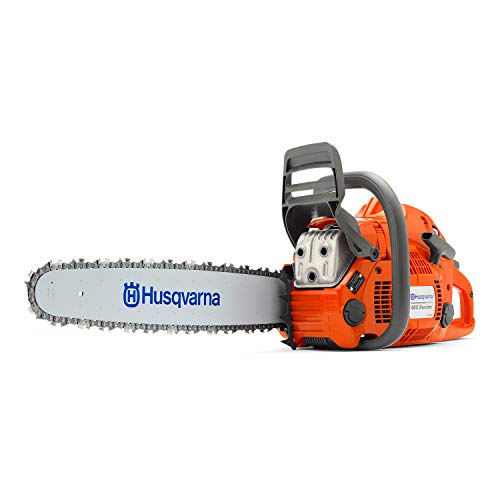 If you're planning to split huge logs into firewood, we suggest you look for a 24" chainsaw. And the best firewood chainsaw with a 24" bar and chain in the market right now is none other but the 460 Rancher model from Husqvarna!
This chainsaw is specifically designed for sawing thicker trees as well as firewood. To begin with, the 24-inch bar provides the ideal length for cutting larger trees.
To be precise, the means that this tool can cut trees with a diameter of up to 48". Besides, this tool delivers sufficient power for such tasks since it has a gas-powered 60.3cc engine that delivers a 3.62 HP power output.
There is a good reason why this model is ranked among the best gas chainsaws out there! For one, it has an X-TORQUE air filter that minimizes smoke emission and fuel consumption.
The air injection systems play a very important role in preventing debris and dirt from getting into the engine during use.
Thus increasing the overall durability and power of the engine. If you want to change this air filter, there is a quick-release feature that makes it very simple.
This chainsaw also features a Smart-Start technology that allows the operator its engine instantly.
In terms of safety, this chainsaw uses a Low-Vib feature to minimize vibration, which might cause an accident during use.
That is not all! There is a chain brake fitted on the side of the chainsaw to protect users from any potential injuries. This is because the saw has an inbuilt stop function that activates the brake against any instant inertia.
The only drawback of this tool is that it weighs 22.2 pounds, meaning it's heavier than most chainsaws on our list.
All in all, this device is a great option for cutting firewood due to its higher efficiency and power in cutting trees at a faster speed.
Pros
Automatic chain brake to ensure safety
Powerful and low vibration
Ideal for cutting large logs
Simple to operate and handle
Low rate of fuel consumption
Cons
Heavier than most models
A bit costly
---
Key Features Before Buying a Firewood Chainsaw
With so many options of firewood chainsaws to choose from, there are some factors you should keep in mind when buying one. This is because it's very difficult to find a one size fits all option.
For that reason, you should look for a chainsaw model that suits your firewood cutting needs. To accomplish that, consider the following factors:
Bar length
The chainsaw bar is the part that its chain moves around. Its length determines the entire length of the chainsaw and usually ranges from 6 to 27" long. Moreover, the bar length determines the maximum diameter of the firewood that the saw can cut.
For instance, if the bar length is 18' long, the saw can cut firewood with a diameter of up to 36".
Firewood chainsaws usually come with bars that are between 10 and 24" long. Therefore, you should choose the ideal bar length depending on the firewood you intend to cut. However, if you're looking for versatility, go for a saw with a larger bar length.
Power source
This is another important factor that you should consider before you buy a firewood chainsaw. Especially considering that chainsaw can be powered by 3 different means; gas, battery, and electricity.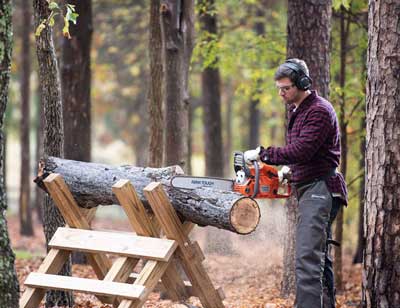 Gas chainsaws are more powerful and efficient than other models, but they emit smoke and produce a lot of noise. Contrarily, electric/ corded chainsaws must be connected to an electric socket to operate, which limits their portability, while battery-powered models run on rechargeable batteries, meaning they're more portable.
As you can see, each model has its advantages and drawbacks, so you should choose the model that is most appropriate for your job.
Weight
Weight plays a very important role in determining how convenient handling the chainsaw is while cutting firewood. If the saw is heavier, using it will be much more challenging and it can even cause hand fatigue during use.
For that reason, we recommend that you choose lightweight saws for convenient handling and maneuverability. However, this doesn't mean that heavier machines do not have their benefits.
For instance, they're ideal for cutting larger trees since they require minimal downward force.
Durability
If you're planning to cut firewood regularly, then durability is a factor you cannot overlook. To ensure the chainsaw is durable, go for the one that's crafted from superior materials and rust-resistant metals.
Moreover, look for a product from a reputable brand so that you can get a warranty.
Safety
Lastly, it's good to acknowledge that chainsaws are very dangerous power tools. Therefore, make sure you choose a chainsaw that includes advanced safety features such as kickback support or an automatic chain brake.
This will protect you from injuries and accidents that may occur while cutting firewood.
---
Frequently Answer Questions
1. Can you use a firewood chainsaw to cut wet wood?
Why not? Although water and power tools rarely get along, firewood chainsaws have a superior construction that enables them to cut through wet wood conveniently.
2. What is the best chainsaw size for cutting firewood?
The best size of chainsaw's bar length for cutting firewood is usually the 18" bar. This is because it delivers sufficient versatility to handle both larger ad smaller logs. However, if the diameter of the logs exceeds 36", look for a saw with a longer bar.
3. What is the meaning of 'kickback' in firewood chainsaws?
Kickback refers to when the chain rolls back in your chainsaw. This may be caused by various things like a collision of the bar with other items.
4. Does a firewood chainsaw overheat?
Yes. Just like most power tools, a chainsaw can overheat. This is because it has a powerful engine that can run at high temperatures, especially during the summer season. To protect your chainsaw from overheating, maintain and clean it regularly.
This will prevent its air intake areas from becoming clogged with debris, dust, and oil debris which might promote overheating.
5. Why does a chainsaw need oil?
Oil ensures the chainsaw is properly lubricated which helps it to run efficiently and smoothly. Moreover, lubrication reduces wear and tear over time as well as overheating.
Luckily, most advanced chainsaws come with an auto-lubrication system. Even so, you have to ensure the chainsaw's oil tank has sufficient oil at all times.
---
Conclusion
There you have it! With one of these best chainsaws for cutting firewood, you can quickly and effortlessly cut firewood in your home with ease. Best of all, you don't even need any chainsaw operating experience since these models are extremely easy to handle, even for beginners.
However, we recommend that you pay close attention when choosing the best saw that will suit your needs. This will depend on things like the overall power of the chainsaw as well as the location of your cutting.
If you consider these aspects, together with the factors highlighted above, then you'll certainly get the ideal chainsaw that meets all your firewood cutting needs!
Up Next: Best Chainsaw File That You Can Buy