A chainsaw is a useful tool for any hobbyists, woodwork, or DIYer who enjoy working with or cutting down trees.
However, just like any other mechanical tool out there, they're vulnerable to wear and tear! Not to forget that their chains will eventually become dull after repeated use.
Of course, you can always take your chainsaw to a professional sharpener! Or even opt to buy a brand new chainsaw! But, both of these options will turn out to be very costly in the long run.
Why go to all that trouble? Why not invest in one of the best chainsaw files and sharpen the chainsaw blades yourself?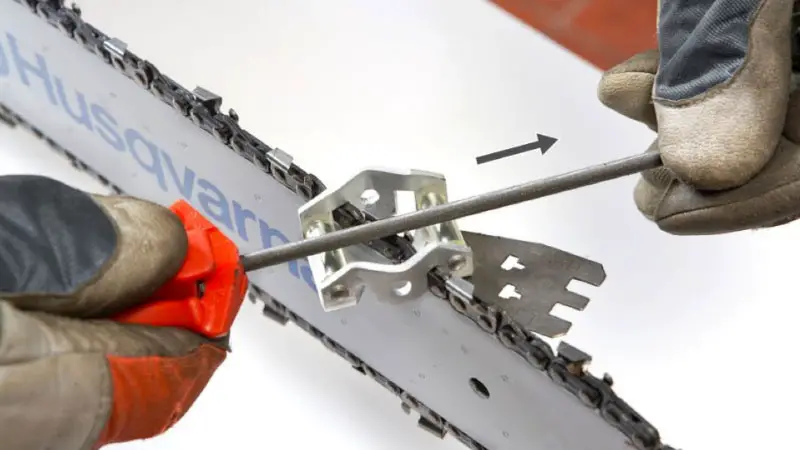 Apart from saving you money, buying a chainsaw file will extend your chainsaw's durability and enable you to cut through wood with ease. More importantly, sharpening your chainsaw will protect you from injuries when using it.
Considering how important chainsaw files are, you'll find many options in the market. For this reason, many buyers are having a hard time settling on a certain chainsaw file. Even worse, some end up choosing a low-quality tool that doesn't serve them for long.
In Hurry! Then Check Our Editor's Recommendations:
Well, we don't want that to be you! That's why we have carefully selected the best quality chainsaw files that are worth buying at the moment.
With that in mind, let's have a look at those chainsaw files right away!
10 Best Chainsaw files
1. Katzco Chainsaw Sharpener File Kit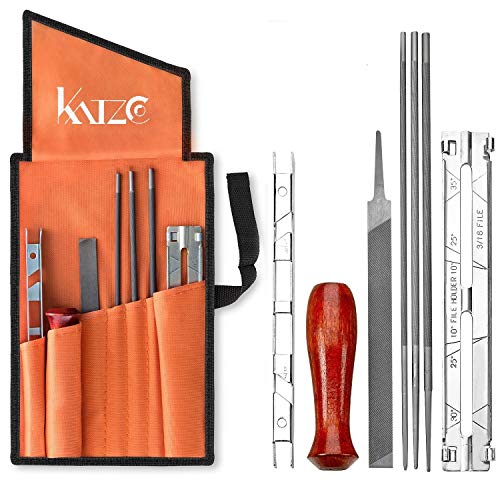 Every chainsaw user looking for an affordable chainsaw file should consider investing in this tool from Katzco! A reputable brand that is widely known for producing a wide range of files and other similar tools.
This tool offers the most robust and convenient solution for sharpening your chainsaw's blades. It comes with a complete kit containing various accessories to help you sharpen and grind your chainsaw with ease. So, with this file kit, you can rest assured that you're getting value for your money.
What does this file kit come with?
For starters, you'll be glad to know that this unit includes eight pieces set. This includes; 3 round files of 7/32, 3/16, and 5/32", a flat file, depth gauge, wooden handle, roll-up pouch, and a file holder.
As such, this set comes with everything you need to file the chainsaw perfectly. First of all, the different types of files will enable you to meet various chainsaw sharpening needs. While the depth gauge ensures precise sharpening by helping you measure the depth of the gauge when filing. The convenient chainsaw file bag enables you to organize the accessories nicely and carry them around with ease.
Moving on, the files are easy to remove, position, and attach on the wooden handle. Thus allowing you to work on various types of chainsaw blades. Moreover, the wooden handle is well-stained to provide a firm and comfortable grip while using the files.
This kit also includes the best chainsaw file guide that shows you how to use the tool. For that, it's a great option for chainsaw professionals and beginners alike.
In general, this Katzco chainsaw file kit is affordable, yet durable seeing that it's made from high-quality materials. Besides, it will help you sharpen and grind your chainsaw efficiently. So, after buying this chainsaw file kit, you may not need another sharpener for a very long time!
Pros
Firm and comfortable grip for convenient operation
Designed to last long
Portable chainsaw files
Very affordable
Works on various chainsaws
Cons
Requires some practice for excellent sharpening
---
2. Stihl 2-in-1 Chainsaw Chain Sharpener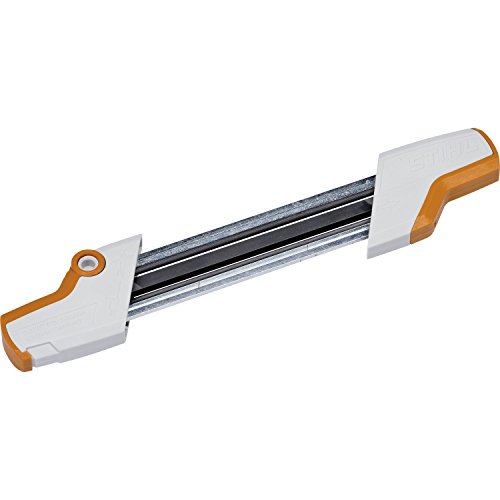 Stihl is another top brand that offers superior tools in the chainsaw industry. And their 2-in-1 chain sharpener is no exception!
Best of all, unlike the Katzco file above, this tool comes ready to use. You just need to get it out of the package and start sharpening your chainsaw blades right away!
This has made it one of the best quality chainsaw files for beginners since it's not that complicated. Furthermore, the package comes with a useful guide that lets you know how to use this manual tool. So, after just a few days, you'll be able to use the tool effectively and get excellent sharpening results in minutes.
As the name '2-in-1' suggests, this chainsaw files acts as a dual-purpose tool. You can use it to lower the gauges' depth and sharpen the chainsaw cutters at the same time. Thus ensuring that you always get accurate and consistent results.
The other benefit of this manual chainsaw sharpener is that it has an amazing price tag. So, for any homeowner or contractor looking for an affordable manual file, this one from Stihl is a great option. Even so, this tool is not recommended for high-volume filing applications.
One thing you should note about this chainsaw sharpener though is that it one pitch chain size only! That is the .325" chain size! So, before you buy this tool, make sure it will match your chain size. However, it's available in other versions such as the ¼, 3/8, and .404" saw chains.
From a design perspective, this chainsaw sharpener has a tough, sturdy, compact, and lightweight design. Thus enhancing its effectiveness and durability, while keeping it easy to carry around. This means that the tool will not take up much of your storage space. It's so small and compact that it can even fit in your pocket.
Not to forget that it enables you to sharpen your chainsaw quickly and efficiently! With this chainsaw file, you will be able to get back to your work in no time, instead of spending a lot of time sharpening your chainsaw.
Pros
Suitable for chainsaw beginners
Offers accurate results
Compact and portable design
Comes ready to use
Performs 2 functions at once
Cons
Works with 1 chain size only
Not ideal for heavy-duty applications
---
3. Pferd Chainsaw Files 17300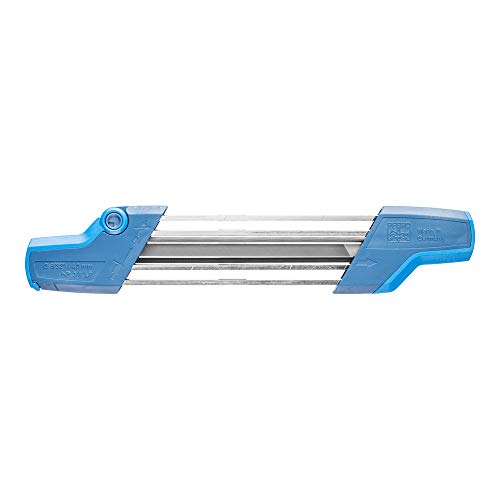 While we're still on the best chainsaw files for beginners, this pferd chainsaw files 17300 model is another great tool worth investing in. That's because it's an innovative tool, yet very easy to use. For instance, to change the tooth direction, you just need to turn the device!
However, this doesn't mean that this chainsaw chain sharpener is only limited to novices. Indeed, you'll find many professionals preferring it over other models.
With this file, each stroke will help you sharpen the chainsaw blade and retain the height of the depth gauge. Besides, considering that this tool is made in Germany, you can trust that it will get the job done effectively.
This handheld chainsaw file features a solid steel surface for handling different sharpening needs as well as high-quality plastic handles on the end. There is also a proper guide that informs you how you can align the model to start sharpening your chainsaw blades.
One thing you'll certainly love about this tool is that it's very fast. Indeed, you can use it to sharpen the entire just in a matter of minutes. This is partly because it sharpens both the depth gauge and the cutters simultaneously. For that, this tool guarantees precision and efficiency!
In addition to all these incredible features, this chainsaw is very economical for various reasons. Firstly, it comes at a reasonable price rag. Secondly, since this sharpener operates manually, you don't any power source to use it. Therefore, you'll be able to save even more money in the long term!
Moreover, this tool has excellent portability since it's very lightweight, weighing about 12 ounces only. But don't let that make you doubt its effectiveness in performing its task, even for a second! It's ideal for tough sharpening and you can use it as much as you want, and it will still serve you for long!
Pros
Superior and durable construction
Highly portable and affordable
Includes round and flat files
Ensures fast sharpening
Cons
Only available in a 5/32" size
---
4. STIHL Complete Saw Chain Filing Kit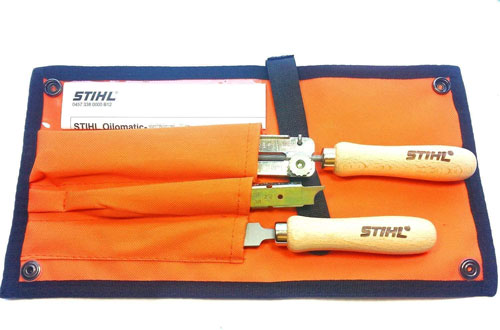 Founded by Andreas Stihl, STIHL, a German manufacturer, has been providing various power equipment for more than 90 years now. This includes things like trimmers, chainsaws, blowers, and many other items.
Having been able to thrive in the industry for that long, it's not surprising that this filing kit is their second product on our list. Besides, this indicates that their products are superior, reliable and, of course, reliable.
So, if you want to cut branches in on your property or cut the toughest trees with your chain saw, sharpen it regularly with this chainsaw sharpener file kit from STIHL! A brand that has been trusted for generations!
Apart from being produced by a reputable manufacturer, this filing has some incredible features to offer.
For one, the entire set is more than a chainsaw sharpener. This set is designed to enhance the life of any workshop user. It's crafted from long-lasting and sturdy materials. And considering how much time the manufacturer has dedicated to making this set sturdy and robust, don't expect it to break anytime soon!
The other great thing about this filing set is that you can use it to file all types of chainsaw blades. For that, you don't even need to be concerned about its compatibility with the chain styles!
The kit comes with a flat file, round file, filing guide, depth gauge tool as well as a tool pouch. Each of these tools adding convenience to the set. For instance, the pouch makes the accessories easy to store and carry around, especially when you're working in the field. On the other hand, files are used for sharpening needs and they have handles to provide a comfortable grip.
All in all, this filing set will keep your chainsaw useful, sharp, and guarantee safety. As far as chainsaw files are concerned, STIHL tools offer dependability you may not find anywhere else!
Pros
Made of durable materials
Doesn't need any setup
Works with all types of chains
Cons
The filing guide could be better
---
5. PFERD 17304: Best 7/32 Chainsaw File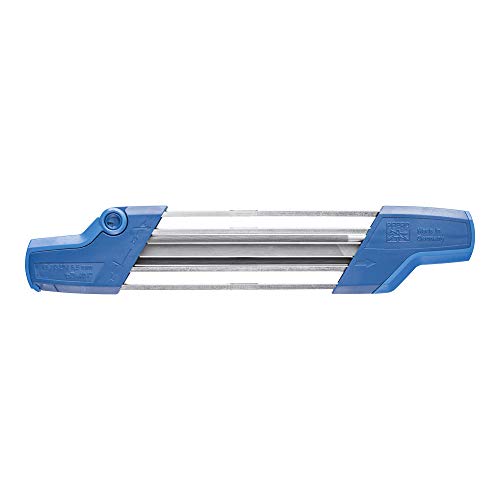 Once you look at this PFERD CS-X 17304 model, you'll instantly note that it resembles the PSERD 17300 model we looked at for a while. When it comes to features, build quality, control, and ergonomics, it's hard to differentiate between these chainsaw files.
However, if you're careful, you'll notice that the 17304 model has additional weight. For that reason, the functionality of these tools is a bit different. That aside, it has some amazing features like the 17300 model, which is why we've included it on our list of the best chainsaw chain files!
This particular chainsaw file is specifically designed to work with 7/32 inch chainsaw chains. But the best thing about it is that it's very user-friendly, even for beginners since it includes a guide. Thus, if you've filed a chainsaw before, this is the ideal chainsaw sharpener for you.
The unit features lines that ensure precise filing. Moreover, you can easily flip the tool and sharpen the other side of the chainsaw blade. You don't even have to the tool's angle!
Apart from that, its design ergonomics make it comfortable to use and handle. It's also very lightweight, meaning you don't even need a working benchtop. When it comes to construction, the sharpener is made of plastic and steel, resulting in a durable tool one can use for years! Besides, the plastic handle offers the comfort you may not get with wooden handles.
You'll also appreciate that this tool allows you to adjust the gauge depth and sharpen the teeth at the same time.
If you're for a great chainsaw sharpener that offers convenience, simplicity, and consistency, you should check out this PFERD 17304 chainsaw file. It's the ideal sharpening companion when you want to urgently sharpen your chainsaw while on the job!
Pros
Ensures precision sharpening
Portable, lightweight, and durable design
Quick and simple operation
A perfect option for beginners
Cons
Limited chainsaw compatibility
---
6. Husqvarna Saw Chain Filing Kit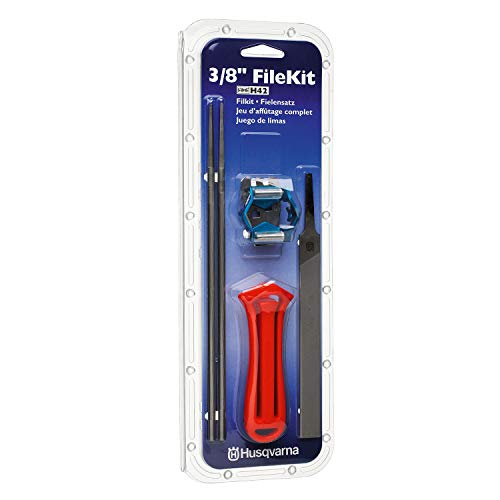 If you're a chainsaw enthusiast for a long time, you've probably come across the incredible Husqvarna products! A brand that is popularly known for producing gas chainsaws.
Other than that, Husqvarna also produces chainsaw accessories, with their filing kit making it on our list today!
One thing we love about this chainsaw sharpener is that the manufacturer has focused on proper functionality and usability. So, if you're looking for a chainsaw sharpening file kit that can help you sharpen your chainsaw, you can't go wrong with the Husqvarna 531300081 model!
In addition to being one of the most prominent brands in the market, this set comes with every tool you need to get the sharpening done. It includes two round files, a flat file for the depth gauge, a handle, and a combination file gauge.
This combination gauge ensures that the filing process is simple and maintains the ideal filing angle. As such, regardless of whether you're a beginner or not, you can easily sharpen your chainsaw with this filing kit.
Furthermore, this filing kit works on various models. Some of them include; 55 Rancher, 385XP, 372XP, 3120XP, 575XP, 261, and 455 Rancher among others. However, it's worth noting that this chainsaw filing kit only works with 3/8" saw chains.
The other good thing about this kit is that it's designed to last long. For that reason, once you buy this chainsaw kit, you can rest assured that it'll serve you for many years to come.
That being said, this kit is an excellent option for chainsaw beginners and intermediate users out there. More importantly, it gives you the perfect amount of control and balance you would need when sharpening chainsaws.
Pros
Superior construction
Combination gauge ensures convenient filing
Compatible with various chainsaw models
Very affordable
Cons
Works on 3/8" chainsaws only
---
7. Oregon 25896 Chainsaw File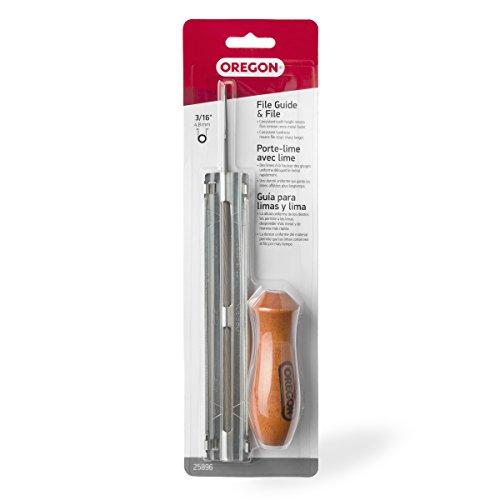 If you've been in the industry for quite some time, then you already know that Oregon is a very popular brand when it comes to chainsaw blades. However, regardless of the brand's popularity, their Oregon 25896 sharpening tool is very affordable. Therefore, with this sharpener, you know you'll be getting a functional tool and at an extremely low price.
Also, this superior filing kit is made of high-quality material, which extends its life. It's a 5/32 chainsaw file kit that includes a round file as well as a wooden handle that gives you a proper grip.
The file guide frame provides lines that help users to align the tool with the chainsaw bit when sharpening. As such, this sharpening tool gives better control for handling your chainsaw than most sharpeners out there. This also ensures that you sharpen the chainsaw at the right angle.
Its body is very strong and hard, ensuring the surface stays intact for some time. Besides, this allows you to use the sharpener effortlessly and keeps it working accordingly.
When it comes to usability, this file is quite straightforward to use. This means that anyone, including beginners and professionals, can perfectly use it to sharpen their chainsaw without any interruption.
The other good thing about this filing kit is that it has a simple and uncomplicated design. It comes with a flat file, file for sharpening the teeth, file guide, and a comfortable hardwood handle. Even with all these items, this tool is small, lightweight, and compact. Thus, you can easily carry it around in a small bag or in your pocket.
For anyone looking for the best 3/16 inch chainsaw file, this filing kit may be all they need. It's an incredible tool that will ensure your chainsaw chain is sharpened properly and keep it in good condition for pruning or cutting trees.
Pros
Lightweight and portable design
Superior build quality
Inexpensive filing kit
Comes from a reputable brand
Comfortable and convenient operation
Cons
---
8. MIZOOVA Chainsaw Sharpener Filing Kit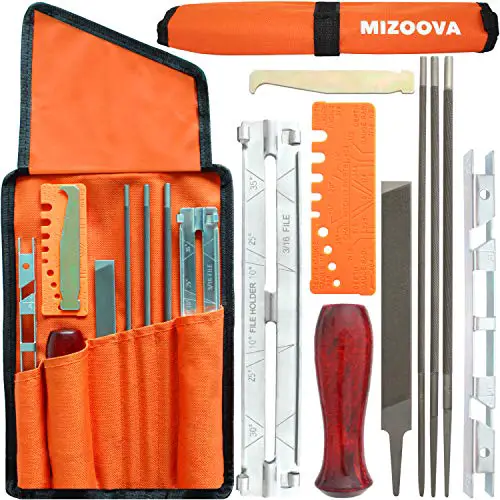 Now, talk about a chainsaw sharpener that ensures you get value for your money! Well, that's exactly what you get with this MIZOOVA filing kit! Especially considering that the set comes with every tool you need to do a proper filing operation. Besides, with this set, you'll be able to sharpen your chainsaw at the comfort of your home, field, or backyard.
To be precise, this filing kit includes 10 pieces. This includes things like; 3 round files, 6" flat file, filing guide holder, depth gauge, chainsaw bar file groove cleaner, and a hardwood handle. Besides, the kit comes with a convenient, sturdy porch that enables you to arrange them in a single location. This also makes the accessories easy to carry around.
The 3 round files are ideal for filing various chain sizes such as the 7/32, 3/16, and 5/32" sizes. For this reason, you can use this kit to sharpen all types of chains that you come across with ease.
These round files are crafted from high-quality long-lasting steel. Moreover, the file guide has a quick release & lock mechanism that ensures safety, control, and stability while using the round files.
All these amazing features ensure that this kit provides hassle-free and optimal performance within a short period.
Considering that this filing kit includes 10 pieces, one may expect it to be expensive, right? Then you'll be surprised to discover that's not the case. This product qualifies to be listed among the best filing kit with the most affordable price tag.
In other words, if you are a professional who uses a chainsaw regularly, this MIZOOVA filing kit is such a great option for you. It will ensure that your workflow is precise and make the sharpening process effortless. Similarly, this kit is also a perfect fit for beginners since it comes with every tool you need, including a user manual that makes it easier to use.
Pros
Provides optimal performance
Comes with all necessary items
Convenient pouch for secure and safe storage and transportation
Durable steel construction
Cons
May not fit some chainsaws properly
---
9. Drixet Chainsaw Sharpening and Filing Kit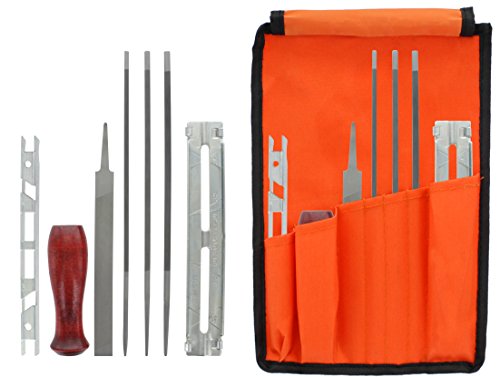 As you may have noticed, most chainsaw files on our list have been designed with novices in mind. Well, this filing kit from Drixet is not an exception! So, if your chainsaw requires a good brush-up, consider buying this filing kit.
It's a highly functional kit that comes with 8 pieces of gear, specifically designed to ensure a proper filing operation. Besides, it is available in 3 different size ranges of round files. These sizes include; 5/32, 3/16, and 7/32 inches. With assortment, you'll be able to seamlessly sharpen your chainsaw blades, helping them operate perfectly again.
Apart from the round files, the package also comes with a flat file, handle, depth gauge, and a chainsaw file holder, all organized in a convenient pouch. The file holder features two clips that support the file during use. Also, both the depth gauge and file holder have engraved numbers that ensure high precision. Thus, as you can see, you've got every tool you need to sharpen your chainsaw at home, in the garage, or even on the field.
The other thing that is included in the package is the instruction manual. This is one of the things that makes the tools simple to operate, even for starters.
These pieces are designed to give users seamless precision and control. So, rest assured that you'll have more control over the sharpening task. Besides, with this tool, you'll be able to work on a certain chainsaw tooth at a time.
As you'd expect, this filing kit features a decent build quality. This is because the files are crafted from long-lasting steel which extends their durability.
Lastly, this filing kit is less costly than most similar products out there. Not to forget that it includes a lifetime warranty and guarantees excellent results.
Pros
Excellent build quality
Very economical option
Ideal for various sharpening needs
Lifetime warranty
Cons
Not ideal for larger models
---
10. Oregon 70503/ 80503 Double Cut Chainsaw Files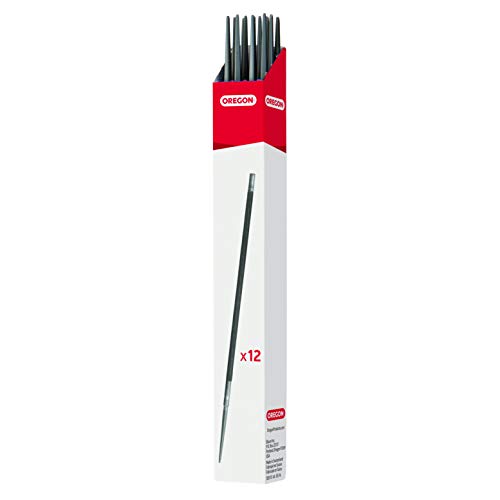 To wrap out the best chainsaw files list is yet another tool from Oregon: the 70503/ 80503 model! Oregon is one of the most respected brands in the market today! All thanks to their top-of-the-line selection of files.
But what makes this particular model stand out from the rest is the quantity and size that you can buy at once! That's right! Unlike any other product we've looked at above, these files are available in bulk. Therefore, if you maintain your chainsaw regularly, very few filing kits can beat this set! This package is designed for commercial or professional applications.
This particular set comes in a box of twelve 3/16" files. Each file features a swiss double cut design that ensures excellent and precise cutting performance when sharpening your chainsaw blades. This innovative design also ensures that the files remain sharper for many years to come.
The other thing you should note about these sharpening tools is that they've fewer teeth per inch. This plays a very important role in preventing trapped filings. Moreover, these files have a perfectly uniform diameter throughout the length of their bodies. Thus ensuring faster and easier removal of metal.
On the downside, if you use or sharpen your chainsaw occasionally, choosing these files may not be such a great idea. Especially considering that they come in bulk. Also, the set doesn't come with handles. So, if you need handles, you will have to buy them separately.
Other than that, if your daily job depends on a chainsaw, or you prefer a chainsaw file that offers control and uniformity, then this package is the ideal option for you.
Pros
Easy operation and offers accurate results
Requires minimal operating force
Works with various styles of chainsaw chains
Premium quality files
Ideal for commercial and professional use
Cons
---
The Best Chainsaw Files Buyer's Guide
Even after narrowing the chainsaw files to the best ones out there, if you're not careful, you may still end up with a tool that will not work for you. This is because every user may have their preference. Therefore, what one considers as the best chainsaw sharpener or filing kit, may not be the best according to another buyer.
Besides, all chainsaw files are not made the same, which is why there are many models and out there. Therefore, to decide which filing tool or kit will work perfectly for your chainsaw, there are important factors you should take into account.
Some of these features include;
File size
First and foremost, before you buy a chainsaw file, you must consider its size to determine whether it will work with your chainsaw. This is because you'll find files of different sizes on the market today. The most common sizes of manual chainsaw files are; 3/16, 5/32, and 7/32" file sizes.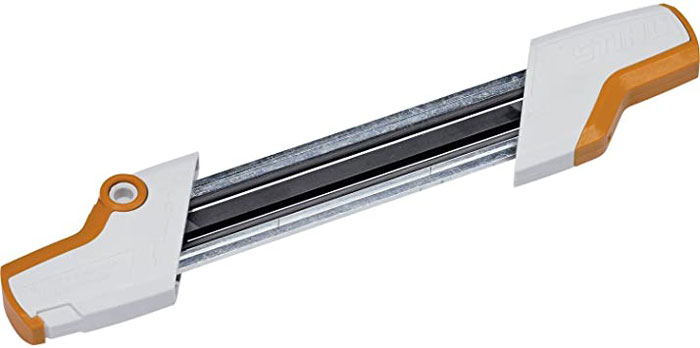 If the file has a smaller size than the chainsaw, it will not sharpen its teeth. On the other hand, if the file has a large size, it will leave the teeth flat. Luckily, if you're planning to use the chainsaw file to sharpen different chainsaws, there are filing kits with different-sized files.
Cost
We always advise buyers to set the budget they're willing to spend on a chainsaw file. Doing so will ensure that you stick to a product that is within your range. Thankfully, there are many affordable chainsaw files out there. Even so, make sure the file has all the features that you're looking for.
Build quality
Build quality is another important factor since it contributes to the durability, versatility, and sturdiness of the chainsaw sharpener. In general, choose a chainsaw file that can withstand wear and tear, especially if you intend to use it regularly.
You wouldn't want to buy a costly tool only for it to fall apart after a few uses, right? Then, choose a sharpener made of a long-lasting material before you buy one! Besides, choosing a file with a manufacturer's warranty reassures you as well.
Usage
You should also think about how often as well as where you intend to use the chainsaw sharpener. This will have a considerable impact in determining the ideal chainsaw for you.
For instance, if you use your chainsaw frequently, then you'll need to sharpen it more often. In that case, go for a high-quality file that provides more precision and accuracy. However, if you don't use the sharpener that often, you don't have to spend a lot of money on it.
How to Sharpen Your Chainsaw Safely?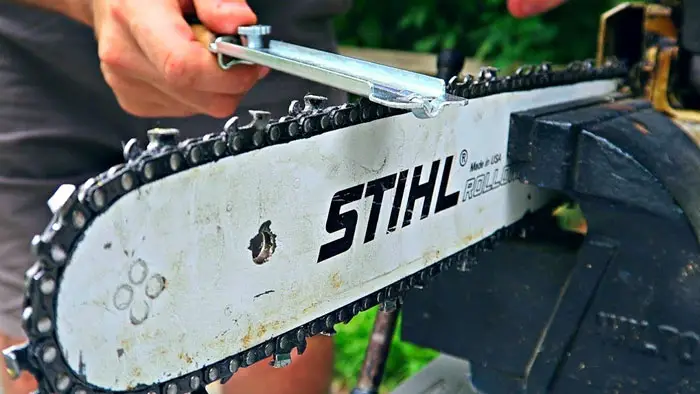 Even after acquiring the best chainsaw file, using it to sharpen the chainsaw can still be a very daunting task. Especially if you don't know how to use it safely. However, once you learn the correct way to do it and get used to it, you'll find it to be a very interesting activity.
That being said, here are the simple steps you should follow when using a chainsaw file:
1. Choose the right chainsaw file size
The first thing you should check before you start sharpening your chainsaw is whether it's compatible with the file you want to use or not. If it's not compatible, you can end up damaging the chainsaw blade.
Lucky for you, many chainsaw manufacturers specify the ideal file and guide for sharpening their blades. You can see this information on the user guide, manual, or packaging. However, if that information is not listed on any of these items, contact the manufacturer or look it up online.
2. Read the instructions manual
Most chainsaw files come with an instruction manual. Make sure you go through it before you start using the file. Doing so will help you use them efficiently and avoid failures or accidents. Moreover, it will help you know the best practices you should follow as well as proper sharpening and maintenance techniques.
3. Wear protective gear
Before you start sharpening the chainsaw, make sure you always wear gloves, eye protectors, and other suggested protective gear. This will protect you from any injuries that can happen while filing your chainsaw. Besides, as experts say, it's always good to be prepared!
4. Prepare the work area
Always make sure you're working in a clean environment that is not clumsy. Also, be very careful when sharpening the chainsaw to avoid unnecessary accidents from happening. More importantly, check whether any part of the chain is damaged and clean it with a resin solvent to remove sawdust, grease, and other particles.
5. Start at the link
Link refers to the part that does not have teeth. It's usually at the start of the chain. If you cannot find this area, ensure you mark where you start filing the chain. This will prevent you from sharpening the same area repeatedly which can result in over-sharpening.
Now, sharpen the chainsaw as you move forward until you come back to where you started. That indicates that you've filed the entire chain.
6. Make uniform and firm motions
When sharpening the chainsaw, particularly with a handheld file, make sure you use the correct motion. Start by aligning the sharpening tool at the same angle as your chainsaw blade. Afterward, apply uniform pressure throughout the chain as you move back and forth. In the process, keep your hand firm to produce an even and professional outcome across the entire chain length.
7. Rinse the chain and file again if necessary
After sharpening the entire chainsaw blade, rinse it to get rid of all metal filings. Now, inspect the chain to see if its teeth are sharp enough. If not, you can repeat the filing process if necessary! However, you must observe the above steps if you want to do it safely!
Frequently Answer Questions
#1. How many times should I sharpen my chainsaw chains?
There is no fixed number of times that one should sharpen the chain saw. However, it's recommended that you sharpen the chains a few times since they tend to lose their temper which calls for chain replacement. According to experts, the chain should be sharpened about three to five times.
#2. What's the best angle for sharpening a chainsaw blade?
The ideal sharpening angle is dependent on the chain's blade height, size, and depth. As you know, every chain tends to have a unique blade size, height, and depth. To determine the actual sharpening angle of your chainsaw, look it up on the chain's original pocket. Most people prefer an angle of about 25 to 30 degrees.
#3. Which brand manufactures the best chainsaw sharpeners?
Well, there are many reputable brands out there such as Oregon, Stihl, MITOOVA, and Husqvarna among others. However, instead of focusing on the brand, we suggest you take your time to consider the files' features like performance, build quality, and effectiveness.
#4. Why does a chainsaw become dull?
Many reasons make a chainsaw dull. This includes things like using the chainsaw to cut into the ground or dirty wood. Other things include; cutting links on the chain being too steep, and cutting harder wood like hard oak.
#5. What is the best chainsaw file size to use?
That will depend on the size of your chainsaw chain since they're available in different sizes. The most common sizes are; 3/8", ¾", .325", and ¼". So, make sure you check the chain size before you choose a file size. You should also note that some chainsaw files only work with one chain size, while others can be adjusted to work on multiple sizes.
---
Final Words
As a chainsaw user, a chainsaw file is a useful tool you should consider investing in. It will save you from purchasing a new chain each time the old one becomes dull.
Not to forget that you don't have to go to those expensive vendors to sharpen your chain anymore since you can now do it yourself! Most importantly, you'll be able to always keep your chainsaw sharp, which facilitates safety, efficiency as well as faster cutting. All these benefits just for buying one of the best chainsaw files we've listed above!
So, go through our incredible selection again and choose the ideal chainsaw sharpener for you depending on your sharpening needs and preferences!