So, you have tried every tool you have and the nut still seems impossible to remove! As a mechanic or garage/car owner, there is a high chance you've found yourself in that situation. 
Such nuts make maintenance and deconstruction work very frustrating and difficult. Besides, if you're not careful, you may end up destroying the nut thread. 
Why go to all that trouble, when you can easily solve that problem. Just get yourself the best nut splitter and crack the nut once and for all! 
You heard that right!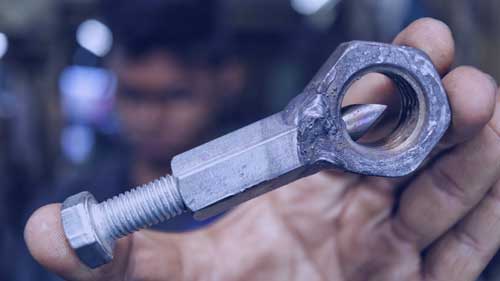 The best thing to do in such a scenario is to crack or split the entire nut! That way, you'll be able to pull it from the bolt without destroying the threads.
It will also help you to save both time and energy. You can also use nut splitters if the nut is rusted or damaged. 
In Hurry! Then Check Our Top 5 Picks:
Now that you know the type of tool you need, which is the best one? Considering how most nut splitters seem similar, choosing the top nut splitter tool may not be a walk in the park. Relax! That's why we're here for you! 
In this article, we've listed some of the most dependable, durable, and strongest nut splitters available today. With that in mind, let's check out these nut splitters one by one! 
5 Best Nut Splitter Tool Picks
1. EEEKit Metal Nut Splitter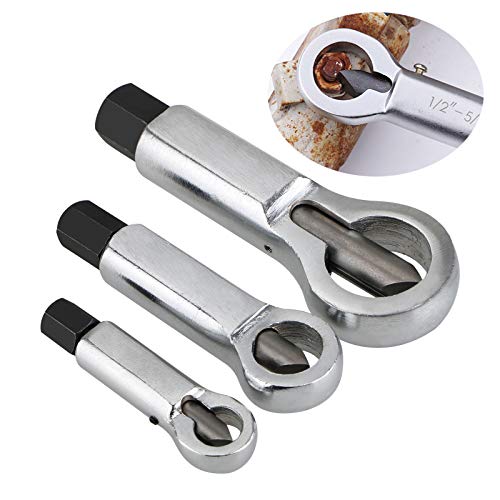 Regardless of the job you're undertaking, it's always important to have the right tool. The same case applies when you want to remove damaged or corroded nuts without getting to the bolt threads. And to start our list, we suggest you try out this nut splitter set from EEEKit! 
The entire set comes with 3 pieces of different size splitters. Besides, each splitter features a polished mirror surface, making the rust- and corrosion-resistant. These splitters also guarantee exquisite workmanship and they are ideal for workshops, homes, and hobbyists. 
During the splitting process, you can use socket wrenches with these nutcrackers. This will make the entire process both successful and easier. However, since the crackers have different sizes, the size of the wrench should be ideal for a certain splitter. 
The smallest splitter works for nuts ranging from 9 – 12mm, the middle-size one deals work for 12 – 16mm nuts, while the largest splitter tackles nuts between 16 mm and 22mm. 
Regarding the construction, each splitter has a chisel that is crafted from hardened steel. When it comes to application, you just need a wrench and you're good to go. Just choose the ideal-size splitter and put it on the target damaged/ rusted nut. Then use the wrench to rotate the cracker bolt until the damaged nut splits. That simple! 
Pros 
Long service life 
Resistant to rust and corrosion 
Works on various nut sizes 
High hardness and sharp cutting 
Cons
---
2. K Tool International Universal Nut Splitter: best heavy duty nut splitter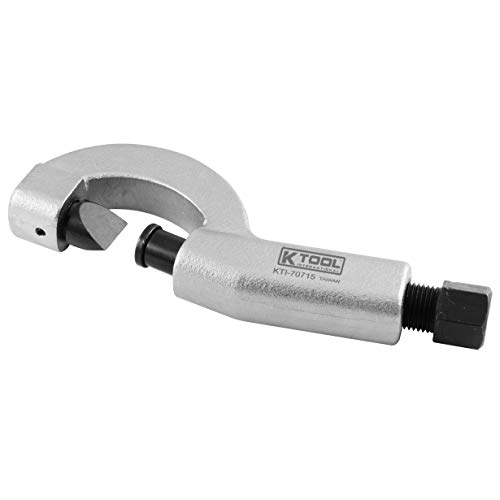 If you've put in your best efforts and the nut is still not budging, then you'll this K Tool Nut Splitter very helpful. It's a medium-duty cracker that is specifically designed for splitting rusted or frozen nuts. 
The jaw allows convenient placement and opens between 1/8 and 15/16 inches. While its pusher applies parallel pressure, cracking the nut on one side. This prevents you from damaging the threads. 
The splitter's compound design features a 360-degree rotating cutter. This makes the splitter easy to use, even in hard-to-reach areas. Also, since this nut splitter tool is 6 ¼" long, it can fit into tight areas conveniently.  
Another benefit of using this tool is that its cutters do not affect the bolt. Therefore, it leaves them the same way they were before the splitting process.
To split the nut, use a ¾" hand wrench to turn the power screw a couple of times. Doing so will cut the nut, making it easy to remove from the bolt. One thing that adds to the convenience of this tool is that it weighs 1 pound only. 
It's also worth noting that this splitter is quite strong. Thanks to the rugged drop forged frame. The only issue with this nut splitter tool is that the bottom part of the blade is not quite strong. Other than that, this splitter has proved to be very durable and effective when cracking nuts.  
Pros 
User-friendly and durable 
Works in tight places 
Cracks frozen or rusted nuts 
Cons 
Requires a ¾" hand wrench 
---
3. CRAFTSMAN Universal Nut Splitter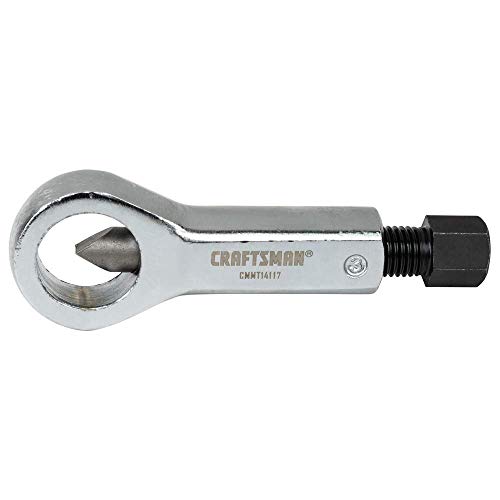 CRAFTSMAN is a well-known brand that manufactures superior and sturdy tools. For that reason, it's not surprising that one of their products has made it on our list. And that's none other than their CRAFTSMAN Universal Nut Splitter!
It is crafted from high-quality materials, enhancing its durability. As if that's not enough, its frame is made with forged steel, while its cutter features hardened steel. The cutter is located at the eyelet end of its head. 
This head has been designed to deal with nuts between 5/16 and 7/8 inches. Thus allowing it to split the nuts without damaging the threads of the attached bolt. 
To operate this tool successfully, you'll need a ¾" wrench. Use the wrench to turn the end of the bolt head manually. This drives the cone-shaped steel press into the frozen nut.
The sharpened point situated on the opposite inner edge of the splitter head will then crack the nut. Just remember, avoid using power tools to operate this nut splitter. 
 The main thing that makes this nut splitter tool very easy to use is its compact and lightweight design. It weighs about 0.8 pounds, while its length is about 4".
However, regardless of the compact size, this splitter contains enough power to remove nuts that refuses other methods. 
You'll also love reasonably priced this Universal nut splitter is. Besides, the product is accompanied by a full lifetime warranty from the manufacturer. CRAFTSMAN nut splitter is one of those handy tools you'll also love to have in your possession! 
Pros 
Lightweight and compact design 
Cracks tough nuts ranging from 5/6 – 7/8"
Easy to operate 
Doesn't destroy the bolt threads 
Cons 
Screw is relatively small.
---
4. Elitexion Nut Splitter Tool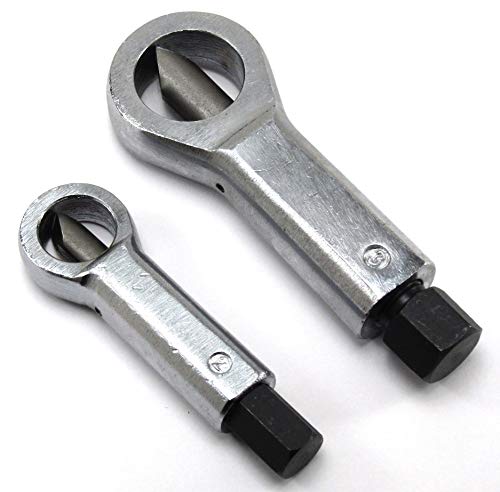 When you want to remove rounded, frozen, and rusted nuts, this 2 piece nut splitter set from Elitexion will help you save a lot of time. The set includes two nut splitters, a large and a smaller one. 
The chisels of both splitters have been crafted from hardened and forged chrome vanadium steel, which increases their durability. While their frames are also quite strong, seeing that they have been made up of heat-treated and forged carbon steel. 
Why does the set come with 2 different-sized splitters? Simple! For one, the small nut splitter allows you to access tight areas that are difficult to access with the large splitter.
Moreover, the smaller splitter handles nuts between 5/8" (16 mm) and 7/8" (16mm) or ¾-inch hex base.
On the other hand, the large splitter deals with nuts between ½" (12 mm) and 5/8" (16 mm) or 9/16-inch hex base. As for the length, each splitter measures 4 inches long. 
Regarding application, this set is quite simple to operate, thanks to the simple design. You just need to tighten the corroded or damaged nut until it splits.   
Overall, these high-quality splitters perform their task as intended. You can use them to crack rusted, rounded-off, and cross-thread without ruining the bolt threads.
Pros 
Ideal for removing corroded and rusted nuts 
Durable construction 
Simple to use 
Doesn't damage the bolt threads 
Cons 
---
5. TE49 4PC Nut Splitter Set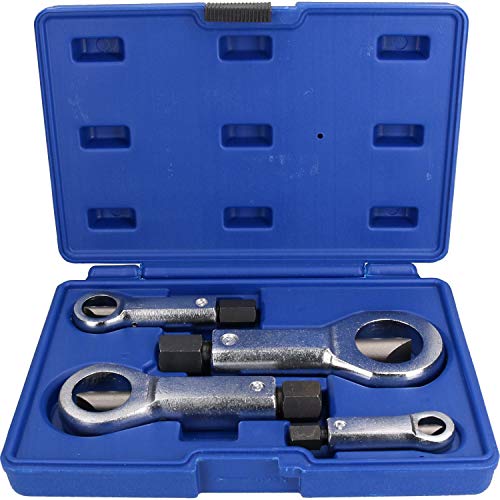 Talk about a professional nut splitter that is perfect for commercial or occasional use! Well, that's exactly what you get with this TE49 cracker set. Besides, this set is also a great option for home use, workshops, and hobbyists. It's specifically designed to tackle corroded or damage nuts without running the bolt threads. 
The most unique feature of this product is that it includes four pieces of crackers. Each splitter has a different size and fits in various spanner sizes.
For instance, the 9-12 mm cracker is tightened by a 12 mm spanner, while the 12 – 16mm splitter works with the 14mm spanner.
Likewise, the 16-22 mm and 22-36 mm crackers require the 19 mm and 22 mm spanner respectively to tighten. 
Also, each nut splitter is ideal for removing stubborn and frozen nuts based on their sizes. Even so, all these crackers have one thing in common: they don't harm the bolt thread when removing any damaged or rusted bolt! Besides, they are perfect for removing rested and rounded nuts as well. 
When it comes to application, you'll be glad to know that you can use these nut splitters with various tools. You can use sockets, spanners, or even wrenches and the task will be simple and successful. 
Another plus for this set is that it includes a sturdy storage case. For that reason, you can easily store or carry the crackers around. 
As for the construction, this set is not inferior either. The blades of the splitters are made with hardened steel, while their grips have been forged. This ensures that they have maximum strength when in use and extend their durability. 
Pros 
Durable splitters 
Deals with nuts of various sizes 
Forged grips and hardened blade for extra strength 
Works with sockets, spanners, and wrenches 
Cons 
The body tends to warp over time 
---
Nut Splitter Buyer's Guide: What to look before buy
When you head out to buy any tool, you want to know that you're investing in something durable, effective, and reliable. You should also have the same objective when it comes to nut splitters.
To accomplish that, we suggest that you consider the following factors before you want to buy the best nut splitter: 
Brand
While a cracker is a simple tool, you may end up buying a product that will not serve you for long. Especially if you don't pay special attention to the manufacturer of the product.
Besides, most crackers look a bit similar, so you may not be able to determine the best model just by looking at them. 
For that reason, it's always good to ensure that you're buying a nut splitter from a quality and trusted brand. We recommend that you stick to well-known brands like EEEKit, TE49, CRAFTSMAN, Elitexion, and K TOOL. 
Size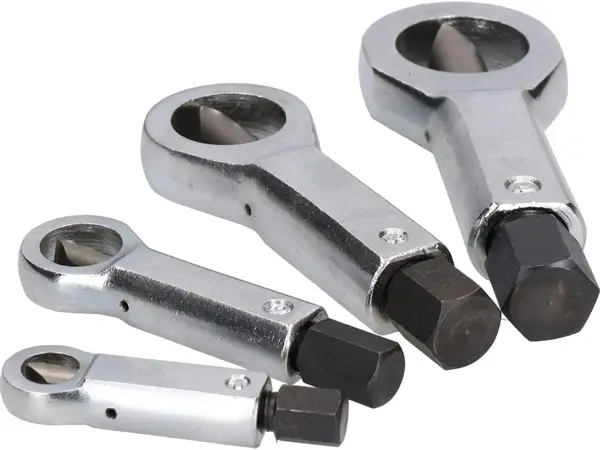 Another important thing you should consider when it comes to nut splitters is the issue of sizes. As you know by now, crackers help to remove and split stuck and stubborn nuts.
What you may not know is that it will only work if it has the ideal size. That's because splitters have various sizes. Some work for larger nuts, while others work for smaller ones. 
So, before you buy one, consider the size of the nuts you intend to work on. The best thing, though, is to buy an adjustable cracker.
That way, you'll be able to work in most situations that may arise. Furthermore, some manufacturers offer a set with multiple different-size splitters. 
Design & Construction 
The nut cracker's design determines whether it will work in tight places or not. That's why design is yet another important thing to consider when buying a nut splitter.
For instance, when you want to crack a nut in a tight area, you'll need a nut splitter that gets there with ease.
Small crackers come in handy in such areas. However, you can also invest in a toll with a reversible design since it will enable you to work at various angles. 
Apart from design, you also need to buy a nut splitter tool with sturdy construction. This is mainly because construction plays a significant role when it comes to the durability and reliability of the cracker. Luckily, there're many tools out there made up of strong materials like forged and heat-treated steel. 
Price 
In some instances, the price of a product usually reflects its quality. However, that's not always the case. So, don't be surprised to find low-priced splitters that have high quality.
For that reason, we suggest that you choose a high-quality product that lies within your budget range. This will help you choose a durable nut splitter that is reasonably priced. 
Frequently Answer Questions 
#1. Do nut crackers work? 
Of course, they work! Nut splitters make it easy to remove seized and damaged nuts. The main benefit of using nut splitters is that they don't destroy the bolts or threads. 
#2. How does one use a nut splitter to crack a nut? 
Operating a splitter is a fairly simple task that can be done by anyone. You just need to follow the following steps: 
Turn the screw's head in an anti-clockwise direction until the nut fits between the chisel and anvils.
Then put the cracker frame over the target nut and line the chisel. 
When the chisel is in a perfect position, turn the screw head in a clockwise direction to tighten it. 
Take a spanner, socket, or wrench and continue tightening the screw until the nut cracks on one side. 
Now, unscrew the chisel and repeat the same process to crack the other side. Once the nut splits into two, you'll have easily removed it from the bolt without destroying the threads.
#3. What is a hydraulic nut splitter? 
A hydraulic nut splitter is a unique tool that utilizes a hydraulic cylinder instead of a threaded shaft. This makes the process of removing stuck and rusted nuts much faster and simpler. 
#4. How do you determine the size of a nut splitter? 
As you already know, nut splitters come in various sizes, with each size designed to handle a certain nut size.
To allow users to distinguish between different-sized splitters, their diameters are indicated on the handle. That way, you can easily see their sizes and choose the perfect one for your splitting needs. 
#5. What is the best nut splitter? 
In a market with so many brands and models of nut splitters, it's difficult to settle on one particular nut splitter as the best one in the market.
Besides, all nut splitters are not created the same. They have different sizes and some are suited for certain tasks than others.
Therefore, the nut splitters vary depending on the specific needs of the user. However, make sure you stick to reputable and well-known brands like CRAFTSMAN, K TOOL, EEEKit, etc. 
Conclusion 
Nut splitters are very important tools for every car owner or mechanic out there. However, you'll need another tool like a spanner, wrench, or socket for them to work successfully and conveniently. 
It's also worth noting that while all nut splitters do the same job, they are available in various designs, shapes, and sizes.
Therefore, when you're talking about the best nut splitter, it should be the one with the perfect size for the targeted nut.
Otherwise, you may end up with a nut splitter that barely works on your nuts. 
Other than that, there are many good nut splitters out there! Best of all, we have listed the best ones in the market today to help you to choose the perfect one for you.