Many home builders prefer cedar for exterior applications over other natural materials. And there are many reasons for that! 
For instance, cedar is very attractive when stained. With some varieties becoming aesthetically pleasing over time. Not to forget that cedar has superior thermal and sound insulation. Also, it's both biodegradable and eco-friendly, making it a great option for green homes. 
But, similar to other natural materials, cedar is susceptible to weather elements. As such, it can shrink or swell because of regular exposure to dampness, humidity, and rain. 
That's why you need to apply the best caulk for cedar siding.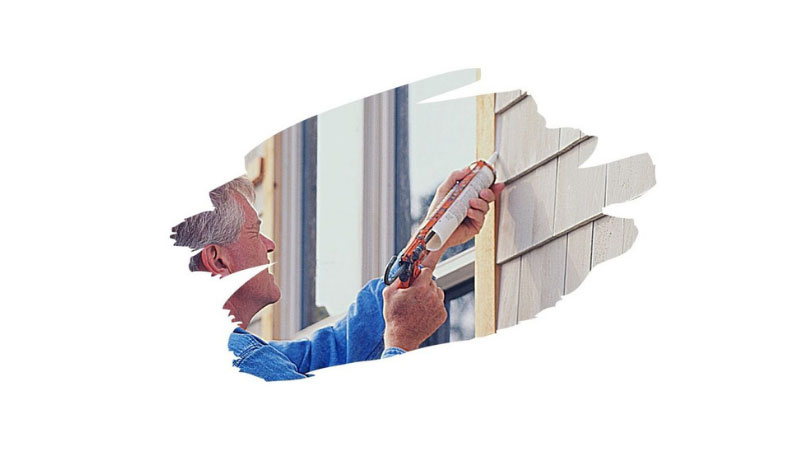 Caulk is a durable, waterproof sealant that fills cracks and other surface imperfections. In short, it's used where moisture would seep through and cause damage. In this case, it will prevent water from penetrating through your exterior siding.
Also, it deals with cracks caused by significant changes in temperature and humidity. Thus maintaining the material's structural integrity and extending its lifetime. 
There is one issue though! Caulking products are available in various types and intended for different settings. So, if you're not well-informed, choosing the right caulk for your home will not be a simple task. However, things don't have to be that hard.
In this article, we'll walk you through some of the best caulks for cedar siding. 
Read on and choose the ideal one for your home! 
5 Best Caulk for Cedar Siding
1. Red Devil 077010 Lifetime Acrylic Latex Sealant 
Red Devil has been around for more than 150 years. So, just know you're getting a sealant from a reputable brand. Besides, it's one of the most preferred brands by DIYers and pros alike! With their 077010 Lifetime time being the best exterior caulk for cedar siding. 
Many users choose this formula because of its easiness of application. Available in a 10.1 oz. cartridge can, this sealant has a thin formula. This enables it to seal cracks on your cedar siding with a little push of your cartridge gun. 
Apart from siding, there are many other surfaces that you can caulk with this product. Its versatility makes it ideal for various sealing needs around your home. Some of the surfaces include; sinks, bathtubs, window frames, doors, trims, and more. 
This elastomeric acrylic latex formula seals powerfully and features incredible strength. As such, it can remain on the surface for a long time. According to the manufacturer, this formula remains intact for as long as 35 years. 
Also, this solution effectively covers that are up to 1" wide. Even better, it conforms accordingly when the size of the gap reduces or increases. Thus ensuring that it doesn't crack or shrink after curing. 
The sealant has a quick drying time. You can touch, paint or clean it, an hour after application. 
Overall, the Red Devil 077010 is a high-performance, long-lasting product. With its incredible longevity, you may not need to apply caulk for cedar siding ever again! 
Highlighted Features 
Seals gaps and cracks of up to 1" wide
Available in various color options 
Wide application 
Doesn't shrink or crack
1 hour drying time
Lasts up to 35 years
---
2. DAP ALEX PLUS Acrylic Latex Caulk Silicone: Best Caulk for Cedar Siding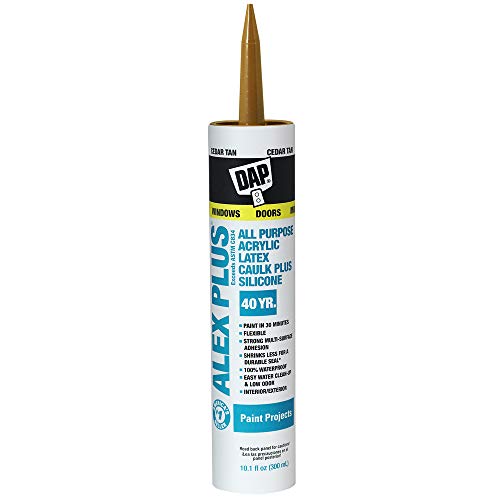 If you're a DIY enthusiast, there's a good chance you've come across a DAP product. This brand dates back to the 1860s, making it one of the oldest caulk manufacturers out there today. In short, if you want a caulk from a reputable manufacturer, DAP is an excellent choice! 
Their ALEX PLUS caulk delivers durability, looks as well as affordability. Hence making it a great option for exterior cedar siding. 
This, however, doesn't mean that it's only intended for exterior applications. It's a very product versatile product.
As such, you can apply it to other areas like tubs, sidewalks, and showers. Thanks to its ability to adhere to different substrates. This includes materials like wood, glass, stone, ceramic, and even metal. 
Another great thing about this caulk is that it's simple to apply. You can even apply this cedar caulk by hand. However, since it comes in a cartridge can, we recommend that you use a gun. 
After application, the formula takes less than 30 minutes to dry and another 2 hours to cure. Thus resulting in a hard bond that's both water-tight and mold- & mildew resistant.
Better still, you can clean and paint over cured with your favorite paint. Not forgetting it's available in different colors like white, clear, and slate gray. 
Regarding durability, the formula can last for more than 3 decades after curing. So you're buying one of the most durable products on the market today! 
Highlighted Features 
Dries in half an hour & cures in 2 hours 
Exceptional durability (over 35 years)
Mold- & mildew resistant
Works on various substrates 
Available in many color options 
Ideal for exterior and interior applications 
---
3. Red Devil 08463012 Siliconized Acrylic Caulk 

When doing a large project, buying items in bulk is usually the most cost-effective approach. It's much cheaper than buying a single item at a time. 
The same case applies to caulking cedar siding. If you'll need a lot of sealants, you should consider buying the caulk in bulk. Luckily, Red Devil offers you just that with their 12 pack of siliconized acrylic caulk.
With this pack, you'll have enough product to seal the entire exterior of your house. Thanks to the twelve 10.1 oz. cartridge cans that come with this pack. You may even be left with some sealant to use on the interior surfaces! 
The other thing you need to note about this formula is that it's specifically designed for cedar. This is because it forms a very tight bond around the siding. Thus preventing any moisture from penetrating through the siding. Also, it increases the energy efficiency of your home by reducing cold spots and drafts. 
As for customizability, you'll find this sealant in different color options. Therefore, you'll find the ideal color to match your style as if that's not enough, it adheres to any paint you can think of. 
Lastly, this sealant forms a very strong bond with the surface. It doesn't come off easily, even if you clean it with soapy water. More importantly, it's mildew resistant and you can use it for indoor applications as well. 
Highlighted Features 
Resists mildew, pest, cold and dirt
Forms a tight and strong seal 
Compatible with different paints 
Comes in a pack of twelve 10.1 oz. cartridges 
Adheres to multiple surfaces 
---
4. Sashco 46090 Conceal Textured Wood Caulk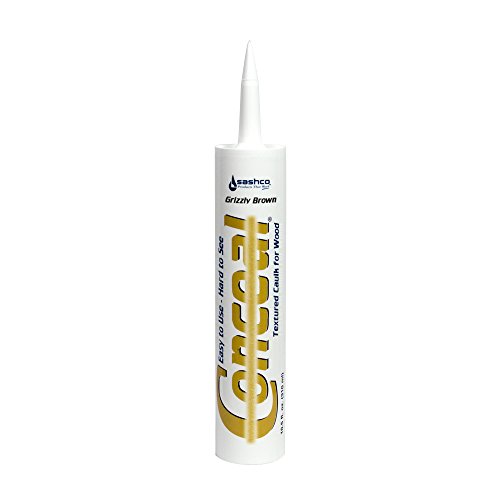 Established more than 80 years ago, Sascho is another reputable caulk manufacturer. With this period, their products have experienced tremendous improvements. Something that can be seen in their Conceal Textured wood caulk. 
Why choose this sealant? 
For starters, Conceal is the first sealant that was specifically intended for wood. And its formula is lightly textured. Thus enabling it to stimulate the wood's natural roughness. Thus making a great option for the rough cedar siding. 
Also, unlike other caulks, this formula is not easily visible. It features low-level sheen and disappears into the surface. Therefore, it's hard to determine where the caulk or the wood starts. 
Besides, its textured formula is available in 7 different color options. For that, you can easily find the ideal color to complement various wood stain colors. 
Another factor that makes this sealant a popular option among DIYers is its ease of use. For one, it comes in a standard 10.5 oz cartridge.
As such, you can apply it with most sealing guns out there. Also, its formula spritzes with ease and you can even smooth it with a tool or finger. 
The sealant takes 1 – 4 hours to dry, but this will depend on the humidity level. After that, the dried sealant can resist rain, moisture, and other weather elements. And since it's very durable, it can hold up onto the surface for more than 30 years! 
Highlighted Features 
Lightly textured formula 
Available in seven different colors 
Easy application 
Low-level sheen 
Takes 1- 4 hours to dry 
---
5. DAP Cedar Tan Caulk (DYNAFLEX 230)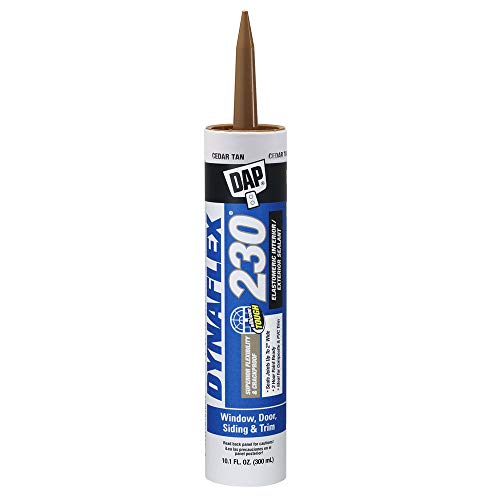 The main role of caulking exterior sidings is to prevent water leakage. For that, you need to get a product that delivers a waterproof seal! Well, DYNAFLEX 230 sealant is that type of product! 
Manufactured by DAP, this sealant can withstand water and other weather elements. Thus preventing water from seeping through your exterior surfaces. Besides, its incredible insulation properties will protect your home from cold and snow. 
Unlike low-quality sealants, Dap cedar tan caulk delivers a permanently flexible, crack-resistant bond. This enables it to seal out air and water leaks to enhance your home's energy efficiency.
Another great thing about this paste is that it can seal joints up to 2 inches wide. This will prevent insects from entering your home through small cracks and gaps. 
While this caulk is ideal for cedar siding, that's not the only material it adheres to. Instead, you can apply it on many other surfaces. It's ideal for both internal and exterior applications. You can use it on baseboards, molding, doors, trim, and windows.
Applying the sealant is quite simple. Thanks to the easy-to-use 10.1 fl. oz. cartridge can. It forms a perfect caulk bead and flows easily while coming out of the can. As for the drying time, you can touch, paint or wash the bead 2 hours after application!
On curing, this sealant will protect your siding from mold and mildew for several years! 
Highlighted Features 
Prevents mold & mildew growth
Withstand water and weather elements 
Adheres to various building materials 
Dries in 2 hours 
Paintable and crack-resistant 
Cedar Siding Caulk Buying Guide 
To seal the spaces in your home's exterior siding, you'll need a quality caulk. It will protect your home from moisture, pests as well as cold outdoors. Even better, it adds aesthetic value to your cedar siding and extends its durability. 
While there are several great caulks out there, not every product may work for your home. That's why you need to look out for the following factors when buying a cedar siding caulk; 
Type of caulk 
Caulks are available in 2 forms. This includes; acrylic/ latex mixed with silicone (siliconized) and 100% silicone. Both forms adhere well to various surfaces. For that, you can use them on materials like stone, wood, glass, and fiberglass. 
Even so, different caulk types have varying properties. For instance, 100% silicone caulks are not paintable, while acrylic latex can be painted on. Therefore, acrylic latex sealant is a better option for exterior siding. Also, it's more affordable, flexible, and easier to apply. 
Weather resistant 
Exterior siding is regularly exposed to weather elements like UV rays, and rain. Besides, this is probably one of the reasons you're applying caulk to it. As such, the sealant should be able to keep these elements out. 
Moreover, the caulk should create a water-proof seal. That way, you will protect your home from moisture, cold, pests, mold, and dirt. 
 Durability 
Caulking cedar siding is not an activity that you intend to do regularly. Instead, you expect the seal to last for decades. Therefore, you need to look for a product that can adhere to the surface for many years. 
 Flexibility 
Another issue that cedar siding encounter is the problem of temperature changes. This causes the siding gaps to contract or expand. Hence pushing the applied sealant together or pulling it apart. If you had used a low-quality caulk, it will not withstand these movements.
Over time, this continuous movement causes the siding to crack. To prevent this, you'll need a flexible caulk. That way, it will conform to these movements and prevent any crack formation. 
Drying time 
Nobody wants a sealant that takes forever to dry. Instead, we all want a product that takes the shortest time to dry. This is because a longer drying time exposes the caulk to damage and contaminants. As for cedar caulk, look for a product that takes less than 4 hours to dry. 
Read more: Caulk for metal roof flashing: Reviews & Buyer' Guide
---
Frequently Answer Questions About Cedar Siding Caulk
#1. How long will cedar siding sealant last? 
A quality siliconized caulk can last for 20 to 35 years or more. Look at the manufacturer's details to determine how long the sealant is designed to last. 
#2. Siliconized and non-siliconized acrylic latex caulk, which is better? 
Siliconized caulk refers to the one that contains added silicone material. Silicone makes the sealant more durable, watertight, and flexible. Therefore, it's a better option than the ones without silicone. 
#3. Can you apply cedar siding to interior surfaces? 
That will depend on the nature of the sealant. Nonetheless, acrylic latex caulks adhere to both exterior and interior surfaces. Therefore, you can use it for interior surfaces like molding, sinks, bathrooms, and countertops. 
#4. Can you apply a new sealant over the old caulk? 
No! Make sure you remove any old caulk before you apply a new bead. The new caulk may not adhere to the dried caulk. Hence leaving small spaces that will let moisture penetrate through the surface. 
#5. Why should you caulk your exterior cedar siding? 
Caulking helps to fill gaps and cracks around your exterior siding. This will protect your home from environmental factors like cold, water, bugs, and mold. 
Final Words
Open gaps and cracks on your cedar siding will expose your home to various disasters. For instance, water will seep through when it rains as well as dirt, dust and even pests. Besides, damp build-up may promote the infestation of mold and mildew. 
So, why not just seal off these gaps and protect your home from these elements? You just need to get yourself the best caulk for cedar siding and you're set to go! 
Best of all, choosing the best caulk to suit your needs should not be hard at all! With any sealant on our list, expect those gaps in your sidings to be sealed effectively!