Traditionally, hobbyists and engineering enthusiasts had 2 ways of making PCBs. One, they would use a chemical etchant and toner transfer. However, the chemicals are messy, and getting the right materials was difficult. 
This made them consider the other alternative-outsourcing PCB milling tasks. Outsourcing had its challenges as well. For instance, one had to wait for a long time to get your prototypes.
Thankfully, that's not the case anymore. Today, you can easily get yourself the best PCB milling machine at an affordable price. Besides, desktop PCB milling devices are compact and lightweight. Therefore, you can do your drilling and cutting projects in the comfort of your workshop.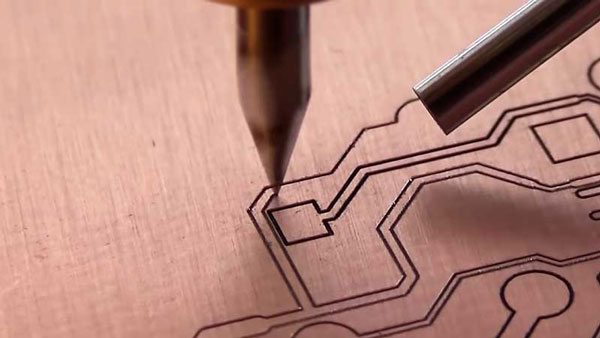 There's one problem though! Not every PCB milling machine in the market is worth buying. Some have low quality and are cheaply made. So, which is the best machine to invest in? Don't worry!
In this article, we'll take you to some of the top-rated desktop PCB milling machines out there today. 
Let's check them out to help you choose the best one for your needs! 
5 Best PCB Milling Machines 
1. Genmitsu CNC 30180-PRO Milling machine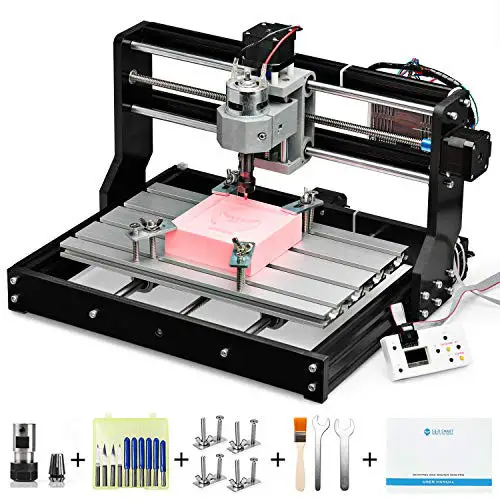 On top of our list is this 3018-PRO CNC milling machine from Genmitsu. It's one of the most affordable CNC and PCB router kits in the market at the moment. 
As if that's not enough, this unit offers great service and includes many features. So, if you're a beginner, a reasonably priced milling device like Genmitsu 3018-PRO is a great place to start. 
Now, let's look at some of this unit's features! 
Generally speaking, 3018 indicates the size of this model. In this case, the dimensions of this device are 300mm by 180mm by 45mm. Therefore, it has good size for a desktop milling machine. Yet its cutting area is large enough to handle various medium-duty tasks. 
What about the 'PRO' in the model number? Well, that's because this unit is an advanced version of the original Genmitsu 3018 model. The new model is easier to assemble and has enhanced working accuracy. Better still, it has better stability, thanks to the raised base height. 
Moving on, this CNC router has an integrated mainboard as well as custom software. Thus allowing convenient communication between the software and hardware. 
It uses Grbl open-source software to control the movements. And since it's open-source, you can easily find new and advanced ideas to work with. This makes the machine quite simple to operate. To make things even better, you can use this model offline, allowing you to use it at any place. 
You'll also be thrilled by how versatile this device is. It can work on various materials including wood, metal, plastic, and PVC. 
On the downside, this device isn't fitted with a laser. Luckily, you can buy a laser separately and install it on this router. 
Pros 
Versatile and affordable 
Easy to assemble and operate 
Ideal for beginners 
Good cutting area 
Can be operated offline 
Cons 
Z-axis requires oiling 
Doesn't come with a laser
2. SainSmart Genmitsu CNC Router Machine 3018-PROVer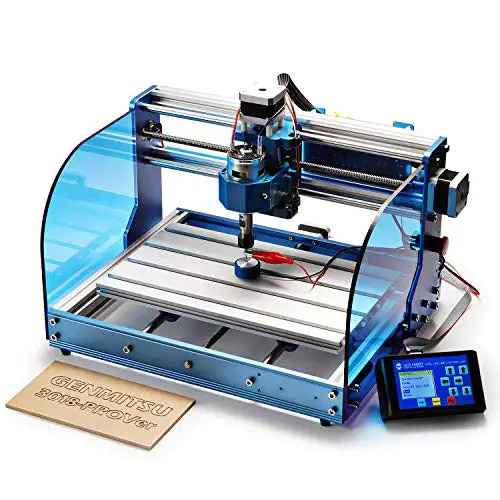 Sometimes assembling a CNC machine can be a time-consuming task, especially for beginners. Well, that will not be the case with the SainSmart 3018-PROVer machine. Most of its components come pre-assembled, so you can get it up and running in less than 30 minutes. 
Another impressive feature about this unit is that it has a 5mm acrylic baffle on both sides. For this, you can safely monitor the whole engraving process. Also, the axis is joined with its home switch. This protects the engraving faults by stopping the spindle from the working area. 
Talking of the working area, this unit measures 300 by 180 by 45mm. This gives you sufficient working space for handling most medium-sized PBC milling projects. Apart from PCBs, it can cut through wood, plastic, and PVCs. Better still, the stepper motor-header enables it to cut through softer materials. 
To enhance its performance, this device is fitted with Toshiba drivers and Optocouplers. The optocouplers protect the hardware from damage. Contrarily, the drivers ensure quiet and smooth operation. 
As for the movement control, this device uses Mach3. This is professional software that enables you to control the whole machine like a Pro. Also, this software is customizable, works with other programs, and generates DXF files. 
Still, on control, you can easily operate this unit offline. Besides, it has a 1.8" LCD for clear readings. If there are any disruptions, shut down the system right away with the emergency control. 
Lastly, this unit has an aluminum body construction. This promotes its longevity and keeps it steady when milling different materials. 
Pros 
Simple to assemble and operate
Cuts through different materials 
Ensures stability and longevity 
Includes all the necessary accessories 
Decent cutting area 
Large offline LCD 
Cons 
3. MYSWEETY Upgraded Version 3018: Best PCB Milling Machine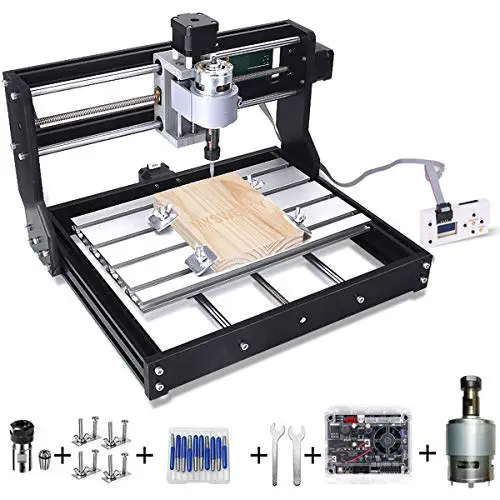 MYSWEETY PCB Milling machine is another incredible router kit, especially for novice users. It comes at an affordable price and has a compact size. Besides, it only weighs about 15 pounds. Therefore, you can easily carry it around, although not in one piece
Thankfully, assembling and disassembling it is quite simple. You just need to follow the included instruction manual and you're set to go! 
Even with its compact nature, this unit has a fairly large working area. Thus allowing it to handle tasks of various sizes. Moreover, it has protective battles on both sides. This enables you to monitor the progress and remain safe while using it. 
Like most CNC routers in the market, this device uses the GRLB open-source software. And as you know, various programs are compatible with this software. 
The only issue with this software is that it will only work with windows. So, if you're a LINUX or Mac user, keep that in mind while buying this device. However, it has an offline controller that allows you to operate it through G-code. Better still, you can adjust the X, Y & Z-axis, and the cooling fan manually. 
Another notable feature in this unit is the 775-spindle motor. This motor can rotate at a speed of up to 7000RPM. Thus allowing the device to cut different materials smoothly and precisely. You can use it to engrave materials like PVC, PCB, wood, acrylic, and plastic. 
This router kit comes with 10 drill bits, an extension rod, 4 clamps, and a 5.5W module. Its control board has incredible features like a strong casing, external fan, and a fixed heat sink. This means that you'll experience issues like short-circuits or overheating. 
Pros 
Lightweight and portable 
Current limit & overheating protection 
Decent working space 
Offline controllable 
Compatible with laser modules 
Cons 
Not ideal for heavy materials 
4. CNCTOPBAOS Pro Max 3018 CNC Router Kit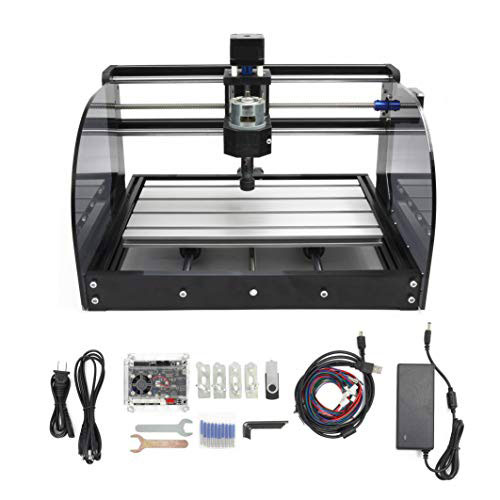 This CNCTOPBAOS Pro Max CNC machine is an upgraded version of the CNC 3018 Pro. It's designed for beginners and DIY enthusiasts and includes some incredible features. It comes at an affordable price and enables you to engrave regular materials. 
Let's see some of its features! 
For starters, this desktop CNC milling machine comes as a kit. This means that it will need assembly. That should not worry you though as assembling it is quite straightforward. Besides, you can use a caliper when connecting the shafts. This will ensure that the measurements are accurate. 
Once you assemble the device, go ahead and install the software and drivers. The kit includes a USB flash drive with the software. Simply install it on your laptop or PC and operate the router from your system. 
As for the software, this unit uses the latest GRBL software. Thus making it easier to control the device than a conventional control system. Besides, you don't even need any extra accessories to control it.
Just turn on your computer and you're good to go. Note, this system is only compatible with LINUX OS and Windows 10, 8, 7 & XP. 
If you're a Mac user, however, the offline controller will come in handy. This means that you don't computer connection to adjust the location of the 3 axes. Even better, you can adjust the cooling fan of the spindle fan manually. 
Regarding the construction, this router is made up of aluminum alloy materials. This makes it lightweight and gives it long service life. So, expect this unit to help you carve and mill thin materials for years to come. 
Pros 
Reasonably priced 
Compatible with different laser modules 
Works offline 
Easy to assemble 
Good working space 
Highly versatile 
Cons 
Not ideal for heavy-duty milling projects 
5. Upgraded Mcwdoit 3018 Pro CNC Router Kit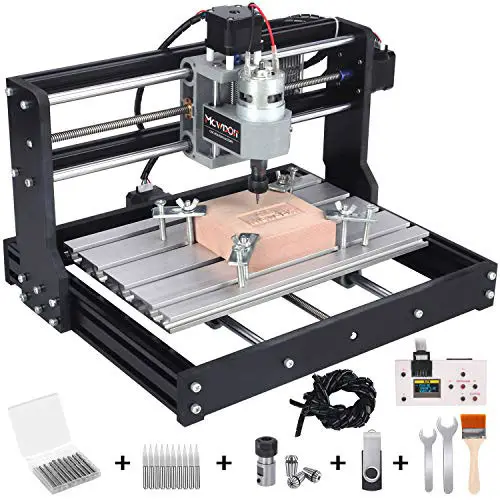 Last on our list is this Upgraded 3018 Pro CNC router kit. A machine that offers all features you'd expect to find at a quality router kit, but at a reasonable price. It has an average size, making it an ideal option, especially if your working space is limited. 
Those are not the only great things about this device though! Instead, the router has many amazing, yet useful features. They include; a cooling fan, an upgraded motherboard, and an integrated driver chip. 
Surprisingly, most things have integrated into this unit's mainboard. As if that's not enough, you can easily download anything using any Windows device. Afterward, you can easily operate it offline. Thanks to the 1GB capacity offline controller. This gives you adequate space to work with soft metals, PCB, acrylic, plastic, and wood. 
Also, there is an SD card that allows you to input G-codes. More importantly, you can adjust the position of the X, Y & Z axes manually. 
Similar to most CNC machines on our list, this unit uses the GRBL program to control its operations. However, you can use other programs like UGS and Easel to create Inkscape, Artcam, and so on. 
What does this kit come with? First, you'll get all the installed instruments and a CNC router. On top of that, you'll get a power supply, stepper motors, CD DVD software, plate clamps, and router bits. But even with all these items, the unit is quite simple to assemble and operate. 
Overall, the MCWdoit Upgraded CNC router offers adequate space to handle light-duty projects. It has many incredible features you may not find in some quality CNC routers out there! 
Pros 
Convenient assembly 
Includes a 12-months warranty 
Offline controller 
Ideal for small to average projects 
You can download the necessary manual & software online 
Versatile in use 
Cons 
Not suitable for industrial-level projects 
Key Specifications Before Buying a PCB Milling Machine 
As you know, not every feature is needed for a PCB Milling machine to function properly. In short, there are some key features you need to pay close attention to. In this section, we've highlighted some of those factors to help you make a better buying decision. Here they are! 
Software and Programming 
Different PCB milling routers are operated and programmed differently than others. Nonetheless, the machine's operating system must be compatible with the software. If you're not sure about the software, don't buy that product. 
Instead, look for a machine that uses open-source software, equipped with G-code and CAD. That way, you can advance to better programs over time. Note, most desktop CNC routers use GRBL 1.1 and Laser Module V3.0.14 software. 
Offline Controller 
Look for a CNC machine that includes an offline controller. That way, you can use the device to undertake milling projects, even without a PC connection. You simply need to load your vector images on a memory card, plug them into the controller and you're good to go.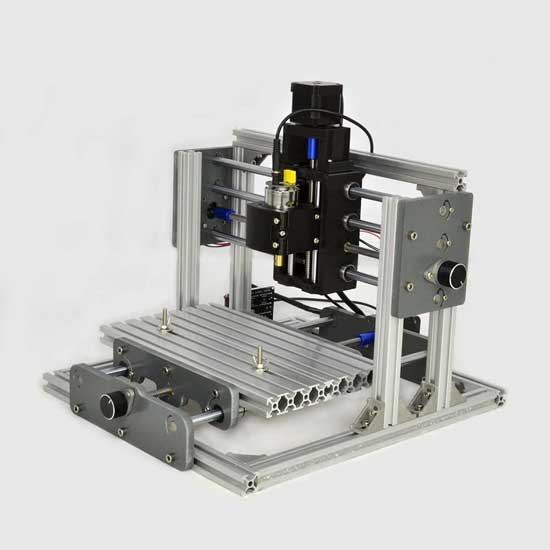 This feature will also come in handy if the device isn't compatible with your system's OS. To improve the UX, some brands have an LCD, making the controller look appealing. 
Assembling Convenience 
Assembling PCB milling machines is quite simple. Some units even come with pre-assembled components. However, this doesn't apply to all CNC routers.
For that, it's important to look for a router kit that comes with a user manual. More notable, make sure the instructions are easy to understand and clear. 
Versatility 
Considering you're looking for a PCB milling machine, choose a device that can cut through PCBs. However, that's not the only material the device should be capable of working on.
Instead, make sure it can work on other materials like wood, acrylic, plastic, and soft metals as well. This will enable you to handle various DIY projects with the same CNC machine. 
Cost 
As you may have realized, most desktop milling machines almost have the same features. For this reason, settling on a certain device can be very difficult. In that case, we suggest that you narrow down to price as the deciding factor. 
On top of that, consider things like the quality of the machine and the availability of its spare parts. Luckily for you, most machines on our list are reasonably priced. Therefore, you can easily find the best budget PCB milling machine that will suit your needs. 
Frequently Answer Questions About PCB milling machine
What is PCB milling? 
PCB milling refers to the act of removing the copper area from a Printed Circuit Board material. This helps to signal traces and structures following the digital board's patterns. 
What does GRBL control mean?
GRBL is software that enables you to control the PCB milling machine's movements. It sends a G-code to your router. Thus allowing you to control and send commands to the controller.
Do you need to learn programming to operate a PCB milling machine? 
No! CNC machines use user-friendly software. For that, you can draw, engrave and import without facing any difficulties. 
How many axes can a CNC router machine have? 
Axis refers to the number of directions a CNC machine can move. CNC machines usually have 3 primary axes; X, Y, and Z-axis. However, they can have up to 9 axes. The primary axes have rotary axes illustrated as A, B & C. On top of that, it cab have secondary linear axes denoted as U, V & W. 
How deep can a PCB milling machine cut? 
A PCB router kit can cut depths of up to 19mm/ ¾" if you're using a 2.2kW spindle. 
Conclusion 
By choosing any milling machine on our list, you can undertake various CNC and PCB projects. They are versatile, efficient, and ideal for handling small DIY projects. More importantly, desktop milling machines are more affordable than industrial machines.
Nonetheless, they deliver excellent performance, accuracy, and precision. Now that we've done our part, feel free to choose the best PCB milling machine.
Further Read: