The majority of drilling machines in the market at the moment come with keyless/self-tightening chunks. Yet seasoned professionals still prefer old hand drills and presses with conventional chucks. Thanks to their ability to provide the most reliable and powerful type of clamping to the drill bits.
A chuck key refers to a tool that is used to loosen or tighten the chuck jaws. More notably, the round key features serrated teeth that fit into the lock on the drill chuck's side.
As a result, closing the chuck when the bit is inserted or loosening it becomes quite simple. Unfortunately, this key used to clamp conventional chucks can easily get lost.
The good news though is that there are various places you can buy a replacement drill chuck key. However, there are certain factors you need to put into consideration while buying a chuck key. In this guide, I'll tell you all about it!
Types of drill chucks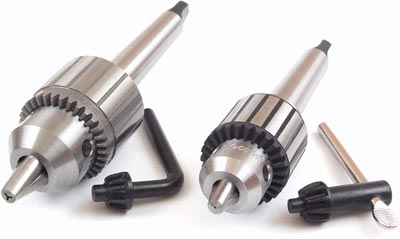 A drill chuck is the revolving cylinder on the drill's end that holds the drill bit in place. It's made up of 3 sides/ jaws and its diameter plays a crucial role in determining the drilling capacity of your tool.
That aside, drill chucks can be broadly classified into 2 categories. That is;
#1. Keyless/self-tightening drill chucks
Keyless chucks were invented by the Albrecht firm in 1908. Unlike keyed chucks, you can easily tighten or loosen these tools without using a wrench or key. Instead, you can simply tighten them by twisting their body with your hand.
Nonetheless, its clamping system is less powerful than keyed chucks. As a result, it's only used for corded and cordless handheld drills.
#2. Keyed/Jacobs drill chucks
As the name suggests, this type of chuck requires a key to loosen or tighten. For that reason, they provide a very powerful type of clamping. This makes them ideal for use in hand drills and powerful machines like drill presses.
How to buy a drill chuck key?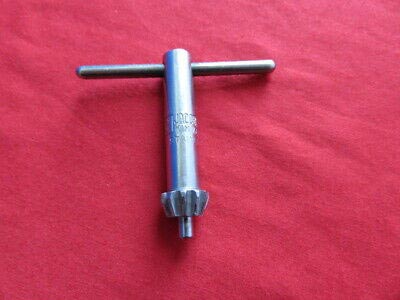 As I said earlier, chuck key size is the most important factor to consider when buying a replacement key. Thankfully, there are 4 techniques you can use to accomplish that. They include;
#1. Determine the size of the drill chuck
There are different types and makes of hand drills and drill presses out there. Similarly, drill chucks are available in various sizes ranging from large to small. Therefore, it's important to consider the size of your drill chuck and keyhole size while buying a chuck key.
Generally speaking, drill chucks have the following sizes; ¼" (6.5mm), 3/8" (10mm), ½" (13mm), 5/8" (16mm), and ¾" (20mm).
Interestingly, this information corresponds to the key size that works on that chuck. For instance, a 13mm (1/2") chuck key is intended for use in 13mm (1/2") chucks.
Note, this technique is ideal for determining chuck sizes of mass-produced 'generic' drills. However, it may not work for certain drill types.
#2. Physical size of the chuck key
Some chuck keys have general measurements to help you compare their physical size. This may include; length X width X height, the gear teeth's outer diameter, or the number of gear teeth.
If you've got the original chuck key, this information will come in handy. Simply match the provided measurements with the manufacturer's information.
#3. Check the manufacturer's reference number
Most drill chucks have markings that contain a lot of information. For instance, they may indicate the model number, reference number, make of the drill, and so on. In some instances, the reference number may be related to the ideal chuck key size.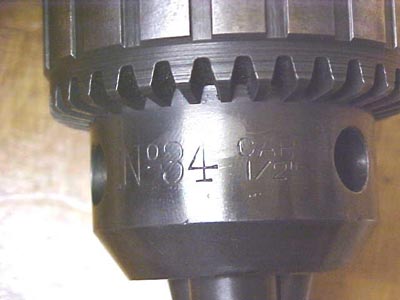 As an example, ½ X 20 represents the drill spindle that connects the thread size. While 1/6 – ½ demonstrates the drill capacity. Finally, 13mm marking shows the size of the drill chuck. As such, you can use these details to determine the chuck key you need for your drill press/ hand drill.
Check the manufacturer's website to know about what the marking represents. Here, look for datasheets that contain detailed specifications of the drill. Remember, the drill chuck and drill may be from different manufacturers.
#4. Measure the key hole size
This is the most reliable method of determining the chuck key size. Especially when you've got a non-generic drill chuck. Nonetheless, it's good to cross-reference this measurement with other information you have.
That said, turn your drill on its side and look for the keyhole on the chuck's side. The keyhole is star-burst shaped, allowing it to accommodate the key's gear teeth.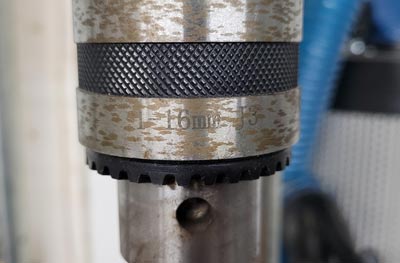 Once you locate the keyhole, use a ruler/ caliper to measure the diameter of its widest point. Remember to consider the flat edges on the measuring jaws if you're using a caliper. Alternatively, you can use a drill bit to determine the size of the chuck keyhole size.
Common chuck key sizes include; ¼", 3/8", 9/32", and 5/16". If necessary, convert these measurements to imperial/ metric using a conversion tool.
#5. Buying a drill chuck key
If you're still unable to determine the ideal chuck key size, take the chuck to the hardware store with you. That way, you can test-fit the replacement key before you make a purchase. Also, you can buy chuck keys in popular online stores like Amazon, eBay, and so on.
My recommended best drill chuck key for drill press/ hand drill
Yakamoz Universal 4 Way Chuck Key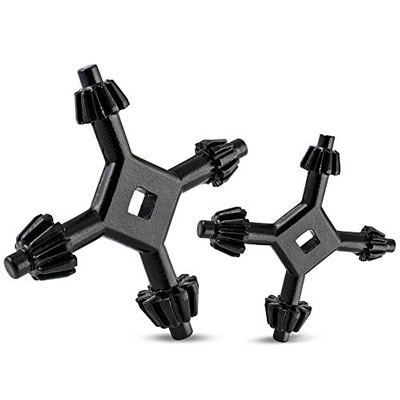 Although there are many chuck keys out there, this set from Yakamoz is by far the best. So, if you're looking for the ideal set to replace your misplaced/ lost key, look no further.
For starters, this set comes with 2 pieces of 4 way key chuck. As a result, you'll get a total of 8 different sizes. To be precise, each key can handle chucks with the following sizes; 17.3mm, 14mm, 13mm, and 12mm. This will allow you to loosen/ tighten chucks in most power tools including drill presses.
In addition to the multifunctional design, this chuck delivers good performance. Not to forget that it's constructed to handle heavy-duty applications.
For instance, it's crafted from high-strength, eco-friendly steel. Besides, it's smoothly polished with a black, wear-resistant treatment to extend its longevity further.
Conclusion
Another thing you may want to consider while buying a chuck key is the brand. In essence, buy a tool from a reputable brand like Porta chucks, Jacobs Chucks, or Albrecht Chucks.
More importantly, make sure the key's teeth fit securely within the drill chuck keyhole. This will ensure that it rotates smoothly in the hole while loosening or tightening the chuck.
Up Next: WEN 4210 vs. 4210T Drill Press: Similarities & Differences