If you're anything like me, you take pleasure in driving your car, just as we take pride in living in our houses. They are emotional and important investments for us. Also, just like our house, our vehicles need regular maintenance and repainting the exterior in some cases.
While having your automobile resprayed at a body shop may cost a lot of money, you may simply do it yourself. Repainting your car is perhaps the most enjoyable of all the great things you can do with it.
However, with so many different kinds of car paint on the market, it's tough to determine which brand and version will be ideal for your precious car.
In Hurry! Then Check Our Top 4 Picks:
Whenever you lookup Google or ask someone for it, you'll hear two names, one is "Single Stage Paint," and the other is "Two Stage Paint." The names are pretty self-explanatory. You spray the single-stage paint just once, whereas you have to add a base and then a topcoat with the two-stage paint.
While both have their own pros and cons, single-stage paint is the new trend as it's easier, less time-consuming, and best for DIYers.
In this blog post, I'll show you the best single stage paint on the market and help you pick which one is ideal for your vehicle.
Be aware that painting automobiles and other vehicles may be a time-consuming and enjoyable task. You'll first need to decide the best automobile paint for your color scheme and the necessary equipment and process.
So, let's get started!
4 Best Single Stage Paint Reviews
We'll go through each of these products in detail and highlight their advantages and disadvantages.
1. RESTORATION SHOP Single Stage Paint Kit in Jet Black (Gloss)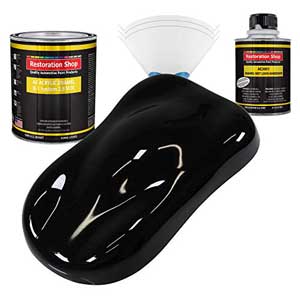 This product will bring back memories for you. This package includes one gallon of enamel paint, which is regarded as the forerunner of today's most extensively used SS paint, urethane. One pint of acrylic hardener, five nylon filters, and five paint-mixer sticks are also included in the package.
The product delivers automotive-grade paint that is mainly developed for use on the exterior of automobiles. The RSP AE3001-PT hardener has a soft appearance. They make an excellent combination for restoring vintage automobiles or giving new ones an antique flair.
Each filter has 190-micron screens, which are fine enough to filter out any paint impurities (such as dust, debris, and so on) to perfection.
The 8:1 ratio is used in the mix. That implies you'll need to mix 8 parts paints with 1 part hardener in a professional paint measuring cup.
Also, it has a VOC count of 2.8, making it legal to use in all 50 states of the United States. They make the paint using high-quality basic materials, resulting in clarity, texture depth, sheen, and durability.
The paint will withstand any toxic chemical ingredients, avoiding fading, cracking, and chipping of the painted surface. It also shields you from UV radiation.
That's why you can use this single-stage paint for almost anything, ranging from automotive paint jobs (e.g., a 98 Honda Civic LX) to maritime vessels such as ships, fleets, and boats. It may also be used for industrial coating on a large scale.
Pros
Perfect for vintage cars.
Applying is very easy.
Wide range of applications.
Lasts longer.
Cons
Need personal protection equipment while spraying.
2. SPEEDOKOTE 2K Acrylic Urethane Single Stage Paint for Cars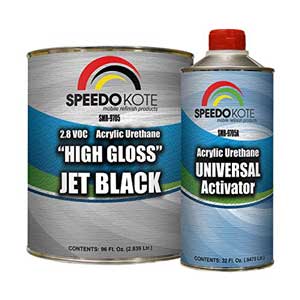 The SPEEDOKOTE High Gloss Acrylic Urethane Paint is a high-quality urethane finish that is applied in one step. It's a two-part method with less than 2.8 pounds per gallon VOC that includes acrylic urethane pigments for color and a second ingredient that acts as an activator.
This paint contains 3/4 gallon of urethane resin and 1/4 gallon of activator, giving you one gallon of paint to spray. It's blended in a three-to-one ratio and may be reduced by 5% using a urethane-grade reducer if you want.
It seems to be a little thick out of the can and will need to be thinned with the reducer. It might also benefit from additional pigment since numerous applications are required to obtain the highest gloss level.
The scent of the primer may sometimes be strong and intense. Nonetheless, the gleaming jet-black results on curved metal are well worth the effort.
For the highest shine, you'll need several layers or coats. This paint is also UV resistant and can withstand a variety of weather conditions. Use your safety equipment while working with this paint since it has a strong and pungent odor.
It's our budget selection in the cars' best single stage paint for people for a low-cost, low-maintenance finish.
Pros
Hardening takes just a few hours.
Extreme weather resistance.
Highly UV resistance.
Cons
The odor is too strong.
It may need several layers for the best results.
3. SPEEDOKOTE Hot Rod Black Single Stage Paint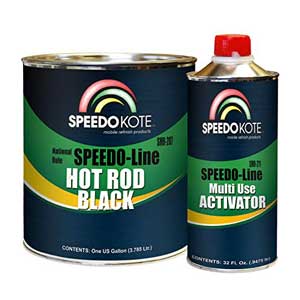 We all know that black is one of the most popular colors in the car business. And if you're anything like me, this product will be ideal for you. A gallon of urethane paint with 3.785 liters of liquid and a hardener with 0.9475 liters is included in the package.
4 to 1 is the mix ratio for this paint. Before spraying, you'll need to combine 4-part paint with a 1-part activator. If a thinner is required, up to 10% may be used; however, it must be a urethane reducer to preserve chemical compatibility.
The paint emits just 4.8 pounds of VOC per gallon. However, it cannot be used in California since the state's VOC requirement is stronger, requiring 2.8 pounds per gallon.
It's a 2K paint, which means it requires the addition of a hardener. That's why the product has a longer life expectancy than 1K coatings. The paint creates a jet-black texture that is consistent.
It dries quickly, reducing the amount of time between recoating. It is also effective in reflecting UV light. If you have an outside garage, it'll be a great investment.
The paint is chemically resistant as well as abrasion-resistant. It won't come off the surface. It's designed to give the same level of protection as a separate urethane SS topcoat.
Weatherproofing is also a strong suit for this product. A fluid-tipped HVLP spray gun should be used to apply the paint.
Pros
Great weather resistance.
Eye-catching color.
It dries quickly. Longer life expectancy.
Cons
Not usable in every state.
4. EASTWOOD Interstate Black Single Stage Acrylic Paint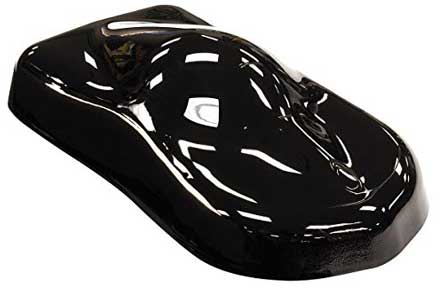 The EASTWOOD Interstate Black single-stage paint kit provides the deepest black shine you'll ever see. It's the blackest black available.
Ultra jet-black color pigments are appropriately grounded and treated for a long time to get this appearance. This product is only available in single-stage. It's also the most effective way of getting the darkest black glossy finish in your DIY project.
This Interstate Black is the highest available gloss black paint in the market (a gloss level of 95%+). It also gives a wet, shiny appearance and offers remarkable long-term beauty and durability.
Yeah, when it comes to durability, the paint can withstand 300-degrees without any hesitation. However, the color may change because of that; that's why it should not be used in a high-heat environment.
You can use this paint for durability and protection from UV rays and chemicals. You'll get one sprayable gallon after blending into a 3:1 ratio with the required Eastwood Medium Speed Activator for single-stage paints. You can cover almost 125 square feet of space with this one gallon.
This excellent 2-component topcoat solution from EASTWOOD combines premium raw ingredients with cutting-edge mixing technology. Overall, it's the best budget option for these 4 single-stage paints.
Pros
Simple solution.
Lowest price.
Highly durable.
Cons
Need an additional activator with the paint.
What to Look Before Buying Single Stage Paint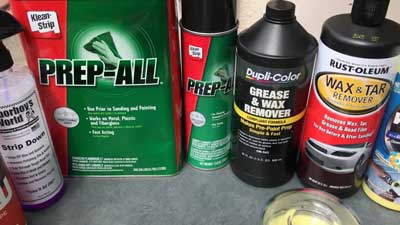 Single-stage paints aren't like conventional paints, and they need to be selected carefully since you only have one chance to do it right. These paints are designed to make your life simpler by simplifying the painting process.
Choosing the best single stage paint should no longer be difficult now that you've read our comprehensive reviews and products comparisons. However, if you're not happy with these options or looking for something else, here are the factors you need to consider before buying one.
Single Stage Paint Types
There are various kinds of single-stage paints available, each with its own set of characteristics:
1. Urethane
This is the most durable sort of single-stage available, and as a result, it is also the costliest. These paints are very resistant to fading and chipping and may last up to a decade!
This sort of paint is also simple to deal with since it isn't too runny and dries rapidly. They may also be used to cover over any old paint. However, it's not a good option for novices because of its application difficulty.
2. Acrylic Lacquer
For a long time, this was one of the most popular paints, and it remains one of the best options still now. Lacquer single stage paints are one of the simplest to work with and produce a fantastic level of shine, making your project seem particularly glossy and eye-catching.
However, this kind of single-stage paint is less durable since the color fades quickly.
3. Acrylic Enamel
These paints are a fantastic option since they produce a robust and lasting shell all over your painted surface when it comes to durability. These are available in single and double stage paint categories but are not recommended for beginners. This is because it is very tough to apply. Professionals also use the equipment before applying.
4. Acrylic Urethane
If you can't decide between lacquer and enamel, settle with acrylic urethanes to have the best of both worlds. This is a great bargain for any purpose, thanks to the durability of enamels and the ease of application of lacquers, as well as the fact that they are legal worldwide!
The only drawback is that they dry out quickly, which means you won't be able to take a coffee break after mixing.
VOC Count
You need to consider Volatile Organic Compounds (VOC) count. The products with a high VOC concentration emit poisonous gases that are detrimental to you and others around you and the environment.
Because these paints contain greater VOCs than topcoats, they are often not recommended by professionals, even if they are more efficient and cost-effective.
That's why, while looking for high-quality single-stage paint, make sure the VOC content is within a reasonable range or as low as feasible. In most jurisdictions in the United States, the regulatory limit for VOCs is roughly 4.6 pounds per gallon.
However, in Delaware, Indiana, and California, the maximum is approximately 2.8 pounds per gallon.
When working with single-stage paints, make sure you're wearing eye protection, gloves, head protection, a respirator, and aprons, among other things.
Polyurethane Level
Let's look at history to have a better understanding of this element. Most major automotive manufacturers moved from enamel paint to SS urethane paint in the late 1970s and early 1980s.
Polyurethane was one of the deciding elements in this. Manufacturers began using polyurethane in the formulation of SS paints to develop a product with superior adhesion and outdoor endurance (because of its UV resistance) than enamel paint.
This substance also makes Single Stage paints rust-resistant and eliminates the need for a topcoat finish. Purchasing an SS urethane paint with a high polyurethane percentage will therefore benefit you on all fronts.
Chemical Standard & Physical Quality
You may also evaluate your targeted paint's entire chemical and physical quality if your maker or vendor permits it. Check the consistency of the paint, for example, since this is an essential factor to consider if you want to spray-paint the product.
Other factors to consider include pigmentation, texture depth, and the paint's underlying components.
Depending on the kind of job and your preferences, pick between metallic, satin, gloss, high gloss, pearl, and other finishes.
Compatibility For Top-Coating
One of the advantages of single-stage paints is that they don't need any topcoats because of their glossy and long-lasting finish. If you want to apply a coat to improve the sheen and longevity, be sure the paint you choose is compatible with topcoats.
While this is essentially an all-in-one solution that does everything in one step, if you're going all-in with no experience, you're likely to run into problems with the application process and the quality of your product's finish.
That's why it's always a good idea to learn as much as possible so that you can better understand these paints and apply them more effectively.
Frequently Asked Questions
#1. Should I clear coat a single-stage painted car?
You can, but I'm not sure if you should! It depends on your expertise level. The single-stage paint products have technology that makes this possible. However, when it comes to restoration, you must use caution when applying a clear coat to an old vehicle that has been painted in SS.
#2. What's an activator, and why do we use it?
An activator, also known as a hardener, aids in the adhesion of the paint to the surface it is applied on. It also begins a chemical formulation with the paint to give a toughened finish that improves the painted surface's lifespan and gloss.
#3. Is it legal to change the color of your car?
There is a record of your car's original color from the time it was built. Repainting your automobile in a different color is not against the law. You may have to report about your paint job depending on the state you live in, but the vehicle's VIN number cannot be changed.
#4. How do I know if the paint I'm buying is compatible with my spraying gun?
Take a good look at the product description. It's safe to buy if the kind, tip size, and pressure range in the product description correspond to your spraying gun.
#5. How long does a SS paint job on a car last?
This depends on how often you use your car and how effectively you've protected it from the weather. If the automobile is well-maintained and used rarely, a decent paint job may endure up to 30 years. Everyday usage will shorten the paint job's lifespan significantly.
Conclusion
There are many different varieties of Single Stage Paints, each with its own advantages and disadvantages. Their use ranges from the restoration of vintage automobiles to the coating of maritime vessels.
So, it may cause your head to spin when you're out looking for the right one. There is, however, a way around it, obviously!
We created this guide to provide you the knowledge you need to pick the best single stage paint for your project without having to go through a sea of data.
So, take full advantage of it and make a buy that will last a long time.