An air-fuel ratio (AFR) gauge is a must-have tool if you want to tune and boost your car engine's performance. Thanks to its ability to display the precise reading of your car's air-to-fuel mix. As a result, you can easily fine-tune your engine to ensure optimal performance.
Moreover, an AFR gauge will help you determine whether your engine is running a lean or rich mixture. This will prevent you from subjecting your engine to unnecessary stress.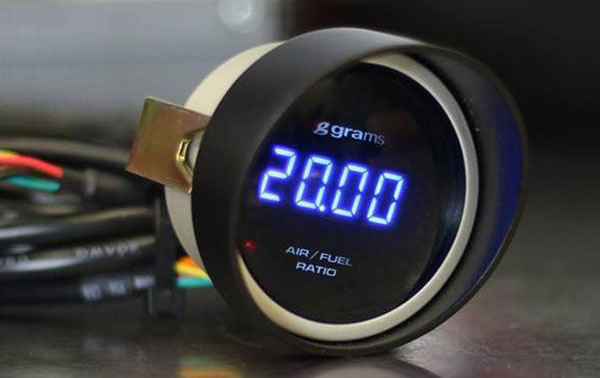 Better still, installing the best Air Fuel Ratio Gauge in your car will reduce emissions and improve fuel economy.
Unfortunately, choosing the top AFR gauge isn't that easy! Especially considering that there are so many Air Fuel Ratio gauges in the market.
In Hurry! Then Check Our Top 5 Picks:
At the same time, selecting a slow or an inaccurate gauge may cause the engine to run poorly or experience incomplete combustion.
Well, things don't have to take that path! In the article, we've listed some of the best AFR gauges out there right now! Check them out to find the ideal gauge for your high-performance engine!
8 Best Air Fuel Ratio Gauge Reviews
1. AEM UEGO Wideband Air Fuel Ratio Gauge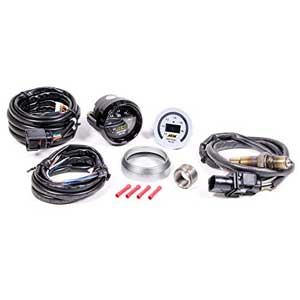 AEM products have exceptionally convenient features, making them one of the most popular brands worldwide. One such item is this 30-4110 wideband, which is a great option if you want a budget-friendly AFR gauge.
On top of that, this gauge is fitted with one of the most accurate oxygen sensors out there; Bosch LSU 4.9 sensor!
To be precise, this unit has a wide air-fuel mix sensing range of around 10 to 20 AFR. And since it's laboratory-calibrated, this gauge doesn't need free air sensor calibration.
This will eliminate any complications since you don't have to remove them regularly to calibrate them in the fresh air.
Another great feature offered by this unit is that it comes with an easy-to-read LED digital display. Moreover, this display has a color-coded needle, which shifts between black and silver. That way, you can easily track your engine's air-fuel mix as it changes from rich to lean.
Getting back to the gauge casing, 52 mm (2.01625") is a standard fit diameter. In other words, this AFR gauge with a sensor will fit most gauge pods, allowing you to mount it anywhere inside your car. In return, you can easily keep track of the engine's fuel ratios while driving.
On the same note, the gauge casing also makes this unit quite simple to install. Besides, the package comes with everything you need to get that task done.
For instance, you'll get the gauge, weld-in boss, sensor, and wiring. Therefore, you just need a drill bit and welder, and you're good to go!
Highlighted Features
Interchangeable faceplates and bezels
0-5V analog output
Compatible with most cars
Highly responsive and accurate Bosch UEGO sensor
Convenient LED display with color-coded needle
10-20 AFR range
2. GlowShift Black 7 Color Series Wideband AFR Gauge Kit for Cars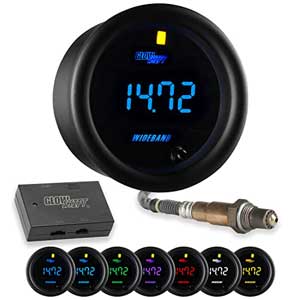 Glowshift Black 7 Series is another incredible AFR gauge. It will allow you to enjoy the benefits that come with installing an Air Fuel Ratio meter for tuning.
Hence, making it a great option for anyone who wants to tune the car's performance. More notably, it will allow you to closely monitor your car engine's air to fuel ratio with its cutting-edge design.
To start with the design, this wideband gauge has a black face and a low-profile magnified clear lens. And an easy-to-read, bright blue LED digital readout. However, you can choose the display color from the 7 options available.
Also, its gauge face features a 3 color LED ring, which indicates Optimal, lean, and rich air/ fuel mixtures. Interestingly, this trim ring matches perfectly with other items from the Black 7 series.
That aside, this 52mm shows the LED readings from 10 -20, allowing you to measure your truck's AFR accurately. While the 0 to 5V output enables you to connect the device to any engine management or data logging system remotely. That way, you can monitor this data in real-time to ensure more precise tuning.
Lastly, this kit comes with other items apart from the wideband air-fuel ratio gauge. As an example, it includes a 5 ft. power harness, 10 ft sensor harness, and 3 ft data logging wire.
Also, you'll get a gauge visor, mounting hardware, and more. This device will not take much of your attention or time while driving! Yet it will allow you to determine your car's AFRs at a glance.
Bottom line, we can say this is the best wideband gauge in the market.
Highlighted Features
Comes with 4.9 LSU Oxygen sensor
Fits in most gauge pods
10 – 20 AFR LED readings
Low profile magnified clear lens
3 color trim ring light
Ultra-bright digital readout
Cutting-edge and unique design
Self-calibrating function
3. Innovate Motorsports Wideband Gauge for Carburetor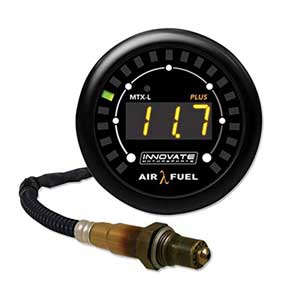 Manufactured by Innovate Motorsports, 3918 MTX is considered one of the best air-fuel ratio gauges out there. So, if you want a wideband that doesn't take a lot of time to give your AFR readings, it's such an incredible option.
Besides, it works faster, yet it's more accurate than most AFR gauges in the market. Thanks to the enhanced heat controls and Bosch LSU 4.9 oxygen sensor, ensuring a faster response.
However, there's more to this gauge apart from having a faster sensor frequency!
To start, the 52 mm gauge housing has a 3-digit digital display. Here, you can check the AFR or Lambda readings on different types of fuel.
Moreover, it's equipped with a programmable LED needle as well as interchangeable bezels and faceplates. So, if you want a customized design, you can select between gray or black bezels and black & white faceplates.
Although the LED doesn't show any numerical markings, it's easy to read and very accurate. On the same note, it displays various AFR levels ranging between 7.35: 1 and 22.4:1 AFR.
In addition, since the gauge has a 52mm diameter, it can easily fit in any car's exhaust system.
Regarding the calibration, this AFR gauge kit comes with a serial programming cable. That way, you can easily log data through the LogWorks software, which is quite simple to use.
On the downside, this is an old technique that may need a little more time and attention. Nonetheless, it will enable you to program the needle on the digital LED or calibrate the sensor.
Highlighted Features
Fast analog output speed
Bright LED digital display
7.35 to 22.4 AFR range
Advanced sensor control
Ideal for forced inductions and high-performance applications
Interchangeable parts and faceplates
Includes a software and data cable
4. GlowShift Tinted 7 Color Analog Wideband AFR Gauge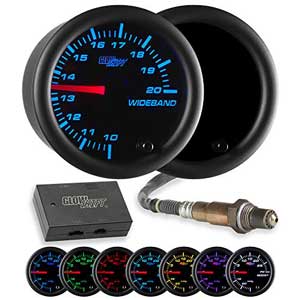 Most AFR gauges in the market only have 2 color options in their display. But with this Wideband gauge Tinted series from GlowShift, you can select from up to 7 different color options.
These colors include; white, purple, blue, red, green, yellow, and teal. Even better, you can select any of these colors by pressing a button on the gauge face.
Not to forget that it includes a color recall functionality as well. Therefore, you don't have to adjust it to your favorite color each time you start the car.
At the same time, the device features 2 color cycle modes that will make it more dynamic. Nonetheless, the needle is always red, making it easy to check the ADR readings with ease.
Moving on, unlike the wideband gauges we've listed above, Glowshift Tinted Series has an analog display. However, the display is simple to read since it has an Ultra-bright LED.
In addition, the gauge has a black face with a magnified tinted lens to improve visibility further. While the illuminated red needle uses stepper motor technology to ensure smooth needle movement.
Another thing that makes this gauge a popular option among drivers is that it's to monitor at night. Especially if you connect it to the headlight switch. That way, the gauge's LED display will dim 30%, making it easy to check the readings while driving at night.
That aside, this 52mm gauge provides AFR readings ranging from 10 – 20 AFR. That way, you can easily map, monitor, and fine-tune your car engine's AFR when necessary.
At the same time, this unit has a very durable design since it is made up of alloy steel.
Highlighted Features
Comes with weld-in bung, power harness, oxygen sensor, and more
2 color cycle modes and 7 color settings
Magnified tinted lens
Bright LED analog display
An illuminated red needle
10 – 20 Air-to-Fuel Ratio readings
5. MaxTow Double Vision AFR Gauge Kit for Trucks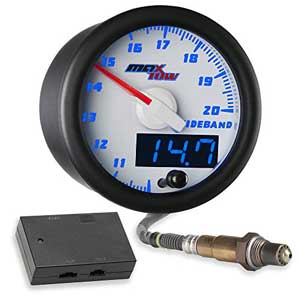 With this Double Vision AFR kit from MaxTow, you can easily monitor the engine's air to fuel ratio. Thus helping you to enjoy various benefits like maximized horsepower and engine performance.
However, unlike most AFR gauges, this unit is specifically designed for trucks. For that, it's even considered the best Air Fuel Ratio gauge for truck owners.
But, what's so great about this AFR gauge kit?
First, this package comes with everything you'd expect to find in a quality AFR gauge kit. As an example, it includes a 5ft power harness, 7ft gauge, 3ft data logging wire, and 10ft sensor harness.
That's not all! You'll also get a gauge visor, weld-in bung, installation instructions, and mounting hardware. More importantly, the kit includes a 4.9 LSU oxygen sensor.
Simply put, installing this AFR gauge to your truck's exhaust system will be such a fast and simple process. Besides, the gauge features a plug & play connectivity, allowing you to connect it directly to the exhaust system.
The other thing that makes this AFR gauge stand out is that it has both digital and analog readouts. Thanks to the blue digital numerical readout on its white face and illuminated red needle.
This is powered by stepper motor technology, allowing it to sweep 270 deg smoothly. Nonetheless, both readouts display AFR readings ranging from 10.0 to 20.0 AFR!
Lastly, the Double Vision AFR gauge has 6 inbuilt light dimming levels. That is; 3 modes for nighttime and 3 levels for daytime driving. Surprisingly, the device will remember your preferred settings even after turning off the truck.
Highlighted Features
Double vision technology
52 mm (2 1/16") black face gauge
Included digital and analog readouts
3 nighttime & 3 daytime dimming settings
Reads AFR range to 1 decimal place (10.0 – 20.0)
Designed for trucks
6. Auto Meter 4379 Ultra-Lite AFR Gauge Kit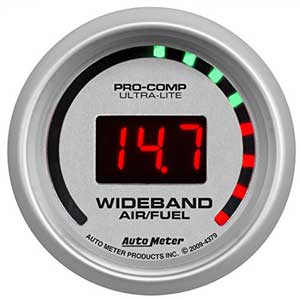 Contrary to the MaxTow Double Vision AFR gauge, the Auto Meter 4379 is specifically designed for race and streetcars. Thanks to its ability to work with the 12 – 16 V electrical system of most race cars.
On top of that, this unit has several other unique features. Starting with the fact that it emits a 0 to 4V output installation.
Even better, you can transfer this output into most ECUs, data loggers, and laptops operating tuning software.
However, if you don't have a laptop, the unit is fitted with a bright LED display. Here, you can see the air/ fuel ratio of your race or street car's engine with ease.
Besides, the device also includes a radial bar graph, where you can also check the data. Combine, these displays ensure that you get highly-accurate readings.
Regarding the AFR range, this device shows an air to fuel ratio between 10 and 17. More notably, this display has a 0.1 resolution, allowing you to determine the AFR even when it changes by 0.1. As a result, this will give you enough time to shut down your car engine before any damage happens.
As a drawback, this gauge undergoes a 15 to 0 seconds countdown when you start your car. Other than that, it's a useful tool to have in your street/race car.
The kit will come with an 8ft wiring harness, Bosch LSU 4.2 oxygen sensor, and weld-in stainless steel bung. Besides, you'll get installation instructions and mounting hardware for convenient installation.
Highlighted Features
Includes LED radial bar graph & digital LED display
Ideal for 12 – 16V electrical systems
0 – 4v data output
Suitable for most race and streetcars
Compatible with most ECUs, laptops operating tuning software, and data loggers
Bosch LSU 4.2 Oxygen sensor
7. AEM Wideband UEGO X-Series Air/Fuel Ratio Gauge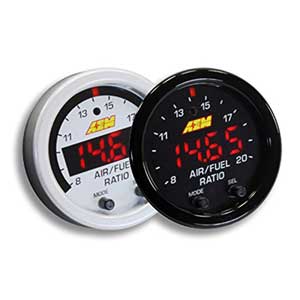 An independent test was conducted to compare the performance of this AFR gauge and 17 other competing products. Surprisingly, this X-Series from AEM emerged as the fastest Wideband AFR gauge. And various reasons explain its fast responding time!
First, like other AEM UEGO gauges, this device is designed with 100% patented digital technology. In this case, it features X-Digital technology, hence the 'X-Series' phrase in its name.
Getting back to the main point, this technology allows this device to display values other similar gauges cannot! As a result, the units experience a much faster response time, thus improving the wideband feedback control.
More notably, this ensures that you conduct a robust, safer, and more precise tuning.
Another benefit of this AFR gauge is that reading the current status of your engine's air-to-fuel ratio is easy. Thanks to its center display, which is around 87% bigger than some AEM models including the 30-4110 gauge.
At the same time, the 7-segment display plays an important role in enhancing the device's faceplate. Yet, you can customize the appearance by switching between silvery-white and all-black combinations.
Moreover, this unit has display buttons that allow you to set various AFR values based on the fuel type. On the same note, these buttons allow you to change the oxygen level, Lambda values, and AFR values.
As for the range, the AFR value ranges from 8 to 20 AFR. Whereas the lambda values start from 0.55 up to 2.00 AFR.
Highlighted Features
Comes with Bosch 4.9 LSU wideband sensor
Slim 0.825" gauge depth and 52mm gauge diameter
Shows lambda values ranging from .055 – 2.00
Patented X-Digital technology
Factory recalibrated resistor
Includes a 0- 5V output port
8. HOTSYSTEM 7 Color Narrowband AFR Gauge Kit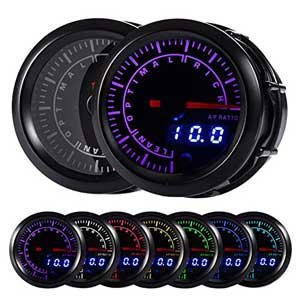 Most air-fuel ratio gauges we've reviewed up to this point are wideband AFR gauges. However, there is another common type known as narrowband.
The only issue with narrowband gauges is that they offer general readouts without accuracy. Other than that, they perform the same task as their wideband counterparts.
That said, let's check out the HOTSYSTEM AFR gauge kit review. Bearing in mind that it's considered the best Air/ Fuel Ratio gauge for carburetor you'll ever come across!
First, as I've already stated, narrowband gauges aren't as accurate as their wideband alternatives. Well, this unit from HOTSYSTEM is no different.
Nonetheless, this device provides accurate air-fuel ratio readings at sea level. Besides, it comes at a very affordable price, making it a great option for car owners on a tight budget.
Putting the issue of accuracy aside, this AFR gauge has some incredible features! For instance, it's one of the easiest AFR gauges to install since it connects straight into the narrowband oxygen sensor.
On top of that, the package comes with everything you need to install it including installation instructions and 1.94 ft electric wiring.
Also, this AFR gauge features an innovative design. This includes; magnified clear lens, analog display, illuminated red needle, and a black gauge dial.
Better still, the LED display allows you to select between 7 color options. Therefore, it will help take air-fuel ratio readings and improve your car's interior at the same time!
Overall, this device will help you monitor your car's air to fuel ratio from 10.0 – 20.0. More importantly, it will enable you to adjust this ratio and enjoy all the resulting benefits.
Highlighted Features
52 mm black face AFR gauge
Blue digital LED screen and analog display
7 LED color settings
Plug & play operation for fast installation
Ideal for car truck
Red illuminated pointer
What to Look for Before Buying an Air Fuel Ratio Gauge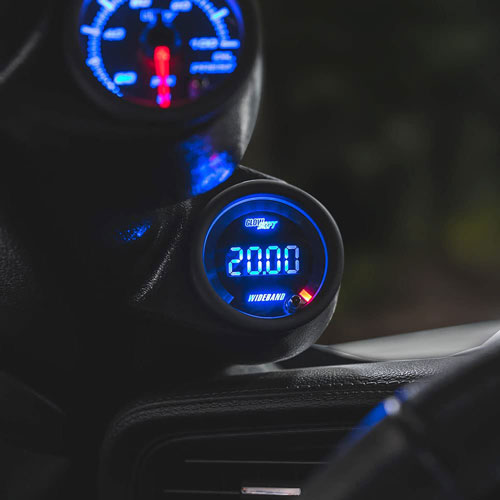 Finding the best Air Fuel Ratio gauge can be a lot harder than you would expect. Especially if you don't know the exact aspects you should be looking for when buying one.
Thankfully, this buying guide can help you with that! Thanks to our detailed list of the essential factors you should consider before you make your final decision. Some of those aspects are;
Type of AFR Gauge
Typically, there are only 2 types of air fuel ratio gauges; wideband and narrowband. In comparison, wideband gauges provide a higher performance level than their narrowband counterparts.
Moreover, wideband gauges are fitted with oxygen sensors. This helps them to measure the oxygen to fuel ratio with more accuracy.
Afterward, the data output from this sensor is processed by a computer. Hence, converting it into the numerical figures that appear on your display.
Even better, the ECU uses this data to determine the optimal AFR that will improve efficiency and lower emissions.
Bottom line, wideband units are the preferred type of AFR gauge. More notably, the best AFR gauges out there are usually within this category.
Accuracy & response time
Response time demonstrates the amount of time the gauge takes to show the recent AFR ratio on the display. On top of that, the device should have the ability to measure the ratio with high precision.
Unfortunately, it's a little difficult to determine how well the gauge will work before installation.
For that reason, it's good to choose a unit with Bosch sensors like the LSU 4.9 since they perform exceptionally well.
As for the response time, look for a device that doesn't lag for more than 0.5 s. This will help you avoid transmission delays which can lead to imprecise tuning and engine recalibration.
Compatibility
Most AFR gauges are compatible with simple electrically-driven engines. However, some units use a different voltage from the system.
Besides, all vehicles don't have the same voltage.
For instance, the electrical system running through some engines can only handle 12V. While other systems can handle as high as 20V.
Note, using an incompatible AFR gauge can affect the recording or even damage the device.
Therefore, it's important to check the gauge's voltage before you install it in your car.
On the same note, make sure you buy an AFR gauge that's compatible with your car's engine and fuel type.
AFR Range
Lastly, the air to fuel ratio displayed on an AFR gauge tends to vary from one device to another. As an example, one unit may have an AFR range of around 8:1 – 20:1.
While another gauge will only display ratios ranging from 11 to 17.75. Either way, it's important to choose a gauge with a wider AFR range.
Frequently Asked Questions
#1. What is the best air-fuel ratio?
14.7:1 is considered the most efficient and best air-to-fuel ratio. Besides, it ensures the lowest emissions and delivers the best fuel economy.
For those reasons, it's ideal for light throttle cruising applications and idling.
#2. Is wideband and AFR the same?
AFR (Air-to-Fuel Ratio) gauges have 2 types of oxygen sensors; Wideband and narrowband.
While Air-to-Fuel Ratio refers to the mass of oxygen to the mass of fuel in the combustion chamber. Therefore, AFR and wideband refer to different things.
#3. What is a rich AFR number?
Any Air-to-Fuel Ratio less than 14.7:1 is considered an AFR-rich mixture. On the contrary, any mixture that is greater than this AFR number is lean.
#4. Is it better to run lean or rich AFR??
Although running a rich AFR doesn't damage the engine, it increases pollution and fuel wastage.
On the other hand, running a mixture that's too lean causes the engine to run too hot, which may lead to engine failure.
With that in mind, it's good to run a little lean AFR since it will provide extra power and improve fuel economy.
Conclusion
To sum things up, the best Air Fuel Ratio gauge kit is an essential component for tuning engine performance.
Besides, it will help you improve your car's air-fuel ratio in its combustion chamber. As a result, your car engine will deliver maximum output as well as improved efficiency.
Thankfully, there are various air-to-fuel ratio gauges in the market with superior quality. Not to forget that our comprehensive list has narrowed the top choices for you.
So, check them out and choose the ideal AFR gauge that will improve your car's performance.