Almost every car out there comes with a clear coat lacquer. But, as you would expect, these factory-applied clear coatings start to show degradation signs like cracking, peeling, or yellowing over time. 
If that's the case with your car or truck, don't worry! That's because multiple car manufacturers produce incredible automotive clear coats with excellent performance, longevity, and quality. Therefore, you just need to find the best high solids clear coat and restore your car to its original glossy finish. 
You need to be careful though since not every automotive high solid coat out there will be appropriate for your needs. Besides, with so many types of clear coats in the market, choosing the right option for your car can be a little difficult. 
Fortunately, this guide will help you choose the best high solid clear coat you can make your car/ truck look brand new again. Thanks to our detailed reviews of the top-rated clear coats in the market at this moment. 
First, here's what you need to know about clear coats and why you need them for your car! 
Why high Solid clear coats? 
As the name suggests, a 'Clearcoat' is a non-pigment automotive body finish, meaning you will not see it on your car. But it's applied over the top layer of your external paint job, thus protecting the underlying paint from damage.
In addition, it provides the vehicle with exceptional hardness and resistance to various chemical and mechanical agents. At the same time, the clear coat will protect the car from scuff and scratches. As a result, you don't have to redo or touch up the entire paint job when wear & tear occurs. 
Another thing worth mentioning is that clear coats are made of some kind of 'solids' and solvents. Consequently, various types of clear coats can be categorized according to the solids' content in their formula. 
In essence, the solids' content will determine the topcoat's thickness after drying. On the same note, this will determine the number of layers you need to apply to accomplish the desired thickness of the topcoat once it dries.
 In that regard, clear coats can be broadly classified into high solids & low solids clear coats. However, in this case, we'll only be focusing on high solid clear coats.
Generally, high solids clear coats require a few layers to get the desired thickness. As a result, you'll be using less material, helping you save money in the long term. 
That aside, here are 2 main functions of applying a clear coat to your car; 
1. Protective function 
Applying a clear coat on your car gives it adequate hardness to resist outside elements. This protects it against chemical agents like detergents, oils, and fuels or mechanical agents like scratches, dirt, and bird droppings. A clear coat makes it easy to clean these elements off your car surface. 
Moreover, it provides a strong layer that protects the colored coat from atmospheric agents like UV radiation. Such factors can damage the paint or cause it to fade, this affecting its longevity. 
2. Aesthetic purposes
Another benefit of applying clear coats is that they add shine to your car's exterior. Besides, clear coats are considered some of the most important parts of a car's finish. So, apart from protecting your vehicle against external elements, clear coats will determine its physical appearance.  
In addition, the type of high solid clear coat you apply will determine the type of your car finish paint. Luckily, there are various options available including matte finish, satin as well as glossy finish.
Also, you can use them to enhance the visual effects of some colors like pearl or metallic colors, due to their transparent nature.
With that out of our way, let's look at some high solid clear coats worth buying! 
5 Best High Solids Clear Coat Reviews
1. Speedkote SMR-42/75 Premium High Solids Clear Coat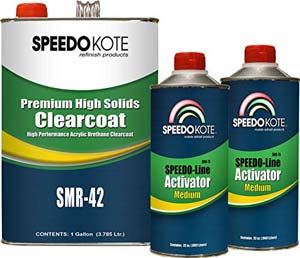 Sunlight exposure is one of the main challenges that a car's exterior encounters. Interestingly, with just 2 layers of the high solids clear coat from Speedkote, you can solve that issue once and for all.
Thanks to this high-performance formula's outstanding resistance to UV radiation. For that, you can rest assured that your car's paint joint will not fade when exposed to sun rays. 
Better still, this 2k acrylic urethane clear coat is chemical resistant as well. This is because it forms a rock-hard armored shell on drying. As a result, it gives your car exceptional protection against any elements it may encounter while on the road. As an example, it is tough against oil, chemical agents, road cleaning chemicals, etc. 
As if that's not enough, applying this formula is quite simple, yet it's fast drying. Specifically, it takes about 4 – 6 hours to cure after application. Nonetheless, it will leave your car with a smooth, shiny finish, making it look new in no time. 
As for application, the Best speedokote clear coat kit comes with 128 oz (1-gallon) of clear coat formula and 2 bottles of 32oz. (1 quart) of activator.
That said, mix the clear coat formula and the activator in a ratio of 2:1. Once you've done that, give the mixture a short window, then spray it down on your car with a 1.3mm tip gun. 
As a drawback, mixing the 2 components may slightly complicate the application process. However, if you only mix the exact quantities you need with the recommended mix ratio, the process will be much easier and faster. Besides, you can apply this formula to any vehicle in temperatures ranging from 65 to 80 deg F. 
Pros 
Delivers a chemical- & UV-resistant coat
Cures in 6 hours
High gloss finish
Easy to apply
Cons 
A little pricey
Requires some mixing and a spray gun to apply
2. U-POL 2892 High Solids Urethane Clear Coat Kit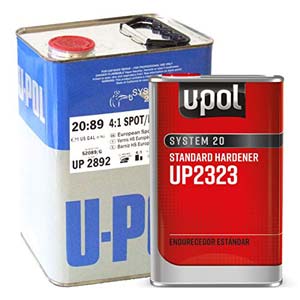 U-POL is ranked among the best surface protection product manufacturers in the world. It's based in various countries including the United States, Russia, the UK, New Zealand, China, Australia, and many others.
More notably, they are well-known for manufacturing top-notch formulas that deliver a solid performance. Well, their 2882 Universal high solids urethane clear coat is no different! 
For starters, this clear coat is made up of high-standard European resins. To be precise, it's crafted from urethane using nano-particulate technology. On top of that, you'll get a standard hardener for activating the clear coat formula.
In general, these components should be mixed in a ratio of 4:1. In return, this will give you an easy-to-apply mixture that you can use for longer. 
One thing that makes this product easy to apply is that it has non-sag properties and excellent flow. After application, this clear coat will leave your vehicle with a high-build, UV-resistant finish.
Moreover, the layer offers excellent resistance against abrasion and scratches. Better still, the deep, clear finish will make it stand out when applied to your car. 
When it comes to drying, you can use various techniques to speed up this formula's curing time. As an example, you bake it, use InfraRed or even air dry it.
Regardless of the approach you use, the formula will leave you with a durable layer with incredible resistance against normal weathering, rock chips, and dust abrasion. 
On the downside, this clear coat is not available for sale in some states like California. However, it's compliant with the 4.4 national VOC content level, meaning it's available in most states across the country. 
Pros 
Suitable for all base coat applications
Abrasion-, scratch- & UV-resistant 
Highly protective 
Easy application 
Delivers a flawless, high-gloss finish
Cons 
3. Matrix Automotive Finishes MS-42 Premium High Solids Clear Coat Kit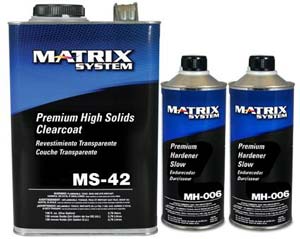 Manufactured by Matrix Automotive, the MS-42 is another great high solids clear coat you can apply on your car. More notable, it's specifically designed for the panel as well as overall refinishing. Best of all, it has excellent durability and a high gloss finish, making it one of the best high solid clear coats out there. 
To start with the packaging, this kit comes with 1 gallon of clear coat and 2 premium MH-series hardeners of 1 quart each. Therefore, like other products we've reviewed above, you have to mix these 2 components to activate the formula. According to the manufacturer, the ideal ratio for mixing the clear and hardener is 2:1. 
Interestingly, when mixed properly, this will result in an easy-to-apply formula with anti-sagging properties and great flow. Consequently, it will allow you to achieve excellent results with an ultra-gloss clear finish. 
Still, on application, the resulting mixtures should be sprayed within 30 to 60 minutes after preparation at 25 deg C (75 deg F). So, make sure you paint your vehicle and finish the task within this duration. 
The only issue with this product is that its pot life shortens as the temperature increases. More importantly, it's not ideal for applications in temperatures below 65 deg F. Other than that, it provides easy polishing, great vertical stabilities properties, and excellent durability! 
Pros 
Excellent gloss & longevity 
Great flow & anti-sagging properties 
Ideal for panel and over refinishing 
Provides easy polishing 
Comes with 2 premium hardeners 
Cons 
Short pot life 
Not ideal for use in temperatures below 65 deg F
4. ACME Finish 1 Ultimate FC720-1 High Solids Urethane Clear Coat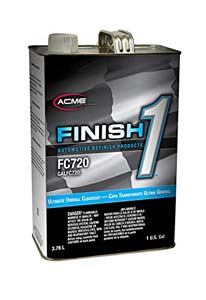 Unlike most products on this list, ACME Finish 1 high solid clear coat doesn't come with a hardener. Instead, the package comes with a pack of 2 1-gallon automotive clear coats. 
However, this doesn't mean that you need to buy the hardener/ activator separately. This is because FC720-1 comes with a ready-to-use formula, making it one of the easiest clear coats to apply out there.
Besides, you'll be getting both the hardener and clear coat in one, making it quite affordable as well. 
Another stand-out feature offered by this formula is that it provides a durable shine and gloss. Thanks to the 4.23 VOC high solids urethane used to make this automotive clear coat. Even better, this makes it the best high solids clear coat for the spot as well as multi-panel repairs.
Moving on, this clear coat is highly versatile, seeing that it can be applied to most vehicles out there. For instance, you can apply it to cured single-stage enamels as well as basecoats.
Nonetheless, it provides the ultimate protection against scratches and abrasions with its durable & professional finish. In addition, it protects the surface against UV radiation, thus preventing the paint job from fading. 
Lastly, this clear coat has an ultra-quick drying time. Specifically, it takes about 30 minutes to dry in force-dry environments. However, you can apply it in an air-dry environment as well.
To sum things up, the FC720-1 4.29 VOC clear coat is an excellent option for restoring and refinishing your vehicle's appearance. Best of all, you only need 2 applications of this formula to accomplish that! 
Pros 
Extremely easy to apply
High-gloss finish 
Suitable for force-dry and air-dry environments 
UV-protection
Exhibits durable gloss and shine 
Fast drying time 
Cons 
It May take up to 24 hours to air dry
5. Roberlo Kronox UHS Clear Coat Kit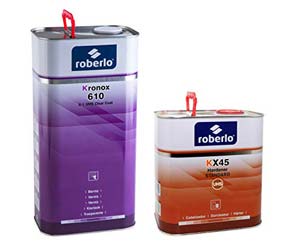 Despite appearing last on the list, Roberlo Kronox 610 is another great option for anyone looking for the best high solids clear coat. And although it comes with 2 components, it has an incredibly simple and pleasant application.
For that reason, it's one of the most user-friendly clear coats you'll ever come across. 
On top of that, this product is ideal for all users as well as partial or full repairs. For instance, it delivers a quality finish for various types of vehicle body repair applications.
Besides, like other UHS clear coats, this formula requires the application of fewer layers to accomplish the desired thickness. Also, it's VOC-compliant since it complies with the European Environmental legislation on airborne emissions. 
Regarding the packaging, this kit includes 5l of UHS clear coat and 2.5l of KX45 hardener. Typically, these 2 components should be mixed in a ratio of 2:1. Interestingly, you can use the clear coat with other products from Roberlo like Versis Premium primer as well.
Getting back to the hardener, this particular kit comes with the standard hardener. But as you know, Roberlo KX series hardeners are available in other formulas namely; fast and slow. 
That aside, this clear coat features an ultra-fast drying time. To be precise, it takes 10 minutes to dry at 50 deg C, yet it doesn't compromise the quality of the outcome. Similarly, it has a rapid curing time, which allows early polishing. 
Pros 
VOC compliant 
Rapid curing time 
Easy application 
Excellent gloss finish 
Ultra-fast drying time
Cons
Requires some mixing before application  
How to Spray High Solids Clear Coat:
High solids clear coat is a transparent layer of paint applied over the base coat to protect it from UV radiation and damage. In addition, it provides a glossy finish that intensifies the color quality of the base coat and makes it easy to buff out scratches. 
Interestingly, applying a clear coat over your car's basecoat is a relatively simple task. However, before you get to the actual application process, make sure you wear a respirator.
This will protect you from inhaling considerable amounts of paint, which can have adverse effects on your health. Also, wear latex gloves and lint-free clothing. More notably, choose the best high solids clear coat and use masking tape to cover any surface you don't intend to coat with the paint. 
Next, use 400-600 grit sandpaper to grind down the peeling coat from your car. Doing so will ensure that the surface you're working on is smooth. As a result, the new layer of clear coat you intend to apply will go on perfectly.
After preparing the surface, hold the spray gun 6-8" away from the surface. Then spray a light coat of high solid clear coat all over the car body.
While doing so, keep the paint wet and thin to shorten the drying time and ensure uniform application. Leave the paint for about 10 minutes to allow it to dry before you apply another coat. 
Once the 1st layer has dried, apply the 2nd coat slowly and carefully to the car body to avoid imperfections and drips. Now, let the paint sit for at least 1 hour to set and cure properly. As part of clear coat maintenance, gently wash and wax the paint regularly to keep it looking fresh! 
Frequently Asked Questions 
1. What's the meaning of 'high solids' in clear coats?
High solids mean that the clear coat has a small amount of VOC/ solvents and a higher level of resin. As a result, they have a deeper appearance and more UV protection than the same amount of applied layers of lower solids clear coat.  
2. What's the difference between High Solids (HS) and Medium solids (MS) in a clear coat?
The most notable difference between these clear coats is that High solids have smaller resin particles than Medium solids clear coats. 
3. Why did my clear coat turn cloudy?
The main factor that can be causing your base or clear coat to have a milky/ cloudy appearance is high humidity. 
4. How many coats of HS clear coat should you apply?
In general, applying 2 coats of HS clear coats provides the best results. The 1st coat offers UV protection, while the 2nd coat extends the paint's longevity. If you're planning to buff or sand the surface, you can apply a 3rd coat. 
5. What is the best way to polish a clear coat? 
Hand polishing is considered the best method for removing minor swirls and scratches on clear coats. However, to get rid of deeper paint defects, you'll need a polishing machine. 
Final Words 
Initially, choosing the best high solids clear coat for your car may seem like a difficult task. However, after understanding the properties to look for, selecting the perfect product for your needs will be quite easy.
More importantly, this will ensure that you can remain sleek and beautiful for several years to come. Besides, it will protect your car's exterior from environmental elements and scratches, while giving it a professional shine.