Creating a profile around the edge of a workpiece is a regular activity in the woodworking shop. A radius, or round over, is by far the most popular profile.
Round over bits is used for anything from merely shaping the corners of a workpiece for the better aesthetic and tactile appeal to producing round overs as part of the overall design. Round over bits may also be used to make bullnose and thumbnail profiles.
How Do I Determine Round Over Bit Size?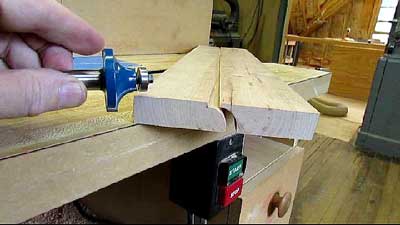 The radius of the curve you want determines the size of the round-over bit you use; these two are 3/4″ (above) and 1/16″ (below). Round over bits are sized by radius and are ideal for smoothing harshly squared edges.
The sizes range from a 1/16″ radius that hardly breaks a square edge — in fact, unless you have a lot of edges to round over, you would be better off using a sanding block — to a 1-1⁄2″ radius bit that is probably considerably greater than most woodworker would require.
(There is even bigger round over cutters, but they're more for industrial use.) You Kehonrakennus virtuaalitodellisuuden kuntosalilla zudena 100 mennessa suomessa udenafil la vera scuola del bodybuilding naturale ora esiste can purchase a kit with a variety of bits, but if you're anything like me, you'll use the 1/4″, 3/8″, and 1/2″ radius bits the most.
Round over bits are often used to make a smooth, uniform curve on a workpiece, but they also feature one sharp cutting edge at the bottom of the radius that, when completely extended, forms a 90-degree cut at the top of the round over.
A round-over bit creates a beautiful thumbnail edge when used in this way. A beading bit is a variant of the round-over bit that features 90-degree cutting edges on both the top and bottom. The bit generates a curve with a 90-degree corner on either end.
What Router Bit Size Do I Need For 3/4-Inch Wood?
In short, for 3/4″ thick material, a 1/2″ Radius bit is the standard. You'd use a 3/8″ bit to round half the thickness and a 1/2″ bit to round three-quarters of the thickness if you want one flush edge.
The round over radius is used to calculate the round over bits, as I have told you before. A 3/4″ round-over bit would, thus, round the whole edge of 3/4″ thick material into a quarter circle shape.
Best Router Bit For 3/4 Wood
#1. Freud 1/2″ Radius Rounding Over Bit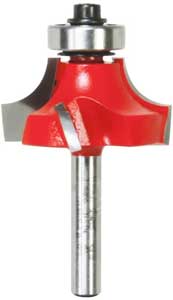 Freud Router Bits are renowned for their high quality, accuracy, and long cutting life. Freud's bits are meticulously created utilizing the best materials and the industry's most advanced production procedures.
Quadra-Cut and Double-Grind are two groundbreaking, inventive designs found in Freud's bits. Freud's original breakthrough design ensures a faultless finish with no rework.
To achieve a splinter-free finish, this four-cutter design contains two big cutters that shear upward and two smaller cutters that shear downward.
You can cut all materials including plywood, hardwood, and softwood with this tool.
You can use it on both portable hand-held and table-mounted routers.
You can also buy this Freud 3/8" Radius Rounding Over Bit along with the ½" bit if you want one flush edge.
#2. Yonico 1/2″ Radius Round Over Edge Forming Router Bit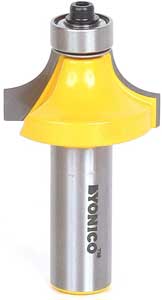 Yonico bits make a clean cut without tearing the board. It also helps if you're on a budget since they're cheaply priced than Freud's while yet delivering the same functionality as pricier pieces.
To ensure accuracy, the router bits are also balanced. This will result in more accuracy and a better outcome than the anticipated outcomes.
The router bits do not vibrate, ensuring a pleasant working experience. The router bits also have an industrial-grade grip, so they don't slide about and harm the structure of the project.
You can use it with a tabletop router and a handheld router.
Create little moldings to be used alone or as part of a molding build-up, or add a round over edge to a variety of surface edges and projects.
You can also buy this Yonico 3/8-Inch Radius Rounding Over Bit along with the ½" bit if you want one flush edge.
Should I Buy a Set or Individual Router Bit?
I'm not a big supporter of purchasing additional tools merely to have on hand, but having a limited range of low-cost router bits on hand may be useful. So I'd grab a basic set of bits plus a handful of the specialized components I'll need and go to town.
Final Verdict
You need to know where your router bit originates from. Whether you spend $3.00 or $3,000 on your bit, you want to ensure that you receive your money's worth.
While many firms make decent router parts, go with a well-known brand. You'll be happy with any of the two round-over bits mentioned in this article for working on 3/4" wood!