Impact sockets might be an alien term to those who don't work with automotive maintenance and repair. However, these heavy-duty sockets are manufactured to perform well under tough conditions and are not affected by high strength, pressure or temperature.
Among all the brands you can find in the market, Sunex and Grey Pneumatic are the most popular when it comes to impact sockets. So let's see how they fare against each other by comparing Sunex vs Grey Pneumatic tools.
A Brief About Sunex
Sunex Tools is a company that has been here for over four decades while working on designing and manufacturing innovative tools for the automotive industry.
One of their most prominent product lines is the impact sockets. Their reliable design and engineering enable these impact sockets to deliver high performance at a budget-friendly cost.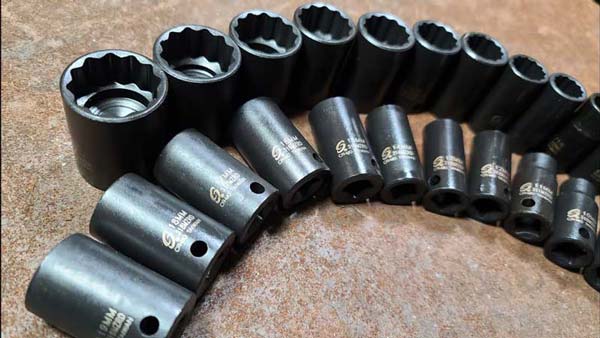 The Sunex impact sockets are mostly known for their precise fitting and excellent grab-and-hold. You will also find a range of sizes and prices which will help you to choose the one that suits your requirements and affordability the most.
Features Of Sunex
Highest Torque
One of the main objectives Sunex Tools had was to provide the highest torque through its impact sockets.
Many of them have radius edges whose presence can protect you from being harmed by the sharp corners of fasteners. Because of this design, you can apply more torque without the risk of stripping a bolt head. You can ensure a tight fit while also reducing such risks for both yourself and the hardware.
Chrome-Molybdenum Alloy Steel
Chrome-molybdenum alloy steel is known by other names like chromoly and chrome-moly steel.
This particular material is meant for uses that require withstanding high pressure and temperature. Additionally, its manufacturing process includes treatments that ensure high corrosion resistance and tensile strength. As a result, it is one of the most preferred materials for making impact sockets.
Sunex also utilizes chrome-moly steel to build its impact sockets so that the users can take advantage of its convenient properties.
Variety Of Drive Sizes
The impact socket collection of Sunex comes in a wide variety of drive sizes. They can come either in sets or as individual pieces.
In both of these cases, you can find the sockets having a drive size of ¼ inch, ⅜ inch, ½ inch, ¾ inch, 1 inch, 1½ inches or #5 spline. As you can see, they offer all drives you would need for a particular task.
Color-Coded Markings
Since these sockets come in a wide variety of sizes, it might take you too long to identify their sizes from afar. It must get tiring and frustrating at a point if you have to do this every time you need to take a new piece of impact sockets.
That is why the Sunex pieces come with colored rings so that you can detect the size without picking up the impact socket.
Heavy-Duty Storage Case
One of the biggest reasons behind both beginners and experts choosing Sunex impact sockets is the storage case they get with it. Especially if you are investing in a set of such tiny tools, it is definitely a better option to have a case that can store all of them in an organized manner with the color-coded rail straps.
This storage case is made to be quite sturdy, but it doesn't get too heavy for you to carry it around with all the sockets inside. So you can take everything you need anywhere with you utilizing this one heavy-duty blow-molded case.
A Brief About Grey Pneumatic
The brand of Grey Pneumatic is centered around impact and specialty sockets. Since its inception in 1989, this global brand has manufactured and supplied more than 4000 impact sockets and similar accessories for multiple industries including automotive, construction, mining, maintenance, assembly, and wind power.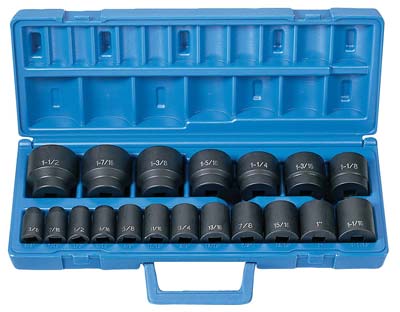 All of their tools, including impact sockets, are manufactured in Taiwan while maintaining state-of-the-art designs and standards.
Features Of Grey Pneumatic
Variety Of Sizes
Similar to Sunex Tools, the impact socket collection of Grey Pneumatic also comes with a wide variety of drive sizes.
By peeking into their impact socket sets, you will find drives with ¼ inch, ⅜ inch, ½ inch, ¾ inch, 1 inch, and #5 spline sizes. Among them, the ¼-inch size comes in the hex drive form as well. The sets can also be divided into subcategories like 4-point, 6-point, 6S-point, 8-point, 12-point, adapter, and extension.
On the other hand, the individual impact sockets come in all the drive sizes mentioned for sets, as well as two additional sizes of 1½ inches and 2½ inches. When it comes to subcategories, they have the previously mentioned options, along with a new one of 5-point.
Steel Alloy Material
Grey Pneumatic uses the standard chrome-molybdenum alloy steel of the highest quality to manufacture their impact sockets. This sturdy steel alloy material makes their tools more durable since the pieces are highly resistant to shattering or cracking. They can work with high temperatures and pressure with ease.
Good For Casual Use
While the regular, shallow, and deep impact sockets from Grey Pneumatic work fine, the impact swivels come with some durability issues. Either their pins break down or they themselves get floppy and loose. So they are not recommended for professional uses.
However, these impact sockets are more appropriate for casual or occasional use since using them heavily daily can lead to faster wear and tear. You can use them at home, startup techs or as backups.
Lighter Storage Case
Originally, the cases provided with Grey Pneumatic tools used to be made of old metal. They have recently upgraded their case design and started to develop it into a blow-molded one. Now you can use them to organize all the sockets and secure each piece to its designated position.
This ensures protection by keeping them from moving during transportation. Additionally, the overall weight also goes down since the current material is much lighter than the old metal.
Comparing Grey Pneumatic Vs Sunex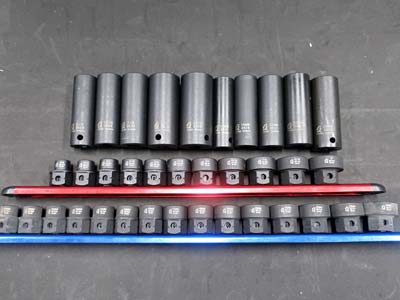 Uses
The impact swivels from Grey Pneumatic are more suitable for casual use at home or tech startups. However, other regular impact sockets from this brand can provide higher durability and resistance. In comparison, Sunex impact sockets offer a wider spectrum of applications.
Material
Both Grey Pneumatic and Sunex manufacture their impact sockets with the same material – chrome-molybdenum alloy steel. That shouldn't come as a surprise though since this is the standard material for making such tools because of its capability of working with high temperatures and pressure.
Durability
As we mentioned before, the impact sockets from Sunex Tools tend to be more durable than the ones from Grey Pneumatic. Their impact swivels are more prone to wear and tear than others. Compared to them, the Sunex impact sockets last a much longer time and thus are more durable.
Stamped
Even though both of these brands manufacture their impact sockets to be stamped, the Sunex ones are easier to identify from a distance than the Grey Pneumatic tools. The markings on Sunex are more long-lasting and they are also much brighter in colors which make them more easily visible.
Bottom Line: Which One is For You?
Between the two brands of Sunex vs Grey Pneumatic, the former seems to be the better option in terms of durability and readability.
They can withstand pressure slightly better and for a bit longer time than the Grey Pneumatic sockets. Besides, the markings on Sunex sockets are brighter and therefore easier to identify than the other option.
However, you can still use Grey Pneumatic tools for casual or amateur projects at home.