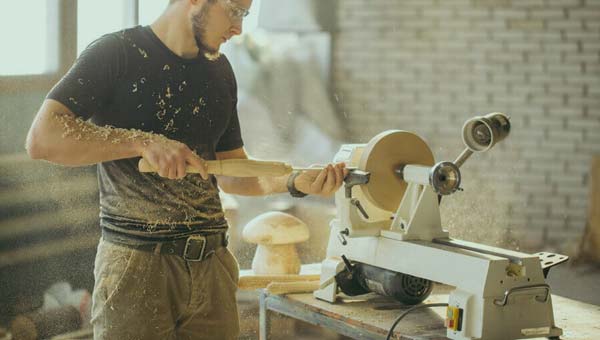 It doesn't matter whether you're a beginner or a professional; wood lathes are essential tools for all woodworkers.
No woodworking shop is complete without the greatest wood lathe.
Creating beautiful workpieces out of wood is practically impossible if you don't have a wood lathe machine.
No other instruments can accomplish what they do, but finding a reputable brand among the numerous available may be difficult. There is no room for a mistake with a few hundred dollars price tag, especially when you're a newbie.
But that's why we're here! After hundreds of hours of work, the experienced team has finally arrived at these final items that are absolutely worth every money. After several testing and comparisons, we selected two machines from Delta and Jet: Delta 46 460 and Jet 1221VS.
We'll go through the advantages and disadvantages of each, as well as any accessories or features they have. We've also included a quick buyer's guide to help you figure out what to look for while you're out shopping if you're not convinced with these two options!
Join us as we examine the center distance, swing, RPMs, horsepower, and other factors to help you make an educated decision. Let's get started!
Delta Industrial 46-460 Variable-Speed Midi Lathe – Short Review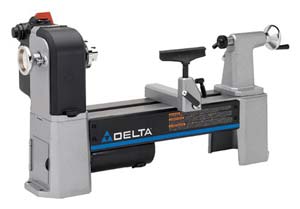 The Delta industrial 46-460 machine is the only machine under the $1000 category that can compete with the top-tier wood lathe machines. This is currently one of the greatest midi wood lathe machines available.
Anyone interested in crafts, such as medium-sized sculptures, tiny pieces of furniture, or even bowls, will discover that this midi lathe is perfect for them.
Its engine produces 1 horsepower and can rotate at a speed of 1725 revolutions per minute. The swing capacity is twelve point five inches, and the 46-460 is unique in its class since it has the biggest swing capacity.
Complete reverse on this midi lathe model is straightforward and can be done at the flick of a button, allowing you to get a smooth finish without having to manually modify what you're turning.
However, the Delta 46-460 has a unique characteristic that sets it apart from the competition. It boasts a proprietary belt tensioning mechanism that enables the user to change the turning speeds on the fly without having to fiddle with the belt position, making it our finest wood lathe pick.
The base is composed of cast iron and has various speed settings (both forward and backward) as well as a broad range of swing adjustments.
The Delta 46-460 will be the greatest wood lathe for you if you have a lot of turning jobs. Don't worry if it breaks soon (which is unlikely), but if it does, the 5-year guarantee makes getting it fixed or replaced straightforward.
What we like about this machine…
It's a multipurpose lathe machine that you can even use for your small DIY projects.
It's built to last, and you'll be able to use it regularly for years.
It's also relatively simple to operate; you'll soon get used to all the features.
It may also be used for large woodwork, like baseball bats and table legs.
It also includes a reverse function that saves time, particularly when sanding wood.
What we don't like about this machine…
It was hard to use this lathe machine when working with large woods.
If you wish to work on bigger projects, you'll need to purchase a bed extender separately.
There is a lack of replacement parts; we didn't find much.
Also, their customer service isn't excellent. You may have to repair it on your own.
JET JWL-1221VS Variable Speed Wood Lathe – Short Review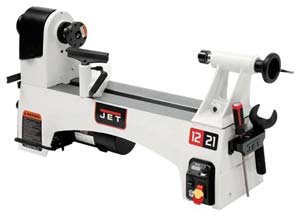 Jet has created a one-horsepower lightweight monster. This machine outperforms all others in this size range when it comes to turning bowls.
The primary reason you may choose it over the Delta 46-460 is that its slowest speed for turning irregular bowl blanks is 60 rpm, which is far lower than any other machine in this price range.
If you're wondering why it has pulleys despite being a variable-speed lathe, it's because of the torque.
The pulley adjustments will provide you with the additional torque needed to keep the motor awake when rotating at a slower pace.
The lower the pulley position, the more torque you'll obtain rotating the workpieces, which are often larger and heavier.
The control panels are on the right side of the lathe, which we appreciate. If anything goes wrong when spinning bowls and you need to reach close to the control knob, that might be hazardous.
They're on the right side, away from the engine, which gives us a sense of security. With the assistance of the digital readout where I was getting in the mood, I could move back and forth at the same pace in an instant—quite a luxury feature.
Jet designed this lathe to meet the needs of a professional bowl-turner. We bought one in 2015 and have no plans to stop using it.
In a word, I would strongly suggest this Jet unit to anybody interested in learning to turn or upgrade their mini-lathe to a larger one.
What we like about this machine…
This one is reasonably priced considering the features.
The lathe effortlessly shifts from forward to reverse at the flick of a button.
The spring-loaded spindle lock makes changing wood projects a breeze.
The innovative ratchet-type belt tensioning mechanism makes adjusting belt tension a breeze.
We liked the smooth operation, particularly the high RPMs provided by this machine.
What we don't like about this machine…
This machine is a touch hefty at 136 pounds.
The motor rests beneath the headstock, which collects a lot of shavings and dust.
It lacks a digital readout, forcing you to estimate the speed.
The center-to-center length is small; a bed extension is required for material bigger than 16 inches.
Delta 46 460 vs. Jet 1221VS: Key Differences
After using both the machine for quite a long time, here are some of the main differences we discovered:
The Jet Machine weighs 121 pounds, whereas the Delta Machine is 97 pounds. I could feel the additional 25 pounds!
The bed rails are much broader in Jet than those on the Delta.
The belt pulleys on the headstock are thicker in Jet than Delta.
There are two small tool storage racks for either end of the Jet unit. However, since the manufacturer tightens the two-set screws, there is no need for an Allen wrench to remove the faceplate.
All the grips of the Jet lathe, as well as the faceplate wrench, are cushioned. The cushioning isn't made of cheap rubber or plastic that slides when using the handle like Delta lathe.
The Jet is relatively quiet when going forward with the machine; however, when traveling backward, the engine whines a little. The Delta is just as quiet, if not quieter, particularly in reverse.
Jet 1221VS vs Delta 46 460: Head to Head comparison
| | | |
| --- | --- | --- |
| Feature | Delta 46 460 | Jet 1221VS |
| Weight | 97 pounds | 121 pounds |
| Warranty | 5 years | 5 years |
| Dimensions | 36 x 11 x 17.75 inches | 33.6 x 11 x 35.8 inches |
| Motor Speed | 1 HP | 1 HP |
| Motor Voltage | 120V | 120 Volts |
| Variable Speed Ranges | 250 to 4000 RPM | 60 to 3600 RPM |
Buying Guide: What You Need to Consider Before Buying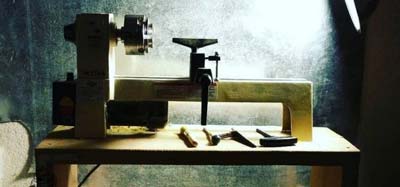 When it comes to wood lathes, the larger the machine, the better since it is more flexible and suitable for a broader range of applications. However, size isn't the only thing you should look out for! Here are some other things you need to consider:
Design
Most woodworkers prefer cast iron lathes over ones made of aluminum or other lighter metals. Cast iron is more robust and can absorb any vibrations caused by the tool, preventing your hands from trembling.
The Delta 46 460 has a cast iron base which makes it a superior option over Jet 1221VS in this category!
Speed
You should always verify the speed, which manufacturers commonly refer to as the RPM range, no matter what sort of lathe you purchase. This indicates the number of rotations the lathe can do in a minute.
The Jet 1221VS can produce more speed than Delta 46-460.
Size
Compact lathes are ideal for novices and those with limited workshop space. Smaller lathes often have a narrow RPM range and a simple motor. A bigger lathe is required to turn wood bowls quicker or build larger items.
In this category, Delta 46-460 is again a superior option. You can relocate it from one facility to the next and save a lot of space compared to equivalent performance equipment.
Spindle Diameter
Another factor to consider is the spindle diameter, one inch for small and midi machines. These spindles can turn posts for railings and furniture and form bowls with a diameter of 10 to 12 inches. However, you cannot use these tools to cut bigger parts since they lack power and space.
The Jet 1221VS wins in this category.
Type
Wood lathes come in various sizes and shapes, including full-size and small variants. You could also want to buy the best benchtop lathe, which can be mounted on a worktable. Because the bench or table you use will function as the basis, benchtop lathe models do not have a solid base.
The choice of your lathe machine types ultimately depends on your usage.
Power
When it comes to the power of wood lathes, there are two metrics to consider: volts and horsepower. The volt rating, usually 110 to 230 volts, shows you how much power you'll need in an outlet to utilize the item. You can tell how fast the lathe operates by looking at the horsepower rating.
Delta 46-460 motors have 1 horsepower and can spin up to 1725 rpm. Jet JWL-1221VS, on the other hand, has a variable speed option. The machine's rotating speed is limited to 360 rpm, much lower than the Delta 46-460's outstanding engine block.
This engine block will most likely only be appropriate for low-intensity work. As a result, Delta 46-460 outperforms Jet JWL-1221VS in this comparison.
Final Verdict
The conclusion is that anybody searching for a mini/midi lathe now has two excellent options. Both can do larger undertakings with less effort. The evidence will come in the utilization of the product over time.
If I had to choose between the two, I'd say the Delta has a slight advantage out of the box because of its convenience, compactness, and superior engine!
However, your work environment and tastes determine the product you choose. The Delta 46-460 is an excellent option if you need a model to serve an industrial size. The Jet 1221vs, on the other hand, can be your perfect partner if you want a personal machine with minimal travel.
We hope you liked reading our evaluations and found them helpful in searching for a new wood lathe. Please share this guide to the finest wood lathes on Facebook and Twitter if you think it will benefit others.