A slip yoke is a valuable piece of equipment, particularly when driving in off-roading conditions. This is because it allows your car's drive shaft to manage uneven terrain properly. Thanks to its ability to allow the drive shaft's U-joint to continue rotating in more demanding conditions. 
Like any other mechanical parts, slip yokes require regular lubrication to continue running smoothly and extend their longevity. 
Choosing the best grease for slip yoke isn't that easy though. One reason for this is that not every lubricant in the market is ideal for slip yoke lubrication.
Instead, there are certain greases with unique features that make them ideal for this application. Well, those are the types of lubricants we'll be looking at in this article. The best part? Our list only includes the top lubricants for slip yoke in the market at the moment. 
Here they are! 
Best Grease for Slip Yoke Reviews 
1. Genuine Ford Fluid XG-8 PTFE Lubricant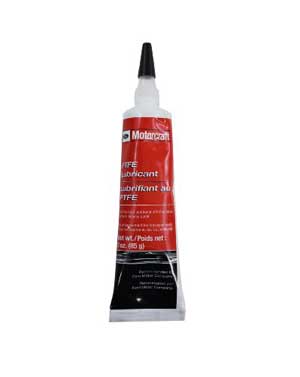 Genuine Ford Fluid grease is one of the top-rated lubricants for slip yoke that meet industrial grade standards. So, if your car's anti-seize slip yoke is making some grunting noises, it's such a great option. 
You can also use this grease for other automotive applications that need lubrication. For instance, it's ideal for ending the squeaky noise in machines and speedometer cables. It also helps to eliminate squeaks in plastic components. 
Another interesting property of this product is that it's quite simple to apply. It is available in a 3 fl oz squeeze tube with a fine point applicator tip for convenient use. Note, this formula is also available in a 1 pound tin packaging. 
Lastly, this lubricant exhibits excellent load-carrying ability and is wear-resistant. In addition, it provides exceptional protection against corrosion and rust.
And did we mention that you can use it on almost all types of vehicles? That's right! It's suitable for use in high-performance, commercial automotive as well as off-highway vehicles. 
Pros 
Suitable for addressing grunt-type noises in slip yokes
Versatile lubricant 
PTFE grease 
Water- & rust-resistant 
Excellent load-carrying capacity 
Cons 
A bit pricey for the quantity 
2. Valvoline Moly-Fortified Full Synthetic Grease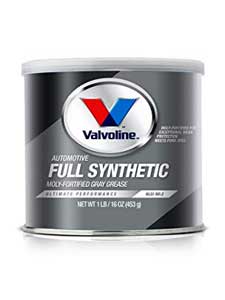 Suitable for all Japanese, European, and US cars, Valvoline synthetic grease is another great lubricant for slip yoke.
Specifically, it's heavy-duty, multipurpose industrial-quality grease for automotive use. In addition, its lithium-complex formula is thickened with various additives. 
One such additive is molybdenum disulfide (moly). Moly particles in this lubricant create an excellent film strength and increase its resistance to heavy loads. 
It's also worth mentioning that the chemical mixture of this grease allows it to absorb shocks with high efficiency. Consequently, your car's drive shaft slip yoke experiences much less wear & tear, extending its durability. 
At the same time, the formula exhibits unmatched low- and high-temperature protection over conventional lubricants. For that, you can use it in temperatures as low as -60 deg F and as high as 425 deg F. 
In addition to staying stable at severe temperatures, this slip yoke spline grease is practically waterproof.
More importantly, it's highly versatile, meaning you can also use it on other vehicle components like ball joints, universal joints, chassis, and suspensions.
Whichever the case, it will improve the lives of those components and decrease maintenance. 
Pros 
Exceptional load-carrying capacity 
Provides great protection at low- and high temperatures 
Inhibits oxidation and rusting 
Moly-fortified to increase film strength 
Available in 1 pound- & 14 oz cartridge size options 
Cons 
Incompatible with some international car brands 
3. General Motors Genuine High-Temp Special Lubricant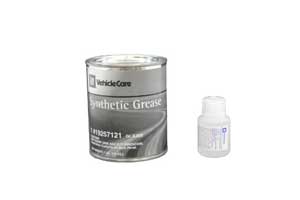 This 1-pound GM Fluid synthetic grease by General Motors is a high-quality, heat-resistant, multipurpose lubricant.
So, although this lubricant is specifically intended for use on slip yokes, it's ideal for other automotive applications as well.
As an example, you can use it on slides, gears, prop shaft splines, and cams. On the same note, it's suitable for use in household applications and marine settings. 
One feature that makes this lubricant stand out from the rest is that it contains PTFE (Polytetrafluoroethylene).
Using this synthetic fluoropolymer in lubricants helps to reduce wear, friction, and energy consumption in machinery. 
Other additives in this formula are rust & corrosion inhibitors as well as water-resistant additives. All these properties help to increase the reliability and longevity of your car's driveshaft slip yokes. 
Moreover, this lubricant has an excellent ability to tolerate severe pressure conditions. It can handle the pressure of up to 6,000PSI to ensure quieter and smoother running operations. 
Best of all, Genuine GM Fluid grease is compatible with fluid transmission since both get intermixed at the driveshaft joint.
More notably, it performs a good job in addressing clunk issues that are usually heard when stopping your car. 
Pros 
Contains PTFE & water-resistant additives 
Inhibits rust & corrosion 
Ideal for use in slip yokes, slides, prop shaft splines, gears & bearings 
Excellent performance at high temperatures 
High-quality lubricant 
Can tolerate extreme pressure conditions 
Cons 
4. ACDelco GM Original 10-4063 Synthetic Grease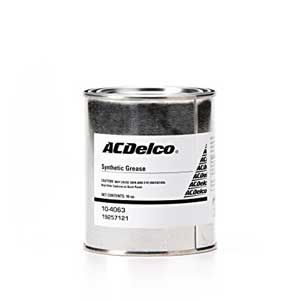 Like most lubricants on this list, ACDelco synthetic grease is designed for drive shaft slip yoke applications. However, this does not mean that you can't use it for other applications.
In actuality, this formula combines the features of 2 or more specialized greases. For that reason, it is suitable for use in more than 1 automotive application. 
The only limitation with this formula is that it's not ideal for use on 4-wheel drive vehicles or 2-wheel drive vehicles with 6-speed transmissions. Instead, it should only be applied on 2-wheel drive vehicles with 4-speed automatic transmissions. 
Other than that, this synthetic lubricant has some incredible features. 
Some of these properties include; excellent load carrying capacity, corrosion protection, and shear stability. In addition, it's water-resistant, since it's designed to protect mechanical components from moisture. 
Moving on, this formula remains stable in severe temperatures, thus helping to optimize lubrication in its application. This outstanding temperature resistance also minimizes the breakdown of grease to ensure a longer work life.
So, rest assured that this formula will meet your expectations for longevity. At the same time, it will ensure that your drive shaft slip yoke and other vehicle components are running smoothly. 
Pros 
High-quality formulation 
Water-resistant for moisture protection 
Excellent shear stability & load carrying capacity
Provides protection against rust and oxidation 
Cons 
Not suitable for use in 4-wheel drive cars
5. Genuine Chrysler 5083149AA Wheel Bearing Grease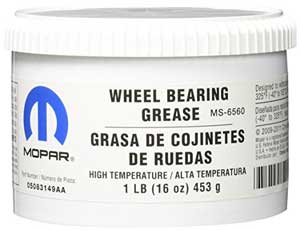 Last on the list is the 5083149AA wheel-bearing grease from Chrysler. This lubricant is specifically designed for extreme pressure and temperature applications, making it ideal for use in slip yoke.
It's also considered the best lubricating option for eliminating wear in critical driveline components. 
Another benefit of this NLGI-certified grease is that it has a highly water-resistant formula. Therefore, it's an incredible option for protecting metal components from corrosion, even in marine environments. 
In addition, this advanced multi-purpose synthetic grease is highly versatile. This makes it ideal for use in other locations apart from slip yokes.
For instance, you can apply it on ball joints, axle bearings, clutch linkages, tie rod ends, and wheel bearings. 
Getting back to the issue of temperature resistance, this formula can withstand temperatures ranging from -40 to 325 deg F. As for the packaging, this lubricant is available in a 1-lb can.
 The only downside with this formula is that it can cause skin and eye irritation due to prolonged contact. Other than that, it delivers excellent performance in extreme temperature & extreme pressure applications! 
Pros 
Suitable for a wide range of applications 
Water- & corrosion-resistant 
withstand s extreme pressure and temperature
Ideal for various driveline lubrication needs 
Cons 
Causes eye & skin irritation 
What to look for before buying a grease for slip yoke (Buying Guide)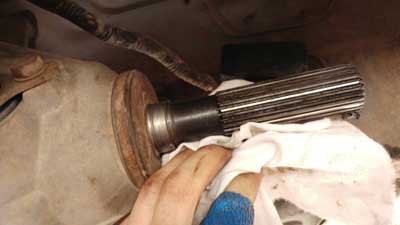 When you are in the market for the best grease for drive shaft slip yoke, there are some factors you need to consider. Otherwise, you may end up with a lubricant that isn't ideal for use in driveshaft slip yokes. Some of these features are; 
Water-resistance 
Water can easily wash away the lubricant and harm the drive safety joints & applications. For that, it's important to look for grease that has excellent water resistance.
Besides, this will allow it to form a protective shield against moisture. This will protect the metal components from rust and oxidations, thus extending their longevity. 
Pressure performance 
The role of slip yoke is to erode before heavy loads cause the mechanical components to wear and tear. Unfortunately, some lubricants tend to erode faster due to extreme pressure.
You can avoid this by choosing a slip yoke grease that has exceptional ability to withstand severe pressure conditions. In that regard, Moly EP greases are considered to have the highest pressure resistance. 
Temperature resistance 
Temperature resistance is another crucial factor when choosing the best grease for slip yoke. High temperatures can cause the lubricant to melt prematurely. Once that happens, they will drip off the car components they are intended to protect. 
On the contrary, extremely low temperatures can cause the lubricant to solidify. As a result, they become so stiff to the extent of cracking when subjected to high-pressure conditions. 
With that in mind, choose a lubricant that stays stable, both at low- and high- temperatures. Luckily, some slip yoke greases can withstand temperatures as high as -40 deg F and as low as 400 deg F. 
Chemical composition 
The chemical composition of a lubricant is one of its most important features since it determines its properties. Synthetic lubricants contain various materials like petroleum, silicone, mineral oils, metal composites, silicone, surfactants, etc.
Some even contain special additives like molybdenum, which increases the grease's lubricating properties.
Also, additives provide the formula with other important features like anti-oxidant, anti-wear, and anti-corrosion.
Durability 
Applying grease on slip yoke every now and then can turn out to be a very daunting task. That's why it is important to look for a lubricant that will last for a long time. That way, you don't need to lubricate the slip yoke any time soon after application.
Besides, buying durable grease will help you save money and extend the longevity of car components. 
Final Word 
Lubricating slip yokes should not be avoided since it will extend the durability of your car's driveshaft and keep it running smoothly.
And now that you're acquainted with the list of the best slip yoke greases available, there is no reason to keep the driveshaft unlubricated.
Any of these lubricants will guarantee unparalleled performances, even when subjected to heavy pressure and severe temperature conditions.
Just remember to keep the factors we've mentioned in mind before you make your final buying decision. 
Frequently Asked Questionss 
1. How often should you lubricate your vehicle's driveshaft? 
You should grease your car's drive shaft every couple of mounts to prolong its life. If that's not possible, lubricate it at least once a month. Doing so will have a huge impact on your car's performance in the long run. 
2. How do you lubricate a drive shaft? 
Knowing how to grease a drive shaft will help you to prevent wear & damage that may be caused by friction. Here's how to go about it; 
First, ensure you've got the right type of slip yoke grease. More importantly, never use engine oil or lubricating oil to lubricate the drive shaft. Similarly, avoid using moisture-sensitive lubricants. 
Next, pour some grease on the spline and let it drip down the driveshaft. This technique is known as the drip method. 
3. What's the best type of grease for lubricating slip yokes? 
Lithium-based grease is perhaps the best type of grease for lubricating drive shaft slip yoke. This is because it has excellent resistance against most chemicals, water, extreme temperatures, and high-pressure applications. 
4. How much will it cost to grease slip yoke? 
The cost of greasing your vehicle's driveshaft will depend on the type of grease used as well as your car's lubricating needs.
Also, the average cost will depend on whether you need to replace or change any component in the process. All in all, lubricating slip yoke is an affordable service for most people.